REALIZE Firearms Awareness Coalition: Concealed Carry Fashion Show and Documentary Filming
WAYLAND OHIO – The group REALIZE Firearms Awareness Coalition is pleased to announce that their event "The Concealed Carry Fashion Show" has been selected as the topic for an A&E – Viceland Documentary. Suffecool, Director of the not-for-profit group REALIZE firearms awareness coalition was notified that Viceland wanted to feature a show in the United States for season two of their series "States of Undress", and selected the Ohio's not for profit and their concealed carry fashion show as it fit the bill.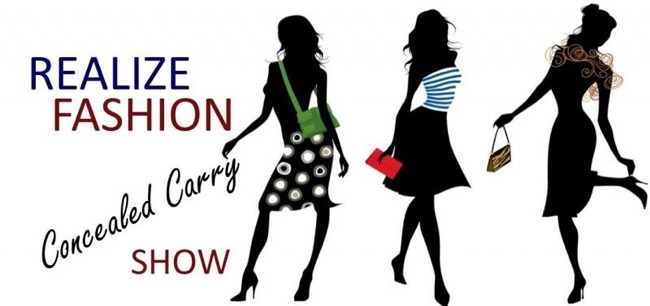 Ohio is not just the heart of it all, but in pro-gun Fashion it may be the center of it all, at least as far as February 19th goes when gun enthusiast will gather in Independence Ohio for a day of fashion, firearms and film crews.
Women have been exercising their purchase power in firearms for over a decade and on February 19th the Holiday Inn in Independence Ohio will welcome two his and hers activities including the Concealed Carry Fashion Show, and the Greater Cleveland Friends of NRA banquet.
Gone are the days when a manufacturer could take a chunky black product, color it pink camo and call it a product for women. Women not only buy guns, they demand products that are functional and fashionable. Both men and women want to store and transport their guns safely but they have different needs in fashion and usability based on ergonomics and body type. So REALIZE F.A.C. (REALIZEfac.com) has organized the fashion show to expose some fifty unique conceal carry items.
The show will go on with the modeling help of Bob Golic- former Cleveland Browns player, Michelle Cerino – editor of Women's Outdoor News and Charlie Cook of #GunGram fame- the guy with a Glock and a Trumpet. Other models include men and women representing a variety of body types.
A&E's Channel Viceland will be on scene to film segments for their documentary series titled States of Undress. Having visited Russia, China, and the Congo host Hailey Gates and the documentary crew is now focused on Ohio to cover how fashion empowers women in the distinctly American 2nd Amendment culture. With the help of Amanda Suffecool founder of REALIZE Firearms Awareness Coalition, Halie met up with local gals Erica Spencer and Gina Spaller to talk concealed carry, learn about firearm safety, and watch Erica shoot a stage of USPSA pistol.
Halie and crew set out to examine "global fashion and issues the industry often ignores, showing us what the world wears, and why" in Ohio by spending some time in the Radio Studio with Amanda and Rob Campbell as they hosted their live weekly Eye On The Target Radio (EyeOnTheTargetRadio.com) that airs from 7-10pm on Sunday evening on WHLO 100.1 FM Akron/Kent and the same time on Monday on KRMA internet radio. Halie took her first shots down range and walked through the firearms purchase process.
REALIZE Firearms Awareness Coalition is worked to expose others to the 2nd Amendment lifestyle through pro-gun sports, safety, and community necessary to support the pro-gun, pro-concealed-carry lifestyle. They do it through radio, public seminars and now, through a TV documentary.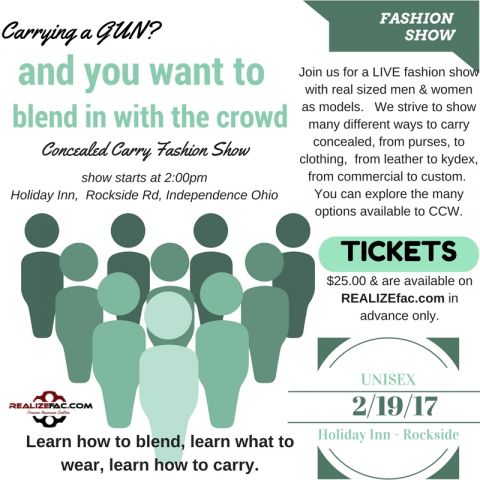 The live fashion show has space, and we would like to invite you to be part of the audience. Tickets and information is available through the website www.REALIZEfac.com. N.E. Ohio Friends of the N.R.A. banquet tickets can be purchased through their website www.friendsofNRA.org.
The REALIZE – FIREARMS AWARENESS COALITION Supports Education, Defends the 2nd Amendment & Stands with the NRA.
The mission of REALIZE FAC is: to educate citizens as to the historical intent of the Second Amendment to the Constitution of the United States of America, to enable citizens to accurately relate and defend aspects of the U.S. Constitution, to enhance public awareness and support for responsible gun ownership, and to emphasize firearms education for women who facilitate the transmittal of constitutional awareness and gun ownership to succeeding generations. Education is key as informed Americans make better choices, and we do it through public seminars and Weekly Radio. Radio: EyeOnTheTargetRadio.com. REALIZE FAC is based in Wayland, Ohio, can be reached at RealizeFAC@yahoo.com or the web site at REALIZEFAC.org. REALIZE FAC is a registered not-for-profit educational organization.
About The WON

The Women's Outdoor News, aka The WON, features news, reviews and stories about women who are shooting, hunting, fishing and actively engaging in outdoor adventure. This publication is for women, by women. View all posts by The WON →