Meet March's Featured Coloring Girls, Morgan and Mason Baseley
In this installment by Kimberly Kolb Eakin to our series on TeamWON contributors, we give you 2 Girls Hunting. Twin sisters Morgan and Mason Baseley say they're just "everyday girls" … who happen to love the outdoors. We think they are way underestimating their abilities to inspire and communicate about their abilities to interact and serve as role models to other girls who want to get outside and learn valuable life skills, too.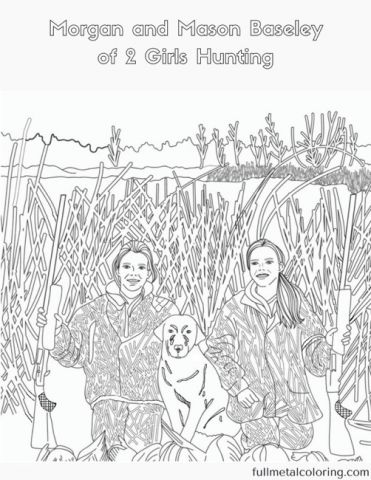 Download you coloring page here.
"We are here to empower girls and shooting sports. At 16-years old, we are the next generation of female hunters and need to be able to speak up to protect our hunting rights and protect the Second Amendment," said Morgan.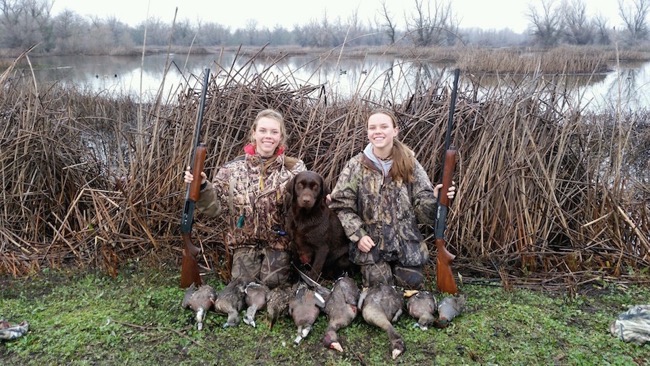 "The photo we sent Kimberly was taken at the end of 2016 duck season, last day … probably the best day we have hunted in a few years," said the sisters. "It was rainy, windy and a high fog line … pushing the birds right to us!! We also like this picture because our dog, Reagan, is in it with us. Mornings like this show what hunters really look like after a good hunt – no make up, messy hair and proud!"
Looking Ahead … What Will the Twins Be Doing?
"This spring we will be shooting in the men's trap league again, starting up in April. We have been asked to be on the local chapter of the California Waterfowl Association board, with the emphasis of bringing a youth and women's prospective to the meetings and various activities that the CWA is involved with. They actually have a team that shoots to local trap league, so we are pairing off with them this spring to bring some youth," said the girls.
They continued, "Our pigs will be ready for favor and market in June, just as school gets out and after fair we are taking off with our family for a road trip through Oregon, Idaho and Colorado – looking at half a dozen colleges we are interested in attending … Spring turkey season is going on right now, so our free weekends are spent in the woods. And of course, track season is just kicking off for school."
Sponsored by Girls with Guns Clothing, these young women are given the platform to make their voices heard in their column at The WON, in a popular column titled "2Girls Hunting." They also speak at banquets about hunting and write a blog for the Sportsmen's Alliance. Other sponsors include TEAM GWG, Hips Archery Targets, Jefferson State Laser, Team Clearshot, Lipzips, CamoAmmoJewelry, Team NGO, Camoed Obsession, and California Waterfowl Association.
The Baseley girls aren't the only members of TeamWON with a coloring page. Find more here.
About The WON

The Women's Outdoor News, aka The WON, features news, reviews and stories about women who are shooting, hunting, fishing and actively engaging in outdoor adventure. This publication is for women, by women. View all posts by The WON →