Meet Susan Houde-Walter, CEO & Cofounder of LaserMax
LaserMax's first laser product debuted in 1989, and since then the company has grown to become a global leader in hardened and miniaturized laser systems. The intellectual property the company has developed has resulted in numerous primary patents in laser technology. I recently spoke with LaserMax CEO Susan Houde-Walter, who cofounded LaserMax in 1989 and chairs its board of directors.

Would you tell our readers a little bit about yourself? Such as where you grew up, your experiences/accomplishments after high school, and what your plans were for your future?
I was born in New York City and was raised in the city and surrounding 'burbs. It was expected throughout grades K–12 and college that I would become an artist. I tried to use holography as an art medium, but found that I needed to learn physics to make the holograms do what I wanted them to do. The more I learned about lasers and optical engineering, the more I liked it. I ended up dropping the art thing, and moving fully over to the technical side.
How did LaserMax get its start?
My husband and I had basement labs for years, for making holograms and doing other experiments with lasers. Laser applications were pretty new, and law enforcement had not yet adopted them. The NYPD told us that if we could make lasers as rugged as the gun, they would use them. That's when we came up with the internal Guide Rod laser. It is indeed as rugged as the gun, and no special holsters are needed since the laser is internal. They have been popular with law enforcement, and now we make them available for a wide variety of pistols through retail.
How are the LaserMax products different from others available on the market?
LaserMax is known for innovative products. The Guide Rod lasers and new GripSense lasers are a couple of examples. Our products are also designed to reinforce safe firearms handling, as taught by the NRA, law enforcement and military firearms training. LaserMax products are also exceptionally rugged.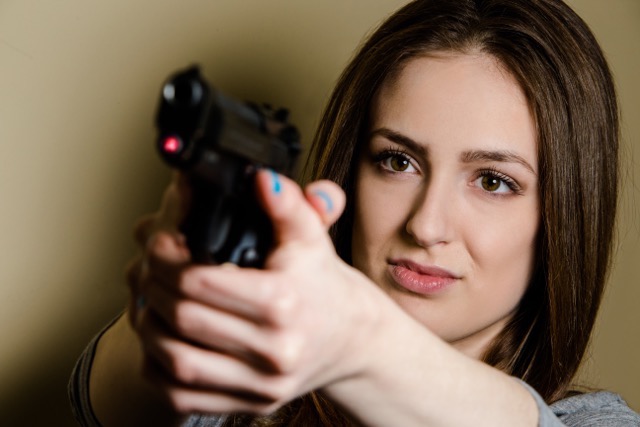 What are the most difficult hurdles that you've had to overcome?
Getting old! My eyesight is getting worse each year, and I can no longer focus on the front sights. But lasers help that a lot, so that's less of an issue now.
Do you yourself enjoy shooting or hunting? If so, what is your favorite firearm?
Of course I enjoy shooting! I originally got into it for personal protection, but it's also great fun. I have a collection of compact and subcompact pistols and revolvers from most of the major manufacturers. I love to shoot them all.
Who is your biggest role model, and why?
Harriet Tubman is a personal hero of mine. She led many people out of enslavement at great personal risk to herself, and she did it repeatedly. Many people don't realize that she carried a gun for the purpose of keeping her charges in line. She lived simply, but she was clear and effective in her purpose.
Other than running a company, what do you like to do in your free time? (Is there such a thing as "free time"?)
Outside of LaserMax, I enjoy volunteer work. I've been privileged to serve on science boards for the Dept. of Defense over the last 10 years. It's a way that I can use my technical background to serve my country.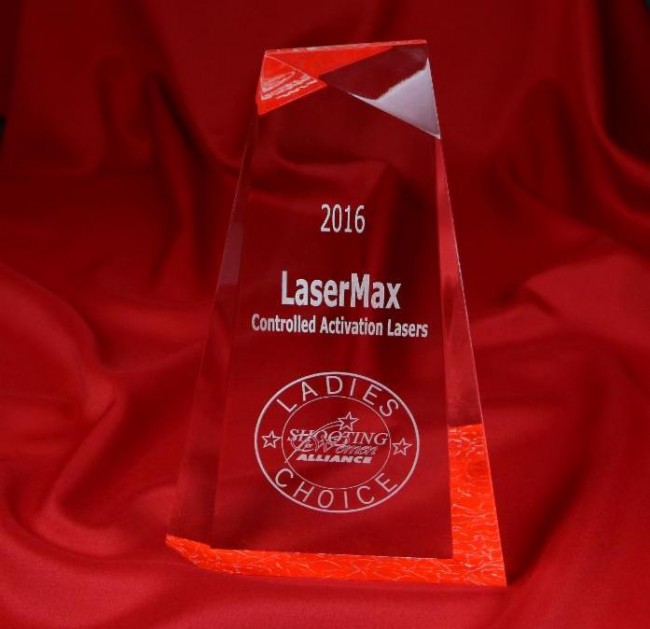 Are there any new or upcoming LaserMax products that you'd like to share with our readers? Or ideas in the works?
Absolutely. We are getting ready to release a line of CenterFire lasers for subcompact pistols with LaserMax GripSense technology. This is another example where safety and ergonomics determine LaserMax product design. GripSense gives instant activation as soon as you grip the gun—but there's no need to milk the handle, the GripSense senses the presence of your hand and lights the laser automatically. That's useful for backup guns, when you need the laser on instantaneously. It's incredibly intuitive, and it helps the shooter with accuracy beyond other similar "instant-on" or "grip" type lasers. We'll be releasing the GripSense CenterFires for Ruger LC9, Glock 42 and others in the coming months.
More about Susan Houde-Walter
One last thing about Susan that she didn't mention in our interview: She holds 6 U.S. patents and has authored more than 100 peer-reviewed journal articles and invited talks. What an amazing woman! It's no wonder that LaserMax is in its 28th year of business. You can find out more about LaserMax and its products here.
About Stacy Bright

Freelance writer Stacy Bright holds instructor certifications from the NRA in Pistol & Rifle, as well as being an Range Safety Officer and Refuse to be a Victim instructor. In addition to her NRA credentials, she also is a Missouri CCW instructor and teaches various other home and personal defense courses. "In a field dominated by men, I feel I bring a unique perspective to firearms and training, especially to women. I'm passionate about educating, empowering and developing confidence in those I train. In November of 2014, I started the Southwest Missouri chapter of The Well Armed Woman," said Stacy. Stacy lives in southwest Missouri, and has been married for 20 years. Visit TWAW Facebook page: The Well Armed Woman-Springfield, MO Chapter. View all posts by Stacy Bright →