The Well Armed Woman Mid-South Region to Hold its 2nd Annual Purple PowWow
Raymond, Mississippi – March 31st thru April 2nd, 2017 – The Well Armed Woman (TWAW) Mid-South Purple PowWow is a regional event, hosted by Mississippi TWAW State Leader Patty Saliba, Louisiana TWAW State Leader Adrianna Eschete, and host range owner and TWAW Chapter Leader Kim Condon. The event provides an opportunity for members of TWAW Chapters across the country to be exposed to manufacturers and industry representatives who offer demonstrations of products, services, and training.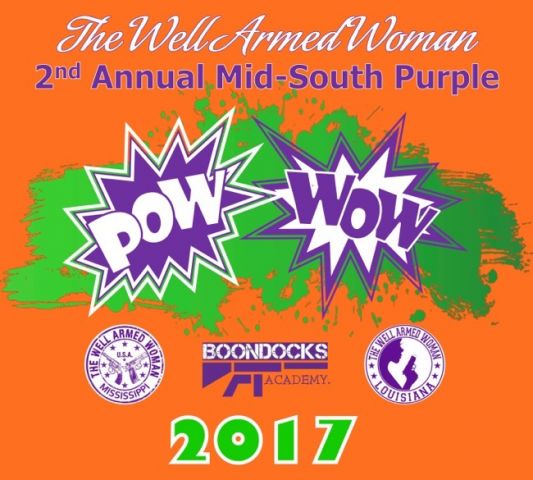 The 2017 TWAW Mid-South Purple PowWow will be held on the weekend of March 31st through April 2nd in Raymond, Mississippi. A welcome reception will be held on Friday evening at Eagle Ridge Conference Center which will include guest speakers Carrie Lightfoot, the founder of The Well Armed Woman, and Liz Lazarus, author of Free of Malice. Saturday events will include demonstrations by Glock, Streamlight, and LWRCI as well as Lethal Force Simulation and Force On Force Shoothouse Exercises, provided by Boondocks Firearm Training Academy (FTA) with the assistance of Donna Anthony from Alaska's Point Blank Firearm & Self Defense Training, and Emergency Response Protocol by Mark Condon, MD.

A group of husbands from TWAW Bayou Region Chapter of Houma, Louisiana will provide a Cajun dinner under the stars at Boondocks FTA on Saturday evening. Participants will enjoy music by Ralph Miller and lots of door prizes donated by our event sponsors. The weekend will conclude with a Sunday brunch at Eagle Ridge Conference Center, where a farewell address will be given by Donna Anthony and firearms will be given away to three lucky ladies. Firearms for the 2017 Purple PowWow are donated by Glock, Springfield Armory, and LWRCI. The 2017 TWAW Mid-South Purple PowWow will be proceeded by optional courses such as the Active Shooter Response Course by Donna Anthony, the NRA Range Safety Officer Certification Course by Adrianna Eschete, and the Lethal Force Simulation Course by Boondocks FTA. Participants representing 12 different chapters from 8 states paid a $100 fee for this all inclusive weekend with their TWAW sisters.
We are so excited to host this event for our fellow TWAW sisters for a second year, exposing them to great information and industry leaders." – Adrianna Eschete, event co-host and Louisiana State Leader.
The Purple PowWow
The Well Armed Woman is a national non-profit organization, founded by Carrie Lightfoot in 2012, focusing on educating, equipping, and empowering women across the country. With over 10,000 members in 335 chapters in 49 states, TWAW is the largest and most trusted women's resource, providing straight forward, complete information, innovative products and training geared specifically to the woman gun owner. Topics such as armed self-defense, gun ownership, gun safety, shooting skills, and exposure to different products are provided through monthly TWAW meetings, various TWAW Shooting Chapter pages on Facebook, The Women's Gun Show podcast, and The Well Armed Woman, LLC website, www.thewellarmedwoman.com. To find and register for a chapter near you, visit www.twawshootingchapters.org.
About The WON

The Women's Outdoor News, aka The WON, features news, reviews and stories about women who are shooting, hunting, fishing and actively engaging in outdoor adventure. This publication is for women, by women. View all posts by The WON →