#FridayFIX: How to Stay Comfortable Backpacking in Bad Weather
Many people avoid going outdoors in the rain, but backpacking in the rain can actually be really fun: the sound of rain in the trees, the cooler temperatures, and the smell of fresh water on the plants are all unique components of a rainy-day hike. The rain also keeps the bugs away and settles trail dust created by other hikers. Don't let a rainy forecast ruin your weekend backpacking plans. Here are some tips and tricks for staying warm and dry when the weather just won't cooperate.

Stay Dry
The first line of defense in a rainstorm is rain gear. No matter what the weather forecast says, don't head out the door without a waterproof jacket in your pack. There are a lot of options to consider when purchasing a rain jacket or rain pants, including cost, weight, durability, and material.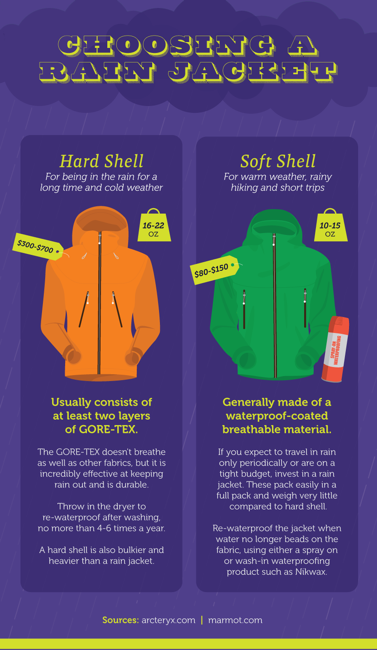 Stay Warm
Whether you expect it to rain or not, the most important thing to look for in outdoor clothing is that it contains no cotton. When cotton gets wet, it holds the moisture close to your skin and actually sucks heat away from your body. There are a number of synthetic fabrics, like polypropylene and synthetic fleece (pile), that are designed to wick moisture away from your skin, which helps your body stay warm. Wool, which is a popular natural option, also stays very warm when wet.
While backpacking in the rain, the goal is to stay warm and dry, but if you have to pick one or the other on the trail, it's usually enough to just stay warm. During a short storm, a rain jacket or hard shell and synthetic hiking pants will serve you well. The rain jacket keeps your core dry and, therefore, warm. The pants may get wet, but the heat from your body will dry them out as you hike. In warm weather, it's often overkill to wear rain pants, which don't breathe as well as hiking pants. In a deluge or very cold rain, it's usually time to break out the rain pants. If it's really cold and rainy, add a layer under the rain jacket, but try to avoid wearing your warmest layer. If you wear everything you have and the rain jacket stops keeping out water, you suddenly have no dry layers to change into when you stop moving and your body begins to cool down.
A light hat under the hood of a rain jacket can go a long way toward keeping your body warm in the rain, even if the hat gets wet. Be sure to keep your hood up even in light rain because it keeps the water from running down your neck and into your collar. Keep your sleeves inside the rain jacket and the rain jacket cuffs tight to prevent water from seeping up your arms. In cold weather, layer rain pants over long underwear. If you're wearing gaiters, be sure to keep the rain pants over the gaiter, or else the water will run down your legs and into your shoes.
A common misconception is that a rain jacket can double as a windbreaker while hiking. Rain jackets don't breathe quite as well as windbreakers because the fabric has to be tighter to keep the water out. Therefore, if you hike around in a rain jacket when it isn't raining, you'll often find yourself sweating more than you would in a different layer. Sweat and overuse break down the waterproof material, meaning you can actually ruin a rain jacket by wearing it when you don't need to. Save the rain jacket for the rain and invest in a lightweight wind jacket for normal hiking. It's worth the extra weight.
Continue reading, "How to Stay Comfortable Backpacking in Bad Weather" at Partselect.com.
About The WON

The Women's Outdoor News, aka The WON, features news, reviews and stories about women who are shooting, hunting, fishing and actively engaging in outdoor adventure. This publication is for women, by women. View all posts by The WON →