#HuntingwithJR: Another Osceola Opportunity
The WON's publisher Barbara Baird suggested we set our sights on a turkey grand slam in one hunting season, beginning this spring 2017, along with Jessica Kallam, who is the manager and media relations & public affairs person for Remington Outdoor company. Jonathan Owen, of Shwat.com, agreed to be our cameraman and document this drama as our Osceola adventure unfolded.
We called ourselves the "Big Green Grand Slam" team, and I told the them it would not be easy – even though turkeys are the largest game bird that is found in North America. Remington's new V3 is our shotgun of choice, and Trijicon sent us new MROs (red dot sights). I had never used optics on a shotgun for turkey hunting, so this was going to be a new adventure for me, as I have 4 grand slams under my belt in the last 5 years.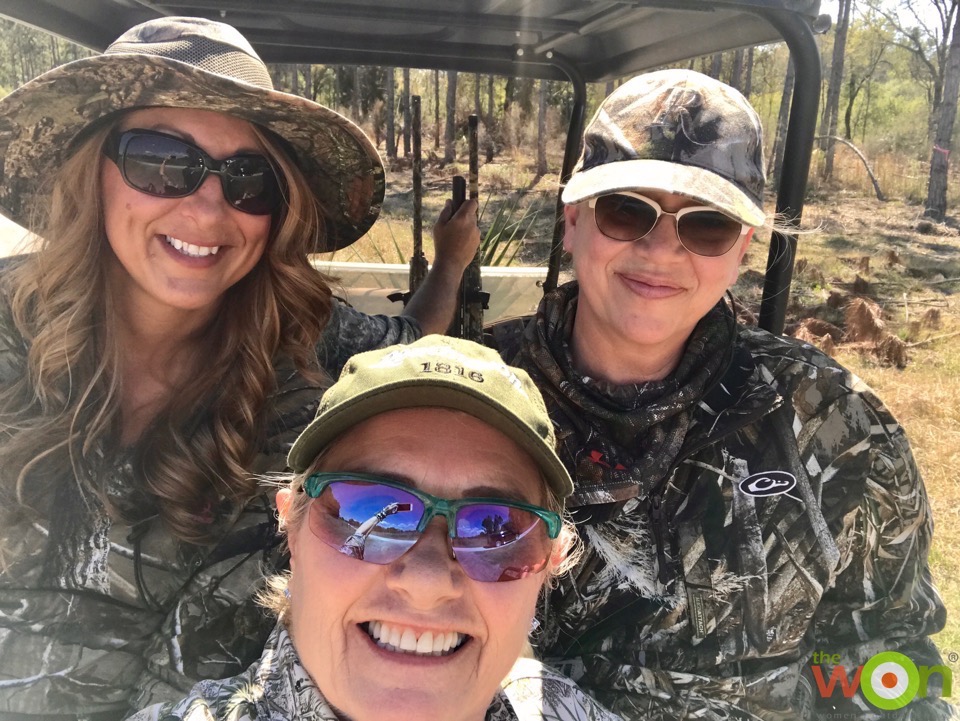 Our first turkey scheduled hunt, for Osceolas, took place in March in Florida. If you drew an imaginary line south of Gainesville across the state, the Osceola must be harvested below that line. The Osceola turkey gets its name from Seminole Chief Osceola, born as Billy Powell. Only found in Florida, these wild turkeys have tendency of not answering calls.
I had hunted Osceola a couple times prior to harvesting my first one. So, I came loaded for bear with my specially wrapped V3s. I began practicing my turkey calling with due diligence prior to this quest, even though it may be in vain for the Osceola turkey. On the first morning's hunt, my excitement soared sky high – and nothing happened. I did not even see a bird. I informed the team not to worry as I have harvested more birds between 11 a.m. and 2 p.m. than any other time hunting turkeys.
Returning to the blind after lunch, I set up a hen decoy and sat alone in the blind. In the past, I have always had a guide. Turkey hunting is a sure test of patience. Hours pass and you must remain focused and still. Moving and twitching is not a good quality for turkey hunting. Plus, silence is golden.
At 4 p.m., I spotted a mature tom about 200 yards away. I began to question my skills and patience. Should I call, knowing he may not answer or come? How could I entice this tom to come look at my little cutie of decoy? Step by step, inch by inch, he began to see something in her that only a roving eye such as his could possess – as he was in full mating mode. He never strutted or gobbled as he moseyed her way. Within the hour, he headed toward my decoy. My heart began to beat a little harder and I had to keep reminding myself when he gets closer, breathe and squeeze the trigger smoothly. Plus, shot placement kept cropping up – I reminded myself to put the red dot where the his head met his body.
Over-thinking now … would he come within 50 yards for me to seal the deal on my first turkey of the grand slam? He kept checking out my decoy and trying to decide if he was going to seal the deal. His body actions began to complicate my hunt … was he coming or not? I made the split decision to take the shot while he hung up at 55 yards. BANG! He fell like a box of rocks. I jumped out of the blind and ran like the wind to look at my trophy. He was a great mature bird, with a 10-inch beard and 1-1/2-inch spurs.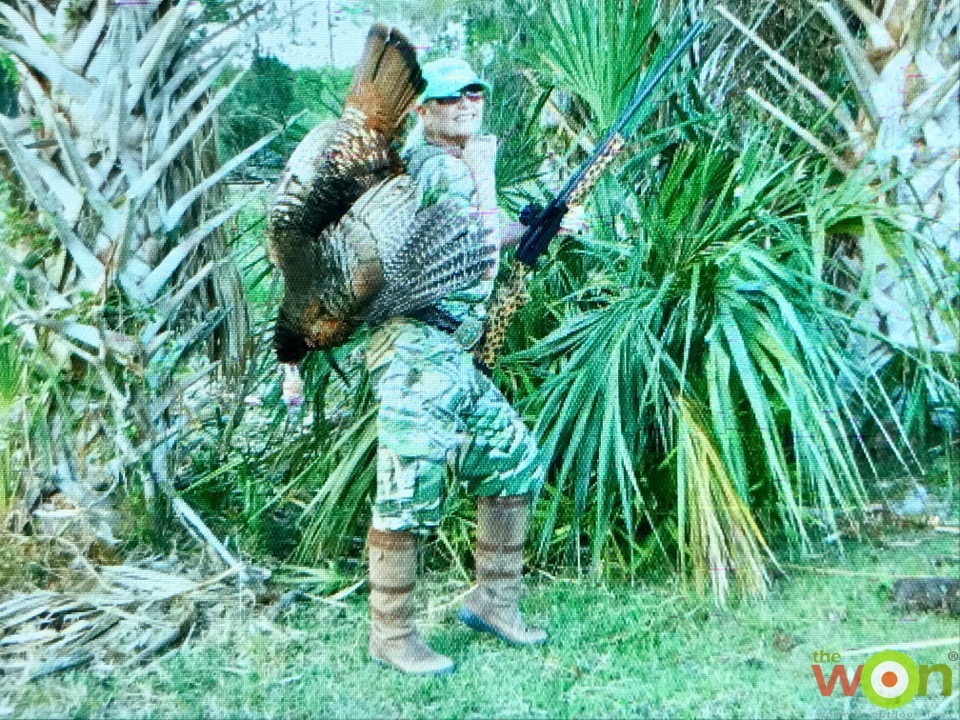 Osceola Turkey Tips
Did you know?
Osceola turkeys do not have long beards like the other subspecies because of the terrain. Their beards are trimmed by palmetto hammocks as they walk through cover.
TIP: All subspecies of turkeys respond to the same calls. Keep calls clean and crisp for turkeys to respond. DO NOT over call.
Did you know?
Osceola turkeys are the smallest and most colorful of the subspecies in the US. Feathers are more iridescent green and red colors, with less bronze than the Eastern.
TIP: Turkey hunting is a formal affair – gloves and facemask are required.
About Judy Rhodes

Judy Rhodes, the Voice of Women in the Outdoors is an outdoor visionary and mentor to women and youth in the outdoors. Judy, Founder of DIVA ... Women Outdoors Worldwide is the largest women's ONLY outdoor organization. DIVA WOW is a non-profit 501(c)3 unique all volunteer sisterhood dedicated to encouraging women to discover their outdoor passion. View all posts by Judy Rhodes →