Kristy Titus Launches New Line of Elk Calls with Rocky Mountain Hunting Calls
Bend, Oregon (May 25, 2017) – Calling elk is in Kristy Titus's DNA, so it was just a matter of time before she partnered with Rocky Mountain Hunting Calls for her "Pursue the Wild" line of elk calls. Product is now available on Titus' website here, and is coming to Cabela's stores this July. Titus is a NRA Certified Instructor, Cabela's Ambassador, and host of "Pursue the Wild" digital series, which is debuting June 5 on ElkNetwork.Com and her YouTube channel.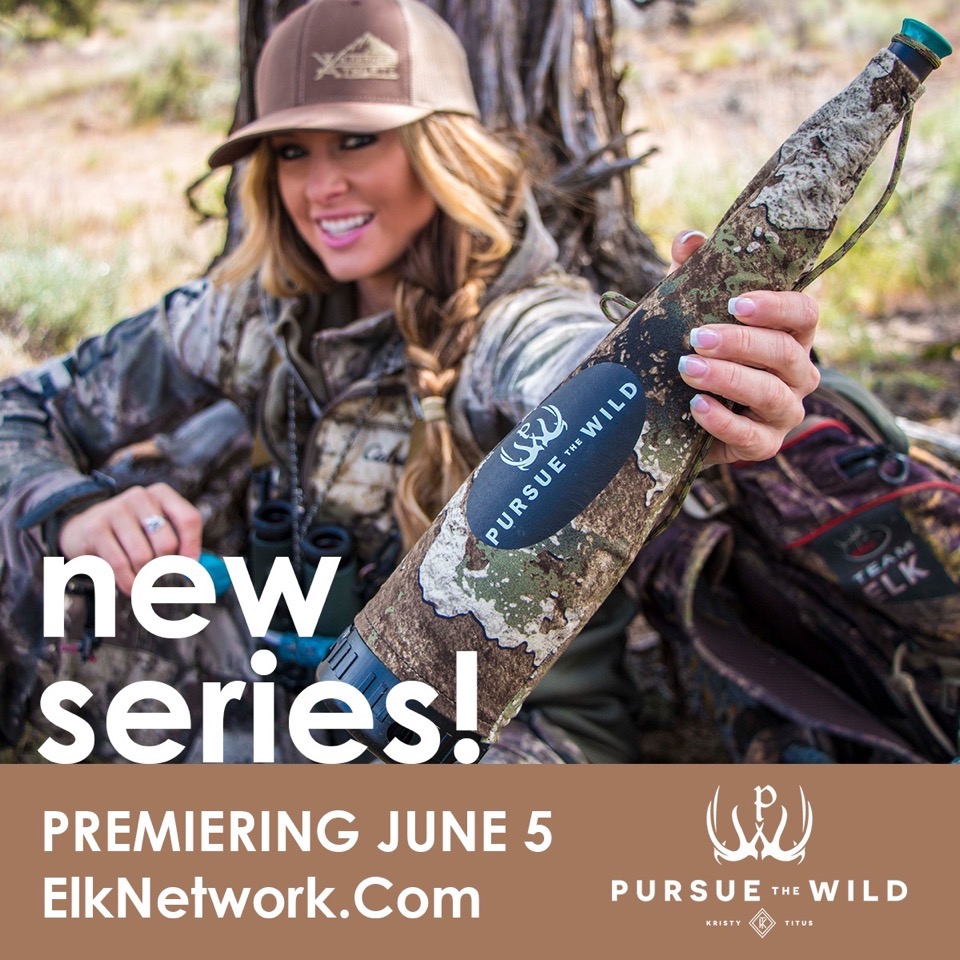 The elk calls available are: Wild Frenzy, a bugle tube; Wild Fury, a mouth diaphragm and Ignite Her Wild, an open reed call for cow/calf call for making mews, chirps and estrous tones.
"I've known Kristy for several years," states Rockie Jacobsen, owner of Rocky Mountain Hunting Calls. "We have worked at seminars, competed at calling contests and have hunted together several times. It only made sense, that with all her capabilities in the outdoors, we develop her own signature series of elk calls. Kristy and I worked together to design these specific calls that add another dimension of elk sounds to our lineup. The entire team at RMHC is very proud to have Kristy Titus 'Pursue The Wild' elk calls in our line of products."
The Wild Frenzy is designed to have great tone with a slightly more compact design than other RMHC bugle tubes. The V.E.T.T. system, found in the Wild Frenzy bugle tube, which stands for Volume Enhanced Tone Technology creates true, easy to obtain elk sounds. The spring creates more volume, helps stabilize the higher notes, helps create raspier low growls, allows you to make easier octave changes and takes less air to operate than a tube without it. The vibration dampener (Tube Tamer) is on the inside of the tube on the large end and helps enrich the deep sounds for chuckling while eliminating any of the plastic vibration and does away with that 'hollow tube' sound.
All of Titus's calls have specialized features that help obtain the most realistic diversity of elk sounds possible. "The Ignite Her Wild's Mylar reed and wood barrel produce the nasally, three-dimensional sounds the bulls respond to during the rut. You won't be disappointed!" exclaimed Titus.
And Titus wanted to ensure her calls were comfortable for women to use in the field. "The Wild Fury mouth diaphragm features the Rocky Mountain Hunting Calls PPP series (Plastic Palate Plate) and is made with a slightly narrower frame for youth, women and men with a narrow palate area. We wanted to design calls that give everyone confidence to take out in the field with them," said Titus.
Watch Titus use the "Pursue the Wild" line of elk calls during her digital series of the same name beginning June 5.
Watch on ElkNetwork.Com or Titus's YouTube page.
About Kristy Titus: With a shared passion and love of the outdoors, Titus is honored to serve as a featured member of The Rocky Mountain Elk Foundation's Team Elk television show, Host of NRA Tips & Tactics, and Host of Pursue the Wild digital series. Titus was raised leading a pack string of mules into the backcountry of Oregon, experiencing the thrill of public land, do-it-yourself hunting. Titus is an NRA Basic Pistol, Refuse To Be A Victim Certified Instructor & RSO. She shares her passion for fitness, nutrition & hunting as editor for Western Hunter magazine. Learn more at http://kristytitus.com, https://www.youtube.com/user/PursuetheWild, https://www.facebook.com/KristyTitus and https://instagram.com/kristytitus/
About The WON

The Women's Outdoor News, aka The WON, features news, reviews and stories about women who are shooting, hunting, fishing and actively engaging in outdoor adventure. This publication is for women, by women. View all posts by The WON →