Can I Do It All With One Shotgun?
In my job as brand manager of Syren, this question comes up a lot: Can I just buy one shotgun and do everything I need or want to do? Theoretically you can, but that's also like saying there's one pair of shoes that fits all occasions—and we all know that's not the case. So the short answer is no, you really can't do it all with one shotgun … if you want to do it well. That said, I think it's important to outline the features of each, which will give you the information needed to make your choice (or choices).
We'll start with trap, as it's the most discipline-specific shotgun. Most, if not all trap shooters pre-mount their gun, and the range of motion is minimal for each shot, since all the targets are coming from the same place.
Syren trap guns are highly customizable and come with a higher rib (adjustable to allow for varied shot pattern selection), standard adjustable comb, and 32- and 34-inch barrels in the un-single and over/under, respectively. It has a wide, beaver-tail forearm with grooves down the sides. And although you can change them, the most popular chokes for trap are Modified, Improved Modified and Full, for a very tight shot pattern. But the longer barrel length of a trap gun is difficult (but not impossible) to swing for other sports or hunting, and it weighs in at a pretty hefty 8 lbs. 6 oz. The Syren Tempio Trap retails for $6,495 for the Unsingle and the O/U, and $9,095 for the combo.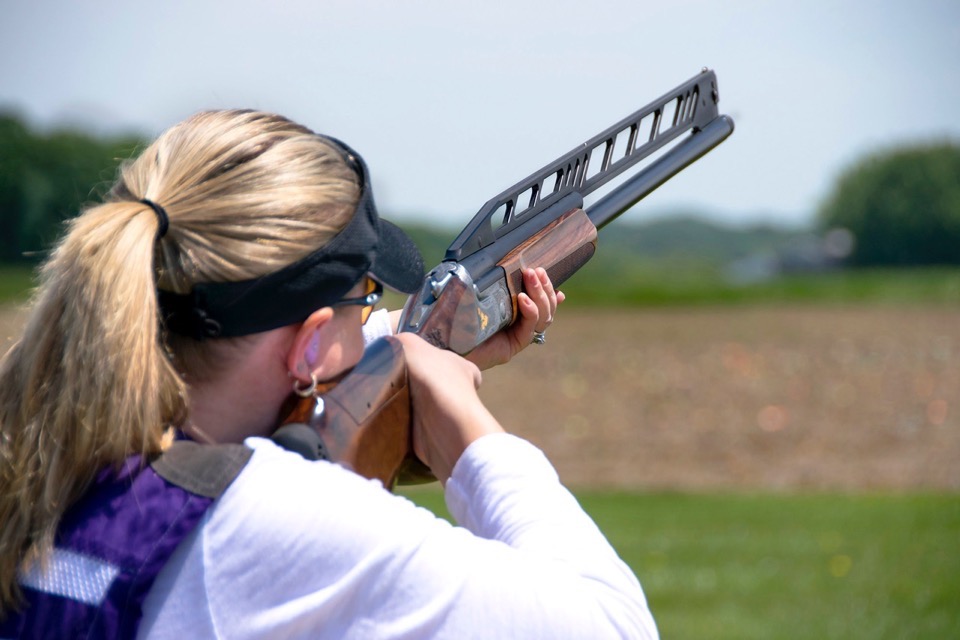 I shot trap years ago, and I suspect that if I had had a trap shotgun I probably would have done better than with my sporting gun. The high rib of a trap gun allows you to "float" the bird and not lose visual contact with it; with a regular sporting gun, you must cover the bird with your barrel, thus losing sight of the target before pulling the trigger.
In direct contrast to trap, upland (or field) models are lighter, sleeker and more refined; they won't tire you out when carrying one for long distances through fields. Lighter, shorter upland guns are easy to mount quickly for instinctive shots with little warning, such as with flushing birds.
Syren's Magnus and Tempio models come with a wood butt plate, Schnabel forend (it has the little curve out on the forward end), a Prince of Wales grip (rounded pommel style), and 28-inch barrels. The 20-gauge models weigh 6 lbs. 9 oz.—and the 28-gauges are 5 oz. lighter. 30-inch barrels are also available. The Elos field models in 20 and 28 gauge come with pistol grips, a rounded forend and a rubber butt plate. The Prince of Wales grip gives you more flexibility with your grip, as opposed to a pistol grip, which puts your hand in a defined spot each time you reach to pull the trigger. The field models range from $3,055 to $8,420 for a 3-barrel set.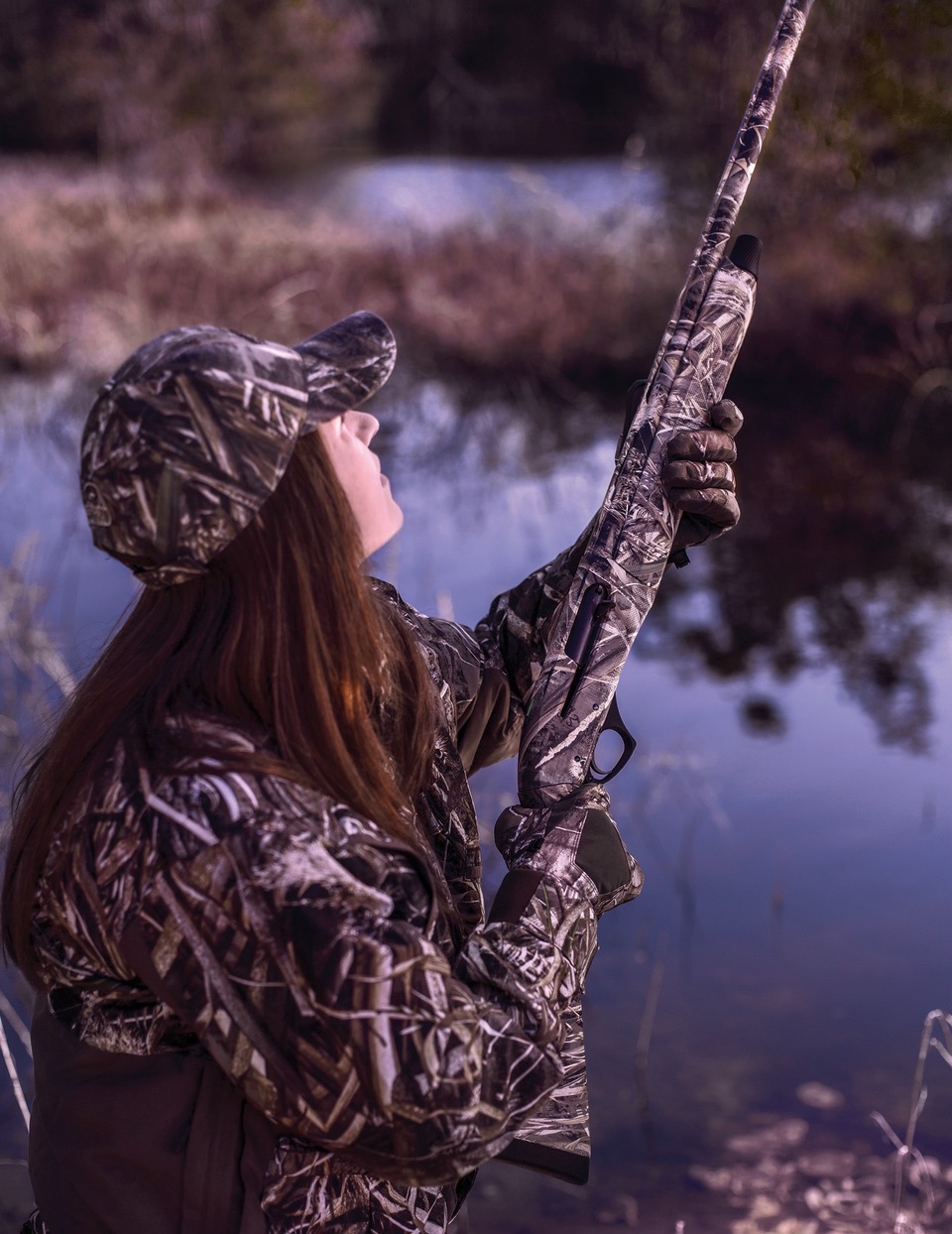 Just like you wouldn't wear your strappy sandals into the duck blind, the Realtree Max 5 camouflaged semi-automatic Syren Waterfowler is kind of in a class of its own. When hunting, you want to blend into your surroundings, and you don't want anything reflective or shiny to let your prey know you're there. (Be sure to remember to take off your shiny watch, necklace, rings and earrings!) The Waterfowler has a soft-touch finish that prevents it from getting slippery when wet, and will hold 3 shells (for when you need that quick extra shot). It weighs in at a light 7 lbs. 1 oz. The Syren Waterfowler retails for $1,795 for the right-handed model, $1,975 for the left-hander.
Sporting guns are probably the style of gun most likely to be able to "do it all." I might be a bit biased, but if you have to choose just one shotgun, I'd say Syren's Elos, Tempio or Magnus models are the way to go. The Elos has a black receiver, the Tempio sports a nickel finish with gold roses, and the Magnus comes with nickel side plates. They come with either a 28- or a 30-inch barrel, and a 32-inch barrel is available by special order. As with all Syren models, left-handed stocks are available for a small upcharge. The sporting models also come with 6 competition extended chokes. The Syren Sporting models start at $2,650 for the Elos, $4,475 for the Tempio, and $5,595 for the Magnus.
Now that I've described the models, here's a bit of info on the front end of the guns.
Barrel Lengths: When I first started shooting skeet in 1999, it was with a "skeet gun" with fixed 28-inch skeet choke barrels. When I started in Sporting Clays in 2004, 28-inch barrels were pretty standard, especially for ladies. Fourteen years later, 30-inch seems to be the standard for most women. If you're under 5′4″, you may want to consider sticking with 28-inch barrels, but if you have the arm strength to handle a longer barrel, get what you prefer; there's no hard and fast rule. Trap shooters like longer barrels, and field hunters and skeet shooters tend to go with a 28-inch.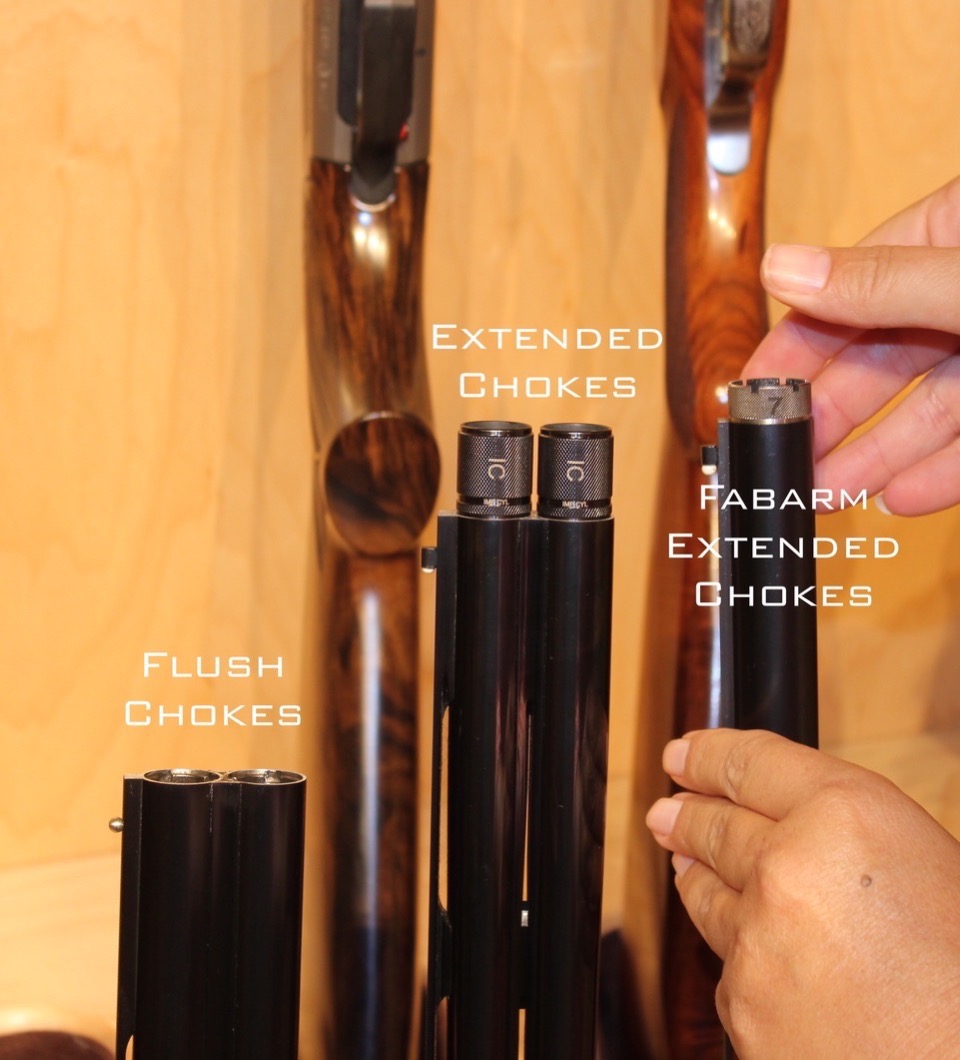 Chokes: As a general rule, most sporting models have extended chokes so they're easy to change throughout the course. You can turn extended choke tubes with your fingers, provided you have lubed them well and they aren't stuck. In case they're difficult to remove, Syren includes a choke tube wrench with each gun. A good rule of thumb is to give them a full twist "out" when storing to prevent them from sticking. If you're not a "choke changer" and don't want to have to worry about it, you can also get flush mount chokes that are even with the end of the barrel.
Rib: There are a lot of ideas about rib height, and everyone seems to have a different opinion about high rib versus low rib. Bottom line: Shoot the rib that allows you to hit targets.
Safety: The safeties on Syren guns are manual, and do not engage when the gun closes. Each time you load your gun, if the safety is off, it will stay off, and be ready to fire as soon as it's closed. They can be converted to engage automatically if you prefer.
Grip: There are two kinds of grips on Syren guns: the pistol grip and the Prince of Wales grip. The pistol grip is larger and longer, and lets you place your hand in the same spot each time you hold the gun. The Prince of Wales grip is smaller and more rounded, for easy use in the field. None of the current Syren models have an English stock, which has no grip, the but the Caesar Guerini Woodlander comes with one.
Butt pad and recoil reducers: The Syren models come with both wood butt plates and rubber pads. You can switch out the pads along with adding another recoil-reducer, such as a Jones Plate, GraCoil or Kick-eez. The shells you use will dictate your felt recoil, so using a lighter shell will reduce the need to reduce recoil. I recommend shooting loads of 1 oz. or less and 1,200 feet per second (fps) or less. All the accessories and services are available at syrenusa.com.
Your Shotgun Sport
All this being said, I recommend figuring out what your primary sport will be, deciding on a budget, and then finding some guns to try out on a range before you buy. Do some research and talk with other ladies who own the model of shotgun you are looking to buy. I'm always available to answer any questions at Lynne@SyrenUSA.com.
About Lynne Green

Lynne is on to her next adventure after over four years in Maryland with Caesar Guerini and Fabarm as the Brand Manager for Syren (a line of shotguns made for the ladies). She has attended dozens of demos and events and has been honored to get to meet and introduce hundreds of ladies and young girls (and lots of boys and men too) to all 3 brands and to shotgun shooting! Lynne has learned so much about shotguns – gun fit, eye dominance and mechanics – that shows her just how much more there is to learn. She now is doing marketing and branding consulting and also plans to stay active in the outdoor industry, do more hunting and sporting clays, shooting lessons and add some fly fishing to her repertoire. She'll be based in the Dallas Fort Worth area. View all posts by Lynne Green →