Wyoming Women's Antelope Hunt: There's Nothing Quite Like It!
In 2014, I was asked to be the guest hunter and speaker for the Wyoming Women's Antelope Hunt (WWAH). I had never heard of the event, so I did some digging before I agreed to participate. I learned that the hunt was started in 2013 as a fundraiser for the Wyoming Women's Foundation. The goal of the hunt was to bring nearly 40 women from across the country to eastern Wyoming and provide an opportunity for mentoring, education and encouragement. Most of my hunts to that point had involved only men, so I was intrigued with the idea and soon headed east from Cody over the Big Horn mountain range to the tiny town of Ucross, Wyoming.
As I pulled in to The Ranch at Ucross, the first thing that caught my eye was a massive white tent. I then took in the log buildings, the horses milling in the pastures, and a beautiful creek trickling through the idyllic setting. Seeing the dozens of pickup trucks in the parking lot with the mountains as a backdrop, I knew this was going to be an unforgettable weekend.
That first year hunting with WWAH was an amazing experience. Not only did I harvest a nice buck, but my partner filled her tag as well. We had so much fun getting to know each other and giving our guide a hard time. When we returned to the ranch, we were greeted with such enthusiasm and support; was this what it was like to hunt with other women? We enjoyed dinner each night and clapped and hollered for each other on the awards night before it was time to go home. The camaraderie was contagious, and I couldn't wait to continue my involvement with this group of ladies.
Most group hunts focus solely on the hunt itself and don't leave time for anything else. Because the WWAH stresses self-sufficiency and responsibility, it's set up to do more for the women who came for this rare adventure. Before the hunt, Wyoming Game & Fish department employees stopped by to cover hunting safety and to supervise as the women sighted in their rifles. Once a team of hunters had filled both their tags, the animals were taken to the meat pole, where the women could learn about processing the meat and preparing the animal for taxidermy. A cooking class was held on the lodge deck with a donated antelope backstrap; each woman left that weekend knowing exactly how to use her harvest to provide for her family and friends.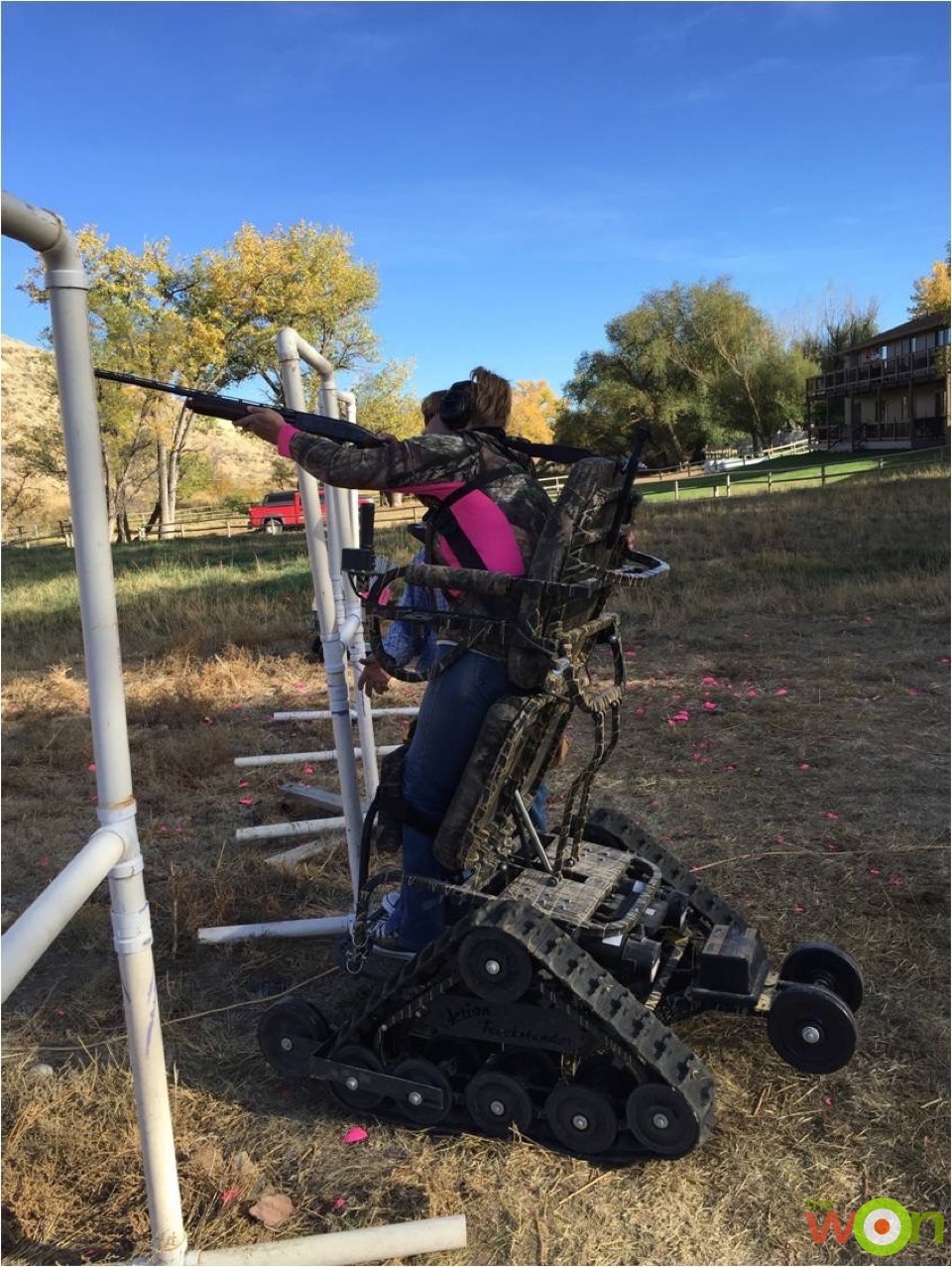 In the spirit of mentoring and networking, the event offered other activities as well. There were fly-fishing classes, the trap shooting range was open, and masseuses set up their chairs on the deck. Some of the ladies learned about bow-fishing, while others strolled the grounds and made friends with the horses and ranch dogs. It was a weekend that instilled in me the importance of teaching new women hunters the importance of conservation and ethical hunting, all the while remembering to enjoy the adventure.
For the past two years, I have returned to the WWAH as a volunteer, and I plan to continue that tradition this fall. At the beginning of October, I will load up my Action Track Chair on my trailer and head out for a weekend I look forward to all year. I help with check-in at the meat pole, and it is such an honor to be there when the ladies return. Whether they were successful, missed their shot, or never got one off, their faces say it all: They are stronger, braver, and more confident for having spent the weekend at the WWAH.
This joy and growth is celebrated on the final night through the awards dinner. One award recognizes the woman who harvested her antelope at the shortest distance. A team of hunters is recognized as well. Any woman who took down her antelope with one shot is given a certificate, and, finally, we recognize the ladies who gave it their all, but were unable, for whatever reason, to fill their tag. These women usually get a standing ovation, because we all know that hunting is more than just shooting an animal. It involves perseverance, courage and a spirit of independence and strength; these are the pillars of the weekend.
If you are interested in this life-changing event, there are multiple ways to get involved. As a hunter, you can participate as a scholarship recipient, a private pay hunter, or as a sponsored hunter through your company or business. These options are made possible because of the Wyoming Women's Antelope Hunt's generous sponsors, and the organization is always looking to further these relationships. Finally, you can come as a volunteer. Trust me: You will have an awesome time. Whatever you can do, come and be a part of country's first all-women antelope hunt; there's nothing quite like it.
Read more about the Wyoming Women's Antelope Hunt here.
About Ashlee Lundvall

Ashlee Lundvall writes a blog titled "Redefining Life,"  that follows her rise from a debilitating injury as a teenager to Ms. Wheelchair USA in 2013. Her first book, "A Redefined Life," was published in February of 2016, and she is on National Pro Staff for Mossy Oak and the NRA's Disabled Shooting Sports committee. Ashlee is also the recipient of the 2017 SCI Foundation Pathfinder Award. Ashlee truly shines as a keynote speaker at outdoor industry and disability related events and conferences. She is passionate about mentoring newly injured patients, and loves to pass on her love for adapted outdoor recreation! View all posts by Ashlee Lundvall →