She Guides: Meet Carlee Ogeka, Sporting Dog Trainer and Pheasant Guide
Carlee Ogeka is a pheasant guide and trains her own retrievers on New York's Long Island. She is a dear friend and took me out on my first-ever pheasant hunt. She also runs a small business and can be found at sporting dog competitions throughout the year. Her dogs have senior hunter and upland retriever titles. She will be taking her New York hunting guide test next week. As told to Courtney Nicolson.
I've always been a true outdoors girl. I was born and raised in upstate New York—spending my summers at my grandparents' house, exploring the woods and learning to fish on their pond. I moved to Long Island for college and studied environmental science and biology. Brookhaven National Laboratory offered me a job, and I was there for 13 years.
While I truly enjoyed my time there, I was ready for something new. Some of my friends worked at a boarding kennel and they needed someone to work on Christmas day, so I offered to take care of the dogs. The owner told me that she intended to close the place soon. I looked around and said, "the place is always full; how could you close?" She had just wanted to retire, and said if I wanted the business I could have it. I ran it for a little bit, but the upkeep on the building became more and more expensive, so I decided to run a small kennel out of my house.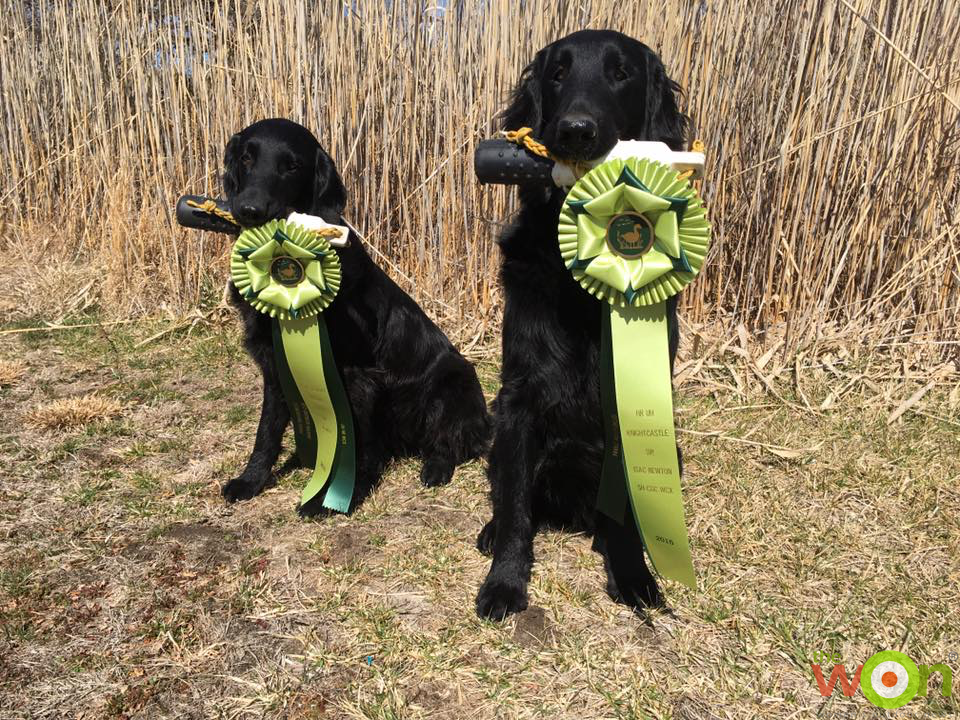 That's when I fell in love with a flat-coat retriever.
It was one of our clients' dogs, and it sparked my interest. I found a breeder and got my own flat-coat retriever, Parker, a little over 5 years ago. About a year later I got BB. I didn't even know what I had; I didn't plan on them being hunting dogs. When I went online and I saw pictures of these dogs retrieving, and I asked a friend, "What is that pretty bird in the dogs' mouth?" He told me it was a pheasant.
I decided to look into it further. With a little research I found a retriever training club nearby and I started the process. I trained them for the American Kennel Club hunt test—in essence, simulated hunting. People have different reasons for competing. Most people just want their dog to be ready for hunting season. Breeders want hunting titles for their gun dogs. I do it because the dogs love it.
When Parker was about 1½ years old I started pheasant hunting. I met some friends who knew how to shoot and we started hunting on state land. Then I joined a preserve as a member; that year I think I took somewhere around 30 guests. I was just looking to take my friends and get more time with my dogs. I wanted to show people the sport because I thought it was enjoyable.
In no time at all I found a new farm and scheduled a hunt for my birthday last September; before I even got there, the owners (who had been following me on Facebook) asked me if I would consider guiding. After seeing me work with my dogs on the hunt, they asked again. They liked the way I interacted with clients. They thought my dogs had stamina, and that we worked well together. I agreed, and started guiding that year.
A lot of people don't know that pheasant hunting exists on Long Island. The state of New York releases birds during November and December—every Friday and Saturday night, one weekday, and on some holidays. There's one check-in station and two properties. There are reservation days, but there's also days where it's first come, first served. You go up to this station before dawn, and it's elbow to elbow—it's wild. You pick your desired spot, they release everyone, and you run to your spot. Some people try to hunt the adjacent spot's birds. People get really jealous if you do well. (Especially if you're a girl and it's your first year.)
The first day I limited on state land I walked 13 miles, because I missed an easy bird early in the day. I shot my limit several more times last season. I clean and enjoy eating all my birds, and I'm always trading recipes.
Many of my clients are first-time hunters. Some people have never shot a shotgun, and bring guns they've never shot. Then we have other clients who have only been target shooting, and this is their first-ever hunt. We start off with the safety basics: Don't shoot my dogs, don't shoot me, don't shoot each other. I tell them to wait until the bird is surrounded by blue sky before they shoot. First time wing-shooters need proper instruction to have a safe and fun experience. My dogs are a true flushing breed, but I have encouraged them to hold point. May people feel more comfortable shooting over a steady dog on point. They do, however, have to keep pace with me and the dog in order to have the best shot. I tailor each hunt based on the experience and physical ability of the hunter.
I'm really looking forward to the upcoming season. The outfitter is giving me a lot of responsibility. I'm going to be in charge of ordering the birds, scheduling all the hunts, and sometimes handling the release. These are not canned hunts; the birds are not retained or in cages, and they are released every hunt whether it's morning or afternoon.
We have also been working with the farmer to plant for an upland preserve. You need a solid plan to have successful cover crops, both for habitat as well as for hunting conditions.
I'm looking forward to meeting new and repeat clients, working my dogs and making sure everyone is having fun. Everyone loves watching the dogs work. It's wonderful to see my clients shoot their birds successfully and take them home to their table. I like to think that they will share the experience of their day while enjoying the game with friends or family. We are making memories while walking those fields. That's what it's all about.
About Courtney Nicolson

Courtney Nicolson is an outdoor writer, hunter, and angler based in Denver, Colo. She is an active member of numerous conservation groups and is passionate about empowering women in the outdoors. Courtney is the senior producer/editor for Outdoor Sportsman Group Networks. View all posts by Courtney Nicolson →