At Home with Horses
My love for horses started early in life – in fact, shortly after I was brought to this world by my loving mother and father. At that point in their lives, they were young and didn't have much in the way of material things, but they shared a love for horses and the outdoors with me. After leaving the hospital, my parents brought me home, which at that time, was an apartment above a horse barn where my mother taught horseback riding and broke horses. I was riding horses before I could walk. My mom, barely measuring 5'4" and less than 120 pounds soaking wet, was one tough lady with a strong spirit who never gave up, even after being thrown numerous times off horses; some spills even required surgery. I know I got my love for horses honest and I like to think I have her courage and spirit as well.
We always had 2 or 3 horses growing up. As I got older, it was tough to find the time to ride them. About 10 years ago, my mom passed away and the decision was made to sell the horses. Sometimes you don't realize how much you wish you would have made more time to enjoy the things you love doing until the opportunity is gone.
Hannah Loves Horses
Our love for horses has been passed down to my daughter as well. My parents had her hooked early – buying her a pony for her 4th birthday sealed the deal on that. Now, years later, Hannah and I occasionally book trail rides, which make for great mother-daughter bonding time. Just a few months ago I booked a trail ride for us at a local barn, Star HB Farms in Huntsville, Alabama, for some Valentine's Day fun. We were so excited when we got there, and after our trail ride neither one of us wanted to leave. We could have spent all day there enjoying these beautiful strong-spirited creatures. The owner could see we were in Heaven and asked if we would like to volunteer. That was a one second decision – YES! We followed the split-second affirmative decision with this question: "When can we start?" Schedules permitting, we now volunteer almost every weekend.
I never expected the scent of horse manure and hay to be something I would look forward to, but somehow it makes me feel like I am where I am supposed to be. The scent brings back wonderful memories of riding with my mother and watching her smile while she groomed the horses and mucked the stalls. When I was younger, I didn't grasp the meaning behind the smile she wore while grooming and cleaning. As for me it was more of a chore, but now I understand it and feel relaxed, at peace and "at home" while taking care of the horses.
Slushing Around
Now that I enjoy working around the barn and grooming the horses, appropriate boots are a must. After ruining countless pairs of boots, I decided to try out Muck Boots. After researching its equestrian line, I chose the Reign Tall Boots ($154.99). The description of the boots not only met my needs, but they are stylish as well and hey, I want to be in style – even if I am slushing around in horse manure.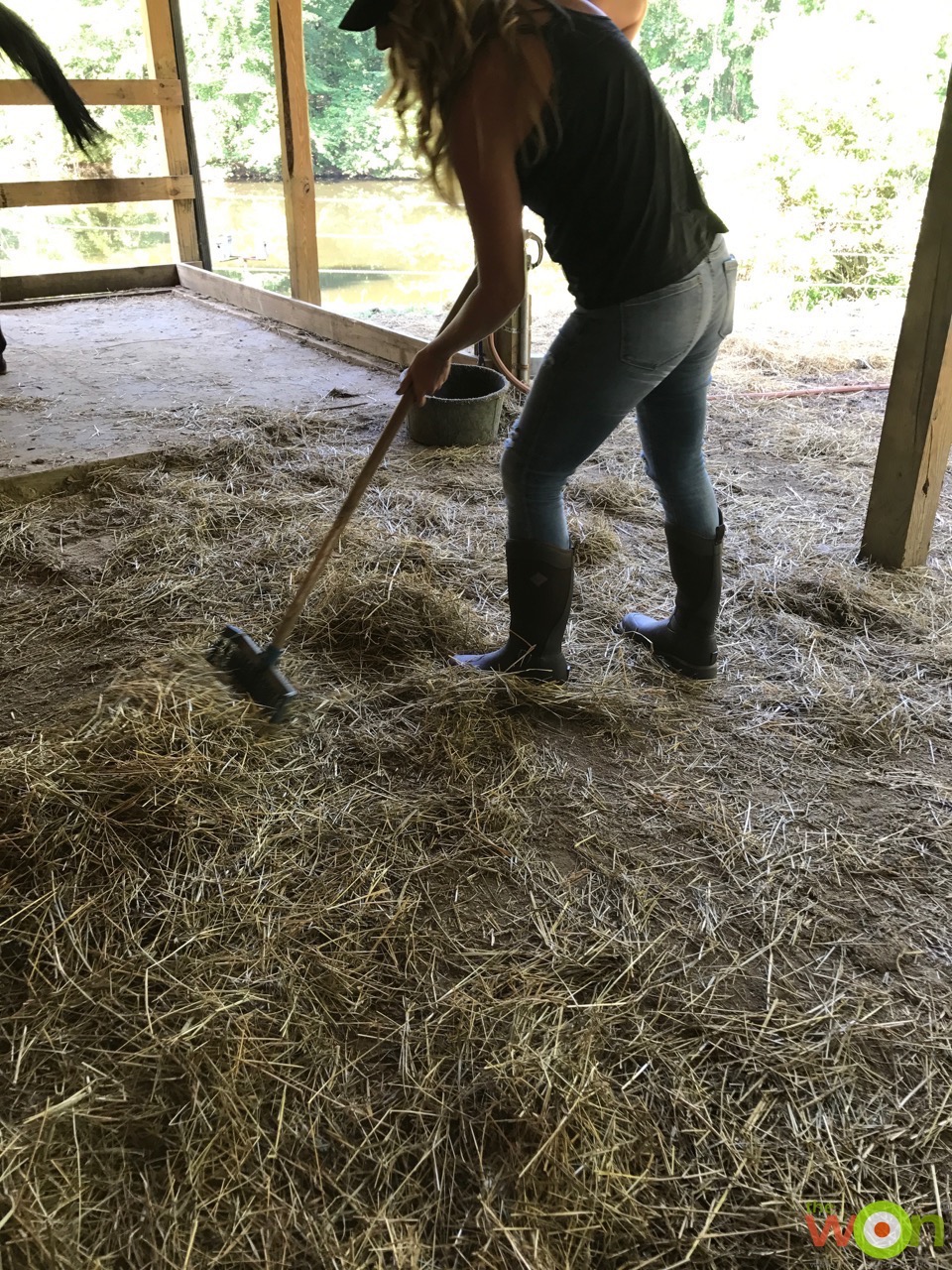 It was time to put them to the test: can stylish boots really be 100% waterproof, comfortable and reduce heat buildup on hot summer days? After wearing the boots numerous times, in different weather conditions, I am pleased to say they pass the test.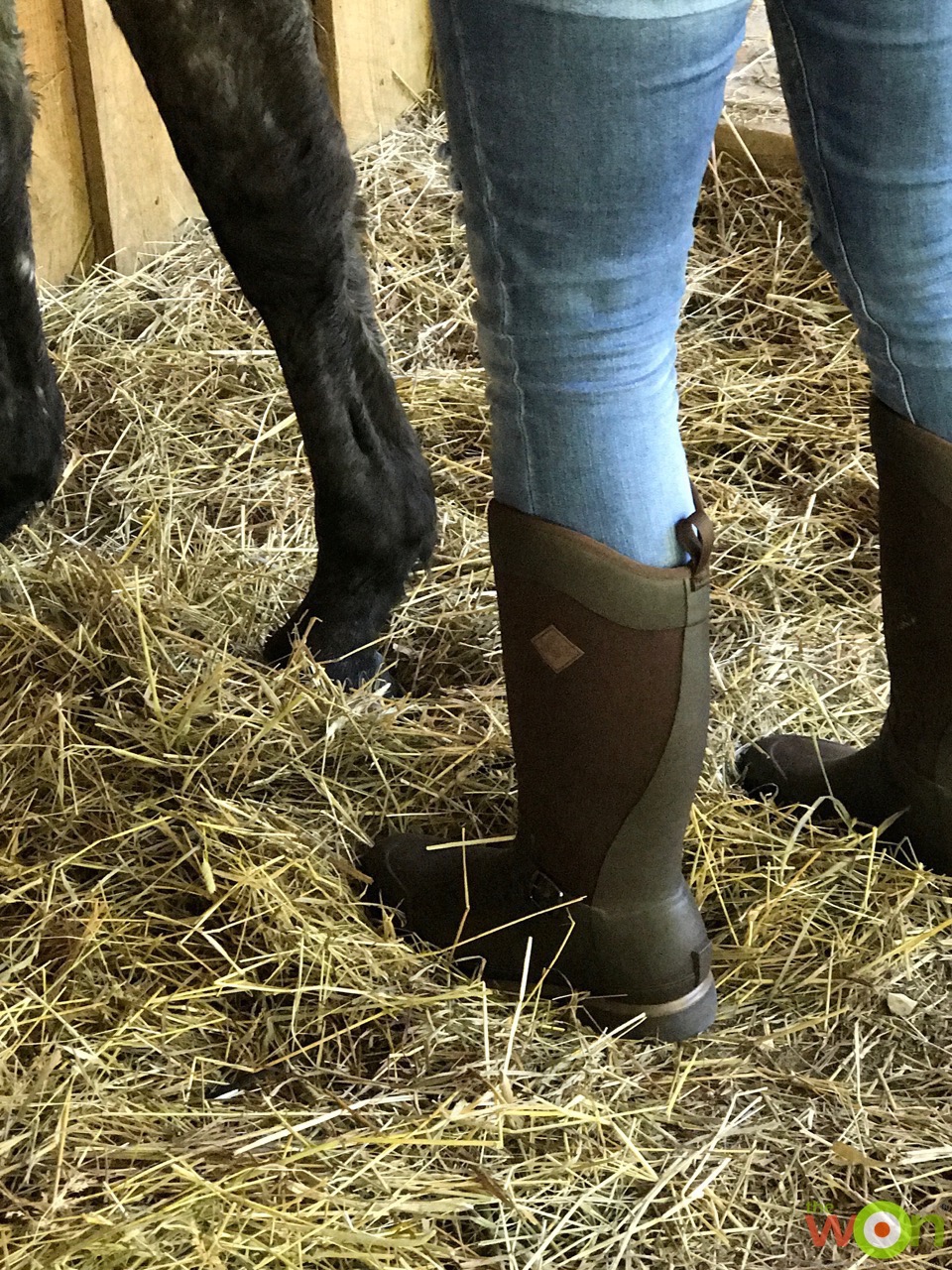 Learning to Lunge a Horse
On my most recent trip to a barn in North Carolina, where I visited family and friends, I got the opportunity to learn how to lunge a horse, from my mom's best friend. She also offered to give me tips to improve my riding skills. After years of not riding on a regular basis, my skills aren't quiet what they use to be so I gladly accepted the offer. A typical North Carolina summer day (with the temperature around 95 and the humidity almost as high) didn't stop us from heading to the barn. Jeans AND boots on a hot summer day, made me wonder if I had gone crazy? As much as we ladies like to say our feet never sweat, that's almost impossible in tall boots in high temps. On a hot day, I am normally ready to pull my boots off and cool down … but that wasn't the case at all. It felt as though the heat was significantly reduced, compared to other boots I have worn in the past, making me much more comfortable in the heat. I found the claim of 100% waterproof to be true after wearing them in the rain and slushing through horse manure. I love caring for the horses, but I don't want to pull my boots of after cleaning up manure to find that it saturated through my boots and onto my socks. In addition to the reduction in heat, being 100% waterproof and looking stylish, the boots proved to be comfortable whether I was mucking stalls, grooming horses or riding. Needless to say, I plan on ordering a few more pairs of Muck Boots soon.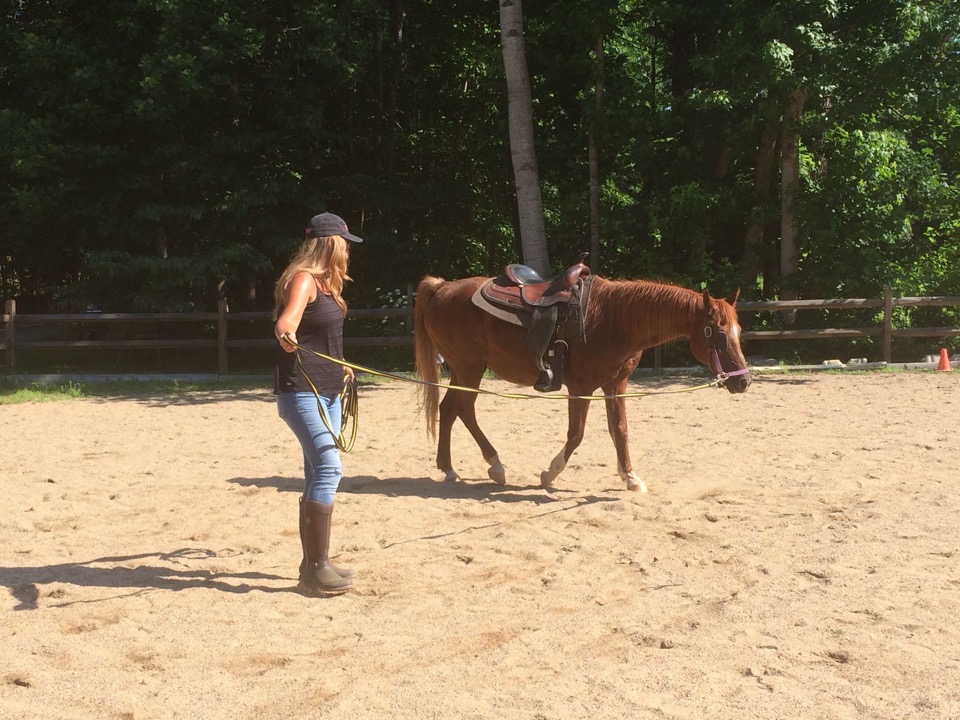 The fresh air, sunshine and adorable puppies bring serenity to the mind and soul but I am "at home with horses".
About The WON

The Women's Outdoor News, aka The WON, features news, reviews and stories about women who are shooting, hunting, fishing and actively engaging in outdoor adventure. This publication is for women, by women. View all posts by The WON →