This Week on Outdoors Radio: Michelle Milford Trains a Deaf Setter to Hunt
This week, Dan Small Outdoors Radio features several segments that won awards at this year's Outdoor Writers Association of America annual conference in Duluth. Special guests include dog trainers Jeremy Moore and Michelle Milford, and pro angler Duffy Kopf. Jeff and Dan share exciting moments from the 2016 bow deer season.
In the Hupy and Abraham Outdoor Report, Michelle Milford, outreach coordinator for the Natural Resources Foundation of Wisconsin, tells how she and her husband trained their deaf English setter to hunt using hand signals. (www.wisconservation.org, www.cherishwisconsin.org, www.hupy.com)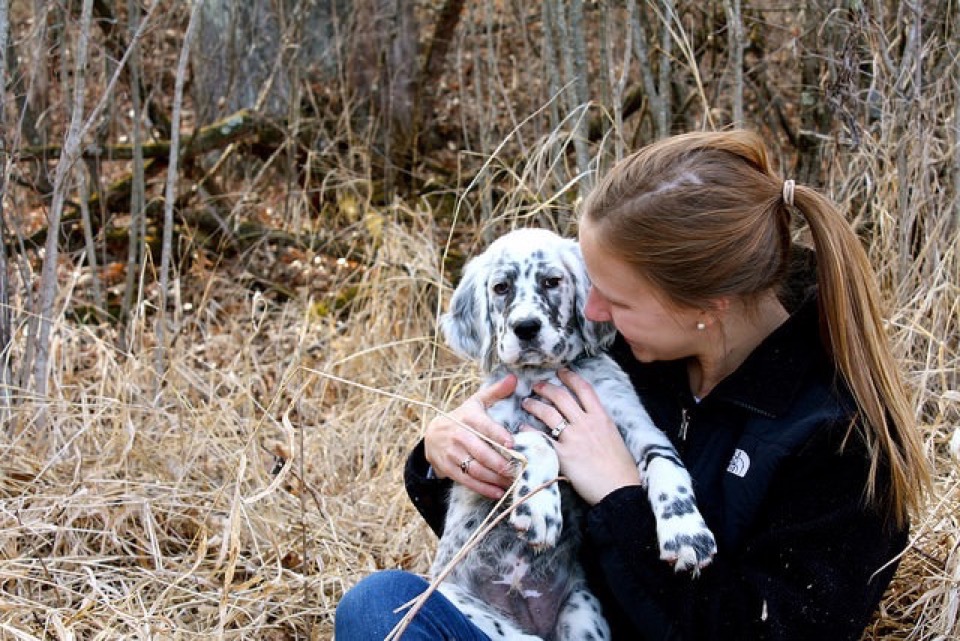 Michelle Milford and her English setter
Jeremy Moore, founder of Dog Bone Hunter, shares advice on using a trained dog for recovering wounded deer. (www.dogbonehunter.com)
Jeff shares details of an exciting hunt in the early days of the 2016 bow season.
In the Madison Outdoors Report, exclusive to podcasts and FM 100.5 ESPN broadcast, presented by Fisher King Winery in Verona, and Pappas Trading Post in Arena, pro angler Duffy Kopf offers advice for summer action on the Madison Chain. (www.fisherkingwinery.com, www.pappastradingpost.com)
Join Dan for a fall fishing trip to Ballard's Black Island Resort on Lake of the Woods, Sept. 17-23. Trip includes six nights in private cabins on Black Island, five days of guided fishing, all meals, boats, tackle, bait, and fish cleaning. Limited to 18 people. For details, call 218-634-1996 or visit blackisland.com.
Contact: Dan Small at 414-588-4082 or dan@dansmalloutdoors.com
Watch Outdoor Wisconsin every Thursday night on Milwaukee Public TV, Wisconsin Public TV and other stations around the Midwest. For information, go to www.mptv.org. Listen to Outdoors Radio with Dan Small on 11 stations in WI, including Newstalk 1130 WISN, Milwaukee at 6:00 a.m. Saturdays and 24/7 @www.lake-link.com/radio, @www.itunes.com, www.hardwater-angler.com or www.dansmalloutdoors.com. Outdoors Radio is also streamed twice daily @www.theradiofactory.com
About The WON

The Women's Outdoor News, aka The WON, features news, reviews and stories about women who are shooting, hunting, fishing and actively engaging in outdoor adventure. This publication is for women, by women. View all posts by The WON →