Retro WON: Barefootin' in Ascension Bay – Yucatan
Rita Schimpff gets a lot of her ideas inspired by trips and experiences. Here, she takes us with her on a trip of a lifetime, to Ascension Bay in the Yucatan.
Summertime makes me think vacation sooooo, I am taking a break from my outdoor décor column to share a fishing trip … just so you know I really do venture outdoors!
Where the Sky Begins (Sian Ka'an) is what the ancient Mayans called this Unesco World Heritage site and where our February azure adventure began.
We learned about Casa Blanca Lodge through our friend and guide Doc Thompson of High Country Anglers, based in Ute Park, N.M. – he helped us with all the arrangements. Doc is a longtime friend of Rita Adams, who grew up fishing New Mexico with her guide/father and became a guide herself at 17. She and Johnny Pares manage the 2 privately owned lodges.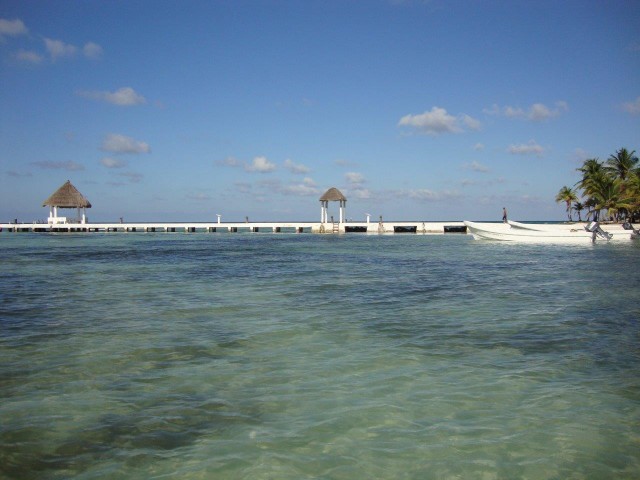 We called the pier at Casa Blanca lodge "home" for 8 days. The privately owned island was once a coconut plantation and now boasts Casa Blanca and its sister lodge, Playa Blanca.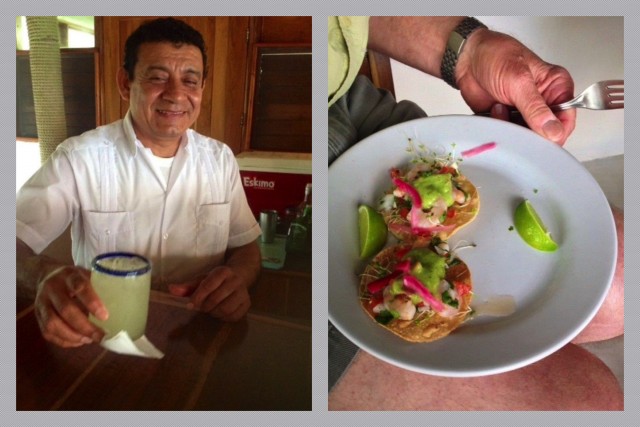 All of the food is fresh and made from scratch – each evening, along with cocktails, wonderful appetizers are served to each guest. All the fish is caught by locals with special permits allowed only to them. Renan was always at the ready with a hand-crafted Margarita.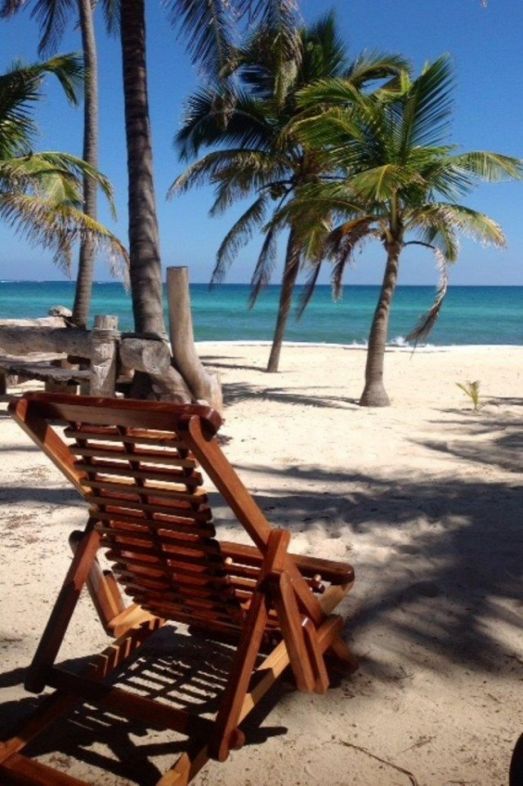 Conservation and respect for the area, its inhabitants and natural resources are evident. This biosphere contains the 2nd largest barrier reef in the world and is also home to abundant flora and fauna; there were a pair of nesting Osprey just to the left of my chair! I spotted Roseate spoonbills, brown crested flycatchers, royal terns as well as the beautiful Mangrove warbler for my "life list."
The native jaguar, a once iconic symbol of greatness to the Mayas as 'king of the forest' is now in serious danger of extinction, but their numbers are rebounding. I had wondered (doubted really) my casting ability for my first trip in the uncharted salt flats. I fight the wind, I had not yet learned to double haul, and have not had much practice with anything heavier than a 7-weight rod, but then you don't get ahead by waiting. We took 7-, 8- and 10-weight rods and on the first day, as we say in the South, referring to luck, a blind hog finds an acorn! Or in this case my first bonefish on a 'Gotcha' fly tied by my husband. At times the bonefish came in waves, and we would each have one on.
We felt much like Kate and Bogie on the "African Queen" as we traversed through holes in the mangroves barely tall enough for the boat to squeeze through and heavily populated by spiders!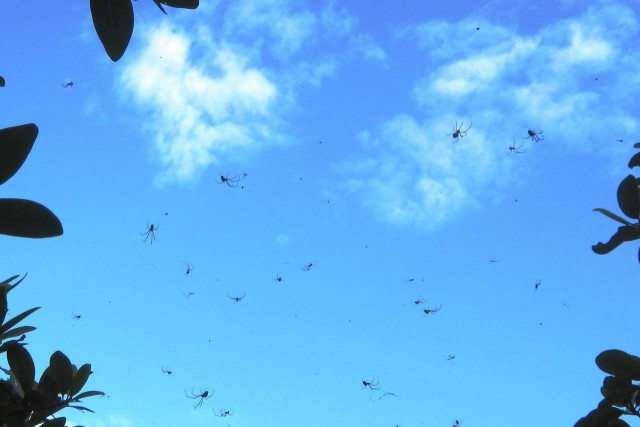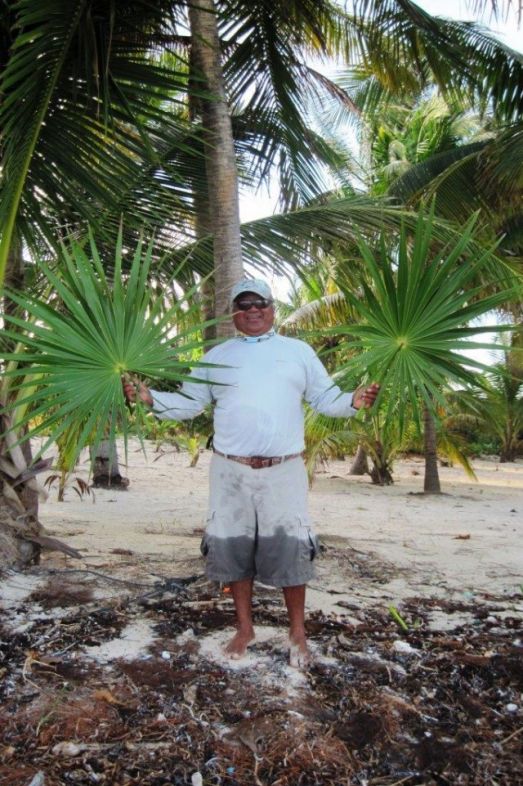 Luckily, our guide, Rene came up with a secret weapon for the non-poisonous aranjas! Your guide for the week is your lifeline and your coach. You learn to become a team. Rene is a 19-year veteran here and extremely knowledgeable about the fish and how to navigate the area and the endless maze of mangroves.
My first tarpon ever and on a fly. My husband, Skip, and I both caught our first on the same purple/black peanut butter fly given to us by Doc, but it came at a high price later at the bar! The fly is now retired. To say Rene was patient is an understatement! I won't go into all the shenanigans I employed and my shock when that first bonefish took off – along with half of the rod. But I will say that in 6 days Rene uttered "Casta More Longer!" more than a few times.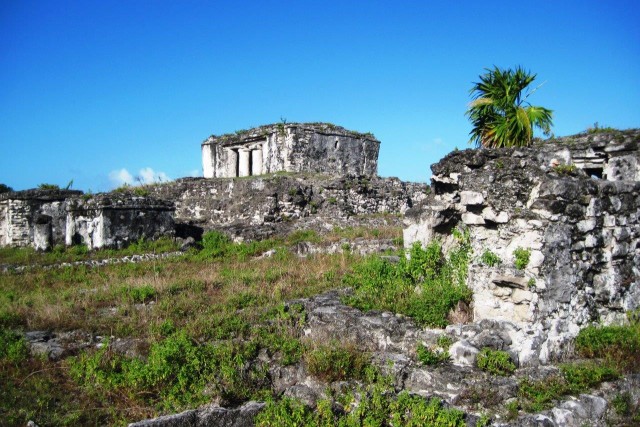 Now if you wish to come in a little early from fishing one day you can enjoy a field trip on the island. A visit to ancient Mayan ruins was ours alone – no tourists at this spot discovered around 1919. The ruins of Chac Mool, circa 900 AD, were named for the powerful Mayan god of rain andthunder.
Girls just wanna have fun. You would never guess two of these gals are 85 and we fished 6 days for 8 hours a day. One lady fished 2 weeks and took only one day off.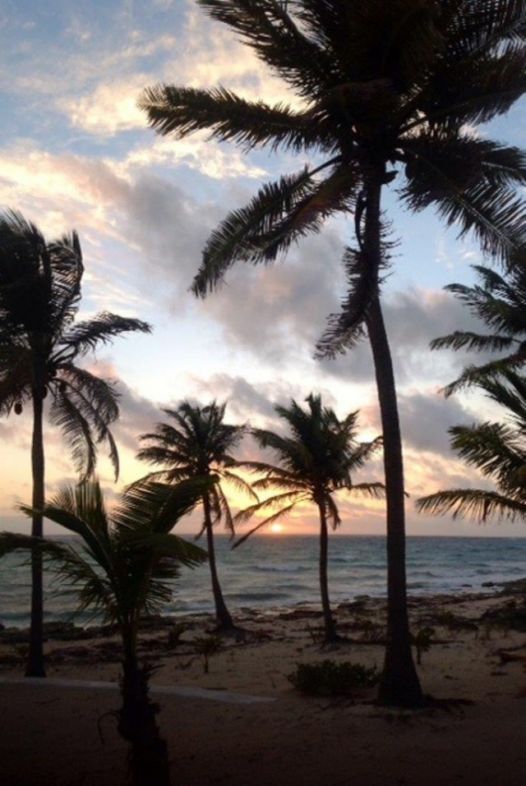 Each morning after a wake-up call from Manuel delivering French press coffee to our room, we joined the rest of the guests for breakfast around 6 a.m.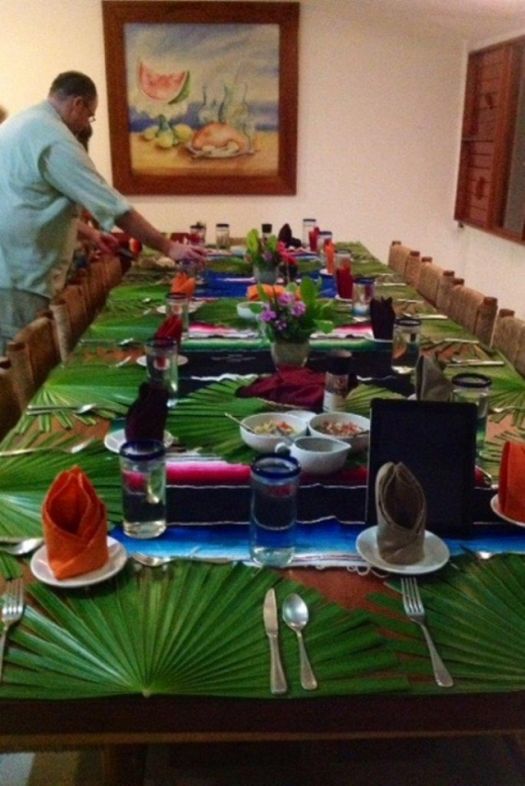 Each evening Manuel saw to it that the table 'scapes at dinner were fun and creative. One night we had balloons, whistles and horns to celebrate Audrey's 85th birthday! Every detail was taken into consideration.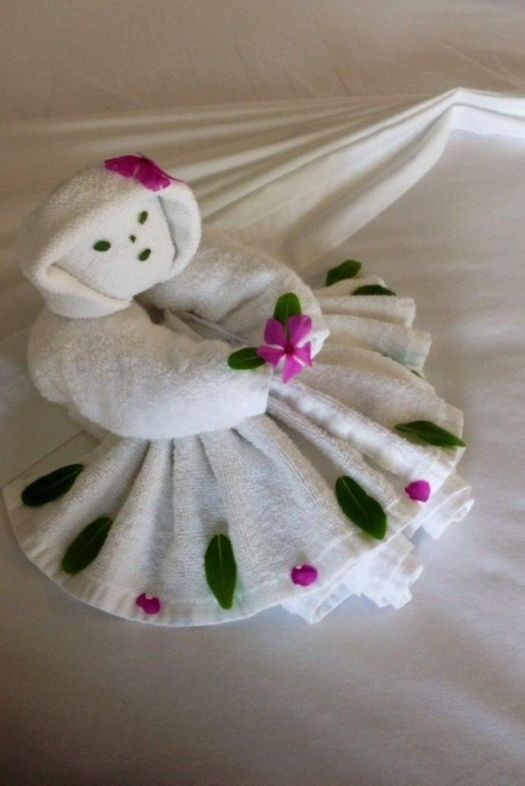 And each evening our bed was turned down and fresh towels greeted us in artistic forms the locals take great pride in creating.
Sleep, wake, repeat.
This Retro WON about the Yucatan first appeared July 30, 2015.
About Rita Schimpff

Rita Schimpff is an artist and designer who grew up hunting, fishing and enjoying outdoor life in Oklahoma and Texas, thus developing an early love and respect for wildlife and their habitat. She has carried this love to her art and her long involvement with many local and national conservation associations. As a member of the first Junior League San Antonio Mitchell Lake Wetlands Project, she created its logo and illustrated Mitchell Lake Wildlife Refuge: an Illustrated History. A graduate of Texas Christian University with a BFA in Commercial Art and Textile Design, Rita retired after more than 30 years in an interior design field. She launched her Texas based company, Heritage Game Mounts. She creates elegant, Old-World-inspired panels to display domestic and exotic game. She pens a blog called "Bring The Wild Inside" at the site, and at The WON, that offers ways to bring beauty and balance to the shared hunter/non-hunter home. Rita and her husband, Skip, have made hunting and fishing a large priority with their children. Along with two Boykin Spaniels and numerous adopted rescues, all aspects of hunting are very much a family affair. All of Heritage Game Mounts' products are American made. View all posts by Rita Schimpff →