Eva Shockey: Taking Aim
Acclaimed huntress, lifestyle advocate, and one of the Hollywood Reporter's top 10 tv personalities, Eva Shockey takes readers on a wild ride through the outdoors, empowering women everywhere to defy the odds, live healthy and follow their passions in her book Taking Aim.
"In this sprightly, instructive autobiography, Shockey describes her love of hunting . . . She details the hours-long hikes, the cheek-chafing cold, the patience ('hair-pulling stretches of monotony'), and the constant practicing required to 'harvest' that 1,500-pound bull moose. She endures antiwoman and antihunting attitudes, defending hunting as an act of conservation, self-reliance, and, often, charity." —Publishers Weekly (starred review)
Eva Shockey is an acclaimed bow hunter, a TV phenom on Outdoor Channel, a Cabela's spokesperson, and an exclusive athlete on the Under Armour Hunt team. Most recently, Eva broke into The Hollywood Reporter's Top 10 TV Personalities chart for the first time. To her 1.7 million followers on social media, Eva defies the stereotype that hunting is a man's game. Taking Aim: Daring to Be Different, Happier, and Healthier in the Great Outdoors (Convergent; Hardcover; August 29, 2017; $25.00; ISBN: 978-0-451-49927-1) is Eva's story of adventure, skill, and healthy living. Eva shares how every tough moment she has faced has helped her become the person she is today. She is a passionate hunter, a conservationist and a woman. Most recently, she is a new mother to her daughter, Leni Bow.
"My story is about discovering your dream," Eva writes. "It's about following your passion, mastering your skills, taking aim no matter who thinks you're crazy…and then letting the arrow fly. If you've done all you can, I can tell you that you're almost certain to hit your mark."
Growing up, Eva wanted anything but to be a hunter. Despite being born into a family that spent its vacations in the African wild and camping in Canadian moose country, Eva pined to be a professional dancer, like her mother. She didn't think femininity could coexist with an outdoor life, but after returning from college in Australia, Eva found a renewed passion for all things natural, wild, and fresh. She eventually worked up the courage to ask her father to teach her how to hunt, and before long she found herself co-hosting his top-rated show, Jim Shockey's Hunting Adventures. And that was just the beginning. In May 2014, Eva became the first woman in more than thirty years to appear on the cover of Field & Stream, behind Queen Elizabeth II. In 2015, Bowtech unveiled the new Eva Shockey Signature Series, a premium bow for the serious female archer.
While Eva's career, lifestyle, or upbringing may appear "typical" to the average reader, the challenges she's faced to pursue what she loves are the same as most who set out to defy "normal" and follow their dreams. Although the number of female hunters has doubled to 3.3 million since 2001, and legislation now allows blaze pink camo in four states (and counting), it wasn't an easy road. For Eva to persevere, it took courage, discipline, and thick skin.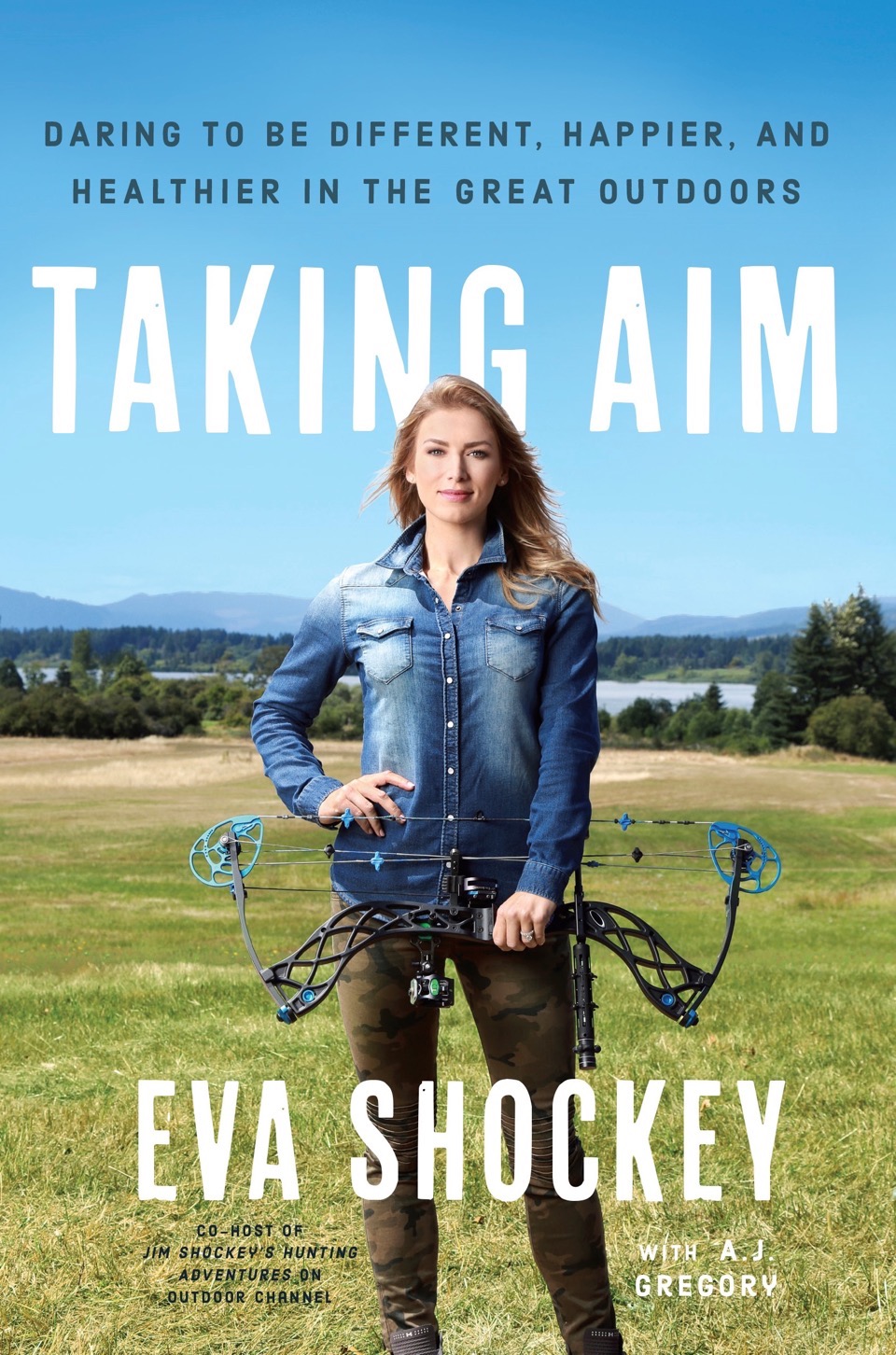 In TAKING AIM, Eva takes readers warthog hunting in South Africa, hunting caribou by ATV on the Aleutian Islands, and tracking a 1,500-pound bull moose through the mountains of the Yukon (the moose meat was later served at her wedding). Along the way, she shares stories from hunting camps, close brushes with death, and lessons learned. Among them:
Conservation: Hunters raise the most money for conservation and wildlife management than any other group on the planet. Without hunters, many of our animal populations would be dwindling. It's about connecting with nature and family, contributing to environmental conservation, and discovering the true meaning of "field to table."
The Outdoors: Sitting in a tree stand or hiking to the top of a mountain lets us breathe fresh air, get out from underneath a roof, and appreciate all of God's beautiful creations. Time spent outdoors is the pathway to a balanced lifestyle of fitness, adventure, honest food, and allowing our bodies to do what they were meant to do.
Unplugging: Turning off your phone, computer, and social media networks and halting contact with the outside world is a rare occurrence these days. Hunting allows us to stop, rewind, and remember what's important in life.
Self-reliance: Hunters are proud to close the gap between what's on their dinner plates and the animal that gave its life to nourish their bodies. Eva harvests her own dinner and fills her freezer with free-range, pesticide-free, organic wild game to feed her family.
Breaking barriers: Proud hunters are young, old, male, female, and any ethnicity from any part of the world. Outdoor life can empower anyone to break through the limits of stereotypes or expectations.
Healthy living: As a "huntlete," a term those in the field use, Eva maintains a training regime that gives her the stamina, endurance, and clarity to be successful in her hunts, as well as stay healthy and in shape for everyday living, including looking after Leni Bow, and engaging with her fans daily. Eva was even squatting 120 lbs a few days before Leni was born!
This book will encourage girls to realize they can do whatever they put their mind to, and women will read it and realize it's never too late to pursue their passion. And whether you're a lifelong hunter or a city dweller who has never set foot in the wilderness, TAKING AIM will leave you with a deeper appreciation for the wonders of the great outdoors.
About the book
Taking Aim
Daring to Be Different, Happier, and Healthier in the Great Outdoors
By Eva Shockey
Convergent • On-Sale Date: August 29, 2017
Hardcover • Price: $25.00 • ISBN: 978-0-451-49927-1
www.crownpublishing.com
About the Author
Eva Shockey is co-host with her father of Jim Shockey's Hunting Adventures on Outdoor Channel. A sought-after spokesperson on hunting, conservation, and living a sustainable lifestyle, she is a corporate ambassador for Cabela's, Under Armour, Bowtech, Crosman, Daniel Defense, Muzzy Broadheads, and other major brands. She is married to professional hockey player Tim Brent, and when she's not traveling for the work she loves, she spends her time with her husband and daughter in North Carolina. Visit EvaShockey.com for more information.
Read Eva Shockey's interview at The WON about Taking Aim here.
About The WON

The Women's Outdoor News, aka The WON, features news, reviews and stories about women who are shooting, hunting, fishing and actively engaging in outdoor adventure. This publication is for women, by women. View all posts by The WON →