Insurance Policies for Firearms Enthusiasts: Are You Prepared?
If you're like most responsible Americans, you probably carry at least one type of insurance policy. You probably have homeowners or renters insurance, car insurance or life insurance. If you're a gun owner, you should also consider what coverages you might need to protect your firearms, as well as yourself. Some of the most common types of insurance policies in this regard are available from the National Rifle Association (NRA) and the United States Concealed Carry Association (USCCA).
GUN OWNER – INSIDE HOME
According to a recent poll by the Pew Research Center, personal protection is the reason most firearms owners own a gun. That same poll showed that 66 percent of gun owners own multiple firearms.
Often homeowners, renters, and even auto insurance policies limit their coverage for firearms, which means there is a gap in your protection. One way to deal with this is by talking to an agent to see if you're able to purchase scheduled personal property coverage. This is an add-on that allows homeowners and renters to cover all items within a sub-limited category to make sure everything is protected. If the policy doesn't provide enough coverage, another option to consider is ArmsCare Plus from the NRA.
ArmsCare Plus Firearms Insurance Policies
ArmsCare Plus Firearms Insurance provides NRA members with theft and damage protection for legal firearms and attached accessories, such as scopes, rings, mounts, slings and sling swivels. Whether you keep your guns at home or carry them with you, there's always a risk that something may happen to them. ArmsCare Plus takes over where the other policies fall short. This coverage protects your guns and accessories from loss, damage, flood, fire and theft (including theft from a locked vehicle).
One example of an actual claim was a residential burglary where $25,000 worth of firearms were stolen. The homeowner's insurance paid $2,500. Luckily the owner's NRA ArmsCare deductible was only $100, so ArmsCare covered the difference of $22,400.
As with any valuables you own, I recommend saving your receipts for the firearms you purchase. Even better, take a photo of your gun or rifle and keep it with the receipt. Learn more about ArmsCare Plus here.
ARMED CITIZEN
As an armed citizen, there is a chance that someday you might have to use your firearm in self-defense. If that happens, the police will investigate to determine if there should be a trial or not. Should the case go to court, you'll need to make sure that your family and your assets are protected.
The legal follow-up from an act of self-defense can cost you a lot, and it's an expense that no homeowners insurance policy will cover. Unfortunately, self-defense cases aren't always black and white. if you are prosecuted or sued after a legitimate act of self-defense, you and your attorneys will need to prove to the jury, through testimony and evidence, that you were justified in your act of self-defense.
NRA-endorsed Self-Defense Insurance Policies
NRA-endorsed Self-Defense Insurance protects you if you ever need to use your legally owned firearm for self-defense, whether or not you have a concealed carry permit. Some benefits of the NRA self-defense insurance policy are:
Protects your assets
Protects you if you use your firearm in self-defense, whether or not you have a concealed carry permit
Provides a combined self-defense and personal firearms liability insurance package
Covers your defense costs and damages in a civil suit and reimbursement for criminal defense costs when you are acquitted of charges.
NRA-endorsed self-defense insurance information can be found here.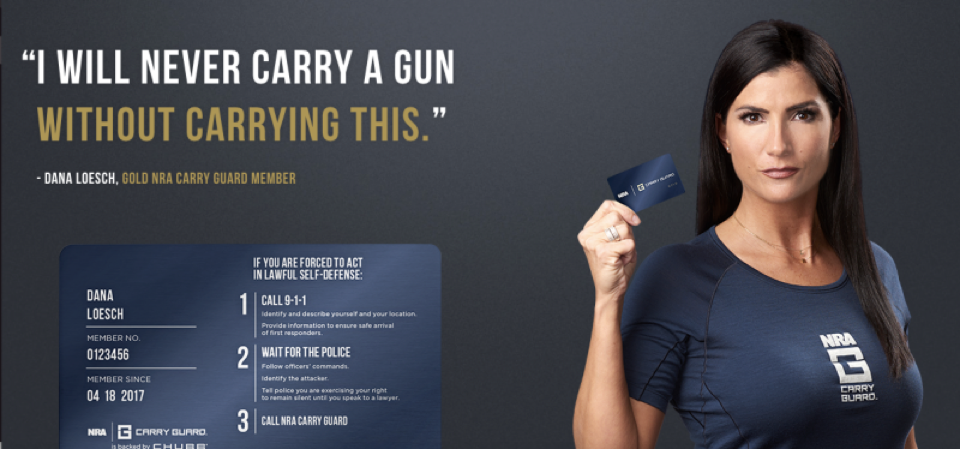 NRA Carry Guard
NRA Carry Guard is another option that is a new plan this year. It offers immediate access to hours of instructional online videos, covering in extreme detail how to be prepared for the real-life situations every gun owner might face. Members enjoy these benefits:
Up to $1,000,000 in insurance-backed individual protection for legal fees
20 percent up-front funding, with 80 percent reimbursement after the trial (with not-guilty verdict)
Exclusive access to emergency support services in case of a self-defense incident, including a coast-to-coast attorney referral network
Fully insured supplemental benefits
Spouses of NRA Carry Guard members are automatically covered, as are family members who live with a member and lawfully defend themselves at home.
Learn more about NRA Carry Guard here.

USCCA Self-Defense Shield
The third option is USCCA Self-Defense Shield, which is an insurance-backed criminal and civil liability benefit. According to its website, USCCA Inc. owns the insurance policy; its Silver, Gold, and Platinum members are the beneficiaries of this insurance policy. For criminal matters, the policy will help pay for your choice of lawyer, or you can have access to one from the USCCA's network of attorneys. For civil matters, the insurance company will provide an attorney for you. The only difference between membership levels is the cost of your premium and the amount of money you'll receive in the event of a self-defense incident. Benefits include:
Up to $1,125,000 in civil suit protection
Receive money immediately, both for a lawyer and bail bond
100 percent up-front funding
Spouses are covered in primary residence, as well as your residence when traveling
Comprehensive emergency resources, including 24/7 access to the Critical Response Team crisis case managers, attorneys and psychological support team.
Find out more about USCCA Self-Defense Shield here.
FIREARMS INSTRUCTOR/BUSINESS OWNER
If you're a firearms trainer, you know the inherent risks of firearms instruction. This coverage is designed to protect you at a low rate you can afford. Firearms Instructor Plus Insurance is designed for certified or otherwise credentialed instructors, training counselors, coaches and range safety officers that teach both NRA and non-NRA courses and training. to themselves and their
If you select the most comprehensive coverage, you have a choice of general-liability and professional-liability limit options. These cover:
Injuries and/or damage you cause while acting as an instructor during a lesson
Medical expenses up to $5,000
Legal expenses from lawsuits related to the injuries or damage
Professional liability coverage that protects you from allegations of negligent training
You may also purchase a general-liability-only policy without the professional liability coverage, which means you will be covered for accidental injuries and damage and medical expenses, but not for your training itself. You can find out more about Firearms Instructor Plus Insurance here.
The final decision for your insurance coverage is ultimately up to you. Do your own research to decide what type of coverage you need and which products fit your situation. Be sure to check with your insurance agent, as well, to see what you already have in place. Abraham Lincoln was right when he said, "You cannot escape the responsibility of tomorrow by evading it today." Plan ahead and be prepared.
About Stacy Bright

Freelance writer Stacy Bright holds instructor certifications from the NRA in Pistol & Rifle, as well as being an Range Safety Officer and Refuse to be a Victim instructor. In addition to her NRA credentials, she also is a Missouri CCW instructor and teaches various other home and personal defense courses. "In a field dominated by men, I feel I bring a unique perspective to firearms and training, especially to women. I'm passionate about educating, empowering and developing confidence in those I train. In November of 2014, I started the Southwest Missouri chapter of The Well Armed Woman," said Stacy. Stacy lives in southwest Missouri, and has been married for 20 years. Visit TWAW Facebook page: The Well Armed Woman-Springfield, MO Chapter. View all posts by Stacy Bright →