Kristy Titus Collection by Montana Silversmiths
Bend, Ore. (August 21, 2017) – New styles are now available from the Kristy Titus Collection of solid sterling silver jewelry to commemorate a successful hunting memory or find that perfect gift or birthday present for the outdoor adventurer. All the stunning new styles from The Kristy Titus Collection by Montana Silversmiths pieces are ready to purchase with a click of the mouse here. The online store features NEW necklaces, rings and other pieces Titus created exclusively with Montana Silversmiths. Plus, Cabela's has expanded their exclusive collection with new pieces available online.
"The Kristy Titus Collection launched in 2015 and has been setting new trends for high quality outdoor inspired jewelry. I love hearing comments from ladies on how they finally found a jewelry line that speaks to their passions in the outdoors and is chic and elegant," states Titus. "I was thrilled when Montana Silversmiths once again expanded the line in 2017. We continue to cultivate and curate the highest quality jewelry for women that love the outdoors."
The Kristy Titus Collection stays true to its roots with nature-inspired designs. Each design is carefully selected by Titus to ensure that her vision becomes reality. The collection's take on an outdoor theme with beautiful flowing designs and pieces of wilderness and wildlife that might be seen in the outdoors or on a hunt. Whether elk tracks, bits of glinting light, natural turquoise or branching antlers, a piece of nature is included. All of the designs are crafted of solid sterling silver and genuine turquoise along with the highest quality Swarovski zirconia that provide brilliant shine to pieces.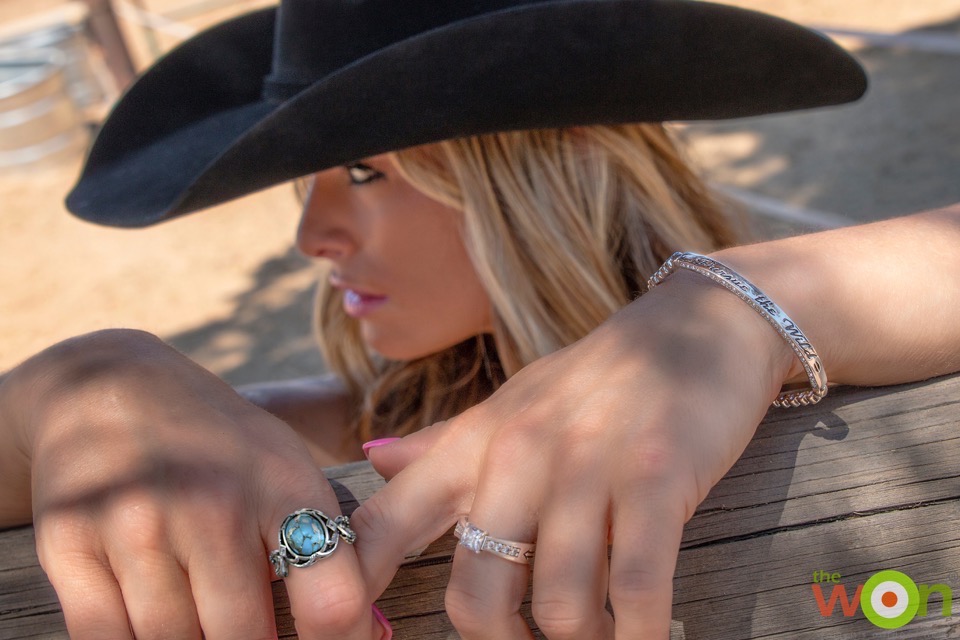 The new Patriot Collection, featuring a U.S. Flag necklace and bracelet, available in Titus' online store is a thank you to those who have served. "I recognize that 'Freedom Isn't Free' so 50 percent of the proceeds from the bracelet and necklace sales are going back to veterans' groups to help servicemen and women get back into the outdoors," said Titus.
Choosing Montana Silversmiths as Titus' partner in creating this collection was easy for her, as Montana Silversmiths has long been part of her family. Titus' intention for the collection is for the pieces to be quality timeless creations that are passed down. Inspired by wild places the sterling silver and natural stones found throughout the collection hope to create a true family keepsake.
Kristy Titus Collection
Shop the Kristy Titus Collection at an upcoming expo such as The Rocky Mountain Elk Foundation's Hunter & Outdoor Christmas, The Wild Sheep Foundation, Hunt Expo and more.
Titus is host of "Pursue the Wild" digital series now airing on ElkNetwork.Com and Titus' YouTube page.
About Kristy Titus: With a shared passion and love of the outdoors, Titus is honored to serve a featured member of The Rocky Mountain Elk Foundation's Team Elk television show, Host of NRA Tips & Tactics, and Host of Pursue the Wild digital series. Titus was raised leading a pack string of mules into the backcountry of Oregon, experiencing the thrill of public land, do-it-yourself hunting. Titus is an NRA Basic Pistol, Refuse To Be A Victim Certified Instructor & RSO. She shares her passion for fitness, nutrition & hunting as editor for Western Hunter magazine. Learn more at http://kristytitus.com, https://www.youtube.com/user/PursuetheWild, https://www.facebook.com/KristyTitus and https://instagram.com/kristytitus/
About The WON

The Women's Outdoor News, aka The WON, features news, reviews and stories about women who are shooting, hunting, fishing and actively engaging in outdoor adventure. This publication is for women, by women. View all posts by The WON →