Mace Product Roundup: Keep You and Your Loved Ones Safe
When I think of Mace, my mind automatically goes to pepper spray. I received a box of sample products from the company this spring for review, and I also spent some time on Mace Brand's website. I was pleasantly surprised to find that Mace Brand offers a wide variety of not only pepper-spray-based products, but also an array of items to keep you and your home safe. As fall hunting season is fast approaching and young adults are heading off to college, some of these products could very literally save your life, or the life of someone you love.
Handheld Sprays
I have my concealed-carry permit for Wyoming, but some states don't recognize it. When I travel to a place that doesn't hold reciprocity with my license, I like to have other options for personal defense. Mace Brand pepper spray contains all-natural ingredients, with a careful blend of oleoresin capsicum (OC). When sprayed at an assailant, the pepper is a non-lethal deterrent that incapacitates the attacker, whether it is human or animal.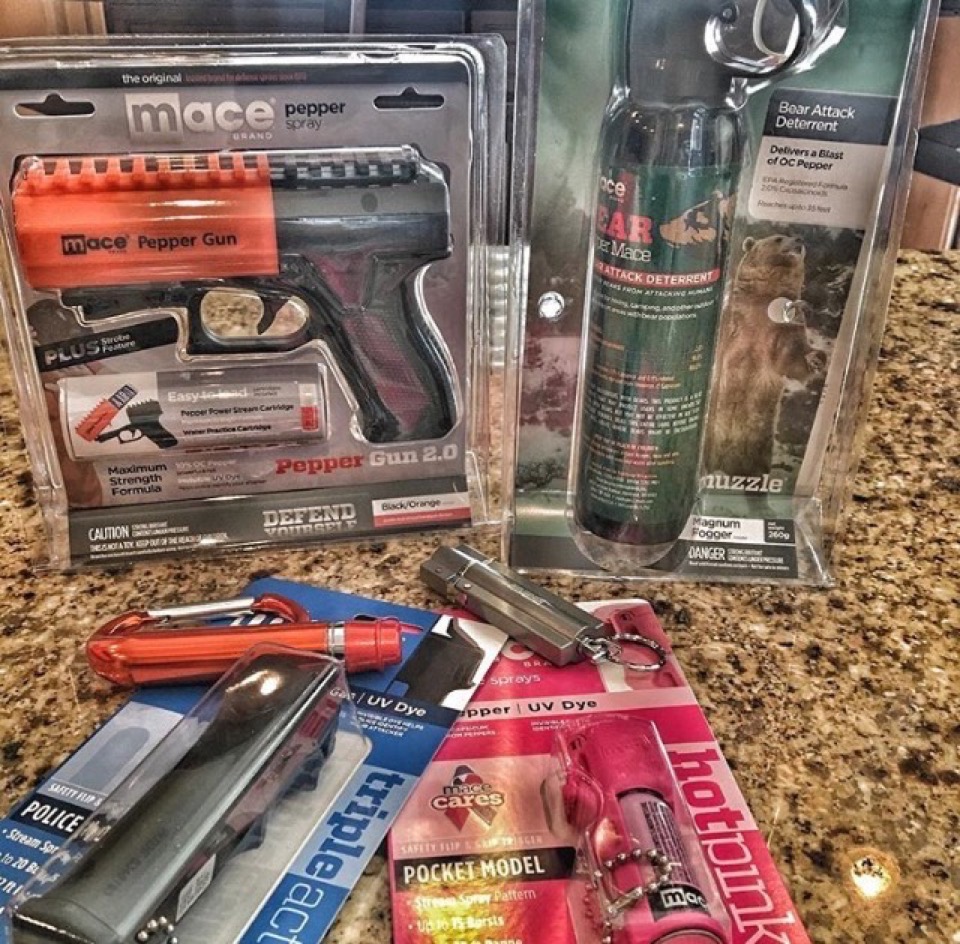 The Mace Brand products that most people think of are the tried-and-true handheld pepper-spray canisters. What sets Mace Brand apart is the variety of options for packaging and usage. Mace Brand customizes its canisters withdifferent colors and features, like wrist straps for active users.
The company carries a variety of spray ranges and UV dye.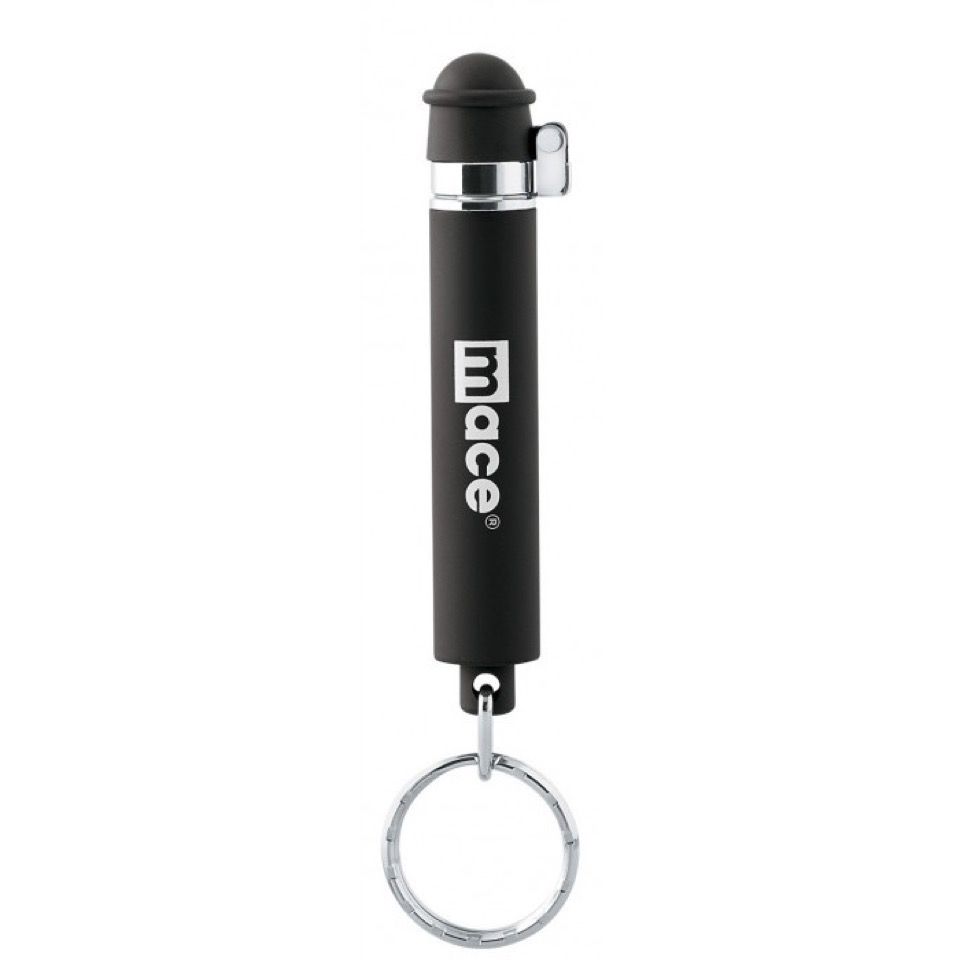 Anyone can find a small canister that fits her need and lifestyle. These little cans can produce a spray that will deter a person or animal from invading your personal space. I placed the Keyguard Pepper Spray Clutch Case model in my purse for personal use. I really like the slim casing of this canister; it is very discreet but still easy to operate.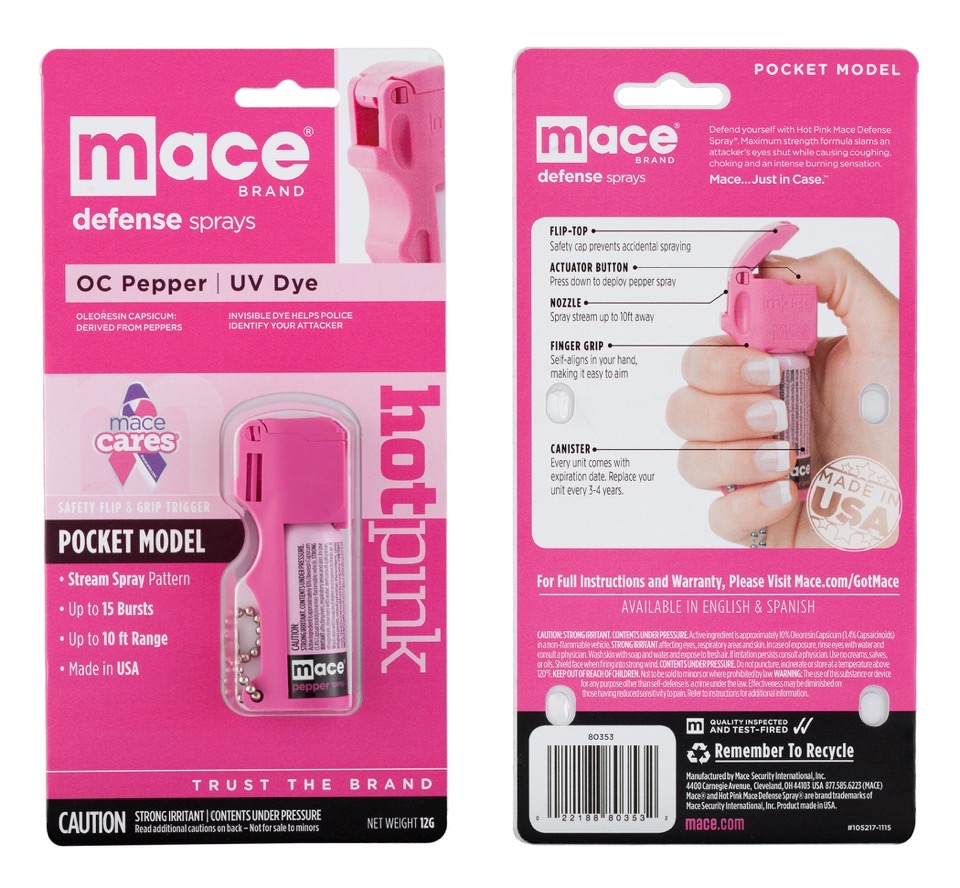 My mom doesn't carry a firearm, but she walks during her lunch break, so I wanted her to have something with which she could defend herself. Her eyesight isn't the best, so I gave her the Hot Pink Pepper Spray Pocket model. She can see and find it quickly, and with its easy flip-up cap, operate it with no issue. It also contains an invisible UV dye, which marks the assailant and may aid in identification.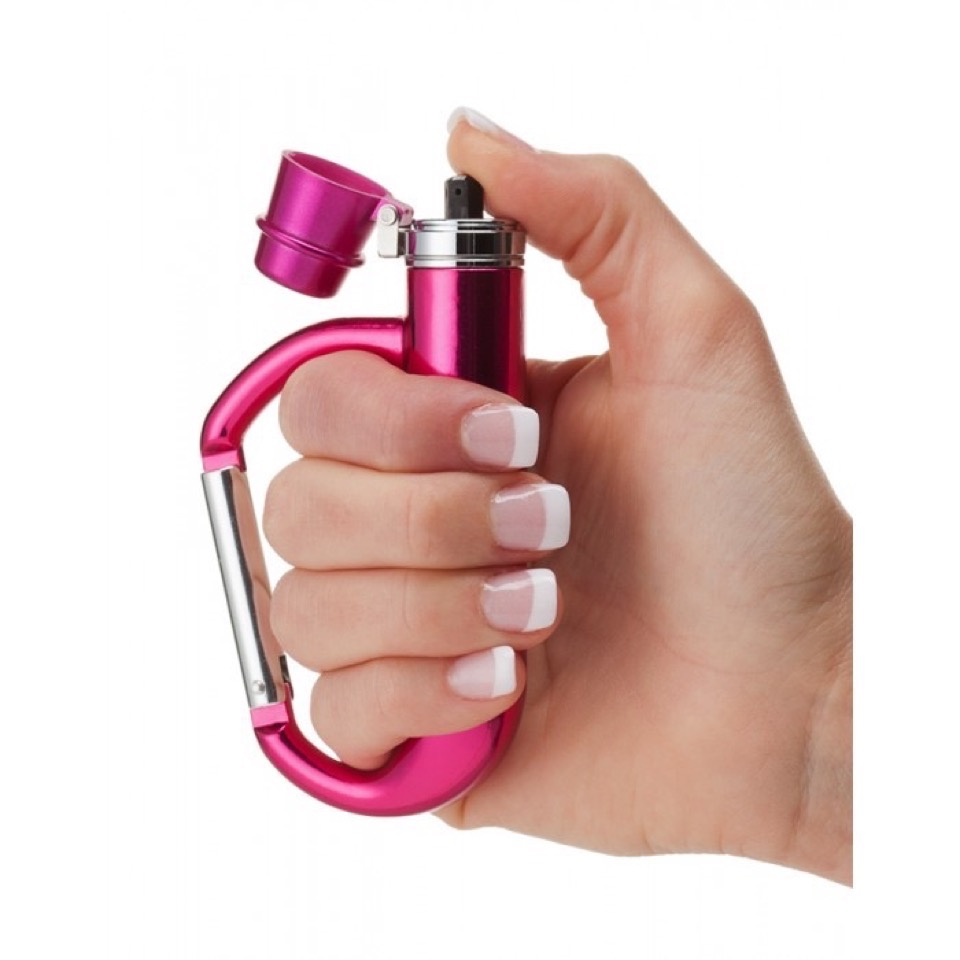 Another canister I was sent was the Keyguard Pepper Spray Carabiner model. I knew it wouldn't work for me while I pushed my wheelchair, so I gave it to my cousin who runs around her neighborhood. She had been looking for something to protect herself from some of the more aggressive dogs she noticed on her route, and this product gave her and her husband peace of mind. The carabiner makes it perfect for attaching to keys, a wrist strap, or a belt or purse strap. Finally, the Peppergard Pepper Spray Police model is a heavy-duty, signature item from the company. With its belt clip and keychain, this product is perfect for carrying in a backpack or taking along on a day outdoors.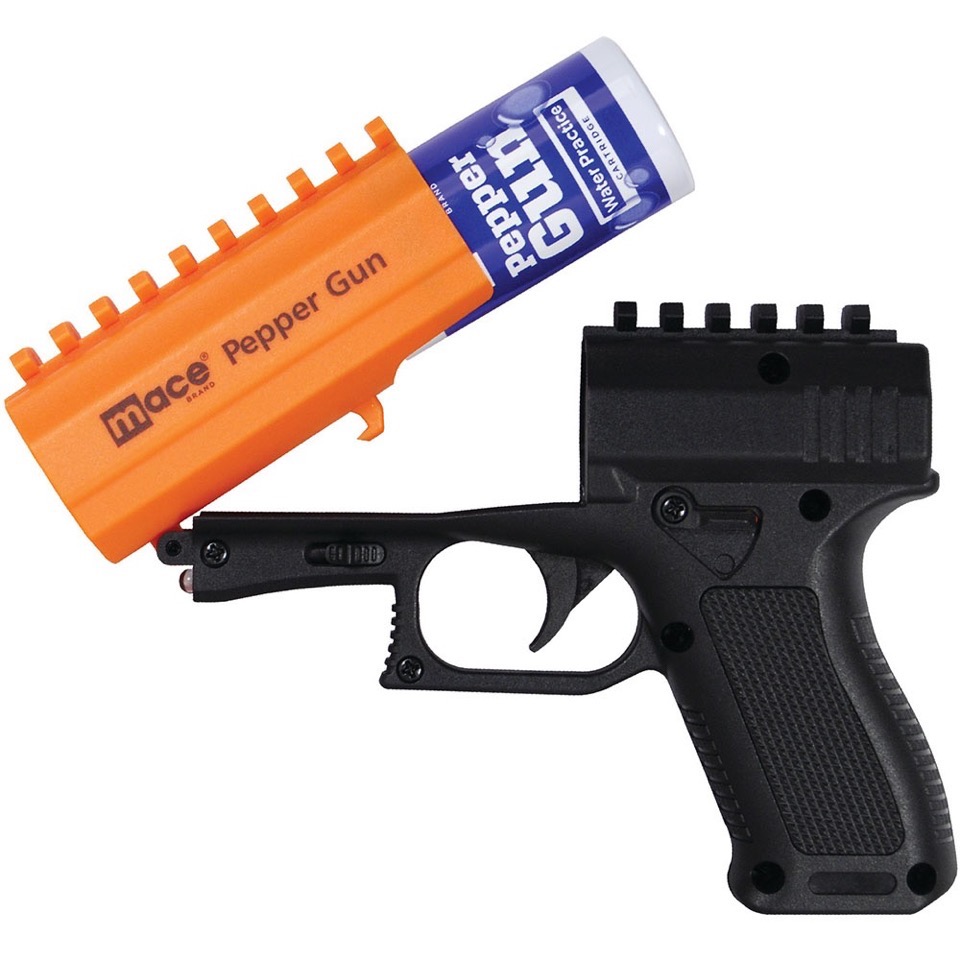 Gun Spray
If you are more comfortable pulling a trigger, the Pepper Gun 2.0 with Strobe LED model might be for you. This non-lethal gun not only delivers a targeted stream of pepper spray up to 20 feet, it also provides an LED light and flashing strobe feature to disorient the assailant. I am currently carrying this in my hunting pack for smaller animals. I prefer the gun platform to the canister, and appreciate the lighted options for dark outdoor scenarios.
Bear Spray
Mace Brand's Bear Pepper Spray model is a great option for hunters, hikers and fishermen, who all might encounter a bear. With a blast range of 35 feet, this is vital as a first option for deterring a bear. My husband carries this canister on his belt right next to his revolver, and although I hope we'll never have to use it, I am glad that we're protected when we are enjoying the outdoors.
Mace Products
These are just a sampling of Mace Brand's products. The company even has a bra that holds a pepper spray canister, for easy access. Besides pepper spray, the company produces stun guns, personal alarms, and high-visibility safety wear. Mace Brand also manufactures surveillance equipment and security systems for your home. They have something for every situation to keep you and your loved ones safe.
As always, read all instructions carefully before operating a pepper spray product, and know the laws within your state before using them. For more information, including videos of product usage, visit Mace Brand online.
About Ashlee Lundvall

Ashlee Lundvall writes a blog titled "Redefining Life,"  that follows her rise from a debilitating injury as a teenager to Ms. Wheelchair USA in 2013. Her first book, "A Redefined Life," was published in February of 2016, and she is on National Pro Staff for Mossy Oak and the NRA's Disabled Shooting Sports committee. Ashlee is also the recipient of the 2017 SCI Foundation Pathfinder Award. Ashlee truly shines as a keynote speaker at outdoor industry and disability related events and conferences. She is passionate about mentoring newly injured patients, and loves to pass on her love for adapted outdoor recreation! View all posts by Ashlee Lundvall →