Sitka Gear Checklist #4: Sitka Nomad Bag
For many seasons now I've been going from one hunting camp to the next, gear in tow, to soak up every ounce of the fall big game chase that I can. Sometimes I arrive late at night after a long day of travel, knowing that I will need to be awake before sunrise to pursue my passion in the field. I'm a fan of finding ways to make travel days more efficient, and the Sitka Nomad bag has been my best find yet.
It's not always easy to travel light, especially when you are hunting a few different species in a few different areas. This bag is designed with hunters in mind. The first thing you'll notice is the material. It's rugged and beautiful at the same time, and even better when you know it will protect your essentials when they are zipped inside. The inner zip pockets have been great for storing my archery release, bow tuning tools and other camp necessities.
Nomad Bag
Of course I also carry other bags, tubs and totes of gear. This isn't the only piece of luggage I carry with me, considering my average hunt requires hundreds of pounds of hunting and production gear. But this is, by far, the most well designed and well-thought-out piece of luggage that I own.
My clothing inside isn't always perfectly folded, sometimes my boots are muddy when I throw them inside with everything else, and at times I lose track of how much I can fit in and it weights a lot. But when I lay my bow on top of my clothing and see how nicely it fits when I strap it all down, that's when I realize that this is what had been missing from my luggage collection for years. This is not just a bag, or a suitcase … it's "gear" at the highest level of quality.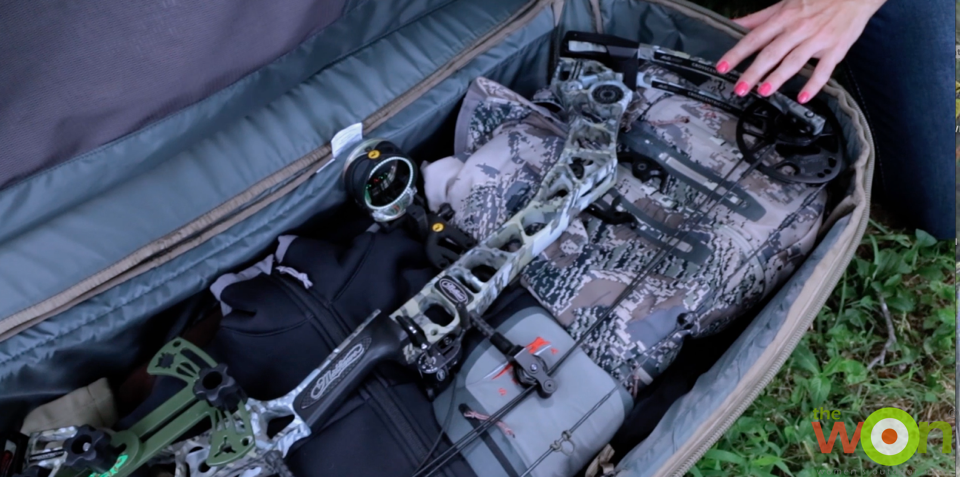 The zippers on the Nomad bag will feel tight to you the first time you use them. You'll be thankful for that later when they are worn in and still feel secure. This bag can sit in the back of your truck in rain storms and you don't have to worry about it. Throw it on your float plane, load it onto your boat, or leave it at camp.
Wherever you take it, you'll be thankful you brought it along to keep your most important pieces of gear safe and secure. Read more about the Nomad bag here.
Check out more of Julie McQueen's Sitka Gear Checklist.
About The WON

The Women's Outdoor News, aka The WON, features news, reviews and stories about women who are shooting, hunting, fishing and actively engaging in outdoor adventure. This publication is for women, by women. View all posts by The WON →