Thompson/Center Arms™ Launches – Hunting Heritage Month – on Social Media
SPRINGFIELD, Mass., (August 4, 2017) – Thompson/Center Arms today announced the launch of its Hunting Heritage Month campaign across all of the company's social media platforms. To celebrate the start of hunting season, Thompson/Center Arms will kick off the month of August with social media content centered on hunting, outdoor recreation, and conservation. Posts will include "how-to" video content, product information, Thompson/Center history, and cooking tips for preparing wild game.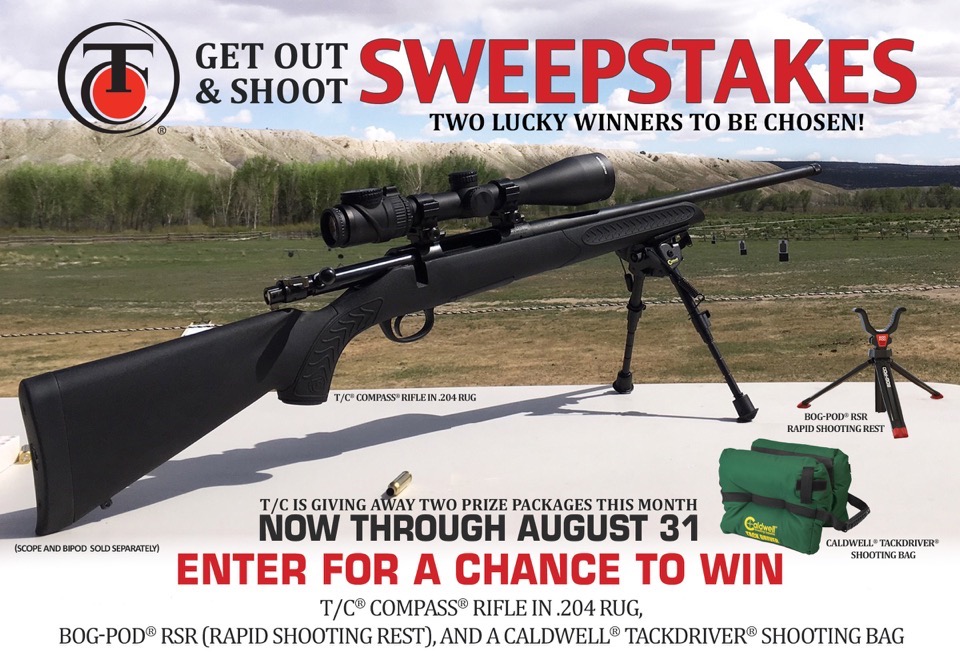 Danielle Sanville, Brand Manager for Thompson/Center Arms, said, "At Thompson/Center, we support a number of organizations that promote conservation, education, and the hunting tradition across the nation. We are dedicated to helping men, women, and families get outside and enjoy the outdoors in every way that we can."
To celebrate the launch of Hunting Heritage Month, Thompson/Center Arms will launch the "T/C® Compass®Get Out and Shoot Sweepstakes", which will begin on August 4, 2017 and run until August 31, 2017 at 11:59 PM EST. Two winners will be drawn, and each winner will receive a T/C® Compass® Rifle chambered in .204 Ruger, a Bog-Pod® Rapid Shooting Rest, and a Caldwell® Tack Driver® Shooting Bag, a complete packagevalued at over $500 MSRP.
To view Thompson/Center Arms' Hunting Heritage Month content on social media, follow Thompson/Center Arms on Facebook, Instagram, and Twitter.
To enter the "T/C® Compass® Get Out and Shoot Sweepstakes", visit the Thompson/Center Arms Facebook pageand follow the sweepstakes entry instructions. To view the Official Rules, please click here.
August is Hunting Heritage Month
About Smith & Wesson®
Smith & Wesson Corp. is a provider of quality firearms for personnel protection, target shooting and hunting in the global consumer and professional markets. Smith & Wesson is world famous for its handguns and long guns sold under the Smith & Wesson®, M&P®, and Thompson/Center Arms brands. Through its Manufacturing Services Division, Smith & Wesson Corp. also provides forging, machining, and precision plastic injection molding services to a wide variety of consumer goods companies. For more information on Smith & Wesson, call (800) 331-0852 or log on to www.smith-wesson.com.
About The WON

The Women's Outdoor News, aka The WON, features news, reviews and stories about women who are shooting, hunting, fishing and actively engaging in outdoor adventure. This publication is for women, by women. View all posts by The WON →