Crimson Trace Lights and Lasers in a Cave
I was recently asked if I'd like shoot in a cave. My obvious answer was, "That sounds like fun…but how small is the cave?" I visualized a narrow, rocky hole that I'd crawl through, trying not to get stuck. Thankfully, that wasn't the case. The opening was a bit tight, but then the cave widened enough to stand up straight.
Rockcastle Shooting Center
This event, which took place at Rockcastle Shooting Center in Park City, Kentucky, was organized by Crimson Trace for a group of gun writers to introduce the company's new Laserguard products for the Ruger LCPII, Walther PPS and more. Crimson Trace also brought its new light/laser combination, called the Laserguard Pro. This product will be available for Glock, Smith & Wesson and Springfield Armory pistols.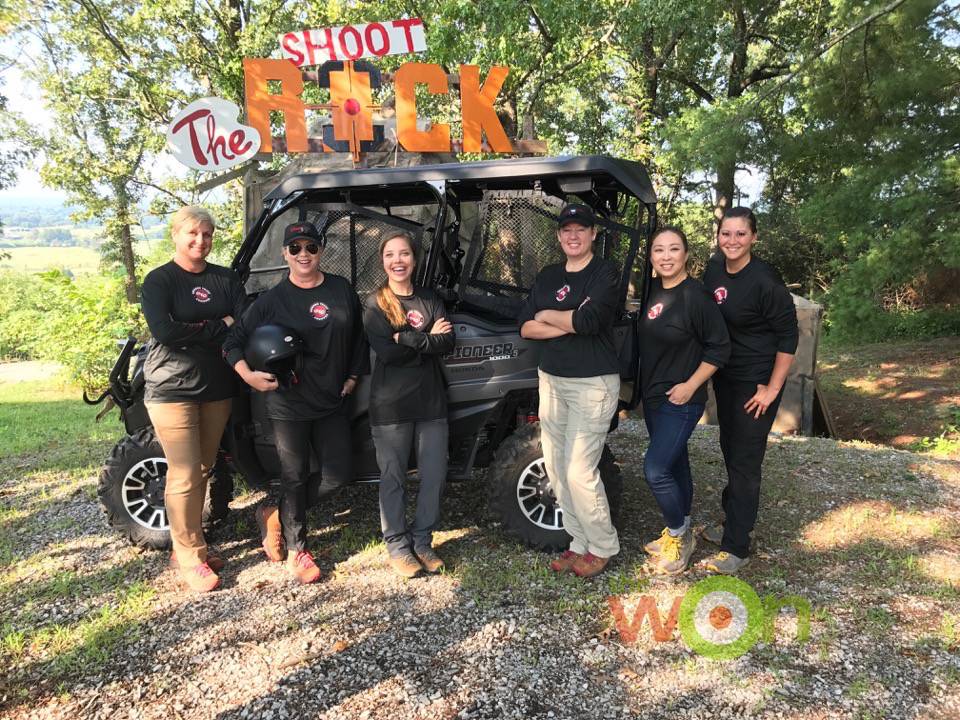 The ideal condition to test and evaluate these new products is in the dark…and there's no darker place than a cave. The narrow course inside the cave was set up so that as we made our way through, and came around each corner, we were confronted with a target—either a "good guy" or a "bad guy."
Crimson Trace Lights and Lasers in a Cave
The first time through, I was given a small flashlight to hold in one hand, and the LCPII, equipped with the LG-497 laser, in the other. As I slowly worked my way through the maze of the cave, the instructions given were to shoot one round at each "bad guy" or "threat" target. The magazine was empty halfway through the course, requiring a reload. If you've ever done a drill like this, it can be tricky trying to stow the flashlight while you grab a new magazine from your pocket and reload. At the end of the course, my shots had all hit my intended targets, and the good guys were safe.
The second time through the course, I could choose one of the firearms equipped with the Laserguard Pro, the light and laser combination model. This time, having both hands to grip the gun, I felt more in control. The light was also brighter than the flashlight I'd used previously. Engaging each target seemed to be much easier, mostly due to my hands remaining together and my center of gravity staying balanced. I also noticed that the green laser was easy to see on my target. In the dark, it was impossible to see the sights on the gun, and I found that my shots were hitting true to where the laser showed. Reloading was also much more efficient, since my support hand was free to insert a new magazine and stow the empty one, instead of holding a flashlight.
Laserguard Pro
Crimson Trace's website explains that the Laserguard Pro combines a red or green laser sight with a 150-Lumen LED white light in a compact unit. Each Laserguard Pro system features Crimson Trace's famed Instinctive Activation, which allows the user to activate the unit when the firearm is held in a normal firing grip. Laserguard Pro also features 4 modes of operation, (laser + light, laser only, light only, laser + light strobe), a master on/off switch, user-adjustable windage and elevation, and 2 hours of battery life.
American Eagle
We used American Eagle Syntech ammo, provided by Federal Ammunition. If you're unfamiliar with this type of ammo, Federal uses a synthetic jacket technology which helps minimize splash-back, specifically on steel targets, due to the absence of a copper jacket. This was an important safety feature for those of us shooting in the cave. Each target had several layers of rubber mats behind it to absorb the bullets, but it was reassuring to know we had the added protection of the Federal ammunition.
Danner Boots
I also want to say a special thank-you to Danner Boots. The company provided us all with a pair of its fabulous footwear. I was slightly concerned going into the day, because I hadn't worn them enough to break them in properly, but they never felt stiff. Not only did the boots provide stability and traction, but they were super comfortable all day long.
After we finished shooting, we spent some time taking pictures and asking questions about the Crimson Trace products. Michael Faw, Crimson Trace's media relations manager, was very knowledgeable (not to mention funny and full of stories!).
Honda Powersports
Upon exiting the caves, we took off our hats and headlamps, donned helmets, and jumped into a Honda Pioneer 1000 for muddy and bumpy adventure around the Rockcastle property. Special thanks to Honda Powersports and Susie Hahn for the opportunity to try out the awesome side-by-side.
Shooting in a Cave
At the end of the day, it was clear to me that training with your firearm in the dark is so important. Not only is it difficult, if not impossible, to see your sights, but vision is impaired and depth perception can be skewed. Equipping your firearm with a light/laser combo can greatly improve your ability to identify and hit your target in low-light or no-light situations. Don't forget to choose a holster that is made for specific modifications to your carry gun, such as CrossBreed Holsters. You can view a selection of CrossBreed holsters designed for Crimson Trace products here.
About Stacy Bright

Freelance writer Stacy Bright holds instructor certifications from the NRA in Pistol & Rifle, as well as being an Range Safety Officer and Refuse to be a Victim instructor. In addition to her NRA credentials, she also is a Missouri CCW instructor and teaches various other home and personal defense courses. "In a field dominated by men, I feel I bring a unique perspective to firearms and training, especially to women. I'm passionate about educating, empowering and developing confidence in those I train. In November of 2014, I started the Southwest Missouri chapter of The Well Armed Woman," said Stacy. Stacy lives in southwest Missouri, and has been married for 20 years. Visit TWAW Facebook page: The Well Armed Woman-Springfield, MO Chapter. View all posts by Stacy Bright →