Muck Boots vs. the Texas Hill Country Doves (And One Frustrated Woman)
Some say if you're good at trap, you'll also be good at dove hunting. Turns out, that's not always true—and in my case, it definitely wasn't. My dove hunt in San Angelo, Texas, started off with a morning on the trap field with my fellow hunters and our guides from Wildlife Systems. Turning most of my clays to a cloud of dust with a Remington VersaMax and American Clay & Field shotshells, I felt confident about the afternoon hunt. Little did I know, that confidence was soon to be shattered.
Decked out in my hunting attire, which consisted of Muck boots, a camo shirt, black shorts and my lucky hat, I was ready to take on the Texas doves. The guides (as well as a few industry friends) found my attire interesting, asking me, "Who hunts in shorts?"
"I do," I said, "when it's 95 degrees and the Texas sun is beating down on me." While it's necessary to go all-out on the camo for some species, the doves didn't seem to have a problem flying my way, even if I was wearing black shorts and boots. Flock after flock of doves flew over my head, and I fired shotshell after shotshell their way, but not a single dove fell from the sky. I wish I could blame that on my shorts, but it seems it was my shooting. My confidence from the trap field quickly turned to frustration when I surveyed the shells on the ground near my boots with no birds to show for it. Don't even think about asking how many shells it took me to hit my first dove—I may tell one of those hunting fibs you hear about.
I took a moment to sit in a chair my guide left behind for me, and tried to clear my mind. It wasn't happening. I needed an attitude adjustment. I expected to be hitting doves and retrieving them, not sitting with my head down, staring at my boots. To give you an idea of what I was going through, here's a peek at 60 seconds inside my frustrated mind. Prepare yourself.
Wow, these boots look good. Why can't I hit a bird? It's 95 degrees out here; at least I'm wearing shorts. "If you're good at trap, dove hunting will be easy." What a lie! I guess I can at least work on my tan. The birds are so fast! My manicure looks good. I love Muck boots. Damn birds! I think I'll take these boots on my gator hunt in a few weeks. Doves, ugh! I bet these boots will get more action on the gator hunt. Wait, here comes my guide! Maybe he can figure out why I can't hit anything. I need to order another pair of these boots when I get home. Maybe I should order a pair in every color.
That was exhausting, wasn't it?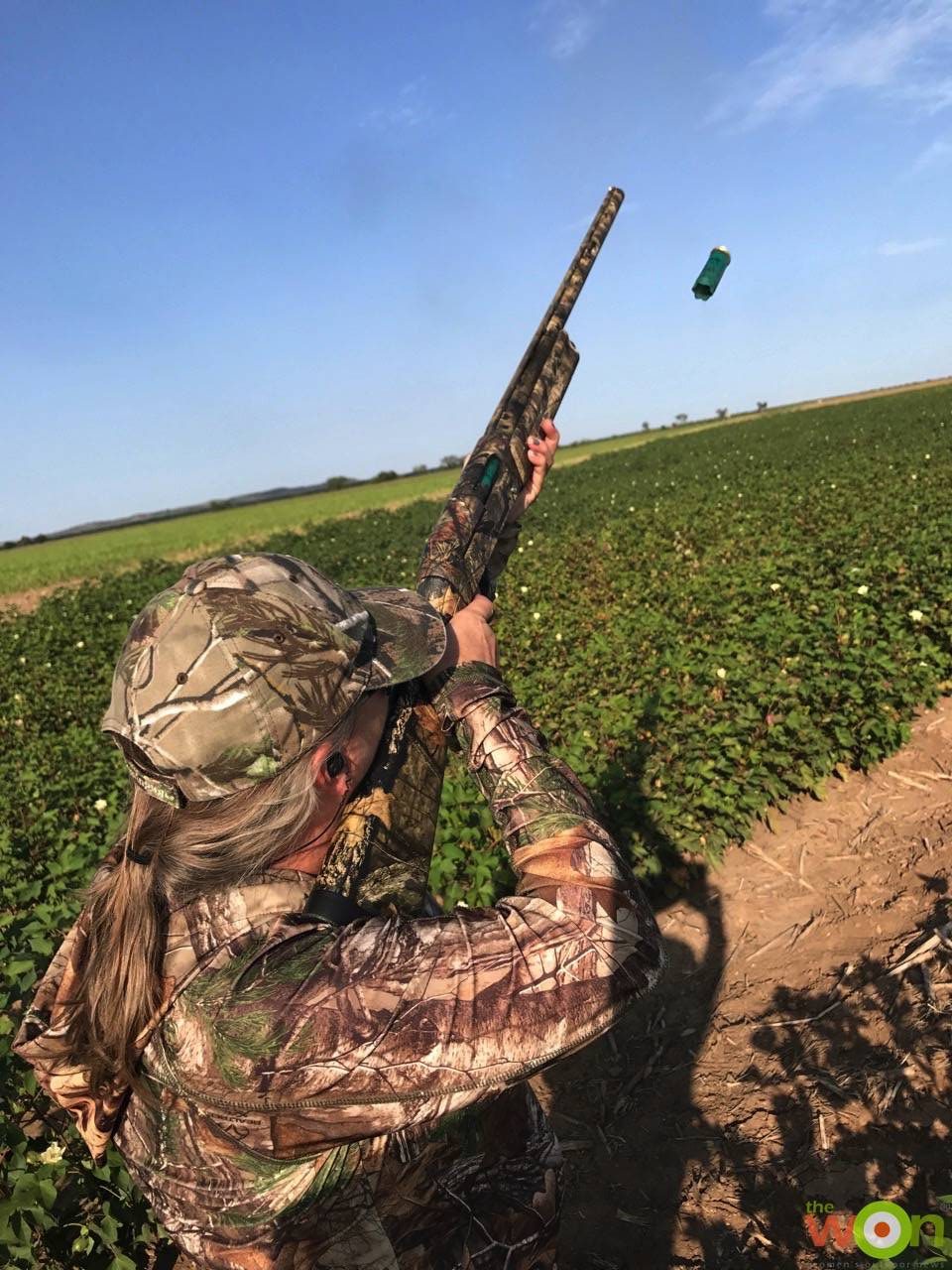 After my guide gave me a pep talk and some coaching, I started hitting birds in no time. My attitude quickly turned around. Turns out, you can't hit birds when they are a mile away (bit of exaggeration there)—you have to be patient and wait for them to come into a good range. Judging distance in the air vs. on the land was challenging at first, but once I got that under control I was hitting doves constantly. OK, maybe "constantly" is a little bit of a hunter's fib, but I was hitting them more often. I bagged my limit that afternoon, and again the following day.
Barbara, an experienced dove hunter, was just down the field from me—not too close, but close enough that I could hear her call out "Dove down!" and watch them practically fall at her feet. I didn't have the same experience. I had to walk through the cotton field to find mine, but I wasn't complaining—at least I was hitting them now. Luckily, my Muck boots were extremely comfortable—their Xpress Cool lining counteracted the Texas heat well; I was able to walk all over that cotton field retrieving my doves without soaking my socks. I was thankful for the extended rubber coverage as I passed through the cotton plants; I guess long pants might have been nice after all, but my high boots did just fine protecting my legs. I've left a few hunts with blisters on my feet, but that wasn't the case with my Mucks. It is always good to wear your boots for a while prior to a hunt, but these Muck boots didn't require a break-in—pretty sweet! At $149.99, the Women's Cambridge Tall Muck Boots are a must-have.
Doves for Dinner
I donated some of my doves to dinner for the group the last night of the hunt, and I was glad I did. The chef was amazing; he created a new dove dish—Big Green Pheasant Enchiladas. I gained a few pounds, but they were worth it. It was time to head home, work those extra pounds off, switch gears and prepare for my gator hunt. Stay tuned, as I'll continue to put these Muck boots to the test.
About The WON

The Women's Outdoor News, aka The WON, features news, reviews and stories about women who are shooting, hunting, fishing and actively engaging in outdoor adventure. This publication is for women, by women. View all posts by The WON →