Antonia Okafor: Campus Contradictions
September marks the official beginning of back-to-school season all across America. Whether for kindergarteners or full-time grad students, school is a place of learning and socializing, knowledge and growth. In order for students to have success in their studies, they must feel a sense of empowerment and safety. And while some people believe the best pathway for those things is for all campuses to be "gun-free zones," others contend that the safest places are those where adults on campus are allowed to freely exercise their Second Amendment rights. Where college campuses are concerned, we often see campus contradictions. Are college students our nation's "best and brightest," or are they too immature to exercise their constitutional rights?
To answer these questions, I decided to go to someone who is an expert on campus carry, Antonia Okafor. Antonia is a liberty-minded Republican and founder of emPOWERed, a movement of women on college campuses across the country who feel empowered when they are able to exercise their Second Amendment rights for self-defense. Antonia is a law-school-bound graduate student and the former southwest regional director of Students for Concealed Carry, where she fought to advance concealed carry on college campuses in Texas, Arizona, Oklahoma and New Mexico.
An interview with Antonia Okafor
Cheryl: You are a well-educated young woman who has earned a graduate degree from the University of Texas, Dallas, a liberal-leaning college. You are part of the generation known as Millennials, and you proudly call yourself a feminist. You are also a passionate defender of our constitutional rights, and you have taken up the cause for college campus concealed carry. This seems like a study in contradictions. How much do the seemingly contradictory aspects of your life have to do with fueling you forward?
Antonia: I believe these things are only "contradictory" because the media and anti-gunners have wanted people to think they are. There are people spreading the untrue messaging that it is absurd for a young black woman to not only be pro-gun but be a Second Amendment activist. It's sad that so many seem to believe the lies, but I use those elements to help break down barriers so that I can hopefully change that mindset.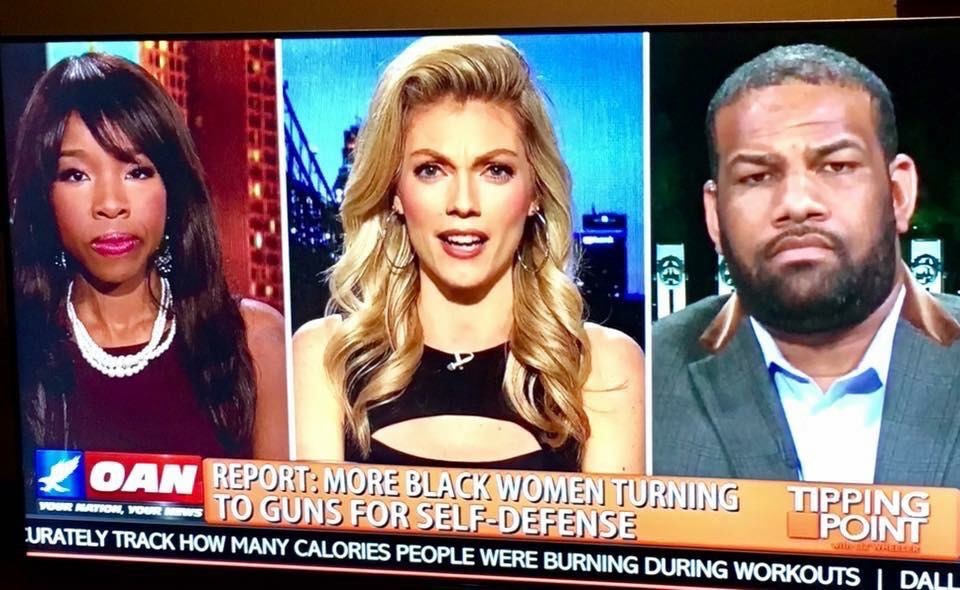 Her Parents
Cheryl: You are the daughter of first-generation immigrants to the U.S. from Nigeria, where guns are not part of the culture. What do your parents think of you taking such a prominent position in the nationwide debate on campus carry, and firearms in general?
Antonia: My mom is still getting used to all of it. Last night, I walked into the house after work with my Glock 34 still holstered on my hip, and she was like, "Woah! You actually carry a gun in the open like that?" I replied with a chuckle, "Why, yes, Mom. I do work at a gun range…"
There is this disconnect that her little girl is this gun-rights activist that actually uses guns. But she tells me often that she tells others about my work, and how proud she is of me. Even so, she still will vote for an anti-gun politician in the end. I'm still working on getting her over to our side, but it's hard for her. Not only did she not grow up with guns, but she also grew up during a period of war in her home country of Nigeria. There, these kinds of tools (guns and knives) were only used for violence, and unlike America, there were no laws that allowed for or encouraged the use of those tools for an individual's self-defense.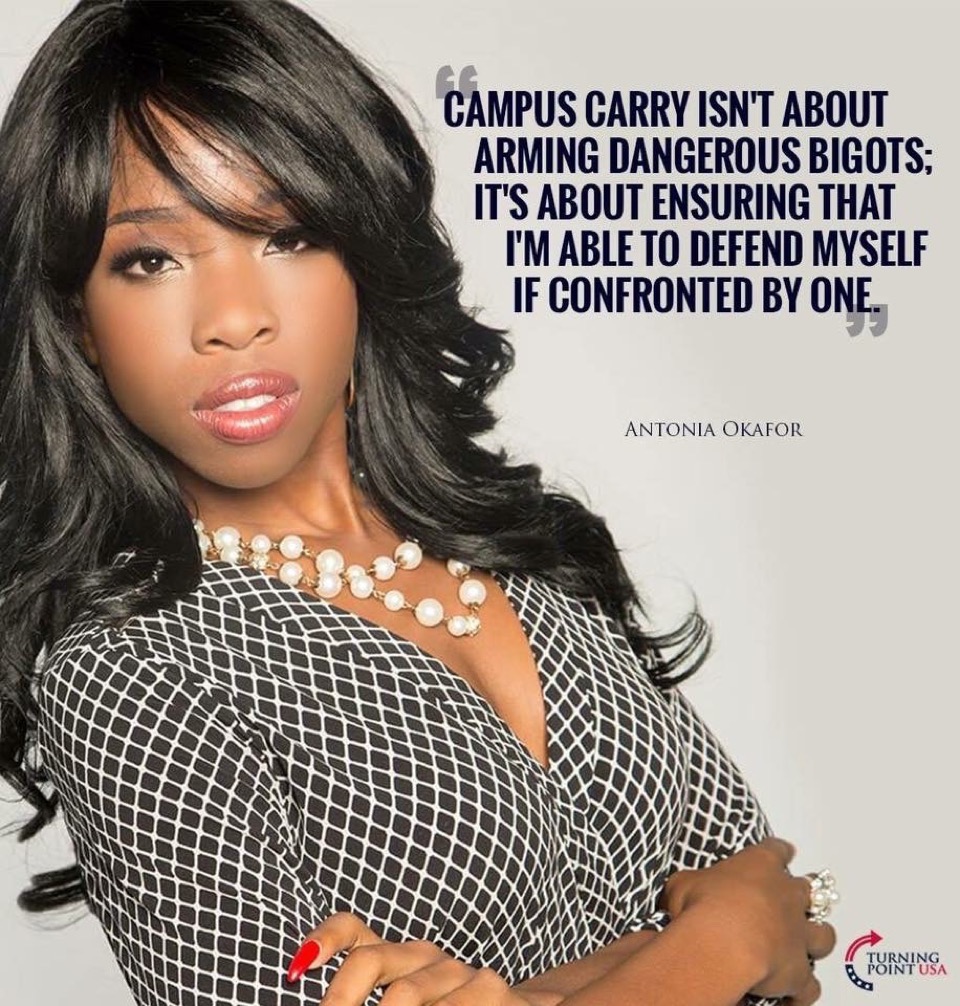 The Switch
Cheryl: You were featured in a recent viral PragerU video that has been viewed more than a million times, in which you talk about your journey from voting twice for a president who was no friend to our Second Amendment rights, Barack Obama, to now being a spokesperson for gun rights. Was this shift in mindset political in nature, or was it more personal, based on your desire to be your own first responder?
Antonia: It was definitely personal in nature. I looked at the policies that President Obama was implementing at the time, and I started asking myself if these policies really benefited me as young black woman. On all fronts—young, black, female—they didn't. As Obama's years as president stretched on, statistics began showing that my generation was even worse off than before he took office. Failures of the Obamacare healthcare program and the rising national debt proved these things to be true. Student loan debt had exceeded credit card debt for the first time in history, leaving millions of people like me wondering about our future.
My generation was the first predicted to do worse, not better, than our parents' generation. In 2012, I realized that I indeed did not want more of what the Democrats were having and promoting. Their policies failed me. At the end of the day, I go to school and work hard so that my economic circumstances can afford me the American Dream that my parents came here for.
I also realized that restrictions to my right to self-defense, on and off campus, were also products of failed Democratic policies. I grew up in an era where we witnessed tragedies that took place in these so-called "gun-free zones," which proved to me that laws and policies which restrict law-abiding citizens' rights to self-defense simply do not work. Students, I feel, have not had much say when it comes to all these laws. I decided that I wanted to be the voice of the "silent majority," helping other students, who had been silent for far too long, to speak up as well.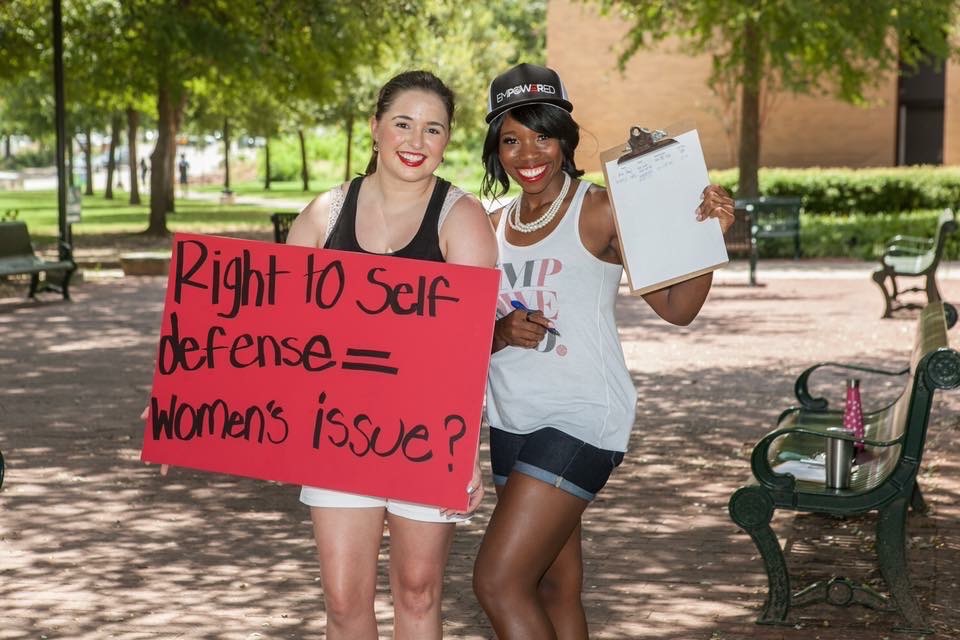 Bridging
Cheryl: You are a bridge between cultures, between generations, between continents and between political ideas. You authored an op-ed in The New York Times titled "Why I Bring My Gun to School." The New York Times isn't a publication in which one often finds positive articles on firearm ownership. How did that come about, and how was it received?
Antonia: I have to give credit where it is due, and The New York Times op-ed editor actually came to me a few months ago and wanted me to write based on my unique perspective. So, I want to credit the Times for this opportunity.
Naturally, at the outset I was skeptical of how they would spin the story, but to my delight, they did not. I got to tell my own story and I was pleased with the finished product. I absolutely expected that the NYT audience wouldn't like my views very much, and many didn't. But I had a few responses, even from liberals, that told me they appreciated my article. To me, I am not effecting change if I am not reaching out to those who have never heard the message before. It's a lot harder to try to speak into those places, but activism isn't supposed to be easy.
My favorite e-mails are from men and women who have changed their minds because of my willingness to reach unreached groups. I am a born-again Christian, and I feel it is similar to being a missionary. You are not going to go on a mission trip into the Bible Belt; you go to where people haven't heard the news you have to share. There is certainly a case to be made for encouraging those who already value the Second Amendment, as well, but the focus of my work is to reach those who may not otherwise have an opportunity to hear the information I am sharing.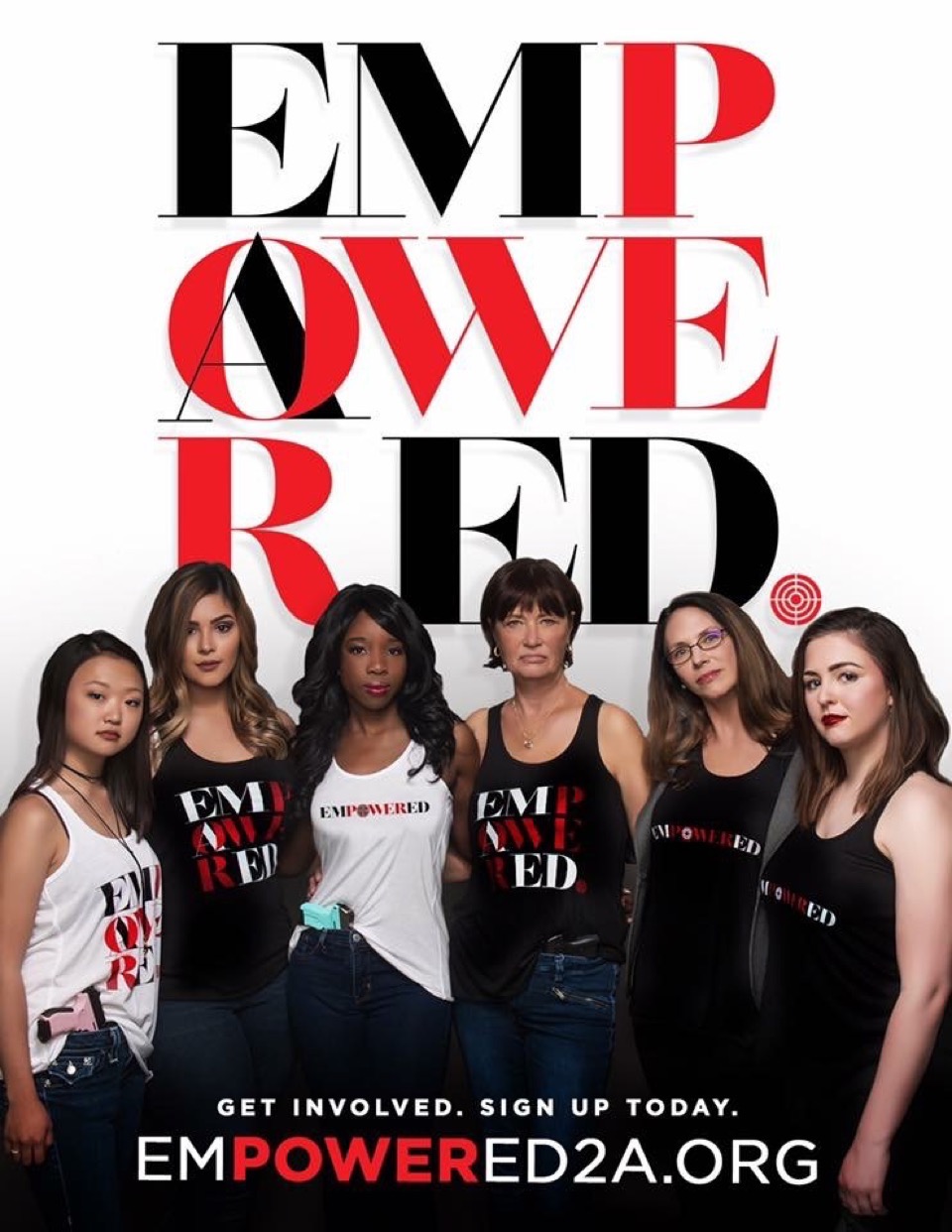 emPOWERed
Cheryl: As we mentioned, you are the founder of a nonprofit organization called emPOWERed. Tell us about your mission and the reason behind forming emPOWERed?
Antonia: I started emPOWERed because I truly believe the future of advancing gun rights in America will take place on college campuses, and young women are going to be the new face of advancing them. The emPOWERed mission statement is as follows:
We exist to empower women on college campuses through educating, equipping and rallying women through all forms of self-defense, including the ones afforded to us through the Second Amendment.
The three pillars of emPOWERed are Education, Training and Advocacy.
Education
We educate the public about current self-defense laws that empower or hurt us as young women on campus. That could be an emPOWERed chapter in Massachusetts spreading the word that current Massachusetts law doesn't allow students to carry pepper spray, or a Texas, Kansas or Georgia chapter spreading the good news that campus carry is now allowed on campus. The key to a lot of fear around laws like campus carry is the lack of awareness of the real facts about gun laws out there. In my years of activism, I've found that once one student explains to another the actual components of a law such as campus carry, the wary student will more than likely change his or her mind about it. Peer-to-peer activism is powerful.
Training
Training: A core of emPOWERed is bringing the local firearms and self-defense training community to their college campuses. I work at a gun range, and it is mind-blowing to see that so many trainers are ready and willing to teach young women how to defend themselves, but just don't know how to connect with that community. EmPOWERed will be that link so that young women who wish to learn how to defend themselves know where to go. Also, emPOWERed encourages women to train together on a regular basis. For many chapters, that means going to a local gun range together once a month, or inviting a self-defense instructor to teach a free or low-cost class on campus.
Advocacy
Finally, the last core component is advocacy. We hope to arm women on campus with the knowledge and training that will lead them to naturally want to advocate for a change in the laws or campus policies that keep them from defending themselves. Whether that means equipping women through advocacy and communication classes so they can spread the word of their pro-Second Amendment views, or testifying in the state legislature regarding bills pertaining to self-defense, our emPOWERed women will have the tools to do that.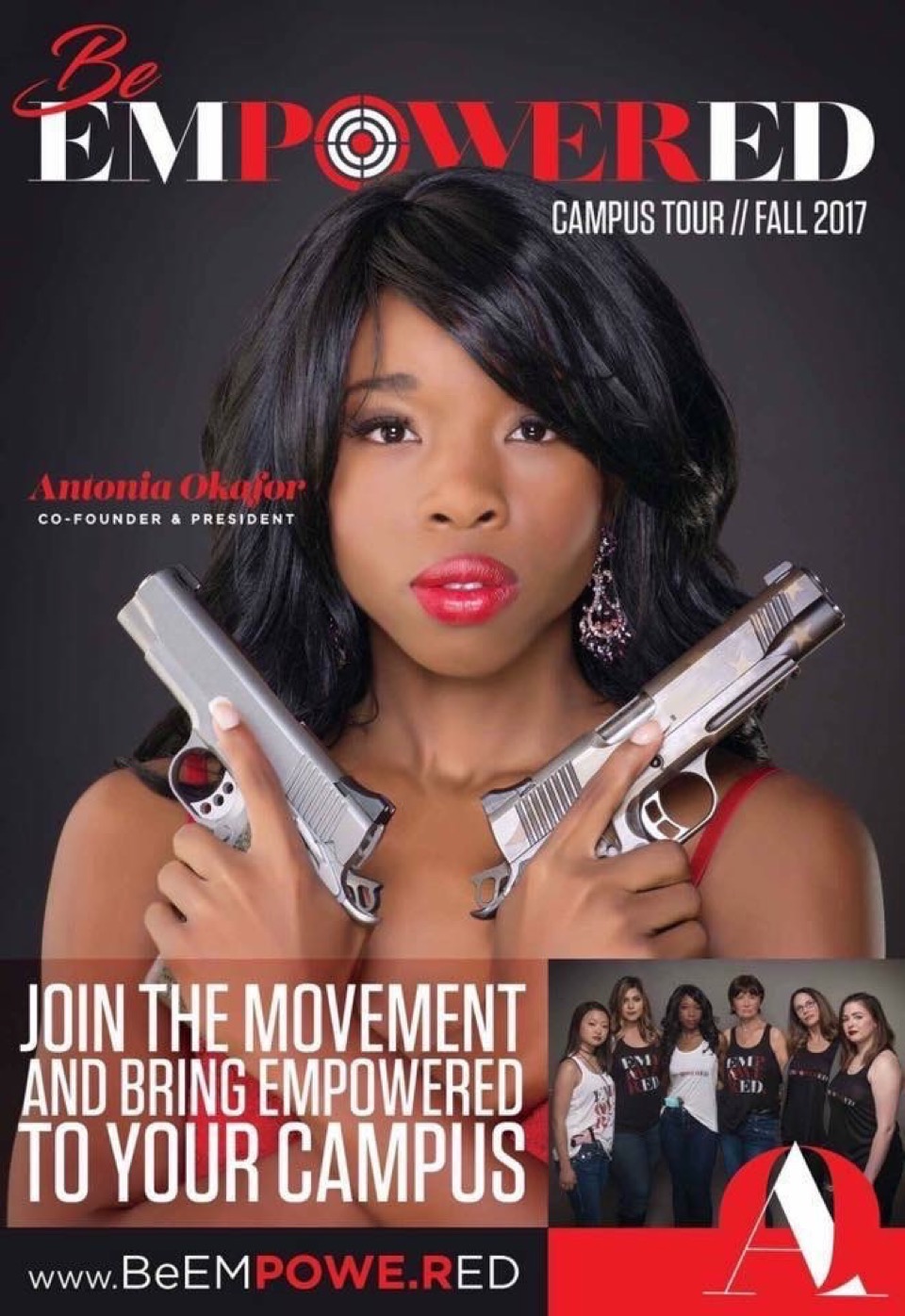 Campus Carry
Cheryl: Just last month, one of the colleges in Texas enacted campus concealed carry for students and faculty of legal age. On that campus, one of the instructors reacted by coming to class dressed in a bulletproof vest and helmet. Assuming this man is truly having a fearful reaction to the change in policy (rather than acting out a headline-grabbing stunt), what would you say to him, and others, to think more logically and be less afraid of the policy change?
Antonia: It would have been one thing for these attention-grabbing professors to be showing honest concern based on actual data and facts when it comes to campus carry, but most are not. I think, as professors, faculty members, or other authority figures on a college campus, these particular titles carry with them a unique responsibility to impact and shape the minds of those they teach. Instructors, like the one at the community college in San Antonio, and another one from the University of Kansas, should know better than to use fear-mongering to illustrate their disdain for the campus carry laws. It only promotes fear, not actual change.
That is why I am excited to be on a Be EmPOWERed Campus Tour starting October 3rd. My first stop will be at the University of Kansas. The word is already out, and there are people who are not happy that I am coming to speak on the topic of campus carry, but I think it is vital that people from all perspectives see a face with this movement. The title of the event is appropriately called, "Campus Carry Isn't Scary," to play off of the Halloween holiday. I am confident that even if they don't like my message, they will see that I am not really all that scary.
Cheryl: If there was one thing you could tell a young adult who isn't sure how to feel about guns on campus, what would it be?
Antonia: I would tell them that I have been there myself, and not too long ago, either. I would suggest that they talk to someone they know who is pro-gun and see for themselves that a gun is simply a tool, and in the right hands can be an instrument that saves lives. Once you put a friendly face on the gun debate, you can couple that with the solid data that on campuses where the law permits students to lawfully carry guns, those students are statistically more law-abiding than even the general public. We are upstanding citizens who just want to protect ourselves on campus, as we already do when we go off campus.
emPOWERed
If you would like to bring emPOWERed to your college campus or know a loved one who would like to do so, please visit our website: www.empowered2a.org. We are also looking for contributors for our new emPOWERed Blog as well. Follow us on Facebook at @empowered2a and on Twitter and Instagram at @empowered_2a
Plus, our organization is 100 percent funded by generous people. Right now, we are completely volunteer run. It's the very first week of school and we already have more than 10 chapter leaders across the country, but to be sustainable we will need funding to grow. Please consider making a donation on our website. We are a 501c3 organization, and 100 percent of your donations are tax-deductible.
About Cheryl Todd

Cheryl Todd is the executive producer and co-host of "Gun Freedom Radio," owner of AZFirearms Auctions, Pot Of Gold Auctions and founder of the grassroots movement Polka Dots Are My Camo. Cheryl is the Arizona state director for The DC Project and travels the country speaking as a champion for our Second Amendment rights. She is a driving force in preserving the legacy of freedom for generations to come. View all posts by Cheryl Todd →