Space Still Available for Recreational Tree Climbing
There is space still available for the Recreational Tree Climbing on Saturday, September 23, 2017. The registration deadline has been extended until the trip fills. Please join us! Come play in the trees!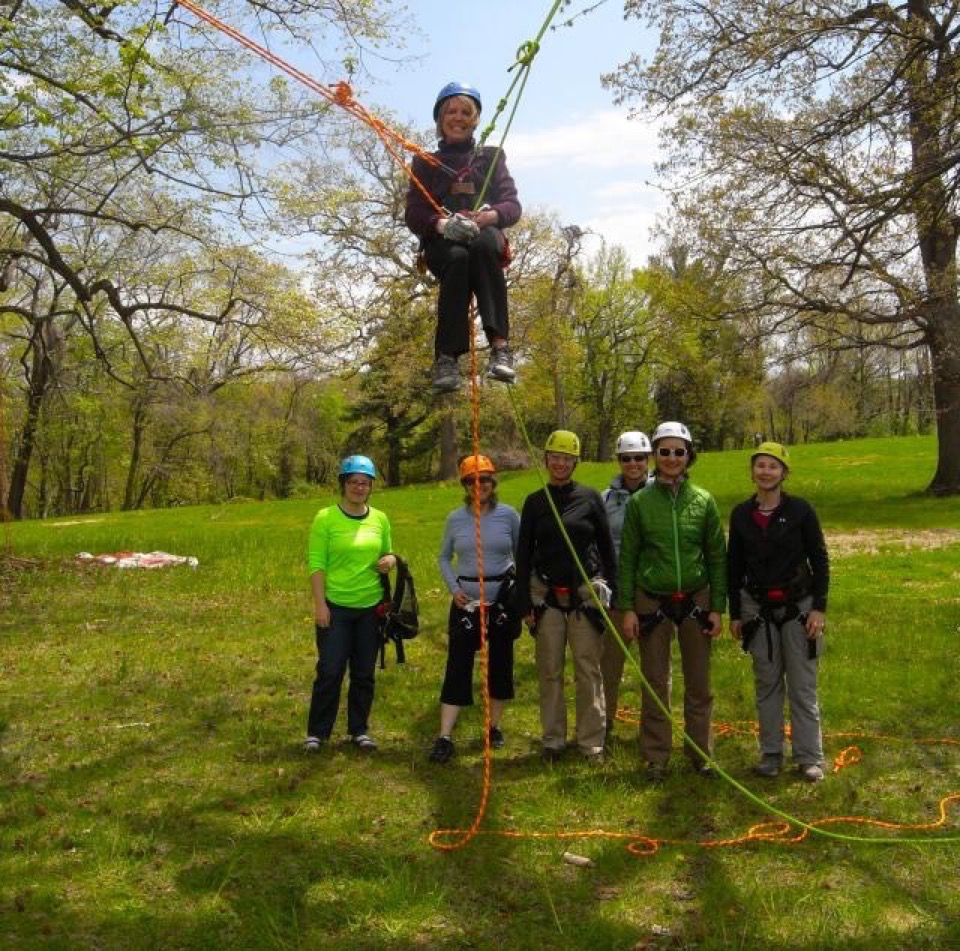 Recreational Tree Climbing

Saturday, September 23, 2017
Baltimore, MD
8:30 a.m. – 2:30 p.m.
$85 members, $95 non-members
Level: All. No previous experience necessary.
Have you ever climbed a tree? (We hope so!) Or, if you haven't, did you ever want to? (We think so!) Now is your chance! Recreational Tree Climbing is an opportunity to move from the ground up into the canopy using a combination of traditional climbing gear and a few cool knots and tools that are mostly used by arborists and tree trimming technicians. Put it all together, and you have an incredibly fun and satisfying recreational activity.

All gear will be provided. Due to the need for a tight leader to participant ratio, this event size is limited.
Find out how to register here.
Who Are We?
Washington Women Outdoors (WWO) is a non-profit organization that is run almost entirely by volunteers. We engage in outdoor activities in the Washington, DC area where women share skills, experience, strengths, and support to enhance and expand each woman's world. We welcome women of diverse ages, races, and lifestyles. WWO provides instruction by women for women. Activities are available for all skill levels to inspire the beginner and to challenge the more advanced.
Who are WWO Members?

WWO members are independent women who seek adventure in the outdoors. We have a passion for hiking, biking, rock climbing, caving, backpacking, kayaking, cross country skiing, horseback riding, hang gliding, and anything that tests our strength and broadens our horizons. We enjoy meeting new people who want to travel with us to beautiful places in the wilderness. If you are open to learning new things in a supportive environment and enjoy sharing the outdoors with other women, we invite you to join us.
More About WWO's Philosophy and Trips
Our activities help women develop their competence, comfort and natural place in the outdoors. We offer, by example and training, a program for leadership development. We encourage each woman's sense of well-being and power. We enjoy and strive to protect the earth that we share with all living creatures.
We scout our hiking and biking trips. Each trip is led by two leaders. One leader stays at the front of the group and the second leader is the sweep. Each participant is encouraged to participate at her own pace, and the sweep is there to ensure that no one is left behind. We want each participant to go at their own pace so that they enjoy their experience and come back to the outdoors.
About The WON

The Women's Outdoor News, aka The WON, features news, reviews and stories about women who are shooting, hunting, fishing and actively engaging in outdoor adventure. This publication is for women, by women. View all posts by The WON →