Gun Review: Springfield Range Officer Elite Operator
A while back I did some research and an article on transitioning to shooting a 1911 style pistol. Back then, I had question as to what the infatuation was with the 1911. With little change in design for more than 100 years of single stack magazines and manual safeties, I couldn't understand why people even liked these guns. I intended to learn to run, practice with and compete with the 1911. Well, I did it and I honestly enjoyed it. I used the Springfield Range Officer in 9mm and I learned a lot while shooting this modern version of a historical design. When Springfield came out with its Range Officer Elite model, I wanted to take one for a test drive to see what made it "Elite."
The packaging of the Elite impressed me immediately. It comes appropriately labeled, in a sturdy cardboard box (not why I was impressed) and when you open the box … well, it's an outstanding presentation to a customer. Springfield packs all the goods in a rugged and handy Cordura pistol bag, with compartments for instruction manuals, a chamber flag, the pistol and 2 seven round magazines. Another pocket contained a holster and magazine pouch. The whole package elevates this gun, and made me feel as though I had received a very special firearm.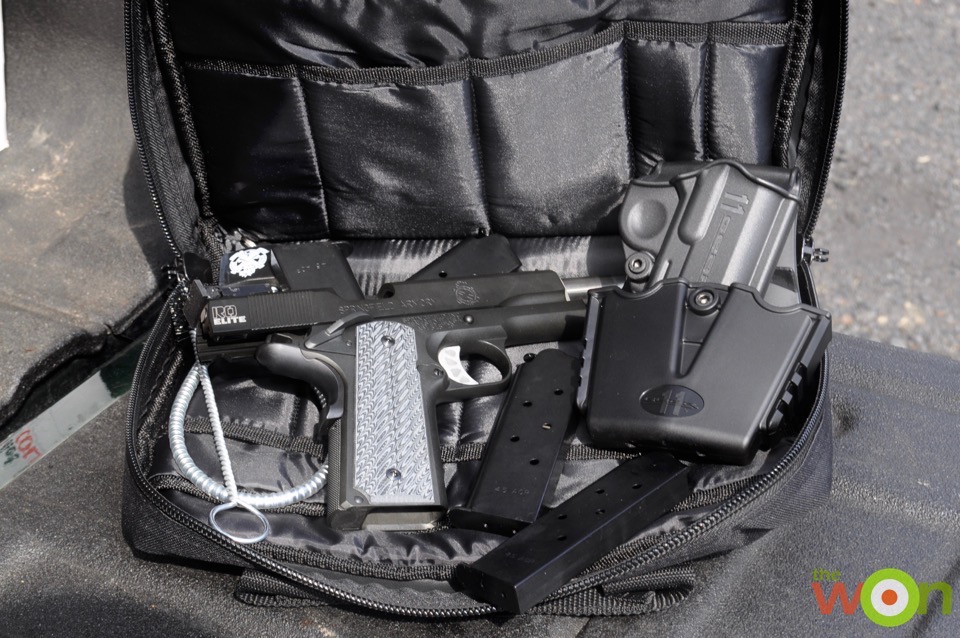 Upon further inspection of the pistol, I found that I received a .45 ACP. I'm not a big fan of shooting .45s, and frankly, I would have preferred a 9mm, so I was skeptical as to how this was going to shoot.
The Range Officer Elite model pistol is a full-size, 5-inch gun (and as you have probably figured out by now, it is available in .45 ACP and 9mm). Not a light weight pistol, the RO Elite weighs in at 40 ounces empty – which I felt would surely dampen the recoil of that .45 caliber. This pistol is all steel with a forged, match-grade frame and slide that is precision-fit for fluid-smooth function. The finish is a self-lubricating Black-T finish that is supposed to shrug off corrosion. A stainless steel, match grade barrel, fully adjustable rear target sight, fiber optic front sight and smooth Gen 2 trigger work together to deliver accurate performance. A standard government recoil system, along with an ambidextrous safety and textured custom thin-line G-10 grips complete the pistol. I think it has a remarkable fit, feel and balance.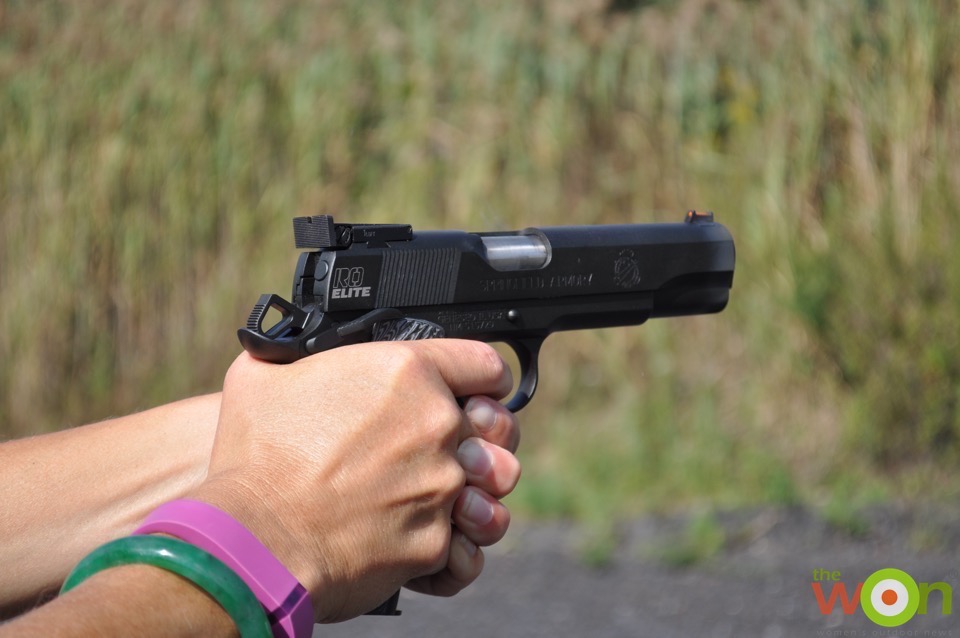 Range Time
On the range, I put the RO Elite through my standard evaluation process. Almost every "defensive/combat style" pistol comes sighted in at 25 yards – meaning that rounds will impact at the tip of the front sight at 25 yards and generally in a 5-inch group or less. I took the pistol to 25 yards right off the bat, firing 4 magazines (28 rounds) at a 10-inch steel circle. The majority – except for 2 fliers – centered on that steel in about a 5-inch group. I used Aguila 230 grain FMJ ammunition and fired from a standing, off-hand position with 2 hands. Satisfied that the pistol shot straight, I moved up to combat, aka defensive, distances.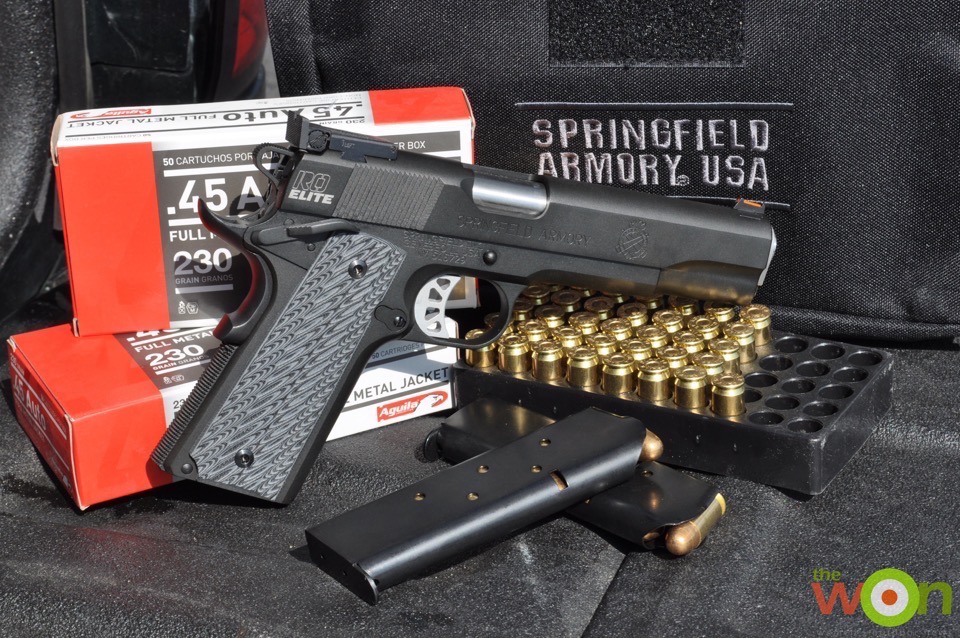 Drawing and firing at 21 feet, I fired a ragged hole about 3 inches in size. That group would have been much smaller if I could keep my anticipation for that 230 grain bullet down as well as maintain my mental discipline. Overall though, the gun is pleasant to shoot and easy to handle. The 230 grain FMJ Aguila rounds felt good and functioned flawlessly. All told, I fired more than 400 rounds with this gun during 2 days of shooting. The gun never malfunctioned and accuracy was good enough to run a standard plate rack at 25 yards time and time again.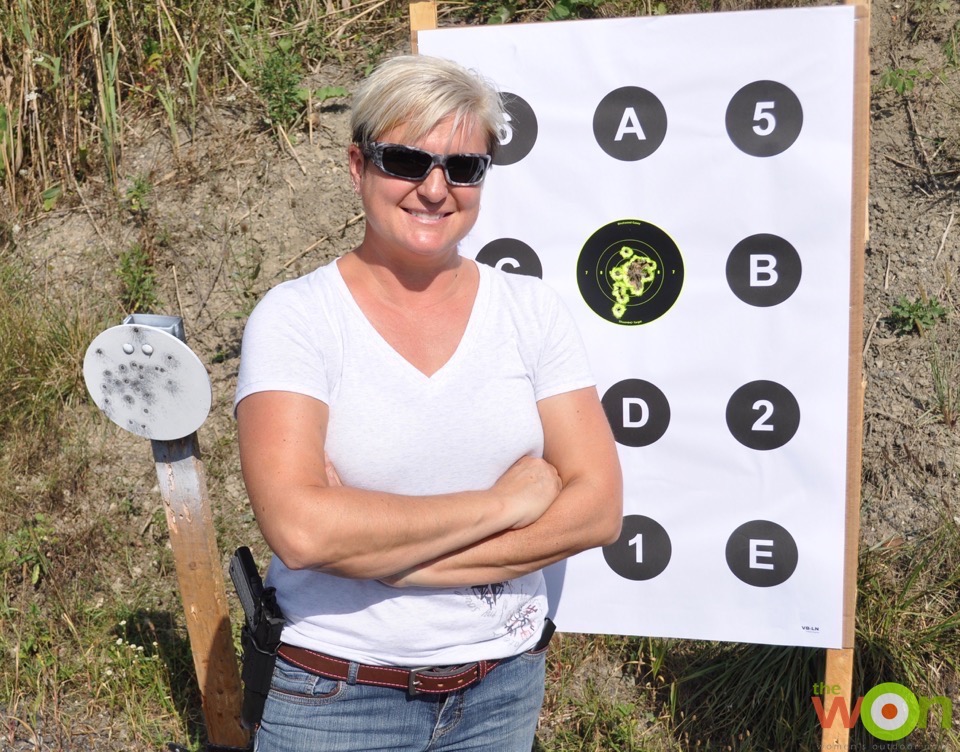 I like this gun. It's not unpleasant to shoot at all. The 9mm configuration is sure to be on my purchase list. If anyone is interested in the 1911, you know they can be temperamental and finicky, but not this one. As for cleaning, just like any other 1911 I needed to finesse it a bit when taking it apart and putting it back together.
1911 Range Officer Elite Operator
Find more information on the RO Elite Operator here.
MSRP: $1,145.
Find more gun reviews here.
About Michelle Cerino

Michelle Cerino, aka Princess Gunslinger, entered the firearms industry in 2011 when Cerino Training Group was established. She immediately began competing in both 3-Gun and NRA Action Pistol, becoming a sponsored shooter. Michelle is currently a columnist and Managing Editor of Women's Outdoor News, as well as Event-Staff for CZ-USA Field Sports. She also manages social media for Vera Koo and GTM Original. Michelle encourages others to step out of the comforts of home and explore. View all posts by Michelle Cerino →