Cheyenne Dalton's Rimfire World Championship Roadtrip
I'm very fortunate to be able to travel across the country and compete in matches in many states and one of my favorite trips is going to wherever the Rimfire World Championship is held. Not only is it one of my favorite matches, it's also a match where I see friends that I may only see once or twice a year. This year, Cavern Cove in Woodville, Alabama, hosted the match.
Cheyenne Dalton is sponsored by Volquartsen Firearms
This year's travel planning to the match presented us with a slight problem, because my band had been booked to play in a bluegrass festival called Turkey Track, Waldron, Arkansas. We played shows on Wednesday and Thursday, with the last show concluding at about 10:30 p.m. My dad had driven down to the shows on Thursday and in-between shows, we spent the day having fun and visiting with family and friends.
After our last show, we decided to get some sleep before leaving for Alabama. To make it to Alabama on time, we would have to leave at 4 a.m. (Now that's fun!) After about 4 hours, we heard the dreaded alarm, which came much too quickly, but we still had to get out of bed and get going. I don't know about you, but I am not a morning person. Thankfully, my dad is a good sport and "likes" to drive in the early morning hours. We rolled out of Waldron and began our big adventure!
Waldron is in a beautiful part of Arkansas with lots of trees and beautiful scenery, but zero cell phone service. I know, that seems petty but hey, I'm a 16-year-old girl. We drove for an hour- and-a-half and never saw a single car – rural for sure. We finally came to a town that had a Dalton Family staple, a Shipley Do-Nuts shop. Yes, we love donuts, but we like their kolache more. After kolache and a Diet Dr. Pepper for my dad, we got back on the road again. It's about an 8-hour drive, so we settled in to have some road trip fun. Just kidding, my sister and I fell asleep in about 5 minutes. My dad listened to "his" music.
Some people travel in huge cars with lots of room. Not us. We borrowed my grandma's Volkswagen Beetle. It's a diesel, so it gets great mileage and luckily my dad is excellent at packing a car, so we all had a reasonable amount of room … sort of. Traveling in this car is kind of like traveling on a budget airline. My sister and I shared one small suitcase and and each brought one small "carry-on." Dad's rules. Leg room was at a premium. I'm short, so I didn't need much room. My "little" sister is already taller than I am, so she needed more space; we stuck her in the backseat!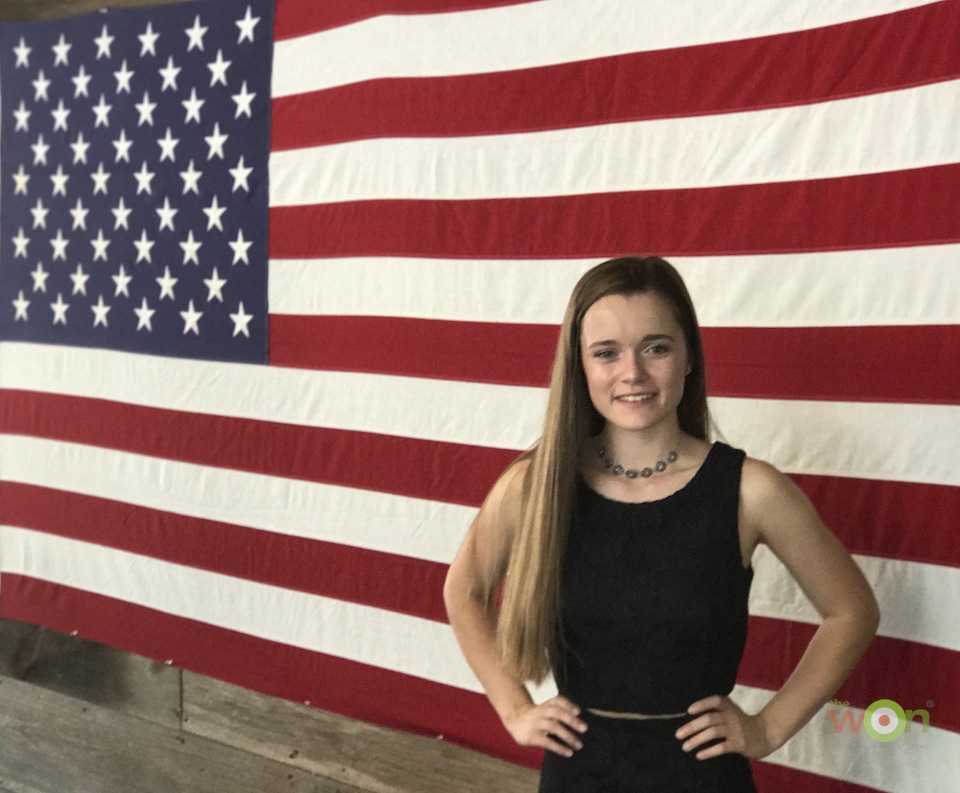 Anyone that travels much knows all the interesting things you see while on the road and this trip was not a letdown. We took the usual truck stop bathroom breaks and ate fried foods. We saw miles of unharvested cotton and soybeans and several police cars; thankfully, they weren't behind us with their lights on. We saw an alligator on the west side of Huntsville, and of course, we drove right on by the Space Center in Huntsville. Way cool.
We arrived in Scottsboro, Alabama, and checked into our hotel. Did we go to the Cavern Cove range after that? Nope! We went to the Unclaimed Baggage Store to see what sort of treasures we could find. Let me tell you, people lose some really cool stuff while flying.
We got to the range about 4 p.m. and got checked in. Cavern Cove is a great facility that hosts several matches each month. Gary and Florene Franks are the owners and they're very nice people. The staff they put together are top notch and I always have a great time while I'm there.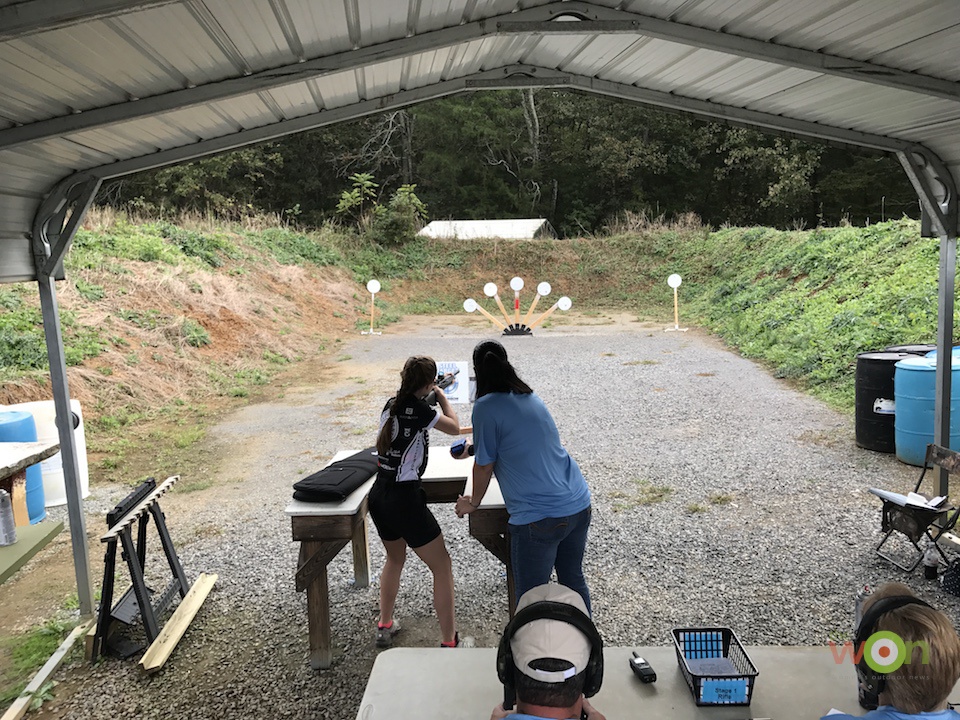 It's always fun to get where you're going because you finally get to see friends you don't get to see very often. We looked at the stages and test fired our guns. I also let several people try my Volquartsen guns while we were at the test bay. It's a part of the team shooter job that I love! We visited with some more friends, then decided to head back to town. People have things they do on road trips and one of our favorite things to do is visit the nearest Chinese buffet. I know, that could be a bad idea, but we live on the edge.
Saturday morning, we got up at 5 a.m., getting ready to leave for the range and attend a 7 a.m. meeting for shooters. When we arrived, we met the usual hugs and conversations and catching up on the past year. My teammate Kolby Pavlock had arrived later in the evening on Friday, so I enjoyed meeting him and his mom. I hadn't seen them since SHOT Show in January. I also was shocked to see the one and only Julie Golob and her daughter. It's always cool to see your biggest inspiration and mentor, so I knew it was going to be a good day.
We spent the day shooting 7 rifle stages. I shot both Limited and Open, so I shot 14 stages. My favorite part of shooting is actually the friendships I've made while shooting. We were on Squad 14 and most everyone on the squad were the same people I shot with last year. It liked seeing how much they had progressed in the past year. We had lots of laughs and our guns ran great. At the end of the day, we felt tired and hungry, so we found a BBQ place down by the river, which hit the spot. We ate dinner with the Pavlocks and laughed so much that my face hurt.
Sunday morning meant another early day and the elevators ran constantly! I think everyone packed their stuff out of the hotel so they could head home after the match … that's what we planned to do. The match scheduled pistol competitions for this day. The pistol bays at Cavern Cove are great. There's a roof to keep the sun off you and large fans help circulate air. Shooting USA interviewed Kolby and me. Julie G and her daughter hung out with our squad for a couple of stages before they had to go home. Again, my guns ran great, me not so much.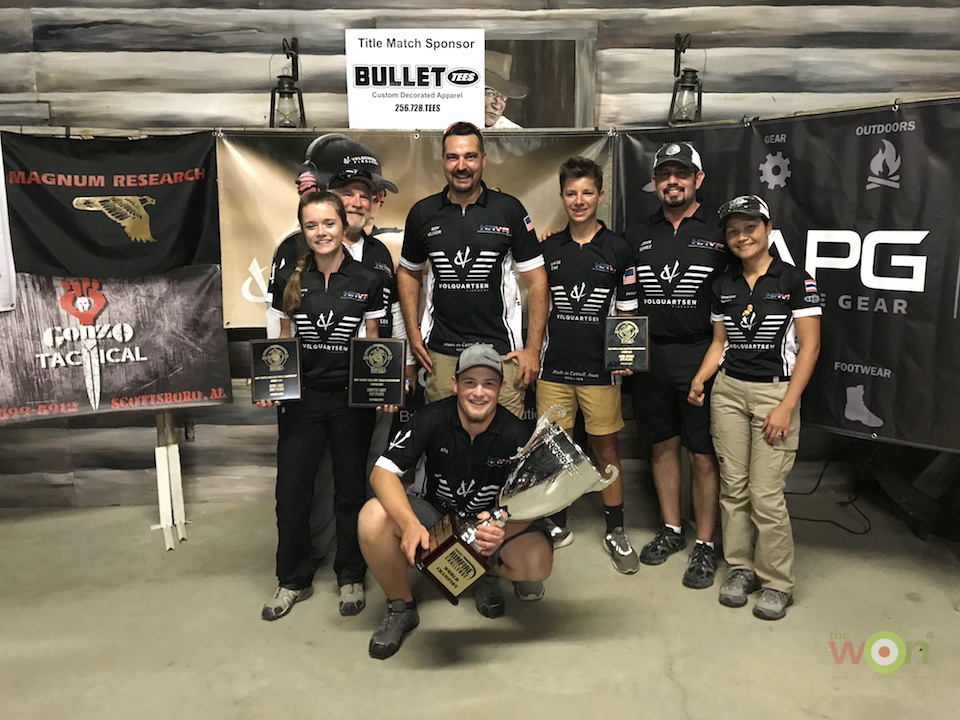 Rimfire World Championship
The Rimfire World Championship awards ceremony took a bit longer to finish than anyone had anticipated, so we didn't get out of there until 7 p.m. I finished 2nd Lady Limited and 2nd Lady Open. Kolby won the Overall title for the 3rd time and Chase Orr finished 3rd Open. Team Volquartsen had an excellent weekend.
We said our goodbyes and gave hugs. We drove to Corinth, Mississippi, to spend the night at a hotel we've stayed at a dozen times. The rest of the trip home went smoothly. And since this story has gone way past my allotted space, I'll just say we had a great trip with lots of laughs. I'm already looking forward to next season. Hopefully, I'll see some of you at SHOT Show in January.
Remember, always have fun and take a kid shooting!
About Cheyenne Dalton

Cheyenne Dalton is an up-and-coming junior competition in 3-gun, USPSA, and Rimfire challenge. She writes a column about her shooting experiences, sponsored by Voquartsen Firearms. She's been competing for 4 years and has won state titles, along with the Limited Ladies Rimfire World championship 2 times (2014 & 2016). When she's not at the range, she is traveling with her Bluegrass band, "That Dalton Gang," where she plays mandolin and violin, along with singing lead vocals. Her future plans include lots of shooting and continuing her education with a focus on being a pharmacist. She lives on a family farm in Missouri. View all posts by Cheyenne Dalton →