Exploring China's Lushan Mountain
Earlier this year I got a phone call from a young man working on behalf of the Chinese-United States Exchange Foundation. He wanted to know if I would be interested in traveling to China on a journalism delegation to better understand the country's culture, people, government and of course, the relationship with the United States. I was chosen, in addition to 4 others, as a candidate for the trip.

Katie Pavlich is sponsored by Volquartsen Firearms
As someone who believes that in order to understand the world you must get out in it, I enthusiastically said yes.
My perception of China prior to the trip was one of big cities, massive populations and sprawling manmade infrastructure. A country defined by endless concrete jungles. This was confirmed upon landing in Shanghai and as I made my way to a hotel in the center of the city. Neighborhoods lined the freeway and skyscrapers could be seen through the pollution fog in the distance.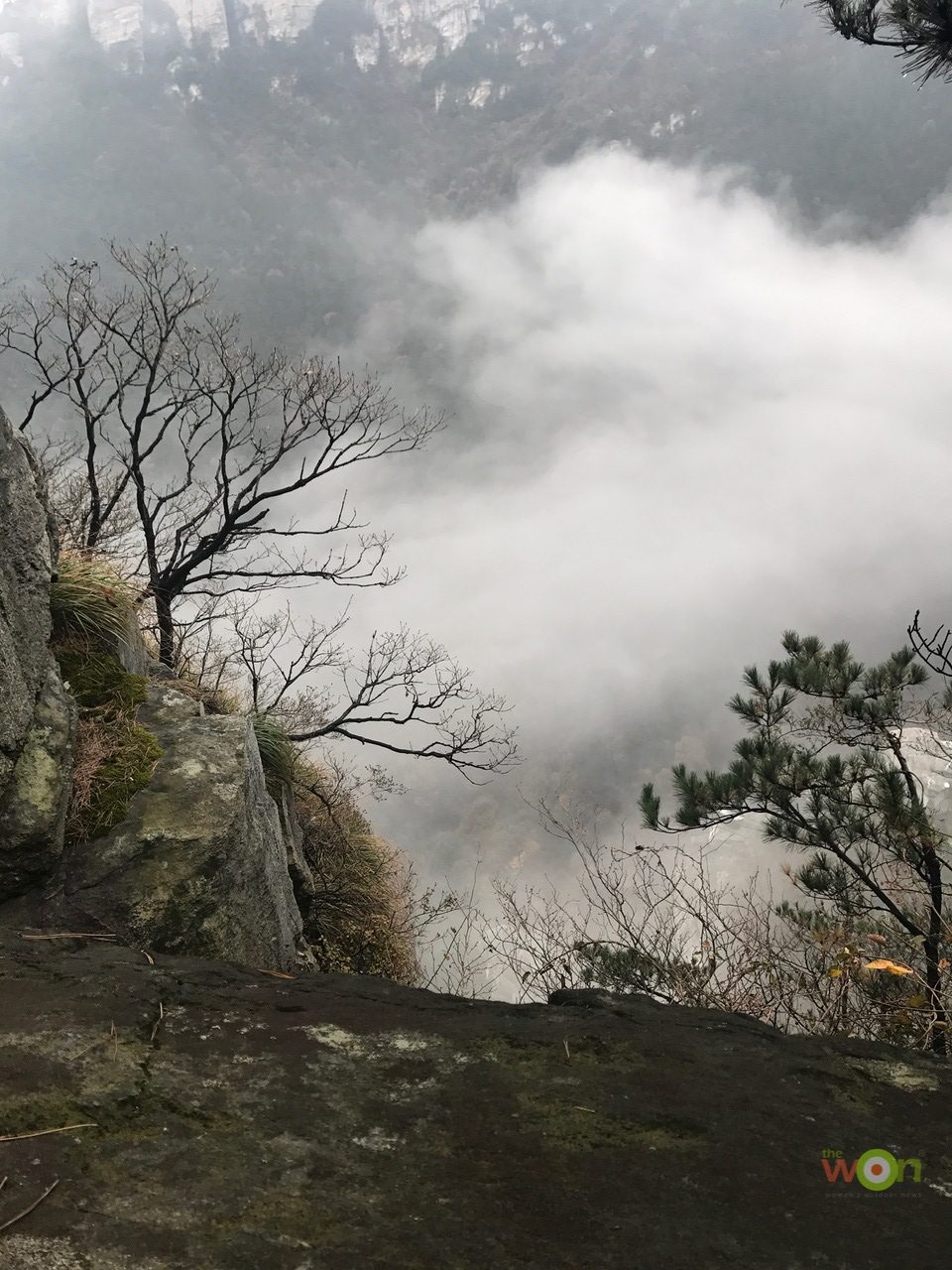 Although my expectation of bustling Chinese city culture was confirmed upon arrival, I was pleasantly surprised when we ended up standing on the side of Lushan Mountain just a few days later, 800 miles away from the tall buildings of Shanghai or Beijing.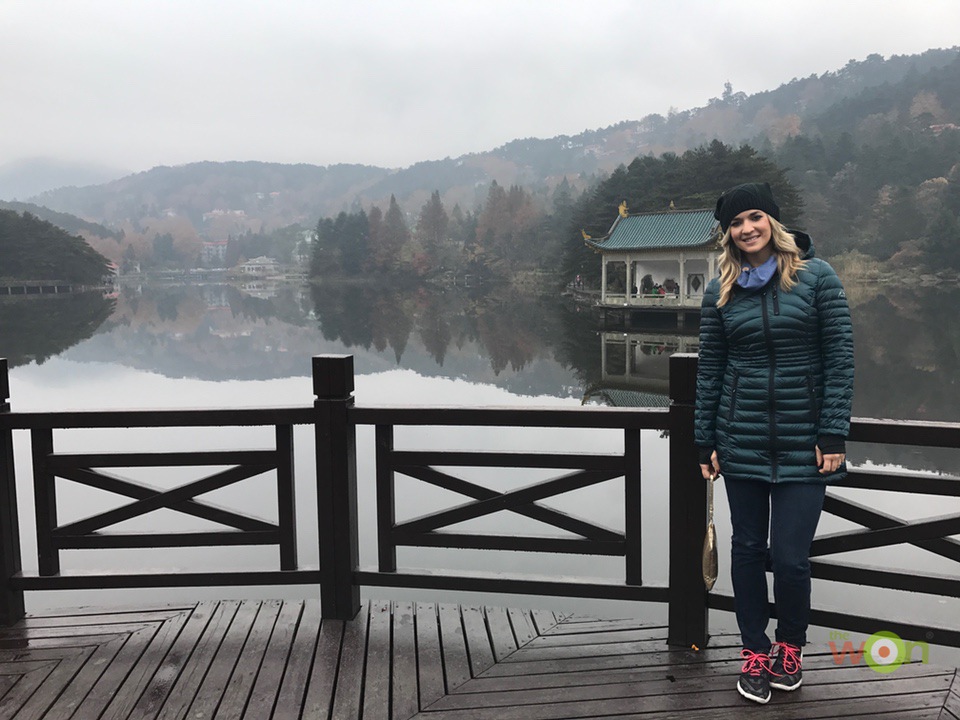 At the base of the mountain we entered through a gate on a bus and traveled along a steep and winding road to the top. Along the way, we passed hundreds of Chinese tourists hiking their way to a final destination. We drove by a serene, clear lake and then stopped at the end to take photos, with our reflections on the water beaming back at us.
After 2 hours, the bus driver dropped us off at the top of a well-traveled, but maintained trail that snaked along the side of a steep valley.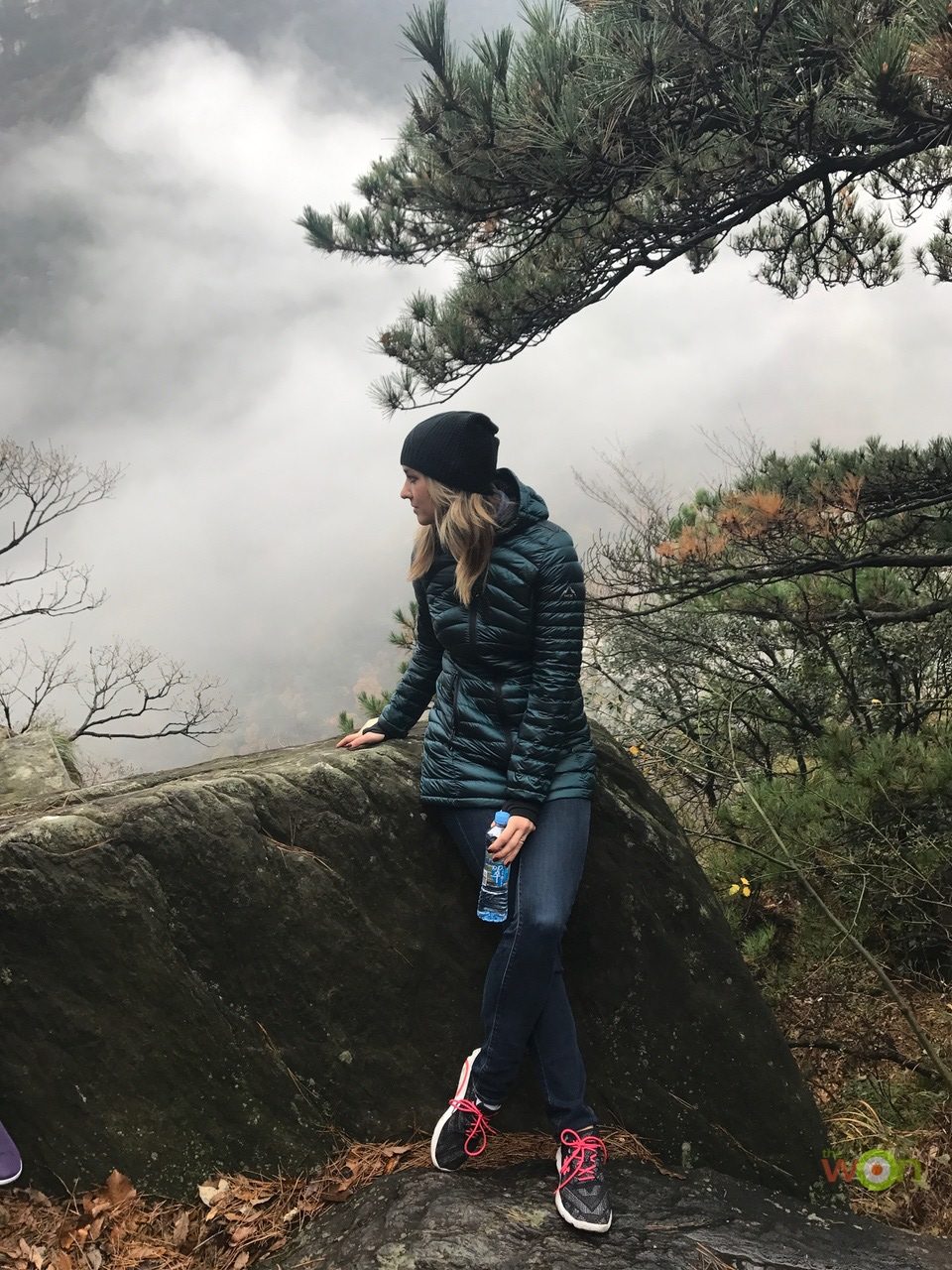 I walked to the edge of the boulders for a closer look below, where the colored fall leaves peaked out above the thick fog that had settled between summits. The air was fresh, clean, and cold. Although the air at the top of mountains where I grew up in Arizona was crisp, here it was laden with humidity – but, the soul-refreshing feeling of breathing it in felt the same.
"Who knew life would bring me to the Lushan Mountain of China?" I asked in awe.
As I walked along the path, signs warned about hikers and tourists getting too close the edge. Bright yellow lines were drawn on rocks as an indicator of where people should stand for photos.
"Beware of falling from cliff!" another read, complete with a photo of a person falling head first down a canyon.
This place was also a natural home to wildlife, and another sign: "Warning, please do not get close to and tease the wild monkey, danger!"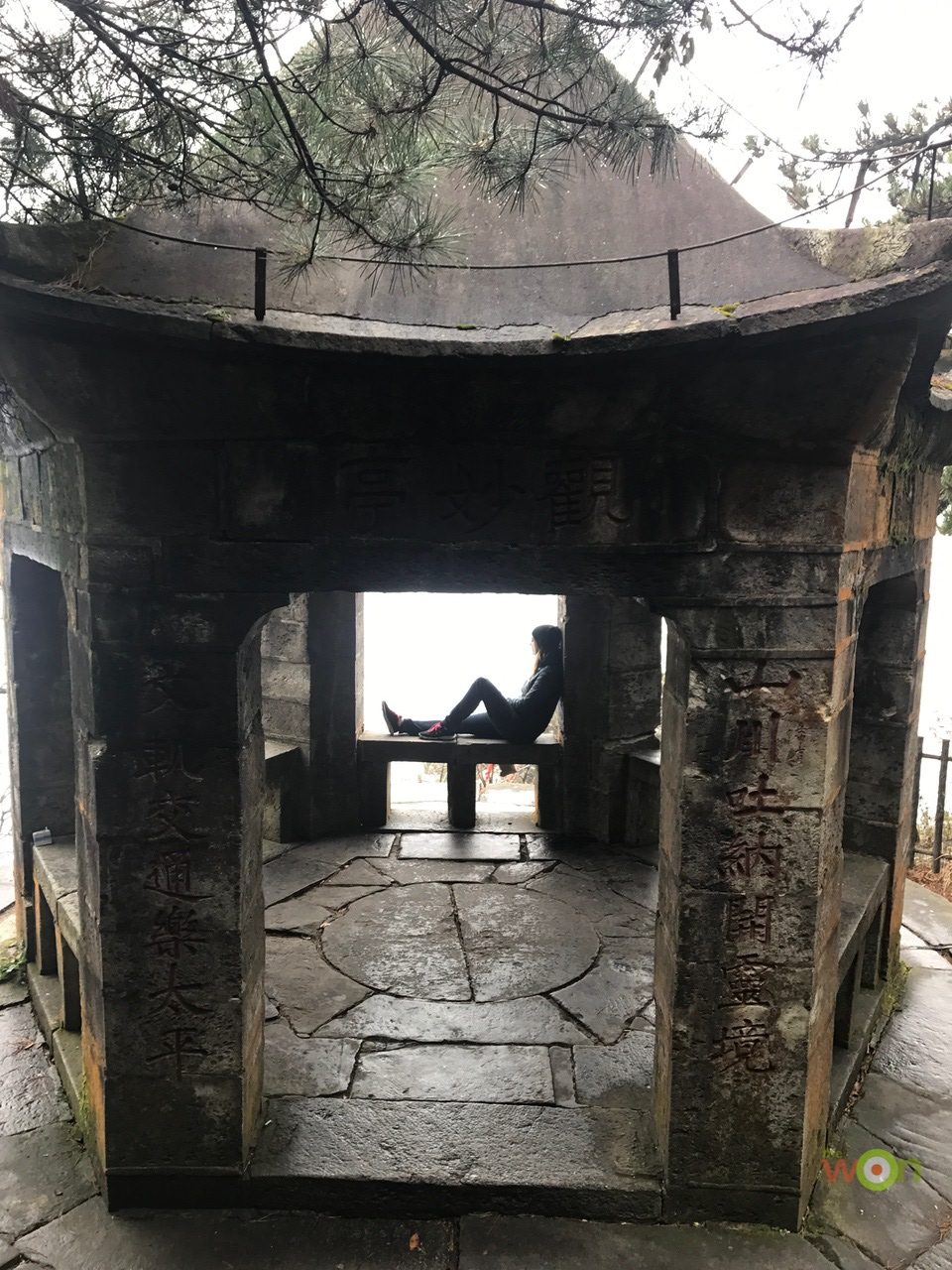 At the end of the hour-long stroll, men and women were selling hard-boiled eggs, fresh fruit and drinking tea in groups of four. Another man was making peanut brittle on old barrel with a wooden hammer. Souvenirs were also for sale.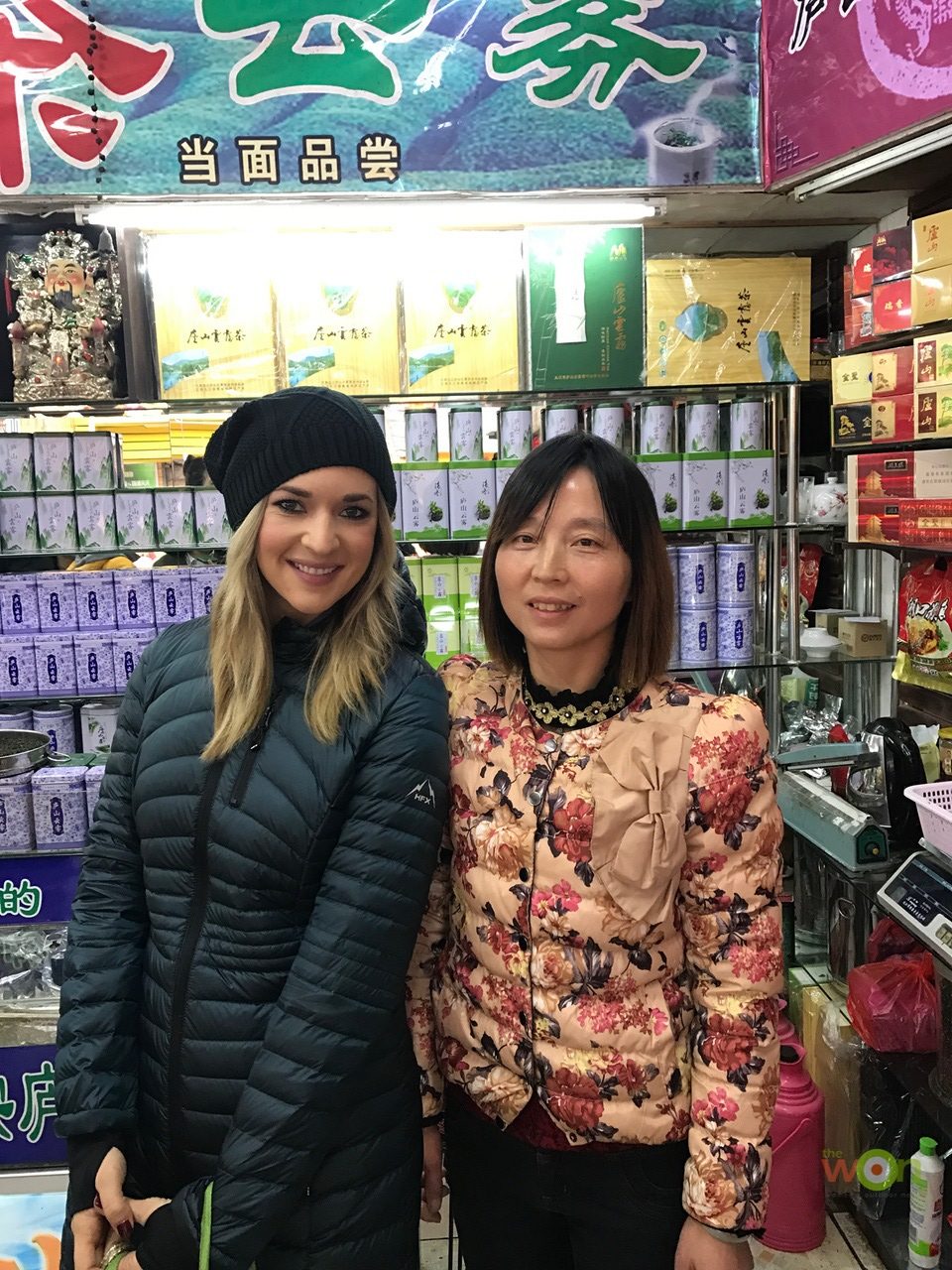 We visited and stayed near a village where people harvest some of China's famous green tea and bought some first hand from a woman working in her own little shop in an alley way.
The Lushan Mountain
Mountains around the world have millenniums of mystery in common and have a way of re-centering or expanding a person's perspective. Lushan Mountain, "Mt. Lu," is a place I am grateful to have visited for this very reason.