Our First African Experience
Guest author Jen O'Hara tells the story of her and her best friend's, Norissa Harman's, first-ever African experience as hunters.
We always say "It started with a dream" when it comes to our clothing line, Girls with Guns. We were 2 best friends when we started our clothing company in 2009 out of Norissa's garage, and we had no idea what was in store for us and our small business that is now a nationwide clothing company 8 years later.
The story of how GWG got a TV show
One day in 2013 the phone rang at GWG Headquarters. It was a business acquaintance who wanted to connect us with a mutual business friend of his, Emaneul Kapp, better known as Kappie. Kappie is a cameraman/producer for outdoor TV. He was looking for someone new and interesting to partner with for a Hunting TV Show. Norissa and I were on his radar as new entrepreneurs in the industry and because of women being the fastest growing hunting demographic. At the time in 2013, we had only been hunting hard for the previous 4 years and were blown away that someone would want to film us for TV. It was exciting and a dream come true! We had no idea where it would lead us.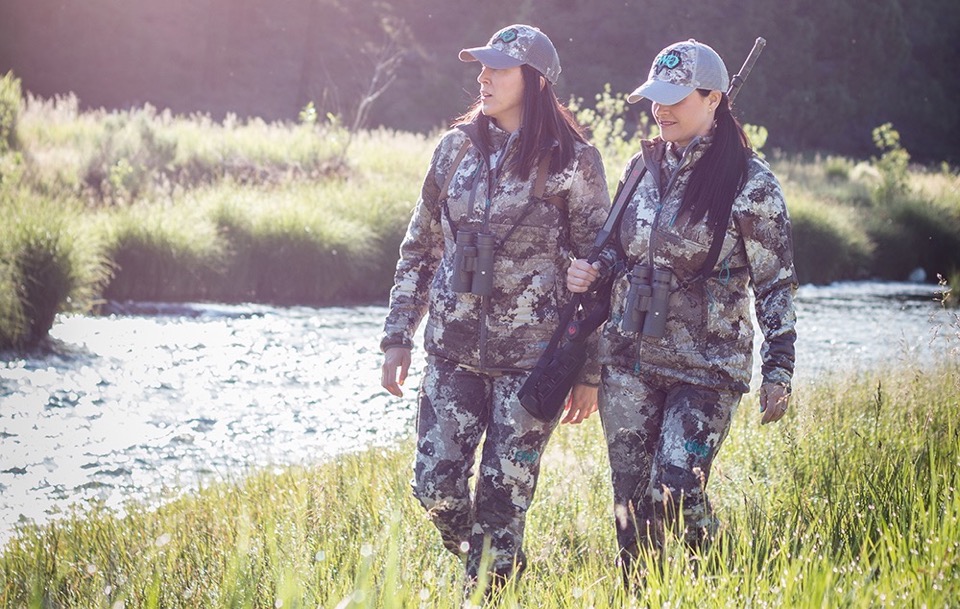 The first thing we disclosed was that we were newer hunters. Norissa grew up in a fishing family and began learning to hunt with her husband later in life, as it was his passion. In 2009 after Norissa and I had established GWG, we started doing everything together and realized how much easier it was to start hunting when you had a partner. Her husband, Brian, was truly an inspiration to us. He took both of us out to kill our first bucks and taught us the ins and outs of spotting and stalking as well as harvesting an animal after the kill.
Our new associate, Kappie, was intrigued by our desire to hunt, and we were excited that we would be learning about new animals, countries, and people along the way. Within one week, we were booking our tickets to South Africa to go on a hunting trip at Rhinoland Safaris. The fact that we had never traveled internationally to hunt was a plus in Kappie's eyes. He wanted to show people the journey and us learning along the way.
Norissa, definitely being the more cautious one of our friendship, was a little leery of flying halfway across the world to spend 2 weeks with a man we had never met. She had legitimate concerns. All I thought about was the opportunity to do a hunt that I had always wanted to do! Hunting Africa had been a dream of mine for many years and I have always been more of a risk taker.
Our first African experience
We departed our hometown of Red Bluff, California, and drove 4 hours south to the San Francisco International Airport. The round trip to Rhinoland was 33 hours one way. We both had a restless night with so many thoughts going through our heads. Norissa and I were both wondering, "Am I prepared enough, did I bring the right clothes, what happens if we don't like this Kappie character?!" Nothing can prepare you for leaving for Africa, so we just went for it!
As soon as we arrived, we were greeted at the airport by Kappie and his friend, Tim. What a welcome! We hugged him, and he teased me about how short I was (5 feet tall), and the ice was broken. We had a 3-hour drive to Vaalwater, which was the closest town to Rhinoland Safaris. The anticipation was killing us both! We were so excited to meet our hosts and start hunting. The first night I am sure that neither of us slept well.
The first day hunting we met our PH (Professional Hunter), Marius Kotze, who is the owner of Rhinoland Safaris. He was a fit man in his late 40s, who had almost 30 years' experience as a PH. Norissa and I were both feeling slightly intimidated by the camera leering in the background. We came back the first night, and both of us had missed our targets. I had shot at a Kudu and Norissa an Impala. It was a little disappointing.
The next morning, we geared up, had an amazing breakfast served in the dining room and packed a cooler planning to spend the day in the bush. After having the trackers drop us off, we began hiking through the brush and came upon a water hole. Marius spotted a male Impala grazing across the water hole approximately 75 yards away. We were downwind from the Impala, and he had no idea we were stalking him. I was as nervous as Norissa was getting prepared for her shot. Marius got her shooting sticks ready and she aimed and fired. One shot and the Impala hit the ground. We were so excited that we started jumping up and down. High fives all the way around; we had our first animal in the salt in South Africa!!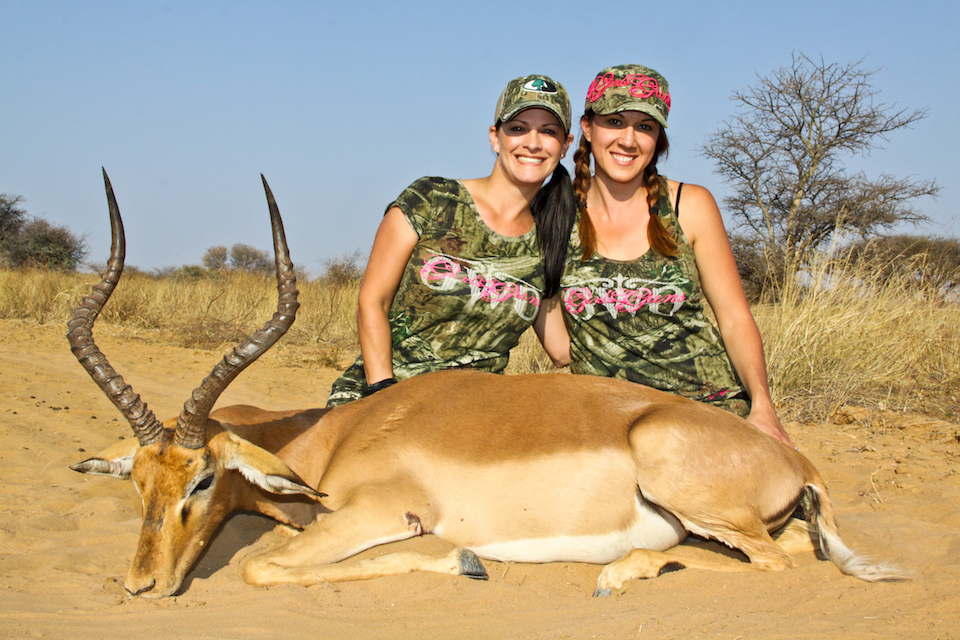 The preparation that went on for pictures and filming ensued. Norissa and I had only filmed each other on previous hunts, so it took a bit for us both to warm up to the camera. Luckily, Kappie made it easy, and we started talking to him and not paying attention to the camera.
Next, it was my turn! Excited as ever, we took off in the open truck for a new area to look for a Burchell's Zebra. This animal was high on my list, and one of the animals I wanted to harvest. Within a few hours, we had spotted a herd of zebras with a large male. We snuck into the outside of an opening where we had spotted them. As Marius prepared the shooting sticks, I was calm as ever. The female zebras were standing in front of the male, and I had to wait a good minute, which felt like an eternity, to shoot. My nerves started to kick in, and I felt the adrenaline going through my body. As the females moved out of the way, he faced me, and I fired approximately 190 yards through the opening …What happened next was the most exciting part of the trip for me. We followed closely as the trackers and Marius tracked this animal. … We came to an opening where he lay, finding him just before dark.
Norissa and I retired that night feeling accomplished and exhausted after celebrating with a four-course meal in the Rhinoland dining room. … Unfortunately, due to the full moon, it was 2 days before we both took our next shot at an animal.
We hunted that third morning with Marius's son Michael. He got us close to a large male Impala in the bush, but I couldn't get a clear shot so I didn't take one. That evening we came upon another opportunity for me to take a shot. There was a male Impala grazing near some trees off the side of the road. I stepped out and made a clear shot and dropped him.
The next day … Norissa came down with a bad cold, and that put me back in the hot seat. My final animal of the hunt was a Kudu.
We were in the area we had started calling GWG Mountain. It was where I had missed my Kudu the first day of the trip and Norissa her Impala. Talk about pressure.We were all on high alert as we only had that evening and one more day to finish our hunt before we headed back to the States. While driving around a corner, we suddenly spotted a large male Kudu from between some brush. We jumped out and got set up. I remember Marius whispering, "You have 5 seconds!" I took the shot, and he took off … I felt nervous as this was the main animal I wanted to take from South Africa. Norissa and I approached cautiously, and approximately 10 yards from where I had shot him, he was down.
Our last day in South Africa and Norissa was up. Just like me, Norissa wanted to harvest a Kudu as well. It was number one on her list. That morning, when opportunity presented itself, we tried to get close to a male wildebeest but didn't have any luck. Now looking back, I think that happened for a reason. We spent hours driving and hiking looking for Norissa's next animal. We saw glimpses of hartebeests fighting in the brush also, but couldn't get close enough for her to take a shot. Marius decided that since it was getting warmer that we should take a spin by the waterhole. It all happened so fast … I remember pulling up and all of a sudden 2 animals took off through the brush. I tried to get a good look through my binos, and a large male Kudu stopped for an instant. I heard Norissa setting up for the shot and she asked me quickly, "Jen, is he good?" I said, "Yes! Take the shot!" She did and, he was down. We were so excited!! We had both taken the animals that we wanted on this trip, and she couldn't have been happier. The pictures say it all. The happiness we felt was contagious.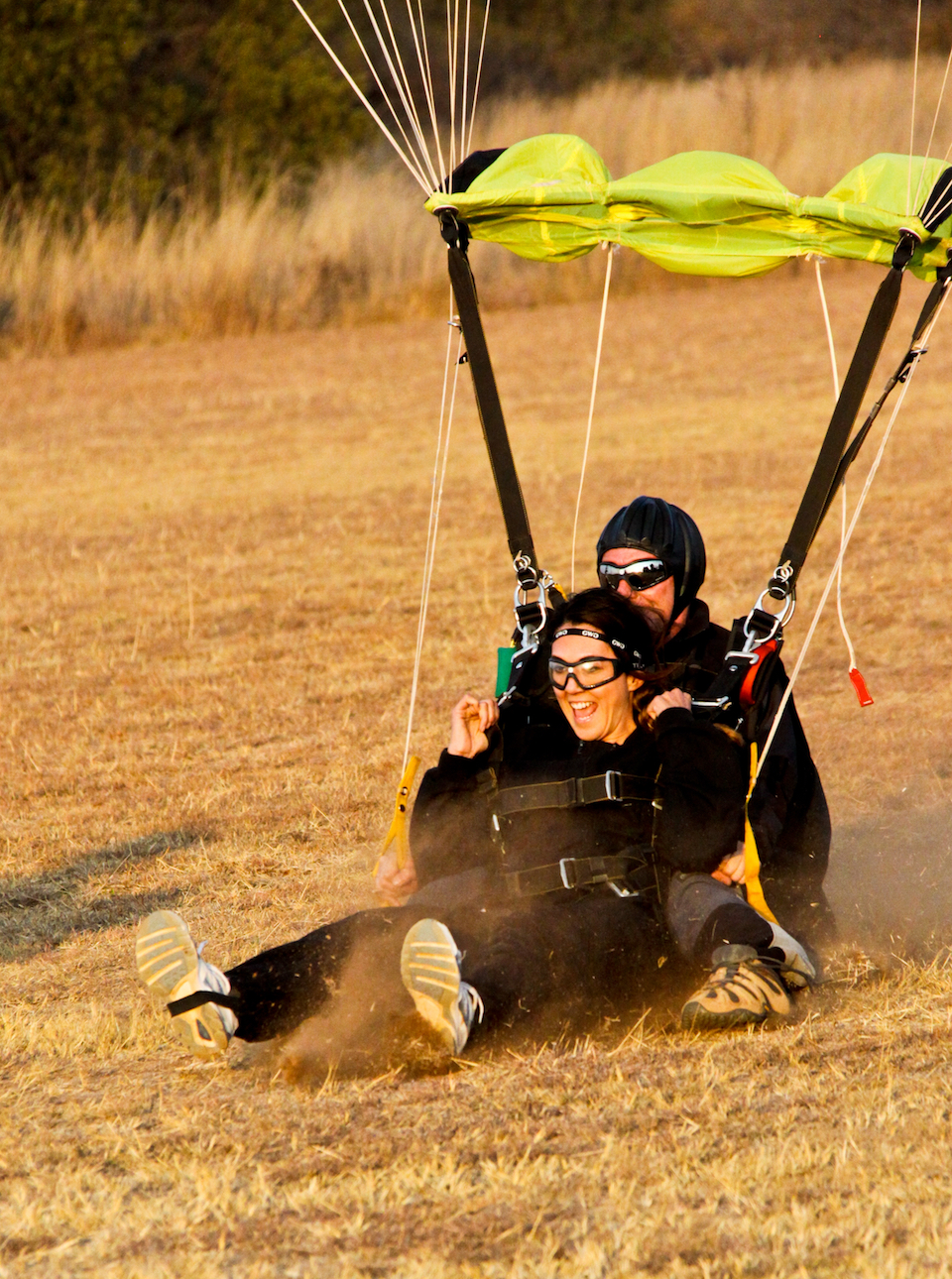 There were so many emotions on this trip. Norissa and I embarked on a dream hunt sponsored by Rhinoland Safaris, and for that, we couldn't be more grateful. This is a trip of a lifetime for most people, and we got to experience it. We had a lot of other excitement during our time in South Africa. We skydived, took a ride on a hot air balloon over the Krueger National Park, and even swam with the horses and played Polo Cross at Horizon Horseback in Vaalwater with Jenny's Horseback Tours. One memory that stuck with us was a day spent at Ellisras School. Norissa and I adopted this school. We donated GWG clothing, food, candy, and school supplies to them. We also donated the meat from one of our Impalas to the school to feed the 129 children. The children did skits for us and sang to us. It was an amazing experience that makes us both forever grateful for all that we have.
Stay tuned to the TV show to see it all. Our TV show, formerly Universal Huntress, is now Girls with Guns TV, which launched in 2015. If you haven't yet, we hope you will join us on the journey of 2 best friends who love to hunt and want to learn all about the new countries, amazing new friends and animals that we will harvest along the way. You can find us on Carbon TV, too. We have our past 3 seasons, as well as our current season (#4) at this outlet. GWG Clothing has evolved as well, while Norissa and I have hunted all over the world in different conditions and terrain. We think you can find the best women's hunting gear and fashion apparel at Girls with Guns Clothing.
About The WON

The Women's Outdoor News, aka The WON, features news, reviews and stories about women who are shooting, hunting, fishing and actively engaging in outdoor adventure. This publication is for women, by women. View all posts by The WON →