RetroWON: How to Guest-Proof Your Home for the Holidays
Fall means fun and festivities and, of course, family visits. It's time to guest-proof your home while guests are coming and going during the holiday season. You can still have a fully fortified home while also making it safe for guests.
As you decorate your home with little touches of fall, it's a great time to walk through each room with fresh eyes and look for any hazards your guests might encounter during their visit. Many of us practice preparedness by storing a defensive tool in each room, and even the garage. It's easy to become accustomed to the presence of these items and be complacent to the hazard they might present to children, or guests of any age who are unfamiliar with how to operate each tool.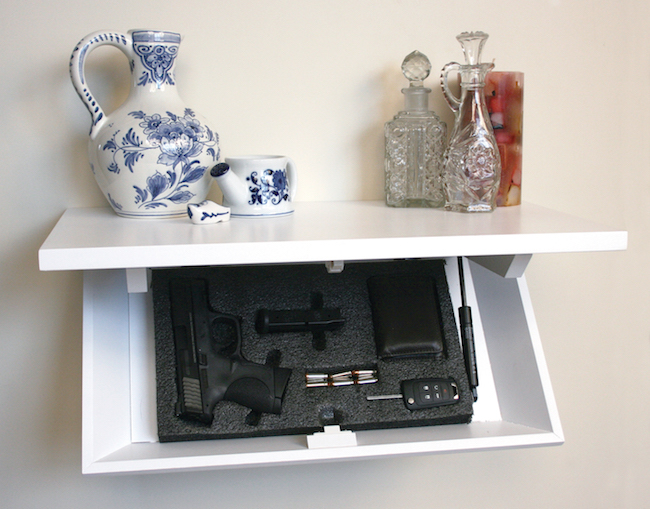 The air outside is fresh and crisp; go to each room and open a window. As the light cascades in, picture yourself entering the room for the first time. While you are making sure there are clean sheets on the guest bed, also double-check to see if there are any unsecured firearms present. Perhaps an old shotgun rests in the back of a closet that you haven't used for a couple of seasons. Have you stored an extra canister of pepper spray in a desk or dresser drawer that a toddler might gain access to? Perhaps there's a knife stashed on top of a bureau or in a nightstand.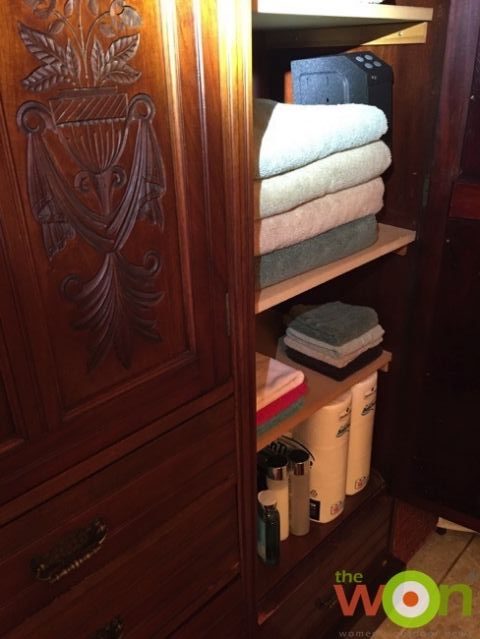 Make a checklist as you walk through each room, sprucing up everything in anticipation of your visitors' arrival. Many of us keep a gun in our bathrooms, in a kitchen drawer, and near our favorite easy chair. In the garage you likely have a gun rack, or perhaps a handgun in the drawer of your tool chest or workbench. Our out-of-town visitors also often borrow our vehicles during their stay. Be certain that any guns, knives, or pepper spray that you keep in your vehicles are also secured with trigger locks or inside safes.
There are a wide variety of small safes that can be stored easily within drawers, on bookshelves, and in cabinets. Many are available with a keypad combination, or keyed to a biometric identifier (usually a fingerprint). You can hide these safes in plain sight because they are only accessible by to those who know the keypad combination (or have the proper fingerprint).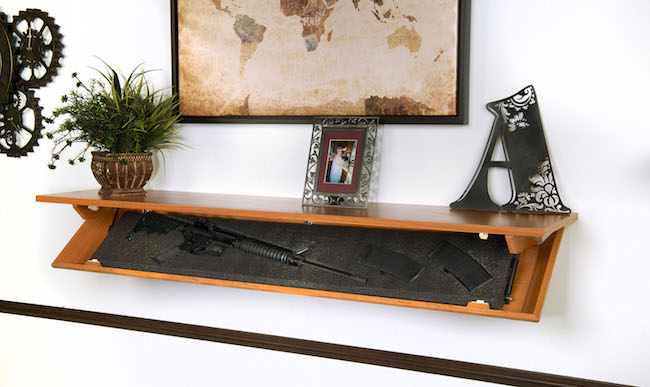 If you're in the market for some new furniture, you might want to consider hidden Covert Cabinets, which can be simple single shelves on a wall, or as elaborate as a bookshelf with a sliding hidden compartment. The living room is where we spend most of our time in the evenings relaxing, so Couch Bunkers are also an option for keeping your tools of self-defense secured but accessible. For long-gun storage, you might consider replacing your bed's box spring with a Bunker Bed, a specially designed locking safe compartment. Whichever security method you choose, these are both beautiful and functional, and perfect for the prepared mindset and the fortified home.
Being a good host as well as a good ambassador of the self-defense mindset requires protecting visitors in your home. Whether your guests are visiting for dinner or staying for several days, safety is of utmost importance. By being vigilant now, you can relax when your guests arrive, and celebrate a safe and happy holiday season.
This RetroWON first appeared October 12, 2016.
About Cheryl Todd

Cheryl Todd is the executive producer and co-host of "Gun Freedom Radio," owner of AZFirearms Auctions, Pot Of Gold Auctions and founder of the grassroots movement Polka Dots Are My Camo. Cheryl is the Arizona state director for The DC Project and travels the country speaking as a champion for our Second Amendment rights. She is a driving force in preserving the legacy of freedom for generations to come. View all posts by Cheryl Todd →