HidingHilda Purse Review and a Visit to Graceland
I'll admit it, I enjoy accessories that make a statement. Perhaps that's why I chose the HidingHilda Treasure Tote to review this month. It comes in one color, purple, which just so happens to be the theme color of a few of the women's shooting groups.

My husband and I recently traveled by car from Texas to our hometown in Ohio. I decided to bring my HidingHilda tote along for the ride since my laptop fit easily inside the 18 x 4 x 12 zippered compartment. I always avoid putting my firearm in the same compartments as anything else and HidingHilda made it easy. A separate zippered compartment in the back of the tote holds my pistol in a holster attached by Velcro.
Since our trip took more than 20 hours, we decided to stop overnight in Memphis, Tennessee, and stayed at The Guest House at Graceland. My purple tote fit in so well with hotel's decor. Grey walls with silver glitter in them, red accents and grandiose magenta couches fit for a king, er, The King. This 450-room resort hotel even featured a 464-seat theater for live performances and movies.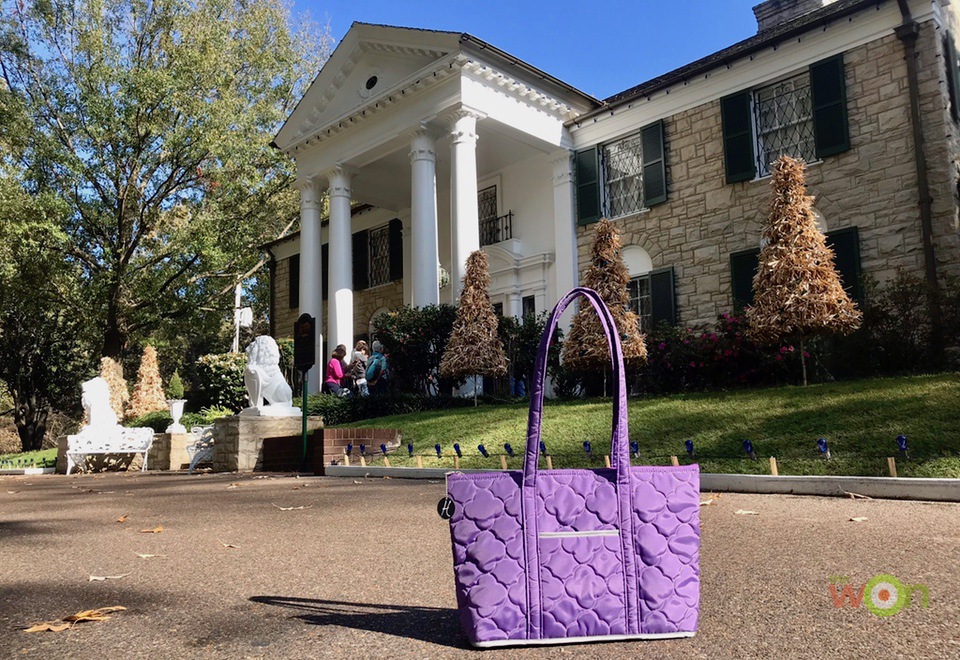 The next morning, we took a bus across the street to begin our tour of Graceland, Elvis's home. Since I read somewhere on the official website that firearms were not allowed onsite, I stored mine and brought my HidingHilda tote along with an empty rear pocket. However, the inside pockets held my keys, Chapstick and hand sanitizer, while the main compartment contained a camera, snacks and my wallet. I found the perfect place for my cell phone in a front outside pocket, making it easily assessable for selfies.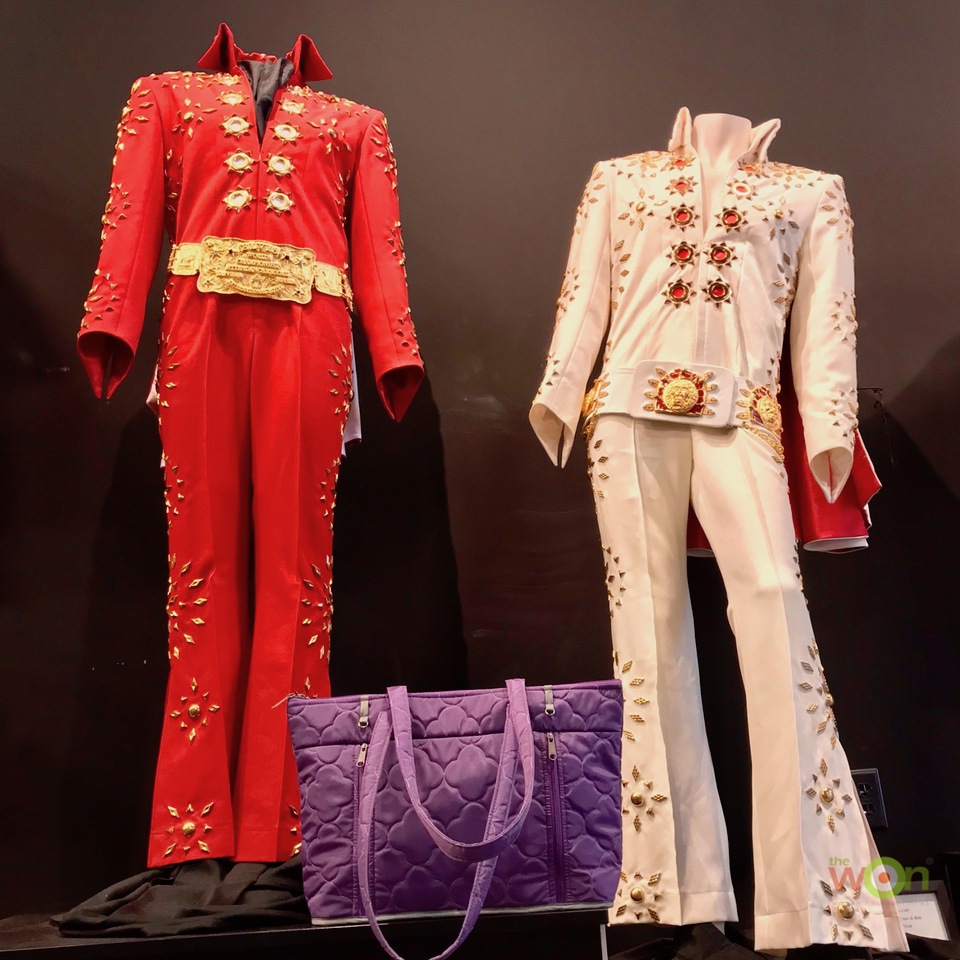 After touring Graceland, we explored Elvis Presley's Memphis. This 200,00-square-foot complex housed numerous exhibits about Elvis's life and career. You could tell a lot of thought went into this process of portraying Presley's life: from his childhood and Army career, to his cars and jumpsuits.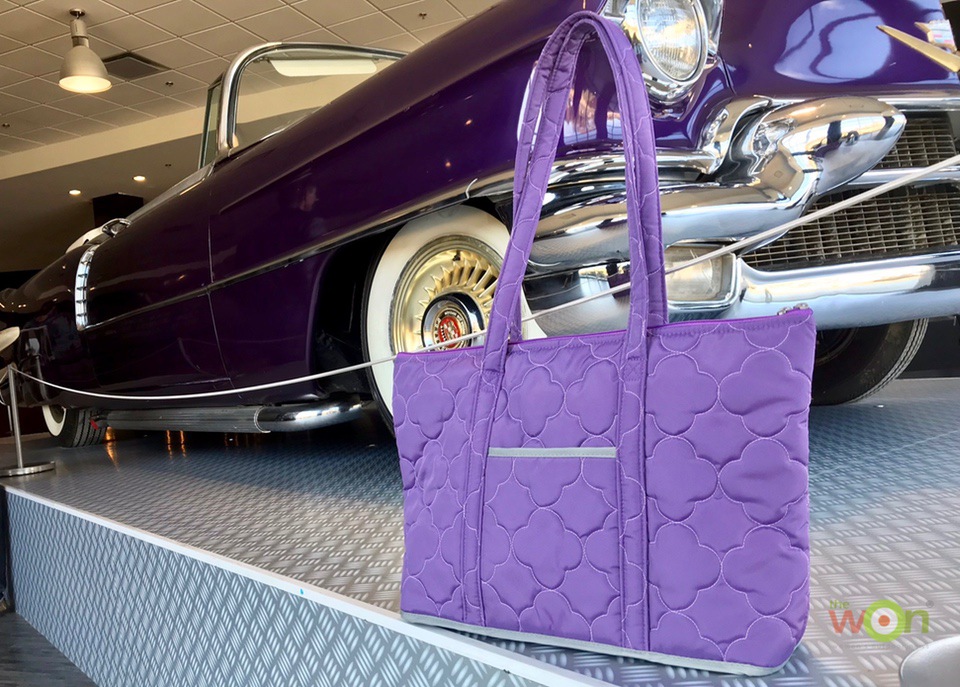 I especially enjoyed seeing his 1956 Cadillac Eldorado. Originally white, Elvis had the car painted purple, a perfect match with my tote.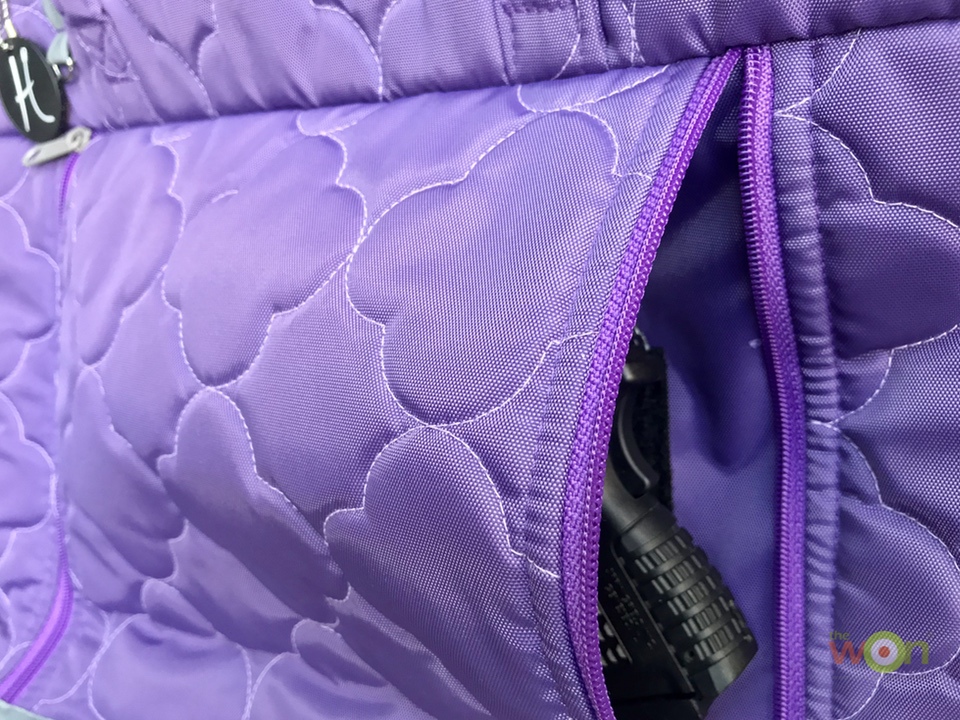 Leaving Graceland
Once we got back in the car, I put my pistol back in my tote. We had a least 13 more hours left of our trip with many restrooms and food breaks along the way. For my own safety, I wanted to make sure I carried as we stopped along the way.
Whether you carry your purse on your left or right shoulder the HidingHilda Tote makes the perfect concealed carry alternative. Zippers on each side of the firearm compartment made it easy for me to draw with the purse on my left shoulder. Plus, the Velcro allowed me to secure my pistol in the perfect position. Remember, always take the time to practice drawing from your purse just like you would a holster on your belt.
The MSRP of the purple tote is $99.99. Machine washable and light weight, it's a perfect purse for any time of the year, especially on a trip to Graceland.
About Michelle Cerino

Michelle Cerino, aka Princess Gunslinger, entered the firearms industry in 2011 when Cerino Training Group was established. She immediately began competing in both 3-Gun and NRA Action Pistol, becoming a sponsored shooter. Michelle is currently a columnist and Managing Editor of Women's Outdoor News, as well as Event-Staff for CZ-USA Field Sports. She also manages social media for Vera Koo and GTM Original. Michelle encourages others to step out of the comforts of home and explore. View all posts by Michelle Cerino →