Gun Review: Springfield Armory's SAINT AR-15 Rifles
I sure enjoy shooting AR-15 rifles. Whether close in or at distant targets, their accuracy makes target shooting fun. Recently I had the opportunity to review the first 2 AR-15s in Springfield Armory's SAINT line: the original SAINT and the Free Float Handguard (FFH).
Sponsored by Liberty Safe
The guns arrived in premium hard cases, generously padded along with warranty cards, manuals, chamber flags and 30 round PMags. The firearms and their visually appealing packaging had the look of quality.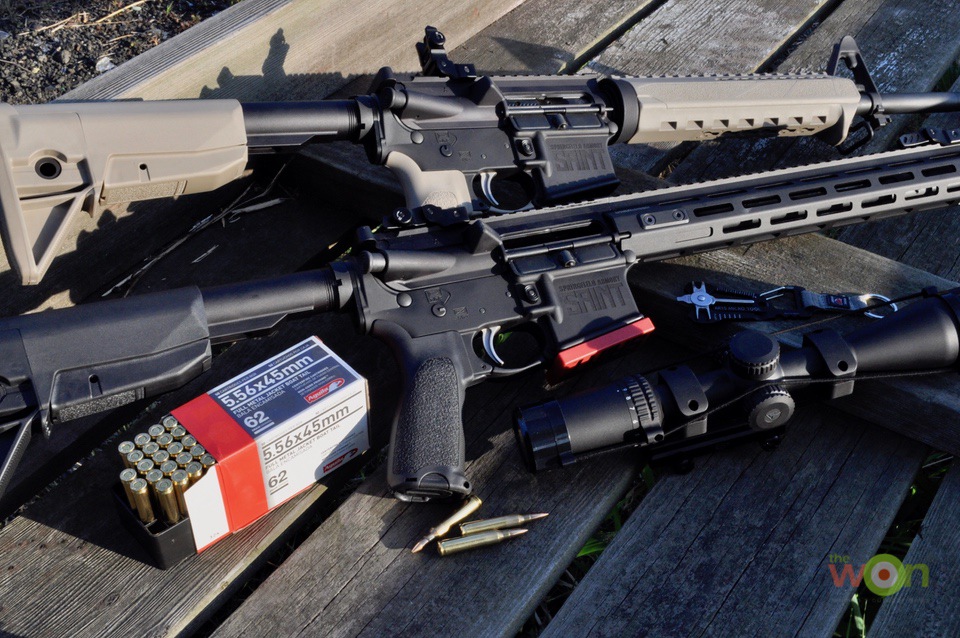 Except for color and accessories, both guns are essentially the same. They each have 16-inch barrels with 1-in-8 twist, perfect for shooing light and heavy bullets with accuracy.
True to the AR-15 platform Springfield's gas operated SAINTS have a direct impingement mid-length gas system. A mid-length system helps reduce felt recoil which makes the rifle more pleasant to shoot. The upper and lower receivers are type III Hard Coat Anodized Aircraft Grade 7075 T6 Aluminum. The lower receiver's Accu-Tite™ Tension System has a nylon set screw that is accessible from under the grip. It puts tension between the upper receiver and lower receiver, diminishing movement and rattle between the two. The bolt and carrier groups are made to military spec design, using carpenter 158 steel for the bolt. For a trigger, Springfield uses its proprietary, nickel-boron-coated single stage. Although a little heavy, it breaks clean and nice. It's certainly capable of accuracy if you do your part.
The outside of these rifles bear noticeable differences. The standard SAINT is anything but standard. I received the Flat Dark Earth (FDE) model on which Bravo Company supplies all the furniture. This included a mid-length handguard, their Mod 3 hand grip, 6-position adjustable, rubber-padded stock and an enlarged, winter-style, trigger guard. All of it available in black or FDE. The SAINT has a pinned, mil spec, A2 front sight and unlike other ARs it comes with a Springfield Armory® low profile flip-up, dual aperture rear sight. Out of the box, it's ready to go for a day of shooting at the range.
I also tested the black SAINT FFH model. It sported all the same Bravo Company furniture. The main difference between the original is the FFH model comes with Bravo Company's slender 13-inch free float handguard. The top is all Picatinny-rail machined and the remainder of the circumference has M-Lok cuts for mounting almost anything you need. With the longer handguard, there is no pinned front sight, so the FFH model comes with Springfield's low profile flip up sights. Again … ready to go right out of the box.
I took both rifles to the range for firing and accuracy testing. Once out of their boxes, I sat down and fired a 30-round magazine through each to break them in. Also, I wanted to get a feel for how they felt while shooting. Recoil and triggers were both manageable. At 25 yards, I shot a group of ratty holes 1.75 inches low of my point of aim, remarkably zeroed using the iron sights. I had identical results with both. Impressive!
For accuracy distance testing, I added an optic to get valid results. The Trijicon AccuPower scope in 3-9 power helped refine my point of aim. I shot both rifles using 62 grain FMJ ammunition provided by Aguila.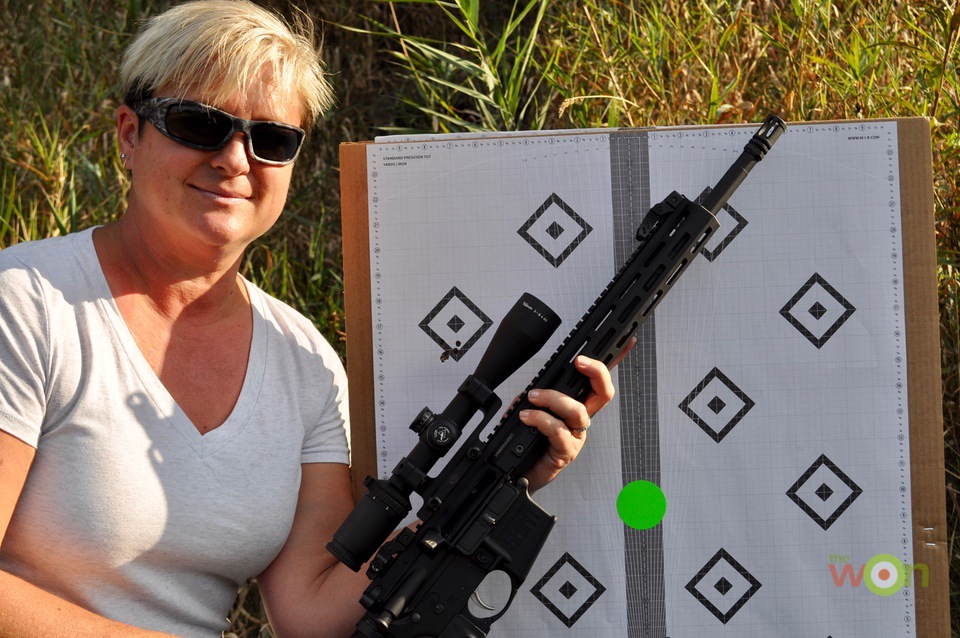 Using a MaxBox™ rifle rest and some TAB Gear™ rear bags, I shot both rifles at 50 yards. Both guns shot less than one inch groups at 50 yards. Since the original SAINT has a fixed front sight, I only shot with the iron sights. I had a difficult time seeing anything past 50 yards with iron sights, old eyes you know. It shot really well. The FFH model with the Trijicon optic drove tacks with the 62 grain Aguila. At 50 yards, if I did my part, I shot ragged holes. At 100 yards, I produced groups of 1 inch and less.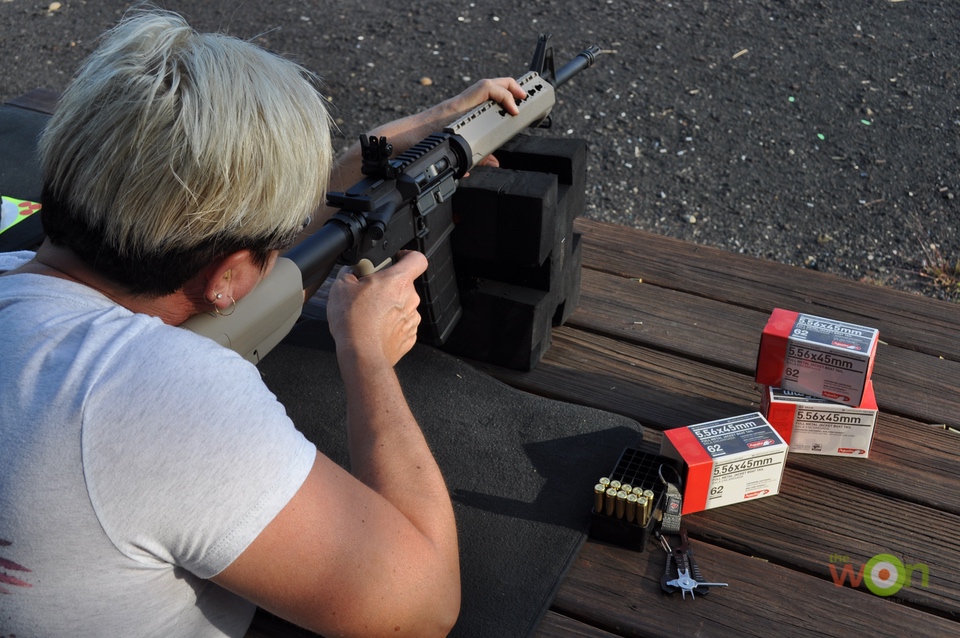 Priced just right, both guns have accessories that make them a great choice for competition, personal defense or just target shooting fun. Even though I shoot AR-15s often, I still notice felt recoil and muzzle rise. I really enjoyed shooting Springfield Armory's SAINTS. The mid length gas systems and full mass operating systems make them easy to handle and fast to fire. Although not necessary, the simple addition of a muzzle brake would enhance them even more.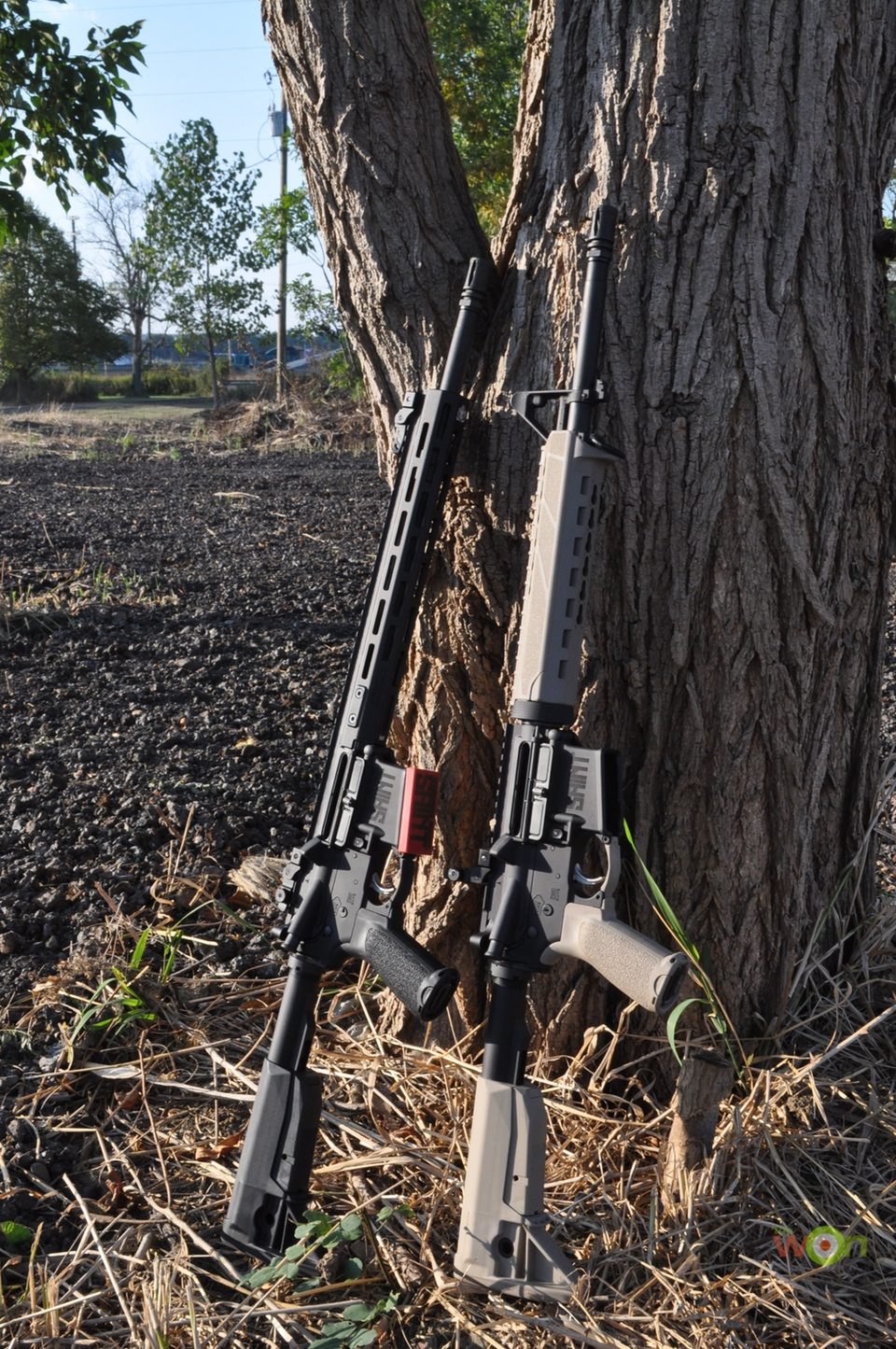 The SAINT
Springfield Armory created some great training rifles I plan on using for running classes and even lending out to students in need. Oh, and by the way, Springfield Armory recently introduced 2 new SAINT rifles, the SAINT Pistol and SAINT Edge, both of which I shot at the Las Vegas Desert Duel.
About Michelle Cerino

Michelle Cerino, aka Princess Gunslinger, entered the firearms industry in 2011 when Cerino Training Group was established. She immediately began competing in both 3-Gun and NRA Action Pistol, becoming a sponsored shooter. Michelle is currently a columnist and Managing Editor of Women's Outdoor News, as well as Event-Staff for CZ-USA Field Sports. She also manages social media for Vera Koo and GTM Original. Michelle encourages others to step out of the comforts of home and explore. View all posts by Michelle Cerino →