Texas Photo Feature: We Came, We Saw, We Shot, We Caught
A few weeks ago I had the amazing opportunity to represent Women's Outdoor News on an epic hunting trip, traveling to Texas with Remington Outdoor Company. The trip was the result of a contest last Christmas — The WON's 12 Days of Christmas Giveaway — the prize being a 2 to 3 day alligator hunt in Seadrift, Texas, with Castaway Lodge. Our giveaway winner was Melissa, a rising veterinarian from Washington State, and she would meet Remington rep Jessica and me in Texas to begin our adventure.
Upon arrival, we planned to start our search for alligators the following morning. Thanks to Hurricane Harvey's copious amounts of flooding, our guides had no way of knowing just where those gators would be. We fully anticipated needing the full 3 days for each of us to tag out.
Melissa would shoot first, followed by me, then Jessica. Our first stop proved successful, and in less than 20 minutes Melissa had a nice alligator in the boat. As luck would have it, the next 2 stops were equally as successful, and all 3 of us tagged out in just over an hour. We would go home with 10 pounds of tail meat each, and will get our skulls and hides next year.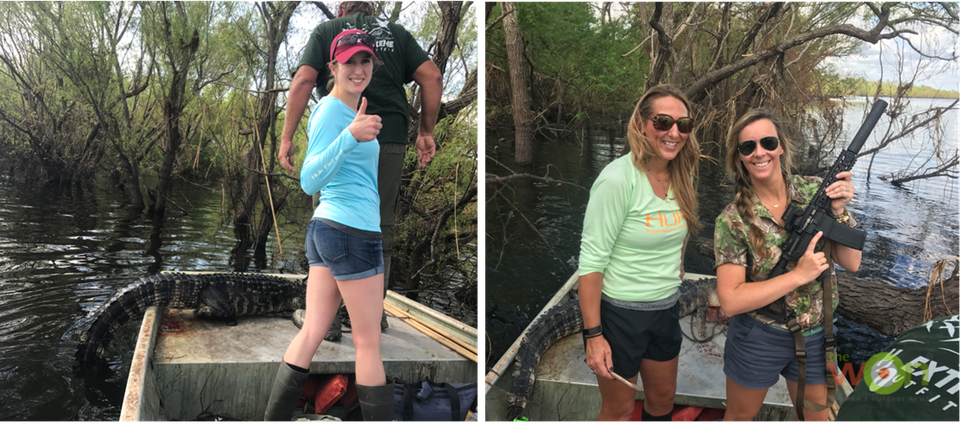 By mid-afternoon we were back at the landing, and of course spent the next hour or so documenting our triumphs. Naturally, hilarity ensued as we tried to get some entertaining photos.
Since tagging out so quickly was definitely unexpected, we wondered what to do with the next 2 days of our trip. Luckily, our outfitter had a few tricks up his sleeve. Fish were biting, early teal season was in, and hogs inhabited the many barrier islands just across the waterway. That's right – in the next 2 days, we would duck hunt, chase fish and try to rustle up a hog or two from the airboat.
Best. Trip. Ever.
Reveille the next morning came extra early, as we had a 2-hour drive to the duck hunt. With palpable excitement, we had no trouble hopping out of bed at our 3:45 a.m. alarm.
Accompanied by 2 more guides and a sweet pup named Sadie, we piled into the duck blind just before legal hour to wait.
It took nearly an hour for the birds to really start flying, but we had a few passing shots as the morning began.
We had a handful of really great flights come in, and knocked down multiple birds with each bit of action. On a few occasions, a flight of pintails circled overhead, just in range. In South Carolina, we don't see too many pintails, so they're "trophy birds" for us. In fact, of the hundreds of ducks I have bagged over the years, I've actually never killed a drake pintail. It felt like a [mild] form of torture, having these birds come so close and not being able to take a shot.
We made up for it on the teal, though!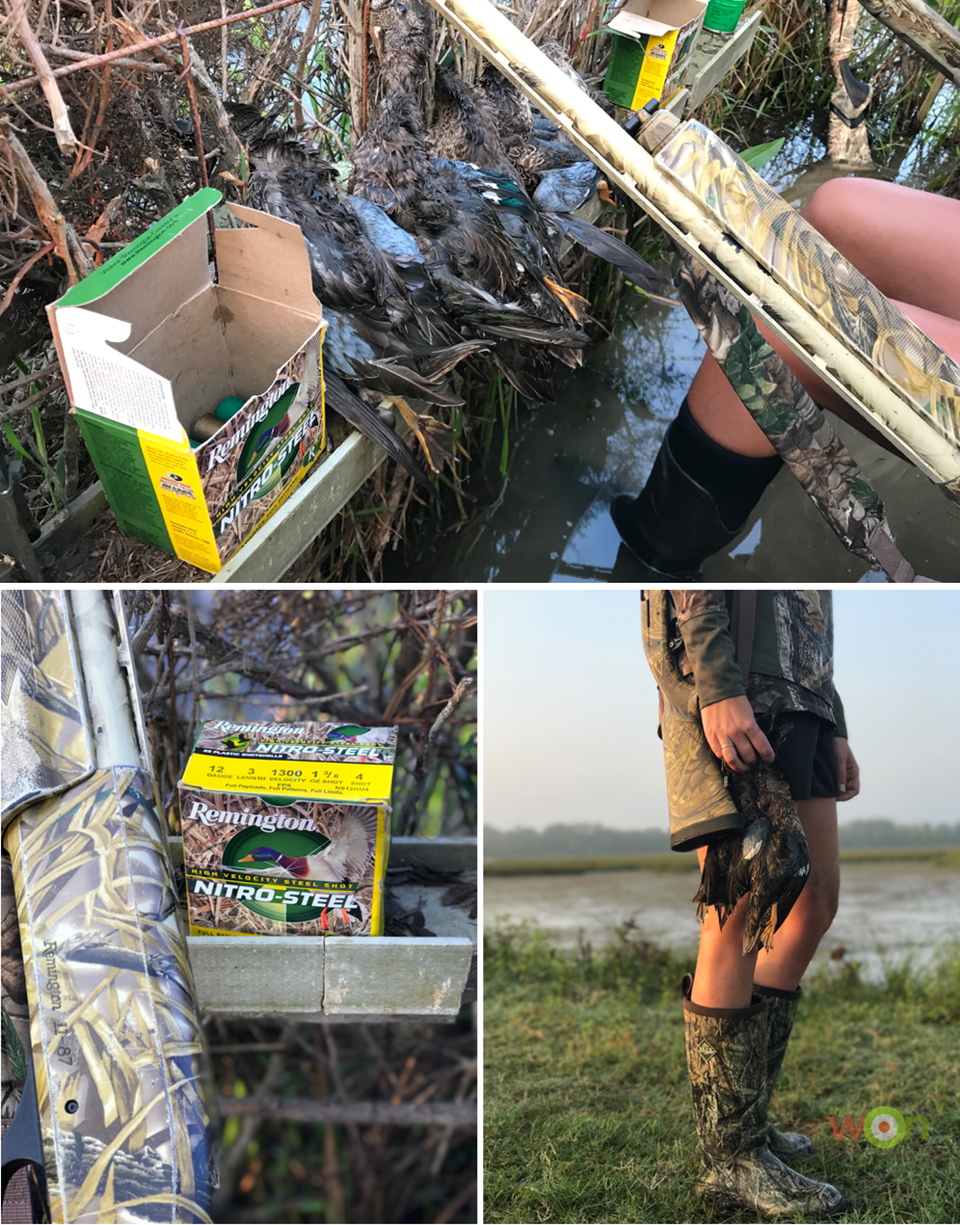 With full straps and smiling faces, we certainly ended the morning on a high note.
We would spend that afternoon and the next day aboard an airboat, doing a combination of fishing and hog hunting. Armed with our AAC MPW 300s and a spread of fishing rods, we took off from the dock (with plenty of ear protection, of course). We spotted a few hogs close to sunset, but couldn't knock one down. Trying to shoot running hogs on a moving airboat proved to be more difficult than I thought!
Melissa was able to hit a pig on our second attempt the next morning, but the brush on those barrier islands is unbelievably dense, making recovery nearly impossible. Once those hogs squeezed through the thickets and out of sight across the island, there was no way to pursue on foot. Sometimes, that's just how hunting goes!
We didn't fret about it too long – it was time to wet a line and chase some fish.
I caught a small black drum, but he wasn't a keeper. Instead, he was quickly sent back into the water with an excellent belly flop.
As our third and final day came to a close, we headed back to the house to pack our bags and prepare for our early flights. At the last minute, another exciting came our way: late-night flounder gigging. Because of the tides, we wouldn't get on the boat until close to 10 p.m. With a 3a.m. wake-up call, I was somewhat hesitant at first, but the outdoorswoman in me quickly took over my brain and quelled any worries I might've had. An opportunity like this may never come again, so of course we had to go! Who needs sleep when there are big flounder waiting to be gigged? Even if we missed our first flight, there was another just a few hours later. There would be no stopping us.
It didn't take long before we started spotting fish, and we promptly got to gigging. By midnight, we were stacking them up!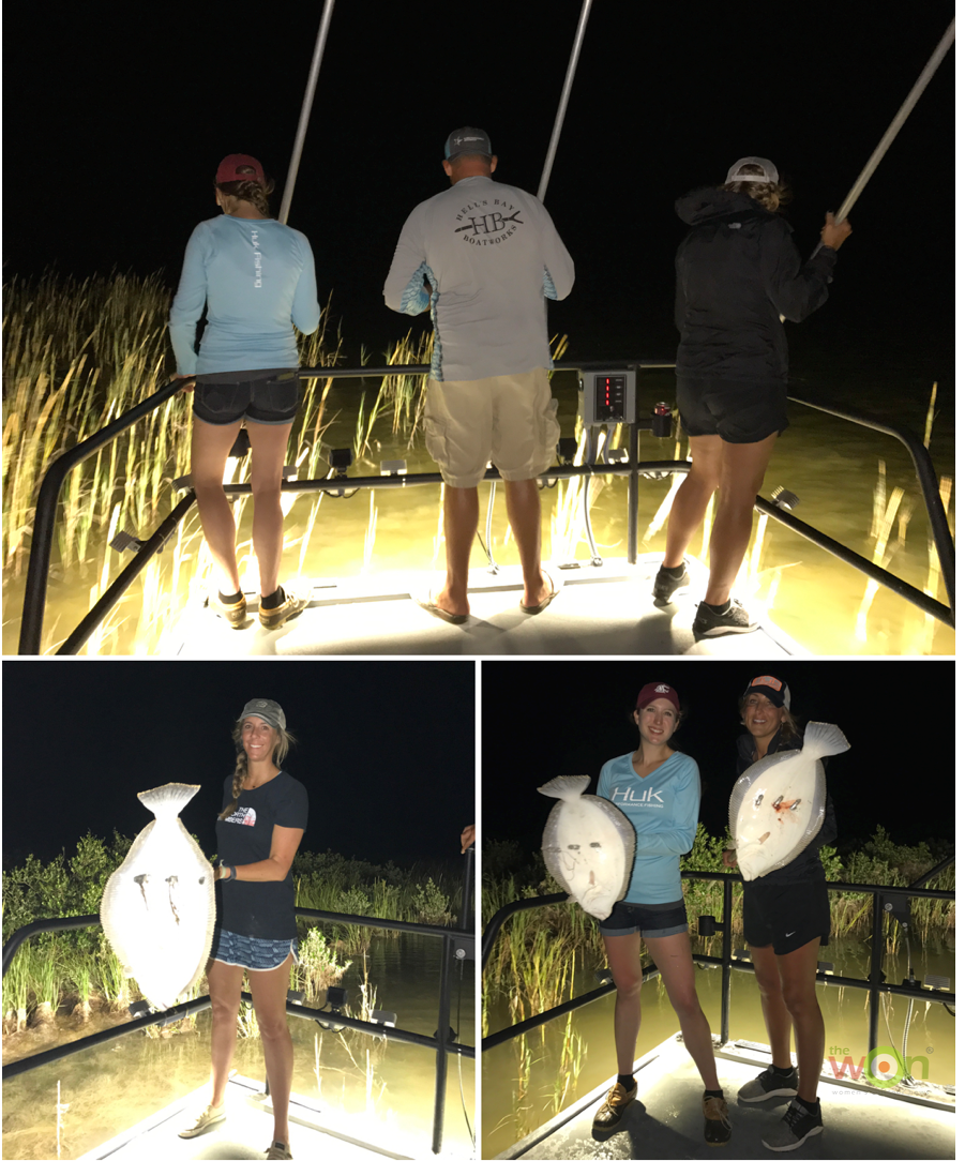 We returned to the dock with our fish around 1 a.m., windblown and dog-tired. And we wouldn't have had it any other way. A brief 2-hour nap awaited, then it was off to the airport for the journey back home.
I still think back on this trip in disbelief. In just 3 days, we bagged 3 gators, shot several limits of teal, chased hogs across wild terrain, cast our lines to numerous fish and gigged a stack of flounder. What started as an alligator-only hunt (already incredibly exciting on its own) evolved into one of the most wild and fun adventures I've ever experienced. I am grateful to have spent that time with Jessica and Melissa, 2 kind-hearted and extraordinary outdoorswomen. The 3 of us were total strangers when we met in the airport in Dallas, but we quickly bonded and became fast friends.
Many, many thanks to The WON, Remington Outdoor Company, The Original Muck Boot Company, Castaway Lodge and the Larsons for the trip of a lifetime.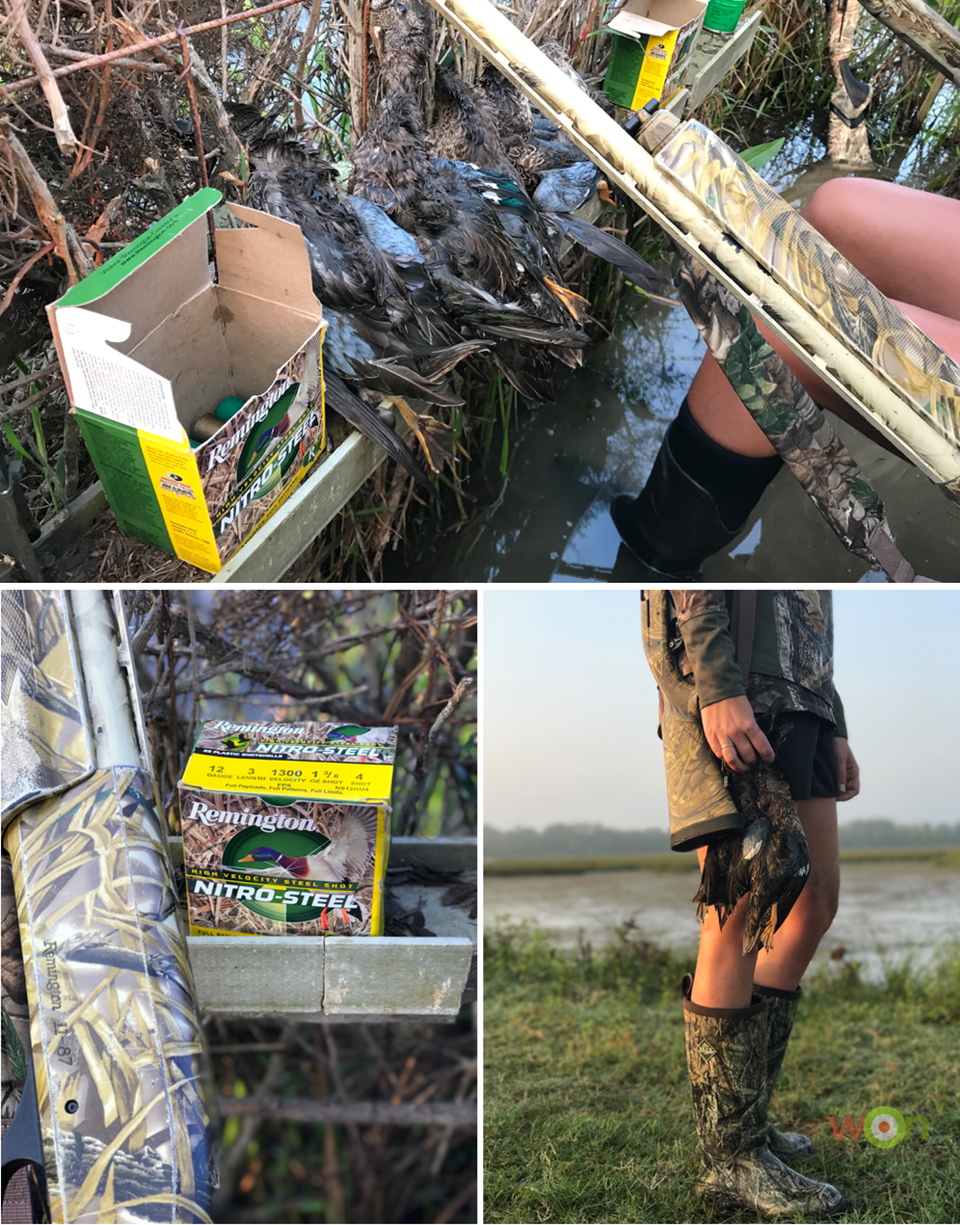 Texas
Now that's my kind of girls' getaway!
About Hollis Lumpkin

Hollis Lumpkin writes that she is a "simple girl living in the Lowcountry of South Carolina, but I happen to have a great love for the outdoors, particularly hunting and fishing." She is a duck-hunting freak. Hollis pens an exclusive version of "The Bright Side of the Road," for The WON. View all posts by Hollis Lumpkin →