If the Shoe Fits, Wear it and Visit the L.L.Bean Flagship Store
Imagine this … a 4-day trip to Freeport, Maine, home of the L.L.Bean flagship store. I know, it's an outdoor woman's dream come true. However, what I thought would be just a shopping trip turned out to be so much more.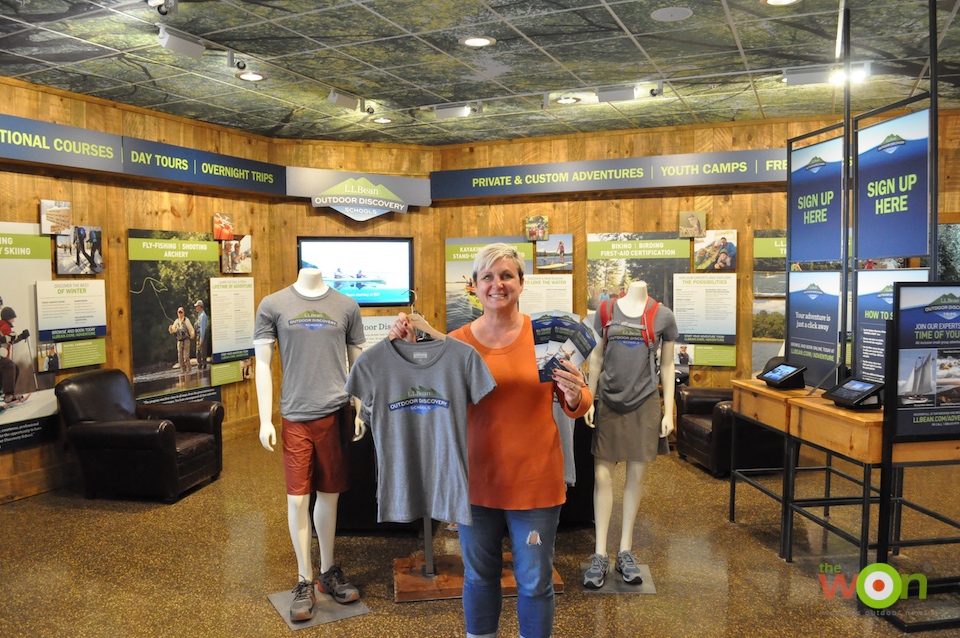 Have you ever heard of L.L.Bean's Outdoor Discovery Schools? Expert-led clinics, guest speakers, lessons, day trips and adventure trips include something for everyone (including women only events). Activities include kayaking, fly fishing, archery, stand up paddle boarding, bird watching, shooting, hiking, camping and many other outdoor skills.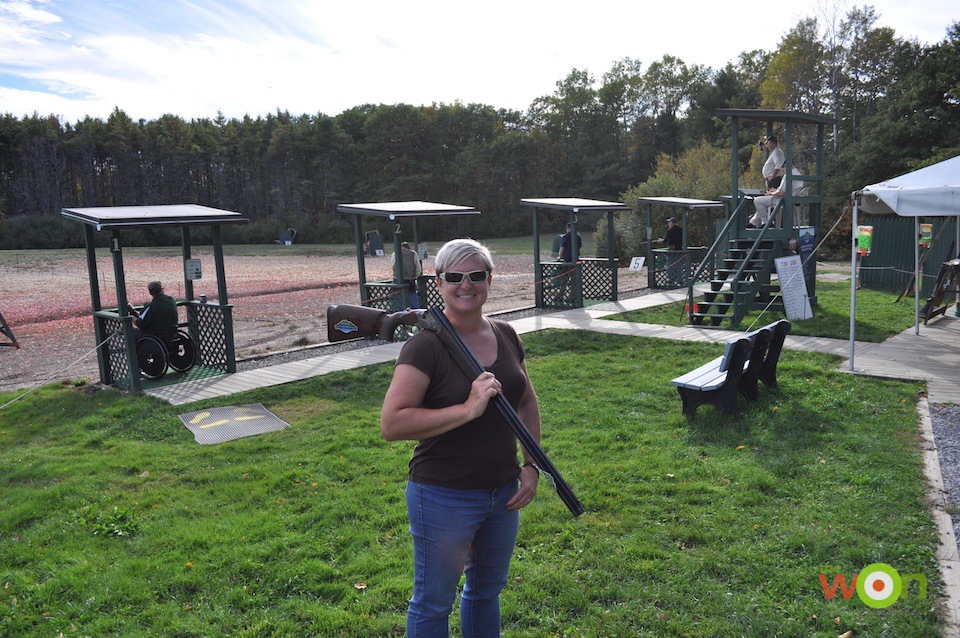 I spent the afternoon of my first day in Maine shooting 5-Stand at their well-kept Fogg Farm recreation area. I enjoyed shooting their course and had quite a few laughs as the locals joked with each other throughout each round.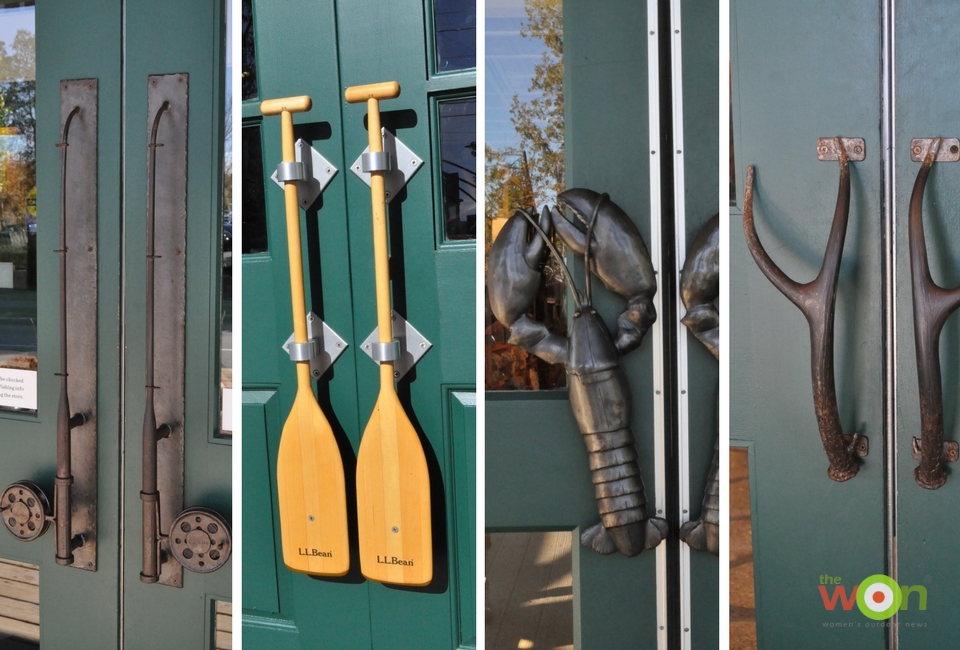 Before even stepping inside the store, I noticed the decorative door handles and lack of locks. They haven't needed locks since 1951 when the Freeport store decided to stay open 24 hours a day, 356 days a year. Before that, outdoorsmen passing though could always ring an outside bell and either the night watchman, or company founder Leon Leonwood Bean, would let them in to pick up their hunting and fishing essentials.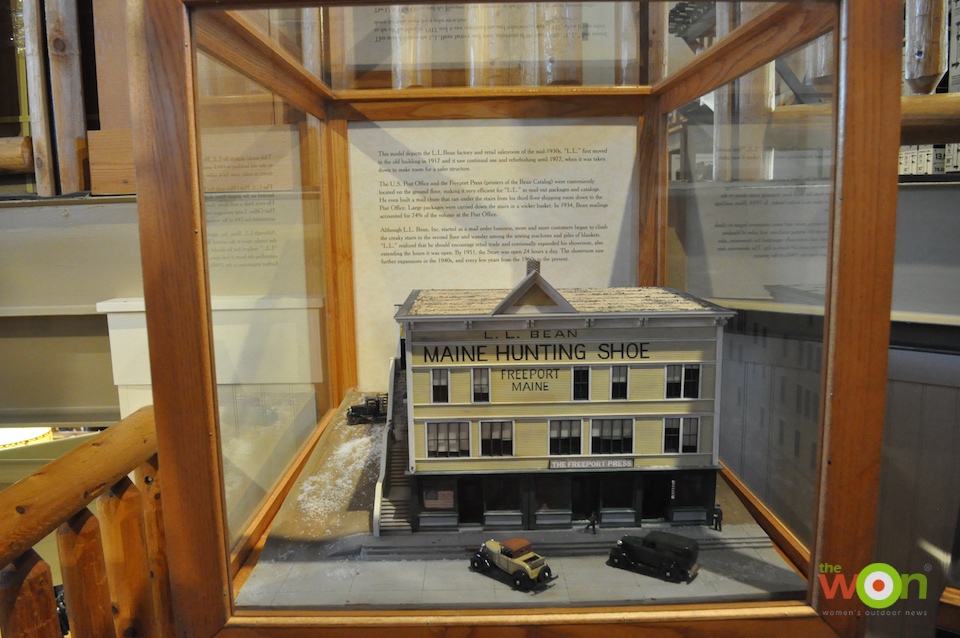 I enjoyed reading the history of the L.L.Bean stores and the Bean family in numerous glass-enclosed displays throughout the buildings. A diorama of the first building in Freeport caught my eye, as well as various items from the early days including shoes, tackle, clothing and other outdoor items.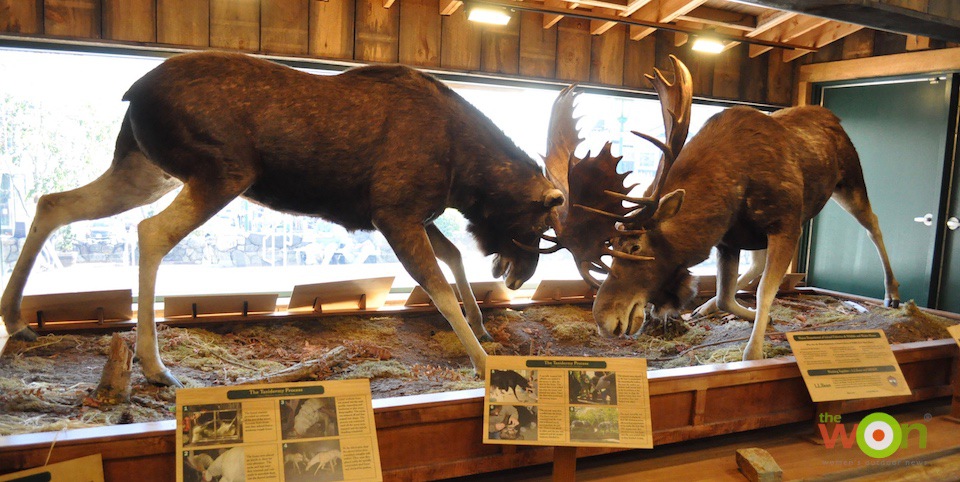 Speaking of displays, you must see the Locked Moose display. L.L.Bean, along with the Maine Department of Inland Fisheries and Wildlife, partnered to create this breathtaking display. Found by Adella Johnson in 2006 near her camp in New Sweden, Maine, this full-body mount travels to various outdoor events when not prominently displayed in the store window.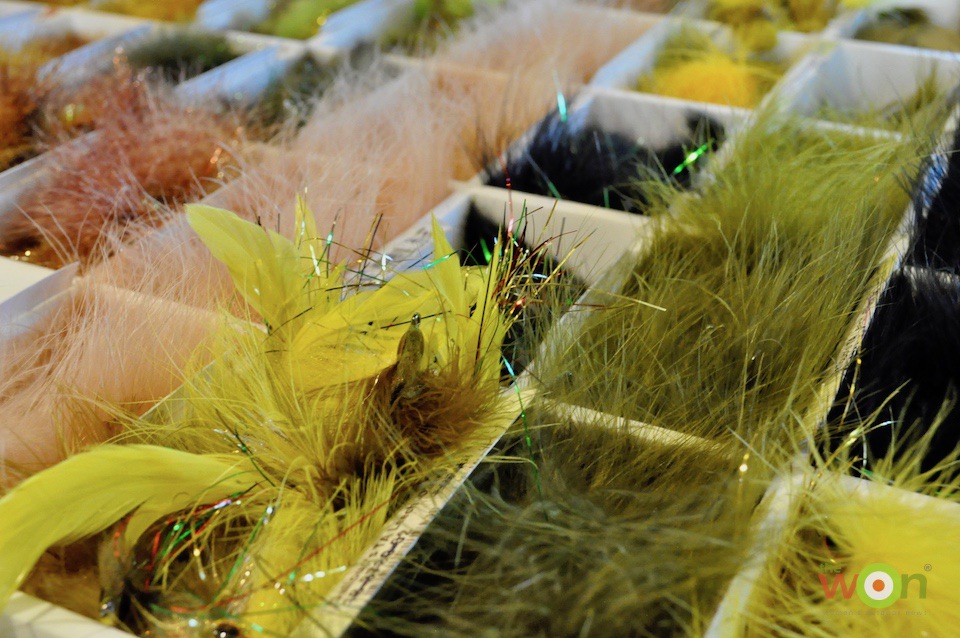 Walking through the different L.L.Bean stores almost put me into a sensory overload. With so much to see, I didn't know where to begin. When bright colors from the fly-fishing area caught my eye, I knew I needed to spend time there. Bins containing various designs and styles of flies in all shapes and sizes lined the aisles. And for those that create their own flies, they had all the supplies needed.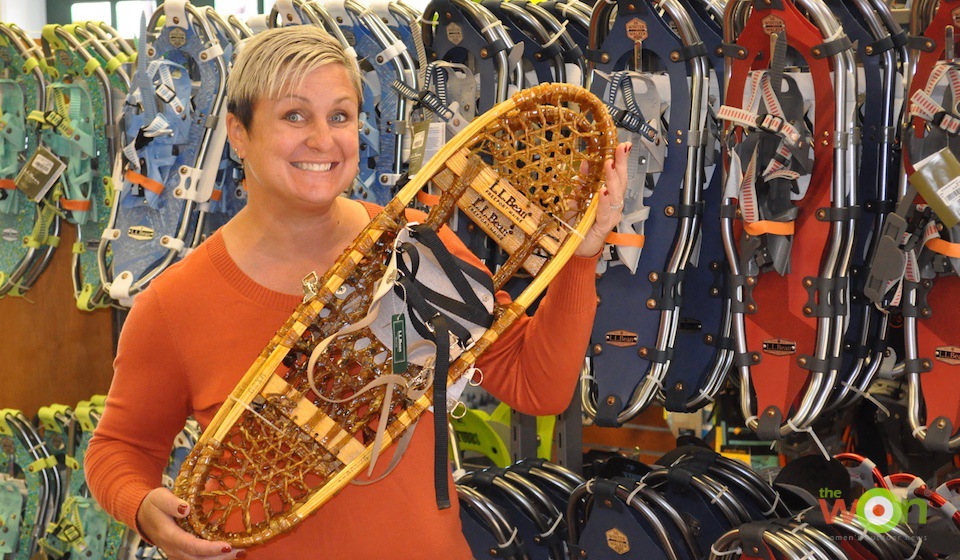 I expected to see the normal outdoor gear at the stores – hunting, fishing and camping. The other items I found came as quite a surprise: Bikes for various terrains, canoes, stand-up paddle boards, ice-skates and these artfully made snowshoes, among other things.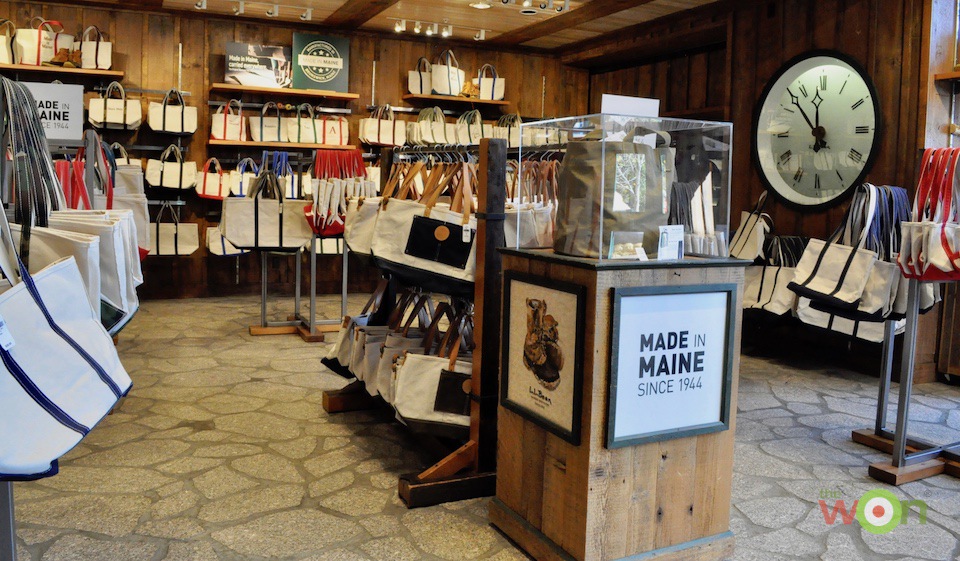 The L.L.Bean Boat and Tote comes in many shapes, sizes and colors. Originally named the "Ice Carrier" and designed in 1944 to haul ice and wood, it still remains a staple purchase for those visiting the store.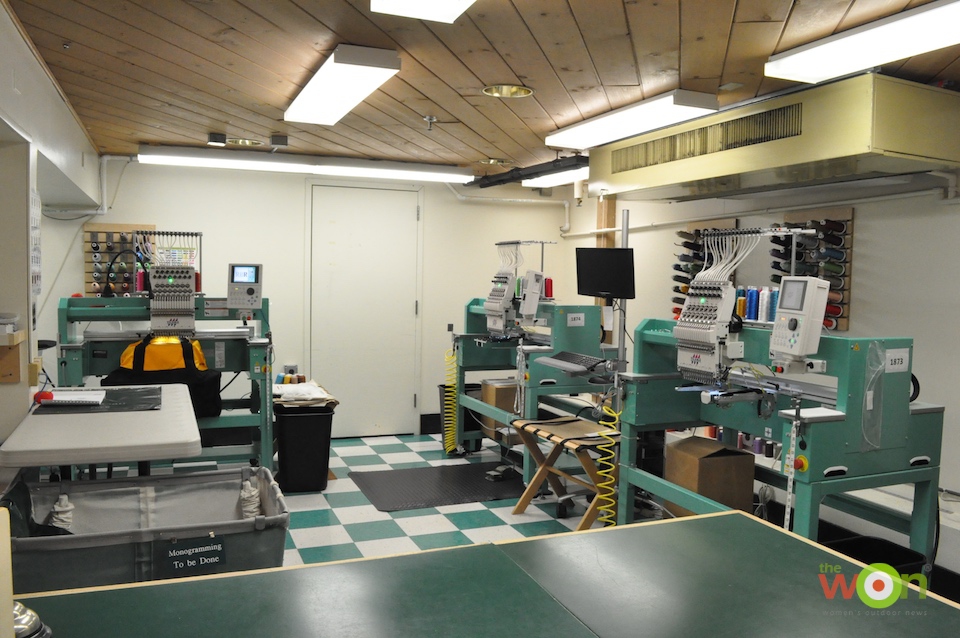 Of course, I purchased a few totes for myself and my friends. Then, I made my way to the embroidery area. Here they have monograming machines working 24/7. Sure, i could have picked them up later in the day, but I had them shipped home to avoid overweight luggage. They arrived at my house just 3 days later.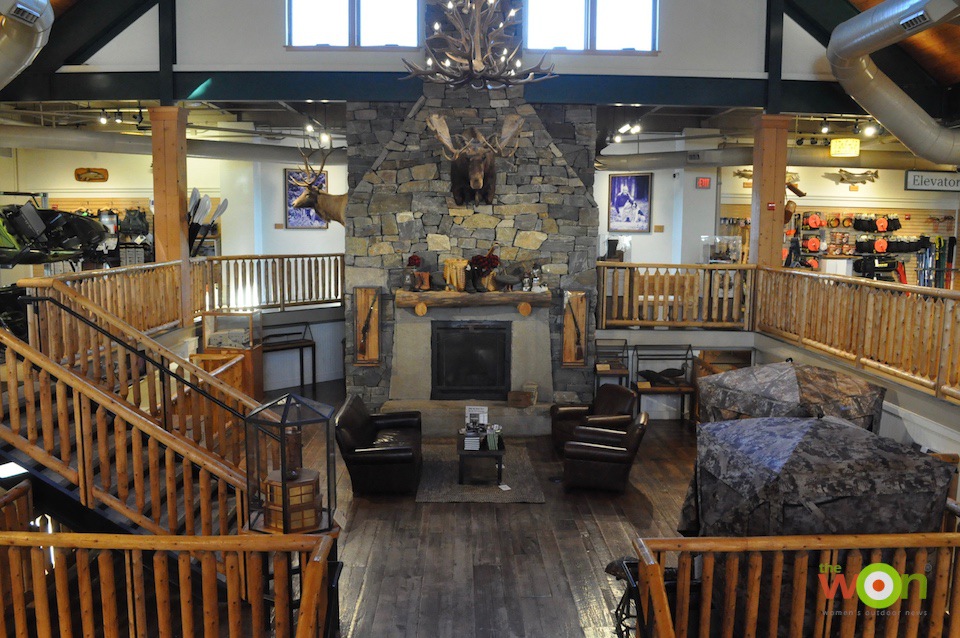 As with any type of shopping, there often comes the time when you just need to put your feet up and take a breather. L.L.Bean has just the place for that, actually they have quite a few places.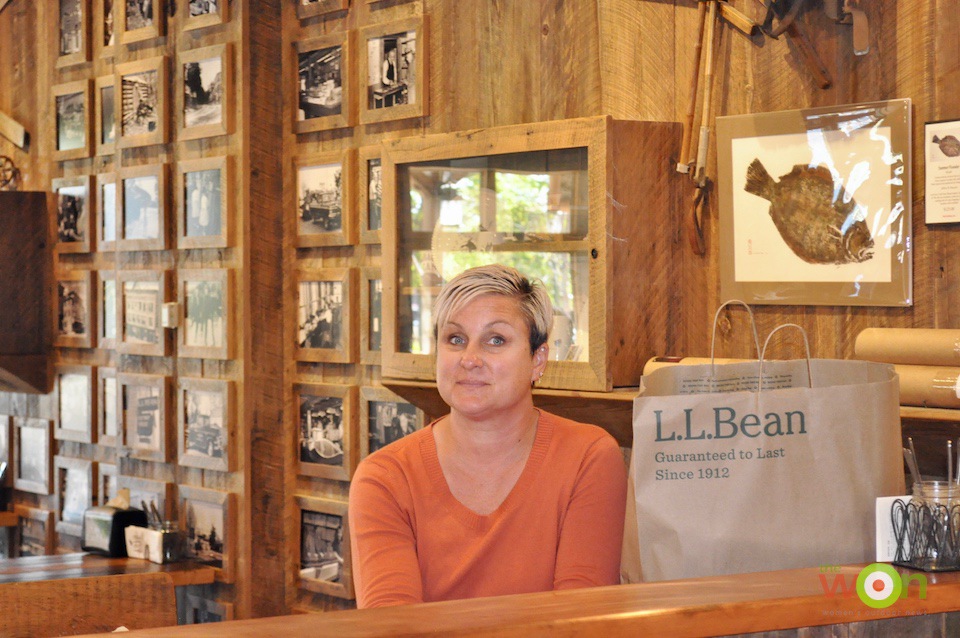 Who doesn't get hungry while shopping? No need to leave the store, just hop into the 1912 Cafe, located in the Flagship store. They serve breakfast, lunch, dinner and even cater. Working with local business they provide delicious, fresh foods. Their Tasting Boards include local cheeses, seasonal fresh and dried fruit or housemade hummus, toasted pita, fresh veggies, olives, almonds and dates. Quite the spread!
Visit L.L.Bean
So, whether you feel like shopping, or feel the need from some adventure, I highly recommend a trip to Maine with a destination of L.L.Bean. They have something for everyone. #BeanOutsider
About Michelle Cerino

Michelle Cerino, aka Princess Gunslinger, entered the firearms industry in 2011 when Cerino Training Group was established. She immediately began competing in both 3-Gun and NRA Action Pistol, becoming a sponsored shooter. Michelle is currently a columnist and Managing Editor of Women's Outdoor News, as well as Event-Staff for CZ-USA Field Sports. She also manages social media for Vera Koo and GTM Original. Michelle encourages others to step out of the comforts of home and explore. View all posts by Michelle Cerino →