Ho Ho Ho: HidingHilda's Mini Messenger Hipster for the Holidays
Let me level with you: I honestly can't stand Christmas shopping. There's the almost unrecognizable, irritating pop Christmas music blasting in every store; time wasted driving in circles to find a parking place; and then checkout lines with screaming children and crabby adults. So, how can one bring a little cheer to this grueling task? Carry along the festive crimson HidingHilda Mini Messenger Hipster concealed-carry purse while you search for a little holiday spirit.
In Wadsworth, Ohio, where I live, the holiday season begins with the town's Candlelight Walk the weekend before Thanksgiving. Lined with candles in milk jugs, the streets around Main Street welcome the entire community. The stores have festively decorated their windows and remain open late, while traditional Christmas music plays and vendors serve hot drinks and cookies. It's a perfect beginning to the holiday season. Heck, Santa even makes an appearance, and gives the first gift of the season to one lucky winner.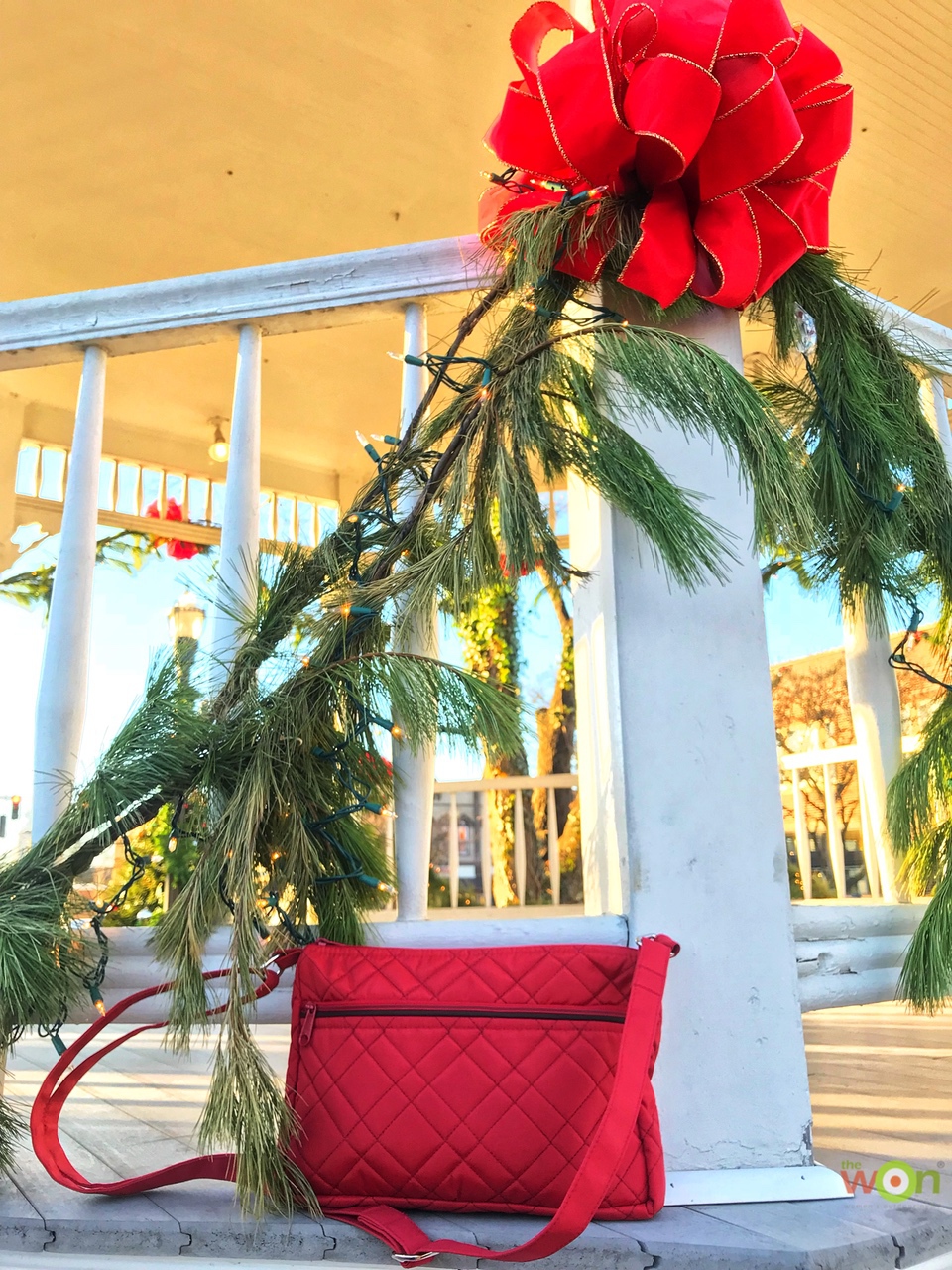 I love traditional Christmas decor. Our town's local garden club, Bud 'n Bloom, decorates the gazebo and other planters on the square. Red bows—that just so happen to match my HidingHilda Mini Messenger Hipster perfectly—pine roping and oversized bulbs help create the allure of an old-time Christmas.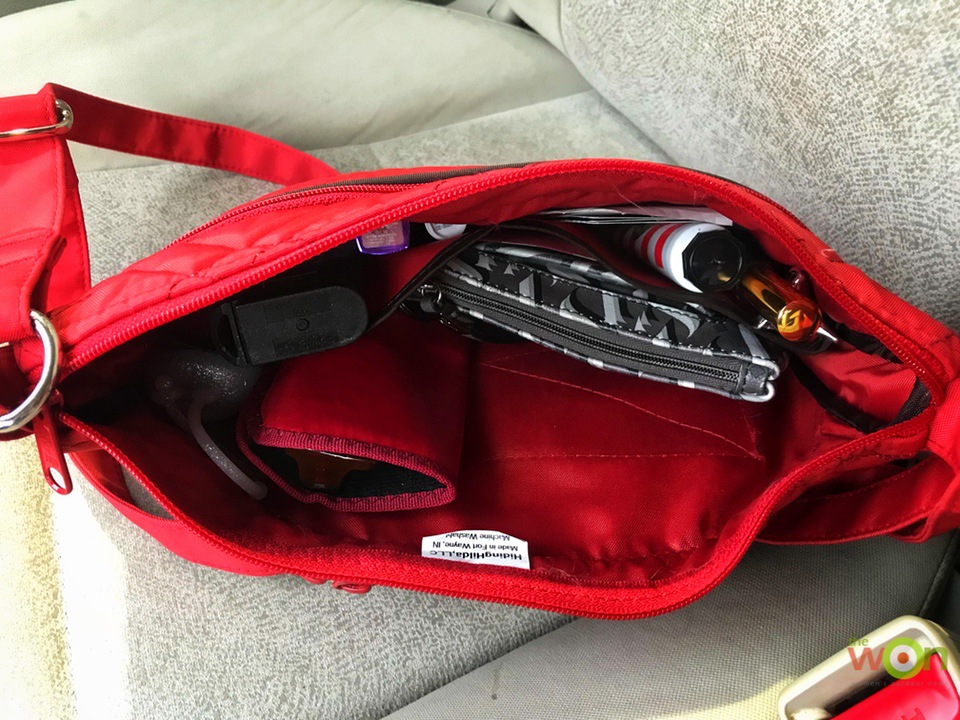 The Mini Hipster CCW purse's compact size—11 by 8 inches, and 1.5 inches thick—holds everything I need for a shopping trip or heading out to dinner. Besides my firearm, I also carry a spare magazine and my reading glasses, wallet, phone, lipstick and a pen. Its 2 pockets allow me to keep everything organized.
I love the length of the Mini Messenger Hipster's strap. It fits perfectly over one shoulder, and I can lengthen it for cross-body carry, which I prefer when I shop at the mall or other busy places. When I have bags to carry, cross-body carry adds an extra sense of security.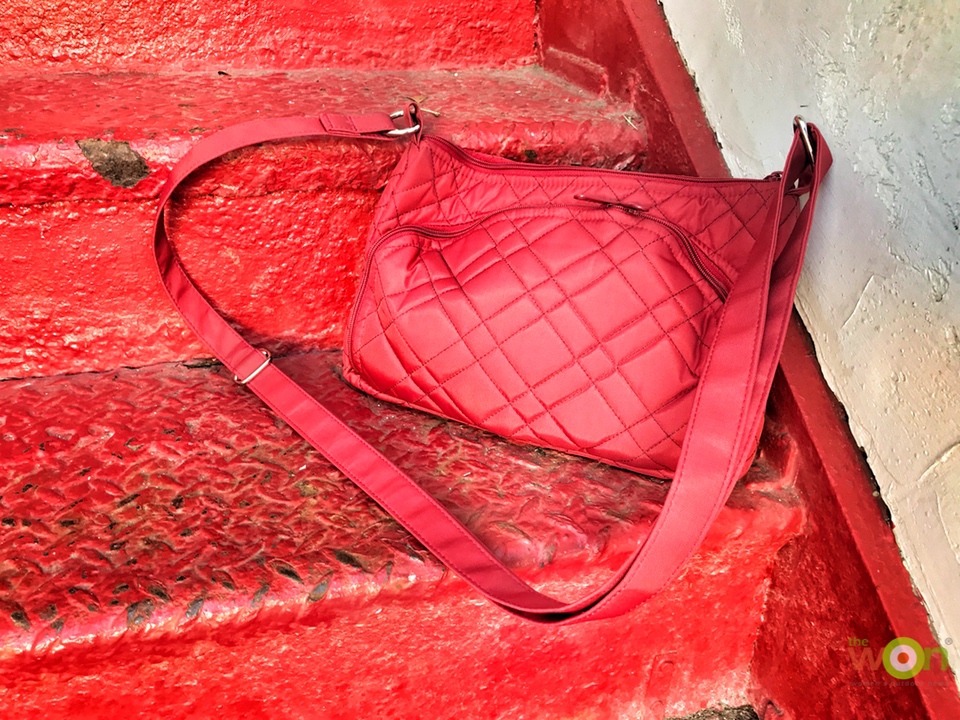 Yes, I'm sold on fabric concealed-carry purses. Not only are they lightweight, but they're also machine washable. And I must admit, I'm hard on my purses: They definitely don't get babied. Our fearless leader Babbs already washed her HidingHilda Messenger Bag with cold water on the delicate cycle, and then dried it on the line. It came out perfect.
Mini Messenger Hipster
The MSRP of this HidingHilda Mini Messenger Hipster CCW purse is $69.99. Besides crimson, it also comes in black, blue and camo twist. (I think I might need to purchase the blue one for spring.)
See more of our HidingHilda purse reviews here.
About Michelle Cerino

Michelle Cerino, aka Princess Gunslinger, entered the firearms industry in 2011 when Cerino Training Group was established. She immediately began competing in both 3-Gun and NRA Action Pistol, becoming a sponsored shooter. Michelle is currently a columnist and Managing Editor of Women's Outdoor News, as well as Event-Staff for CZ-USA Field Sports. She also manages social media for Vera Koo and GTM Original. Michelle encourages others to step out of the comforts of home and explore. View all posts by Michelle Cerino →