Nevada Foodies: Sweet Italian Elk Sausage Recipe
Sausage making and stuffing is an ARTFORM that I need more practice at. It's a mastery of the right ratio and just the right combination of seasonings. I spent weeks researching and playing around with spice blends for my first GO at sausage making. I wrote everything down, taste tested and gave it a go. So here's my version of a sweet and tangy elk sausage that I wanted to share with everyone who may be interested.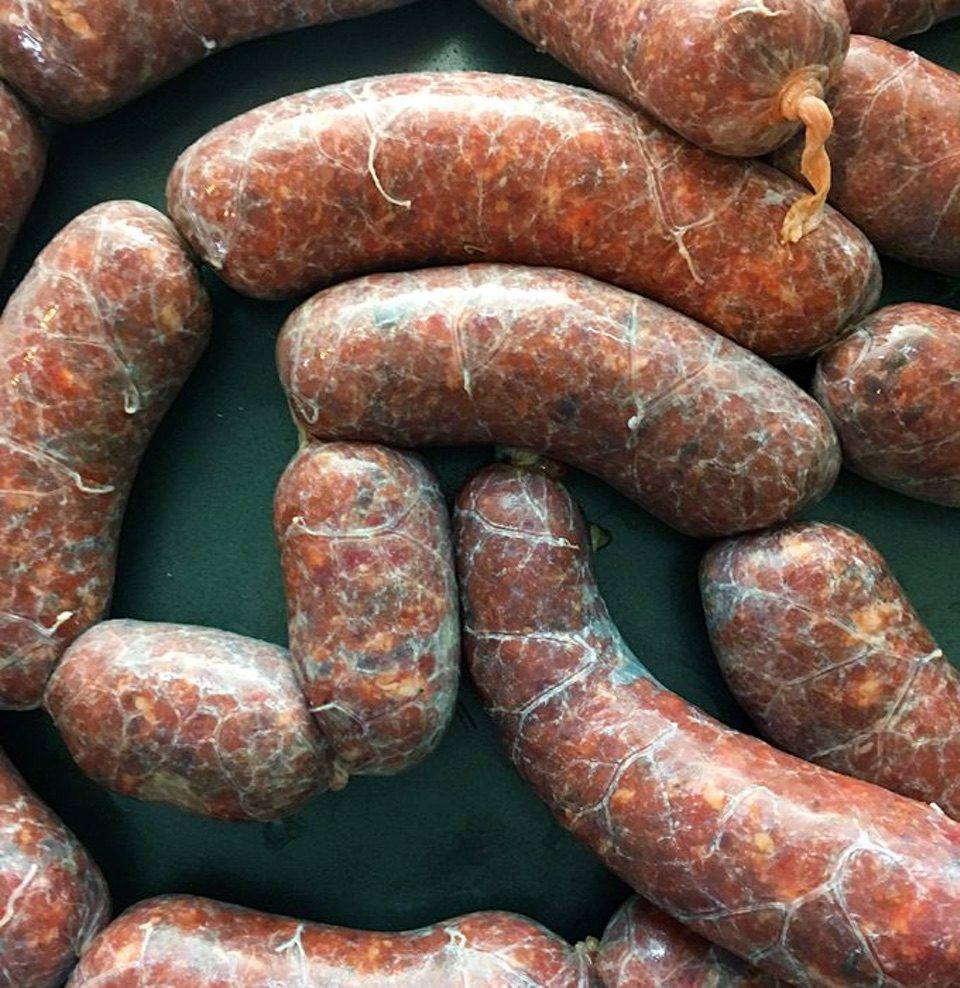 I grilled these elk sausages over indirect heat alongside a few sliced onions and served with sliced sourdough bread and mustard. For my first go around, I have to say they turned out AMAZING! If you have the time and the patience, give this recipe a try. It works with elk, but would also work with venison.
HAPPY NEW YEAR TO EVERYONE~Enjoy
Elk Sausage Ingredients
3.75 pounds elk, diced
1.75 pounds boneless pork shoulder butt, diced
2 tablespoons kosher salt
2 tablespoons sugar
2 tablespoons sweet paprika
2 tablespoons fennel seeds, toasted
1 tablespoon coriander seeds, toasted and crushed
2 teaspoons ground black pepper
1 teaspoon onion powder
3/4 cold water
1/4 red wine vinegar
8 feet hog casings, soaked and rinsed
Directions
After weighing the meat, dice the meat so that it will easily fit through the grinder, about 1-2 inch cubes and set aside in a large bowl. Using a separate bowl combine and mix all dry seasonings. Add the seasonings to the meat being sure to coat all pieces. Cover and refrigerate overnight.
You will want to use the small die for processing. Remove the attachments from the grinder and place in the freezer for 30 minutes before grinding. This will help to ensure that the pork and the elk combine perfectly together. When ready, grind all of the meat mixture through the grinder. Add the cold water and vinegar to the sausage grind and mix well. Set the bowl of ground eat into the refrigerator while you change out you attachments.
Continue reading and print the directions for "Sweet Italian Elk Sausage Recipe" here
About The WON

The Women's Outdoor News, aka The WON, features news, reviews and stories about women who are shooting, hunting, fishing and actively engaging in outdoor adventure. This publication is for women, by women. View all posts by The WON →