An Arkansas Duck Hunt with Remington
It is late in the evening when I arrive at Stan Jones Mallard Lodge in Alicia, Arkansas. This is my first visit to the state and its reputation as duck capital of the country precedes it. The long, tree-lined entrance leads me to the grand lodge, the lights glowing, welcoming me inside. All the other guests have finished dinner. The staff whizzes about offering me sweet tea and showing me to a table setting. Even at that late hour, I still enjoy a fantastic 3-course meal. Mr. Stan Jones appears to welcome me with a handshake and assures me that with my long travel behind me, I can now relax. I meet the other hunters as we assemble our new Remington 12-gauge Versa Maxes and V3 Fieldsports, check the chokes and clip on slings. We store them in the convenient locker rooms and settle into our rooms to retire for the night. We are now ready for a Remington Arkansas Duck Hunt.
We awake to the sound of the staff knocking on our doors. This will be a daily morning occurrence. She chirps through the door, "Y'all came all the way down here to have a good time. I'm not letting you sleep in!" Yes ma'am. I pull on my waders, push a pack of Pop-Tarts in the pocket and fill my thermos full of coffee. Heading out to the side porch, the truck waits, all warmed up and ready to take us afield.
We stop alongside a flooded rice field and hop into the back of a lifted-up mudding truck. The tires spin as we power through the field, churning the coffee-colored water. We slosh to the blind and file in, passing the shotguns down-the-line like cake at an office party, and waiting in anticipation for the one that lands in your hands. Mine is a V3. The blind is dug into a narrow strip of stubble, with each side facing a wide open flooded area. The guide decides which way to throw out the decoys. We pull down the double doors, overlapping ourselves in and wait on shooting light.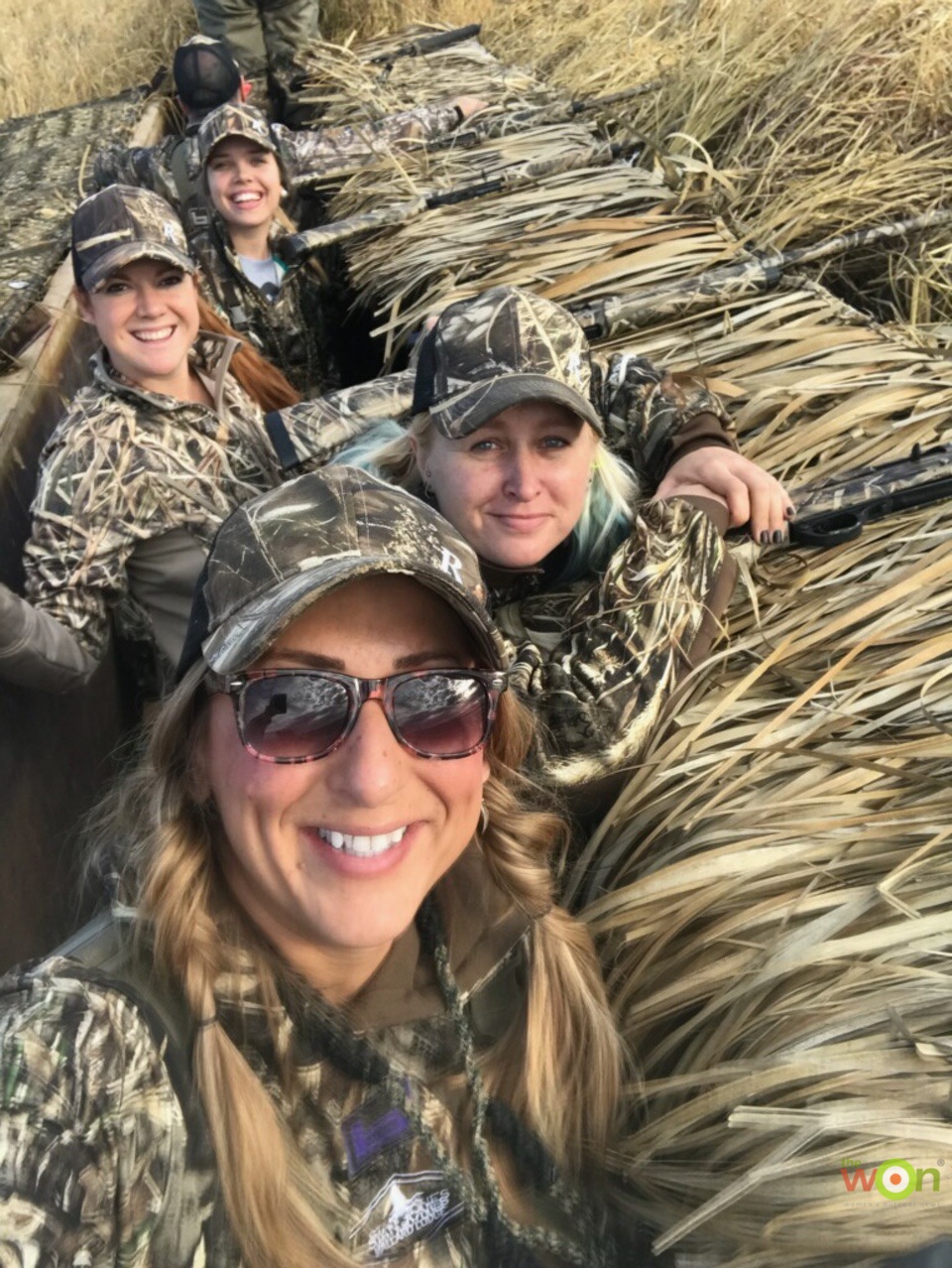 As the sky begins to lighten, we see them, waves and waves of teal somersaulting across the sky. I take aim and the tiny birds fall to the water. Our 2 dogs go to work making some incredible retrieves. After some time, our guide decides to reset the decoys on the other side of the blind, and with a quick flip of the blind doors, we're now facing the opposite way and the dance begins again. As I've come to expect from Remington's autoloaders, the felt recoil is almost none. The Supercell buttpad on the V3 makes shooting even more enjoyable. With a nice wide grip and oversized safety, it is easy to control and manipulate with or without gloves. We take a few more from the sky and call it a morning.
A hot breakfast awaits us back at the lodge – meaning mounds of fluffy eggs, bacon, biscuits and gravy. Stan checks in with us to see how we're enjoying ourselves. I look around the lodge in the daytime as he explains the beautiful wildlife art that he's selected, nearly all of it created by friends and local artists. Large paintings of bears and rams, photographs of duck dogs and the stained-glass artwork of mallards leading into the lodge's grand double doors.
We head out that afternoon for what they call a continental pheasant shoot. Completely foreign to me as a Western upland hunter, and I am intrigued. Shooters stand in a large circle with hay bales set as shooting stations. Birds are released in the center and they can fly in any direction as they soar off. It is a great scenario to demo a new shotgun as each bird is only shootable by 1 or 2 shooters at most. I take my time to really get to know the V3. The lightness of the gun makes for a fast, smooth swing and, like the Versa Max, the Versa Port system does its duty shot after shot reducing felt recoil. I could have shot all afternoon if we hadn't run out of birds!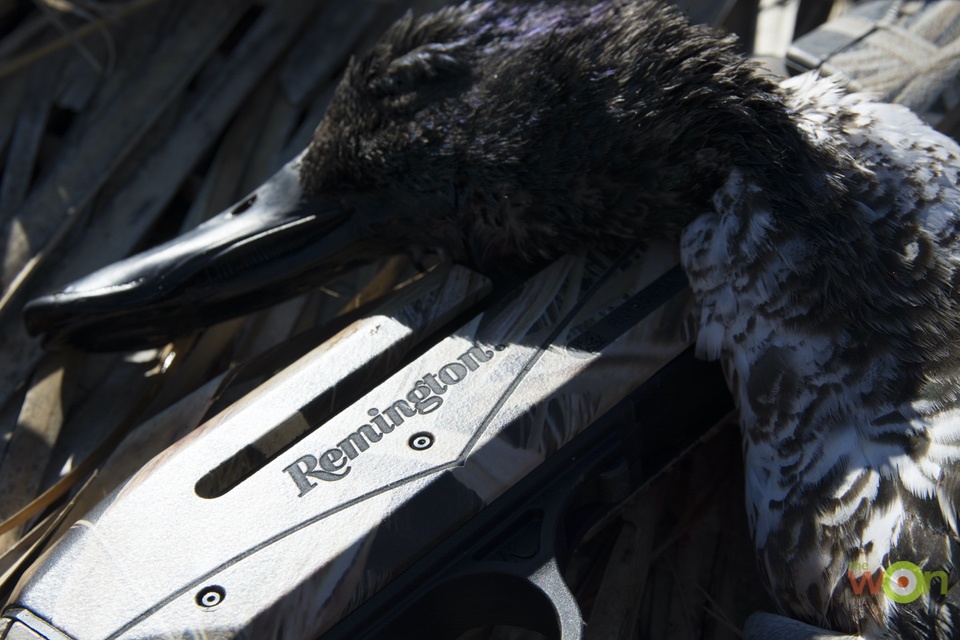 The second morning we again pile into the van and set out in the opposite direction to another rice field. This time I grab the Versa Max to use for the day. At first light, teal again swarms us. We quickly fill up our straps and add to it pintails, shovelers and a bonus specklebelly. Handling the Versamax is like shaking hands with an old friend. I know right where to tuck in my shoulder and the balance feels familiar. A little heavier than the V3, but with less felt recoil, the gun allows me to get a better cheek weld. The Hypersonic Steel shot, from Remington, performs as expected – deadly – on long shots. In fact, my best shot is a long shot on a drake shoveler. As he flies straight away from me, I swing, track and pull the trigger. I miss, focus, lead and fire a second shot. When the dog brings it back, I see that it is a headshot.
On our last afternoon, we set off into a beautiful expanse of property for a traditional pheasant hunt. Stan accompanies us in the field as we cut through waist high grass, thick weeds and tall flowers gone to seed. After the first few fields, points and flushes Stan turns to me and says, "You're from out West. Doesn't this remind you of Nebraska?" Yes, sir, it surely does. It is a fast-action afternoon with only a few birds sailing off giving us the middle feather. I quickly find out if I were to shoot any birds, I had to walk somewhere other than next to my new friend Ben Cole. We collectively nicknamed him "One Shot Ben." Every time I have my barrel swung and on target, I'm already being showered by feathers. That Versa Max is an extension of his arm, picking roosters out of the sky like apples from a tree. It is an unseasonably hot afternoon and the dogs work hard. There are tanks of water in between the fields and the dogs hop in, reveling in a quick cool down. Looking at their smiling faces, tongues out in pure joy, I have half a mind to jump in there with them!
Arriving back at the lodge, we have just enough time to pull off our boots and ball caps and settle right into dinner. Crab with Panko crumbs and seared tomato, Asian-inspired wild caught salmon and then a decadent dessert. If death by chocolate is a real thing, they'll bury me at Stan Jones Mallard Lodge. The cuisine by Chef Jay Taggart is better than most top restaurants I've been to in New York City.
The temperature drops at night and the hot tub and outdoor fireplace are just the right combination for tired feet and chilly hands. We turn on some tunes on the outdoor sound system and sink into the patio furniture. Staring up at the full moon, we share a moment of gratitude for this peaceful place, for new friends, and we start planning where we'll take our Remingtons next!
About Courtney Nicolson

Courtney Nicolson is an outdoor writer, hunter, and angler based in Denver, Colo. She is an active member of numerous conservation groups and is passionate about empowering women in the outdoors. Courtney is the senior producer/editor for Outdoor Sportsman Group Networks. View all posts by Courtney Nicolson →