Keeping Southern Feet Warm in Arctic Apres Lace Mid Muck Boots
Ever since my childhood, I find myself always searching for my next adventure. At nearly 40 years old, my adventures have changed from what they once were, but the search continues, for what exactly I don't know. Throughout my adventures, I have learned new things, pushed my limits, met some amazing people that I maybe wouldn't have met otherwise and at times I just enjoyed the beauty of the landscape or culture that I am surrounded by. I continue to crave more, I don't know if there is one thing or feeling that I am searching for that I just haven't found yet, maybe it is my constant desire to experience more of what life must offer or maybe it's just my ADD and the fact that I get bored easily – true story. I guess the reason doesn't matter, as long as it makes me happy.
"Come back in a few hours," my mom would yell as my sisters and I headed into the woods to our imaginary world of forts, castles, creatures and the best pies ever (made from berries and mud). After defending our forts and castles from the bad guys and evil creatures, we would return home with scrapes, cuts, bruises, splinters, poison ivy, bug bites and soggy wet shoes and socks from the creek or frozen feet in the wintertime – but, none of that mattered to us like it does now. While my "inner child" tends to come out sometimes on my adventures, I prefer to avoid cuts, bruises and especially, wet or frozen feet, so I always pack a pair of my Original Muck Boot Company boots for every adventure.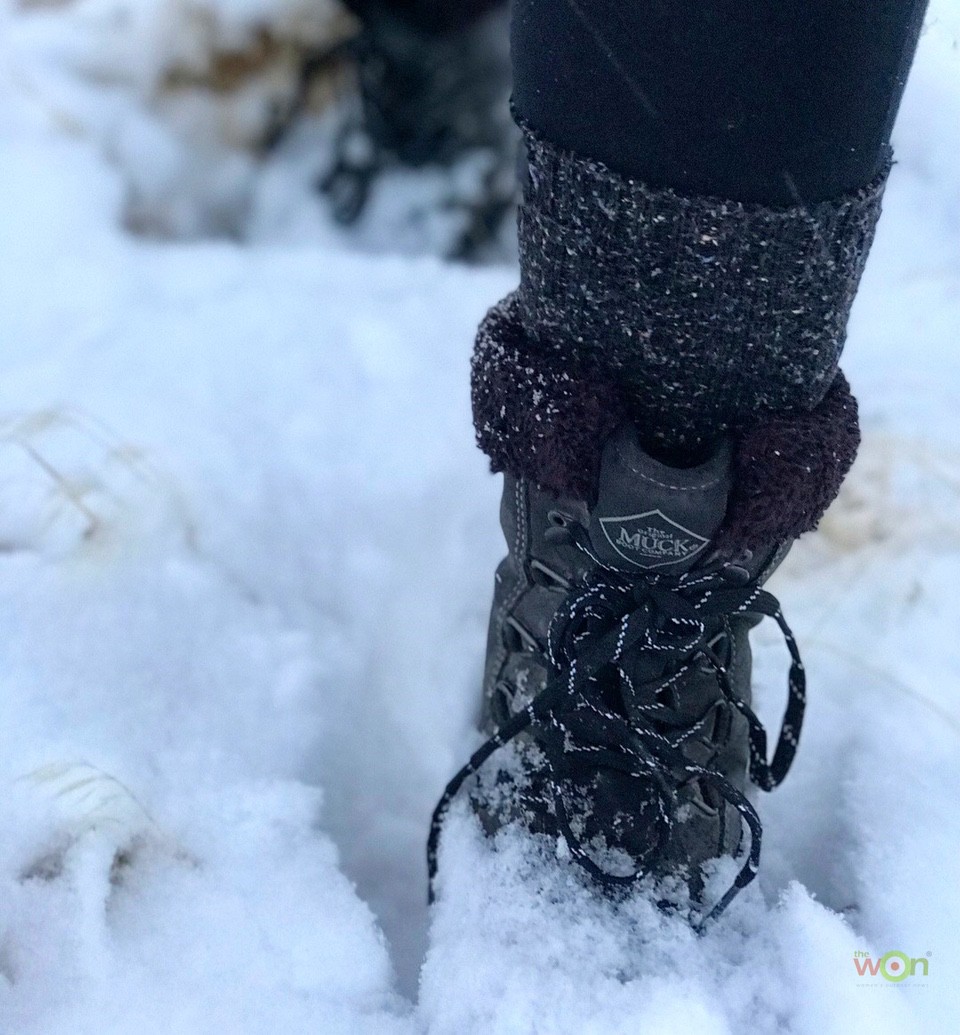 Sponsored by The Original Muck Boot Company
Recently, I went on a business trip, which included a coyote hunt in Nevada. Fortunately, I had time to explore Nevada and Utah on foot, too. I chose to take my Arctic Apres Lace Mid Muck Boots. Temperatures varied from 2 to 50 degrees over the trip, with snow the last day and my "inner child" couldn't resist playing in the snow. In fact, I still love the snow just as much as I did when I was a child, but I don't tolerate the cold as well.
Wool Allergies
Unfortunately, I am allergic to wool, making it a struggle to find socks and clothing suitable for the cold. Whether I am hunting or out on an adventure of some sort in the cold, I always wear 2 pairs of the thickest (non-wool) socks I can find at Walmart or throw a pair in my pack in case I need to add another layer later; I also take "hot hands." Sometimes, additional socks aren't enough and I will put hot hands in my boots too. Being from the sunny warm Southeast, my body doesn't adjust well to the cold harsh weather that I experience on some of my adventures, so I have learned to pack extra layers among extra layers. Fully expecting to need extra socks and hot hands for my boots, I packed them before heading out into the cold.
And, I never forget the BAND-AIDs and moleskin. With my hectic work schedule, I rarely have time to break in boots before my adventures, so I always include them in my pack in case of blisters. I started with 2 pairs of socks, but rather than adding layers … shockingly, I had to shed a layer. Finally, I found a pair of boots that can keep my Southern feet warm. The fleece lining not only kept my feet warm but it felt like I was wearing a comfy pair of slippers rather than a pair of boots, no need for the BAND-AIDs on this trip. Cold feet can ruin an adventure quickly. The Arctic Apres Lace Mid Muck Boots waterproof design kept my feet dry in the snow and me happy.
From the West to the East Coast
Next stop, North Carolina for the holidays … We rarely get much of a winter in the Southeast, but the mornings can be chilly. Once again, I packed my Mucks as it seems I can't leave home without them. Before making my rounds visiting family, I threw my Arctic Apres Lace Mid Muck Boots in the car, because you never know when you might need them. I left the BAND-AIDs and extra socks at home this time. Minutes after arriving at my cousin's farm, the boots went on to tromp through a muddy mess from recent rainfall in the area. A lake, swings, farm animals, teepee, old barns, acres of woods – so much to explore. After hiking around the farm and slushing around in the mud, I relaxed on the kid's tree swing for a bit. That tree swing brought back so many fun childhood memories.
Muck hit every detail with this boot, including a rugged outsole for traction, which came in handy whether climbing snowy hills out West or slogging through muddy terrain in North Carolina. When searching for the right boot, it is important to me that the boot is functional for my needs, comfortable, requires little break in and is fashionable – don't judge. My feet were dry and warm and I looked cute, so 5 out of 5 stars and all smiles for the Arctic Apres Lace Mid Muck Boots and in my opinion, a winter-weather must have.
Visit the Original Muck Boot Company and find the Arctic Apres Lace Mid Muck Boots here.
About The WON

The Women's Outdoor News, aka The WON, features news, reviews and stories about women who are shooting, hunting, fishing and actively engaging in outdoor adventure. This publication is for women, by women. View all posts by The WON →