How to Choose Ammo for North American Big Game Hunting
So, you want to hunt big game hunting in North America? You decided on an animal to harvest, found a guide and made all your reservations and of course, got your appropriate permits and tags? Now the important part comes into play: choosing a gun and the correct ammunition to set you up for a successful hunt.
Sponsored by Thompson/Center Firearms
The first important part of choosing ammunition is to make sure you have the correct caliber for the rifle you are going to use. You can find for this number, aka caliber of the gun, on the barrel or receiver of the rifle. Note: Using the wrong caliber may result in serious or even fatal injury to you.

Caliber
Caliber is the diameter of a bullet (the metal projectile). Ammunition manufactured in the US is measured in hundredths of an inch. Those manufactured in Europe use the metric system. A 30-caliber bullet is the same as a 7.62mm bullet. A 9mm bullet is 9 millimeters in diameter. A .22 bullet is 22/100th's of an inch in diameter and so on. Double check the box of ammunition and make sure the caliber of the ammunition matches the caliber of your rifle.

T/C Compass MSRP: $399
Bullet Weight
Bullet weight is measured in grains (gr). and 7000 grains equal 1 pound; there are 437.5 grains in an ounce. The number of grains is located on sides of ammunition boxes. In simple terms, a heavier bullet typically maintains its accuracy down range. However, if said bullet is too heavy, it might not have enough velocity to maintain stability for the needed distance. A lighter bullet travels flatter and faster, but may not be able to penetrate a dense animal hide. To make choosing even more difficult, a certain gun may shoot one round better than another. The only way to find out which performs the best is to test a variety of rounds at the range and at different distances, usually distances that you imagine you'll be shooting.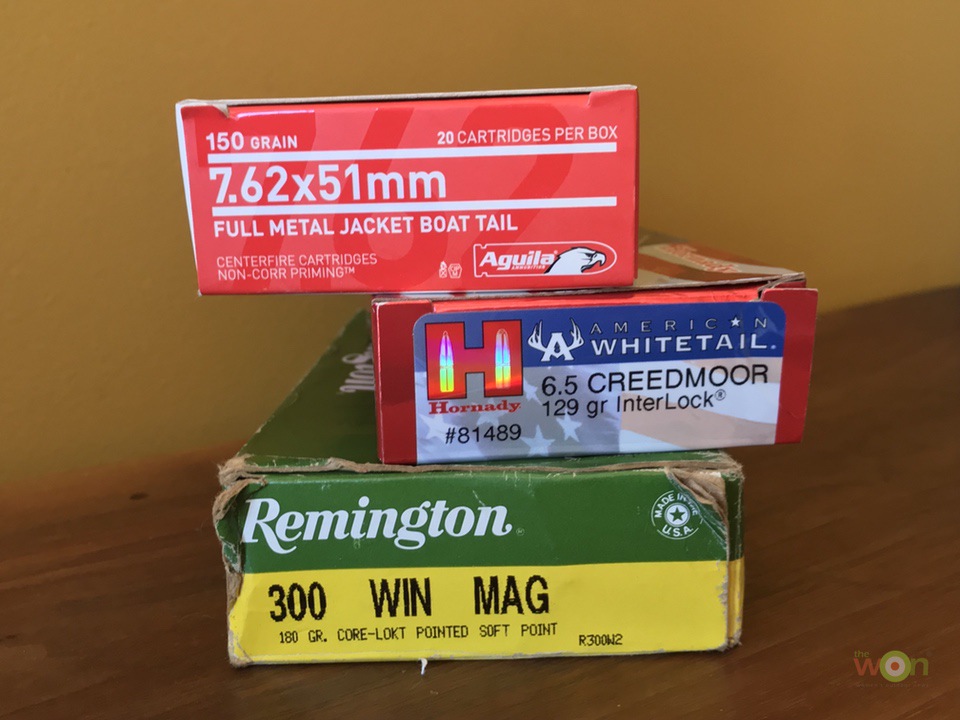 Bullet Style
Choice in bullet construction depends on the size of the game being hunted. When hunting large game, such as moose and bear with denser hides, thicker muscles and tougher bones – the bullet design comes with a thick, tapered jacket for deeper penetration and controlled expansion. For antelope and deer, a lighter bullet with a softer point can be used.

T/C Venture Weather Shield MSRP: Starting at $578
I reached out to Jana Waller, of The Sportsman Channel's Skull Bound TV to find out what ammunition she prefers when hunting big game.
"What I can tell you is that I prefer to use the .300 WSM for most big game because of its knockdown power. I have used the .300 WSM on deer, elk, bear, boar, and even moose. I prefer to use 180- or more-grain bullets and always prefer the more 'bang for my buck,' so to speak, when it comes to grain choices."
">
hunter-ed.com infographic
Ammunition Choice Sources
Hornday's website has different ways to filter your ammunition search. You can search by product line, such as Precision Hunter, Dangerous Game and American Whitetail. Or, pick the size of your game for the search: varmint, medium, large or dangerous.
Winchester ammunition's website allows you to choose the animal you plan on hunting, then the firearm and caliber.
Federal Premium ammunition's website also offers a search feature where you can filter by the caliber, bullet, type of game and product.
T/C Venture Predator MSRP: Starting at $638
However, another great source is your outfitter or the guide for your hunt. If you have the opportunity, reach out to them for ammunition suggestions – as well as other recommendations for a successful hunt (gear, apparel, travel tips).
Don't forget, before you head out on your big hunting, trip take your rifle to the range and test your ammunition at various distance. Not only will you determine if your optics work, but this is a great time to gain confidence in your equipment and the distances at which your rounds are affective. Once you arrive onsite to hunt, insist on shooting your gun again, as travel can joust your optics.
Always keep in mind, bullet placement is paramount to an ethical 1-shot kill.
About Michelle Cerino

Michelle Cerino, aka Princess Gunslinger, entered the firearms industry in 2011 when Cerino Training Group was established. She immediately began competing in both 3-Gun and NRA Action Pistol, becoming a sponsored shooter. Michelle is currently a columnist and Managing Editor of Women's Outdoor News, as well as Event-Staff for CZ-USA Field Sports. She also manages social media for Vera Koo and GTM Original. Michelle encourages others to step out of the comforts of home and explore. View all posts by Michelle Cerino →