Women to Tackle Fishing at Ladies, Let's Go Fishing Gulf Coast University
The popular "Ladies, Let's Go Fishing!" University returns to the Gulf Coast March 23-25, 2018 for their saltwater fishing seminar weekend at Bass Pro Shops Fort Myers. Hosted by the nonprofit Ladies Let's Go Fishing Foundation, the event offers classroom instruction, hands-on fishing activities, conservation, networking and optional guided boat fishing.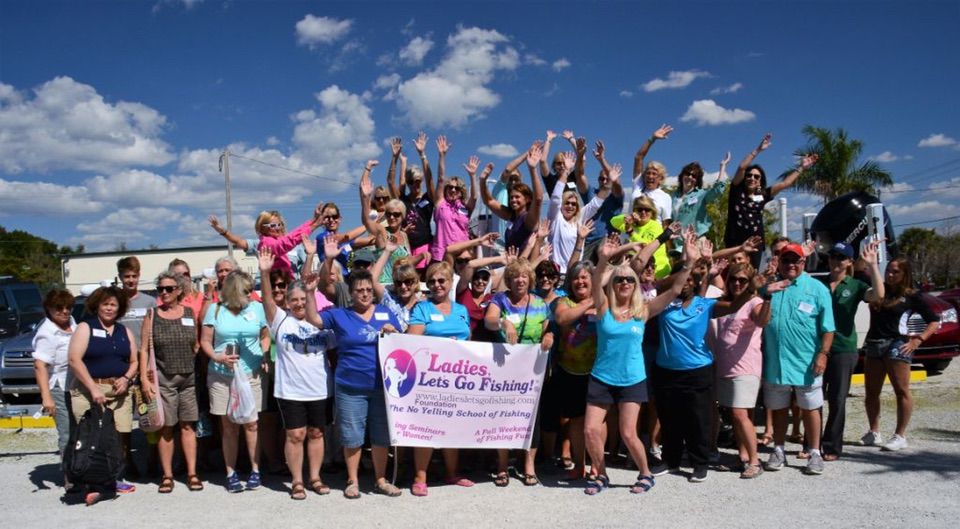 Perfect for women, men and teens who want to learn local fishing, this "No-Yelling School of Fishing" begins with informal networking on Friday evening. On Saturday from 10 am to 4:30 pm are speakers on conservation, inshore/backcountry and kayak fishing, equipment usage and more, followed by a hands-on fishing skill practice for releasing, dehooking/conservation, knot tying, lure usage, fly, spin and net casting, fish fighting techniques and more. Speakers include Capt. Jon Fetter and Craig Timbes, the Snook Cowboy, with more local guides at the skill stations.
On Sunday, participants can opt to fish from flats charters, a group boat or from kayaks with guides and tackle provided, followed by fish filleting.
Bass Pro Shops is located at Gulf Coast Town Center, 10040 Gulf Center Dr, Fort Myers, FL 33913.
Featured on national network television and more, the series is supported by major partners including Recreational Fishing and Boating Foundation, Take Me Fishing, Vamos a Pescar, Mercury, Ranger Boats, Magic Tilt trailers and Fish Florida. Annual sponsors are Freedom Boat Club, Guy Harvey Ocean Foundation, Treasure Cay Beach, Marina & Golf Resort, Sunrise Resort & Marina, AFTCO/Guy Harvey, Future Angler Foundation and Power-Pole.
Registration includes instruction, use of equipment, hands-on training, fundraisers, gifts worth $20, Bass Pro Shops discount and door prizes. No equipment or experience is necessary. Sunday fishing is additional. Registration and information is on www.ladiesletsgofishing.com.
Other LLGF events include:
March 23-25 Gulf Coast/Fort Myers Saltwater Weekend Seminar
April 27-29 South Florida Saltwater Weekend Seminar
May 12 Juno Beach Surf Fishing Seminar
June 22-23 Keys Fishing Adventure Learning on the Water
Oct.19-21 Keys Saltwater Weekend Seminar
International Adventures:
Cuba Excursions
Contact: Phone: (954) 475-9068; info@ladiesletsgofishing.com; www.ladiesletsgofishing.com, www.facebook.com/ladiesletsgofishing.
About "Ladies, Let's Go Fishing!"
The Ladies, Let's Go Fishing Foundation (LLGF) is a national charitable 501C3 organization dedicated to attracting women and families to fishing and encouraging conservation and responsible angling. LLGF promotes networking among women anglers and emphasizes mentorships. Founded in 1997 by Betty Bauman, of Ft. Lauderdale, Florida, LLGF has over 8,000 graduates and is the largest organization in the world whose objective is to introduce women and families to fishing. Both Bauman and the University series – dubbed "The No-Yelling School of Fishing" – are known nationally in the fishing and marine industries. The organization has earned rave reviews from media including WINK News, Inside Edition, The Early Show, NBC Nightly News, Good Morning America, Outdoor Life Network, USA Today, the Wall Street Journal, Southern Living and more.
About The WON

The Women's Outdoor News, aka The WON, features news, reviews and stories about women who are shooting, hunting, fishing and actively engaging in outdoor adventure. This publication is for women, by women. View all posts by The WON →