A Millennial Shares Memories of SHOT Show 2018
I am Cassie Todd-Jameson, Cheryl Todd's (aka "The Flame's") daughter, and I am taking over her column this month to give my Millennial perspective of SHOT Show – the Firearm Industry's biggest annual event, hosted by the National Shooting Sports Foundation (NSSF).

The Flame is sponsored by AZFirearms
A little bit about me is that I am a wife, daughter, mom, Auction House Manager, Disney fanatic and … "Millennial." I almost despise the term "Millennial" and am trying my best to be a good representative of the "Millennial" generation. I work hard, I vote, I care about the Constitution, I understand that things aren't handed to you, and that we will always appreciate things more when we work for them! And, I love the people and products in the shooting sports, so let me share with you a Millennial's memories of the 2018 SHOT Show.
I have been attending SHOT Show in Las Vegas for the last 5 years and I look forward to the show every year. It has become almost like a summer camp type of vibe. You get to meet up with, and visit with, people from all over the country who are involved in the firearms industry and Second Amendment supporters. And on top of that, you get to see some incredible, elaborate and massive vendor booths (Some are the size of a house – actually, I am pretty sure I saw a full-size log cabin display last year!) filled with beautiful new firearms or other hunting and outdoor trade-related gear in all of the shapes, sizes, and colors you can imagine. Each year, I come away with at least 1 or 2 things that I can't stop thinking about. Last year my absolute favorite thing I saw at SHOT was the Kimber Micro Bel-Air, and I am still dreaming about that beautiful gun.
This year I picked out a few things I especially liked.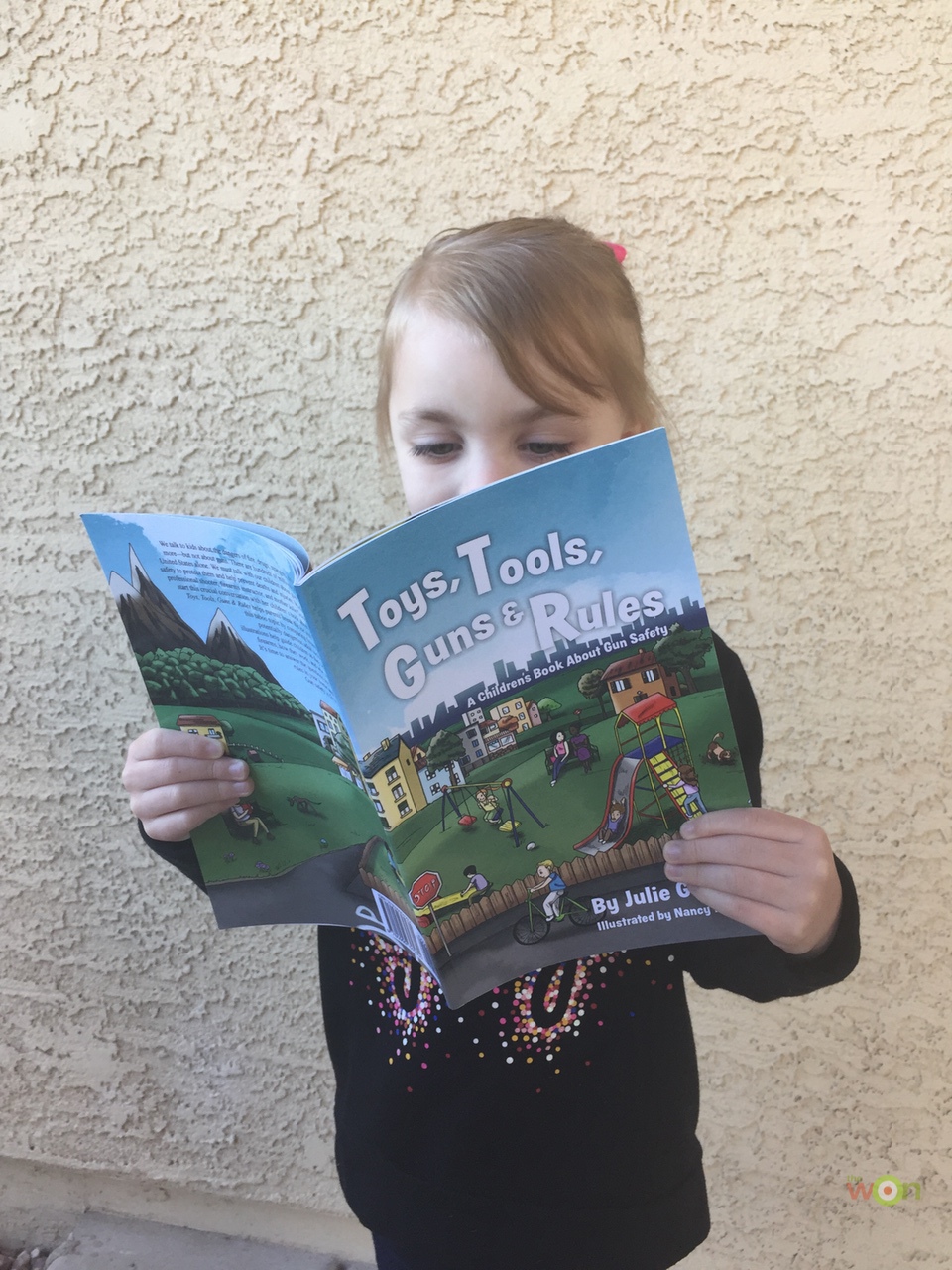 First of all, a very special thing that happened at SHOT Show 2018 was that one of my favorite people, professional competition shooter Julie Golob gifted me a copy of her new children's book, Toys, Tools, Guns & Rules: A Children's Book About Gun Safety. She even autographed a book for my daughter. Julie is an awesome "gun-bassador" and just an amazing person all around! Julie, if you are reading this, seriously, thank you so much!
While some ladies aren't into the colorful and sparkly side of firearms, I totally am – hence, my love for the Kimber Bel-Air! I love that more firearm companies are making products with a feminine side to them. Pack'n Heat Crystal Ear Protection caught my attention with their super sparkly, rhinestone-covered hearing protection ear muffs and matching eye glasses. My favorite pair had an ombre design of a gorgeous pale pink fading to "Tiffany" blue! I'M IN LOVE!
Another company that is adding some feminine flair to their line is Taurus. Their new Taurus Spectrum is a great carry-sized gun, and what makes it unique is that they give you the ability to somewhat customize what your firearm looks like. You can pick color options and it has a futuristic style design.
We attended the first annual "NRA Women's Leadership Forum Breakfast On the Go" event and what a beautiful breakfast. It was awesome getting to meet up with our fellow NRA ladies and learn about their new NRA Women's Leadership Forum Mentorship Program. I'm sure there will more to come about that in the near furture.
Another thing that made SHOT Show 2018 so memorable this year was that we interviewed several of the nominees for the NRA Board of Directors for our Gun Freedom Radio Show. A few of the people we interviewed included Carrie Lightfoot, Julie Golob and Kristy Titus. It was so fascinating to hear all of their stories and reasons for wanting to become a part of the NRA Board of Directors. Each of them has something unique and something of value they could bring to the NRA BOD and if I had it my way, they would all be elected.
Oh, and SHOT Show bonus! I finally got a chance to try Black Rifle Coffee! FN-America Firearms had them set-up in their booth! Let's just say … "Yum."
Yes, I'm a millennial and I had an awesome time at SHOT Show. I am already counting down the days until SHOT Show 2019.
About Cheryl Todd

Cheryl Todd is the executive producer and co-host of "Gun Freedom Radio," owner of AZFirearms Auctions, Pot Of Gold Auctions and founder of the grassroots movement Polka Dots Are My Camo. Cheryl is the Arizona state director for The DC Project and travels the country speaking as a champion for our Second Amendment rights. She is a driving force in preserving the legacy of freedom for generations to come. View all posts by Cheryl Todd →