Reaching 'The Summit' with Volquartsen Firearms
Every year at the Shooting, Hunting, Outdoor Trade (SHOT) Show, companies showcase their newest, latest, and greatest products. It can be mind-boggling to walk the aisles and view thousands of new products. As a sponsored shooter for Volquartsen Firearms, I wanted to let you know about some of their cool products for 2018, including the Summit.
Cheyenne Dalton is sponsored by Volquartsen Firearms
Volquartsen Firearms is known for making the highest quality rimfire guns on the market. Its attention to detail is unsurpassed and the company believes in quality over quantity.
Volquartsen introduced its new Summit bolt-action rifle (MSRP: $1,150) last January at the show, which attracted the attention of many show attendees. Primary Weapons Systems (PWS) initially produced the Summit's action, but through a licensing agreement with PWS, Volquartsen is now the sole manufacturer of this rifle. Volquartsen has implemented several new features on this rifle to make this design its own, but the innovative design from PWS remains.

For those unfamiliar with the PWS action, it's quite similar to the action used on the rifles in biathlon competitions. Instead of the normal lift-and-pull back to load the next round, the Summit uses a simple pull-straight-back toggle system. I handled the rifle quite a bit, while working in the booth at the show, and I found it simple and smooth to use. I am planning on shooting the Summit in some .22 long range matches in 2018.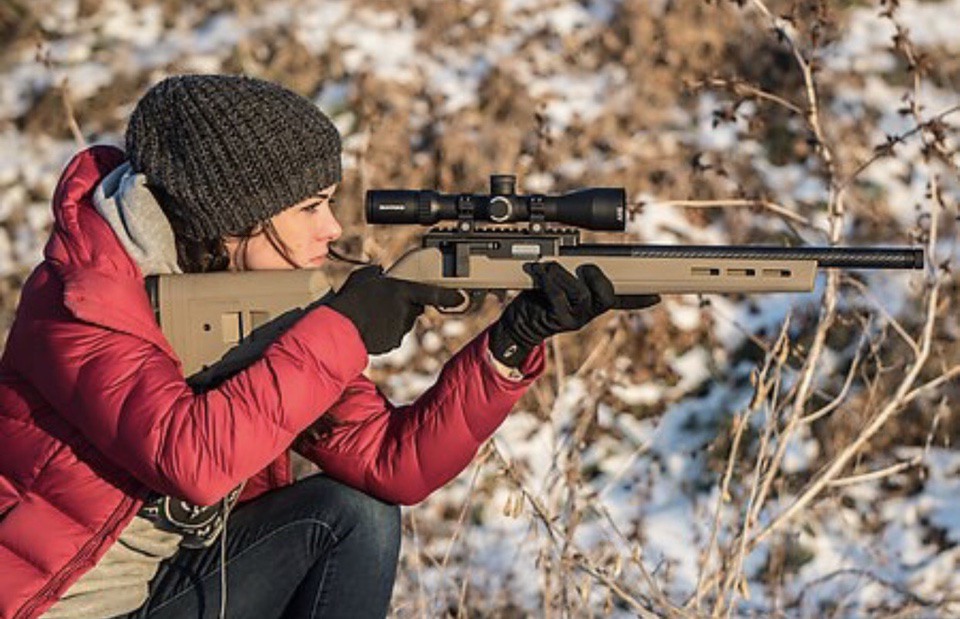 Other features of the Summit include a 16.5-inch lightweight carbon fiber barrel that is threaded 1/2 by 28 for a suppressor. The Magpul X.22 Hunter comes standard on the rifle as well. It features an adjustable length of pull from 12.5 inches to 14.5 inches, using the included spacers. This is great because it will give adjustability to a shooter of almost any stature. Volquartsen triggers have a reputation of being the best of the best, and the Summit trigger is no different. The trigger will be set at a crisp 1.5 pounds. As far as rifle weight goes, it'll weigh 5 pounds, 13 ounces.
Another excellent option is that the Summit will be available as a receiver/bolt combination (MSRP: $1,150) – allowing a customer to add the barrel, stock, and trigger of choice. I'm looking forward to getting my hands on the Summit rifle and seeing just how far and accurately I can shoot it. Stay tuned for that.
Everyone I know loves to shoot .22lr ammo. Whether it's plinking with your kids or grandkids or hunting squirrels with a parent, nearly every gun owner starts with a .22 rimfire in either pistol or rifle format.

Smith & Wesson has been making the M&P 15-22 for a few years now, and I've seen many at rimfire matches. One thing I've noticed is that there haven't been many barrel options for this fun little AR style .22. That is until now. Volquartsen Firearms has introduced a lightweight carbon fiber barrel for the M&P 15-22 (MSRP: $347). This new barrel will reduce the weight of the rifle and improve its accuracy. The barrel alone weighs only 14 ounces. It will come standard with ½ by 28 threads so the user can add a muzzle device or suppressor. The barrel also includes a wrench to remove the existing barrel. I can see this barrel being used by lots of competitive shooters in rimfire or steel challenge.
As is usually the case, owner Scott Volquartsen and his crew have taken rimfire to a whole new level. I will be doing a review of the Summit in a future article and hopefully a review of the M&P 15-22 barrel as well.
See more about the Volquartsen Summit here.
About Cheyenne Dalton

Cheyenne Dalton is an up-and-coming junior competition in 3-gun, USPSA, and Rimfire challenge. She writes a column about her shooting experiences, sponsored by Voquartsen Firearms. She's been competing for 4 years and has won state titles, along with the Limited Ladies Rimfire World championship 2 times (2014 & 2016). When she's not at the range, she is traveling with her Bluegrass band, "That Dalton Gang," where she plays mandolin and violin, along with singing lead vocals. Her future plans include lots of shooting and continuing her education with a focus on being a pharmacist. She lives on a family farm in Missouri. View all posts by Cheyenne Dalton →