Why the Danner Women's Jag Boot is My 'Go-To Boot'
Having a bit of a shoe and boot obsession, I keep a variety to choose from for every activity or occasion. But, there is always that one pair of go-to boots that I can make work for everything: the Danner Women's Jag Boot. The Jag was originally introduced in the 1980, then retired and brought back almost 30 years later, making it a blast-from-the-past, but a more versatile version of its former self. Styles always manage to make their way back around. Having grown up in the '80s, I love the some of the styles back than and still do today (However, I hope the '80s hair never comes back. I don't miss the days of using a can of hair spray to hold a wave of hair inches above my head.)
Once again, I found myself packing, but this time it was for 2 trips back-to-back, from Texas to Utah. The temperatures were forecasted for the 80s to 90s, with plenty of sunshine in Texas, and 30s to 50s, with a chance of snow for Utah. My bag overflowed with clothes, leaving little room for extra boots and shoes, so I opted to wear my Danner Jag boots on the plane. You never know what unexpected opportunities might arise, so I must have shoes that I can make work for every adventure. The 100% waterproof barrier allows moisture to escape without letting water in, keeping my feet dry from the snow in Utah, and allowing moisture to escape in the hot Texas weather. The Jag is also known for its EVA midsole that provides excellent cushioning and after years of sports, my joints appreciate the extra cushioning.
My adventure started off in Texas chasing Rios. I mostly wore my Danner Women's High Ground hunting boots for this trip, but when I wasn't in the field, I threw on the Jags. Check out the review on the Women's High Ground hunting boot here.
The Jags feel like a good pair of running shoes, extremely comfortable and lightweight. Removable Ortholite footbeds offer 3 layers of varying density that are combined for maximum cushioning and support, perfect for wandering around on the ranch, patterning guns on the range or relaxing between hunts.
After a successful hunt, I headed to Utah for meetings, and a few side adventures. After landing in Utah, my partner in crime (fellow employee), Jessica, called and said, "I hope you are ready to hike the hillside, go shooting and ride horses." Of course I was! It was snowing when I arrived, but it quickly melted the next day. As I mentioned earlier, there was no way to fit hiking boots, range boots and riding boots in my travel bag – much less snow boots – so, I was glad I chose a pair that will work for everything in dry or wet weather. After our meetings, Jessica and I hiked around the hillsides and spent some time shooting steel. That is always a great way to end the day; who doesn't like to ring steel after a long day in the office? The Jags were perfect for hiking the hillside and shooting prone. When shooting prone, you point your toes outboard and put your ankles as flat on the ground as possible, the flexibility of the boot allowed me to assume position correctly and comfortably.
A few weeks later I found myself back in Texas chasing Rios again. There is no question what boots to pack this time: the Danner Jags and High Ground hunting boots went right into my duffle bag. This time, I stayed at a ranch that offered hunts and raised cattle. The night before the hunt, our guide went over the plan for the next day. As he ran through the normal list, he also mentioned that ranch cowboys would be coming to the lodge. I couldn't help but ask what the cowboys would do? Our guide explained that they would be branding cows throughout the week, so naturally I asked if I could go and brand a cow. You are probably thinking this girl is crazy and you might be right.
What was I thinking? I spit that out before I even thought all the way through what I was saying. What did I just get myself into? I would soon find out. Have you ever wondered more about where your steak comes from?
The branding irons were heating up and the cowboys separated the calves from their mothers; it was almost show time. The cowboys split into 2 teams and set up 2 stations where the calves would get shots, get branded and have ears cut (a second form of branding), and then, be sprayed with deworming medicine. Branding is a technique for marking livestock to identify the owner. Male calves would be castrated during this time, as well. I did not ask to do this task.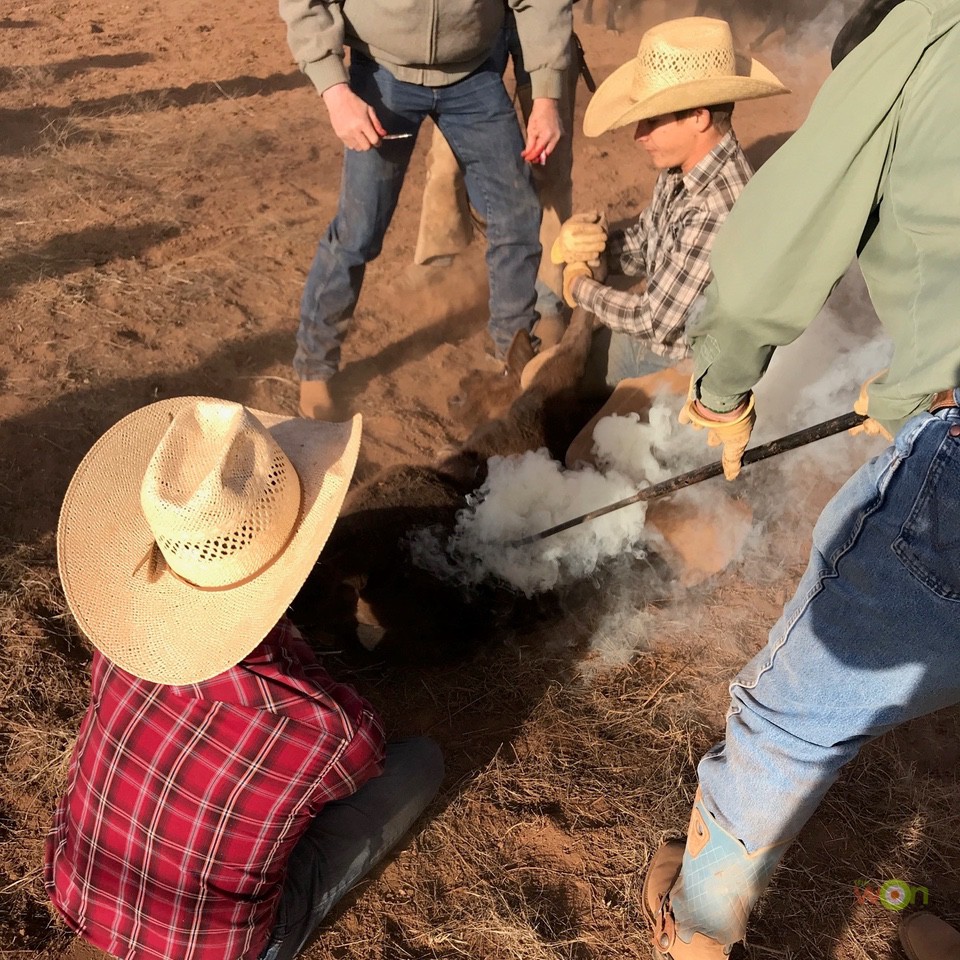 The cowboys roped the first round of calves and brought them to the stations. The teams quickly surrounded the calf and – it was done. Seriously, if you blinked you missed it. I am amazed at how quickly that happened, each calf was back on its merry way in approximately 60 seconds.
But before we talk the down and dirty about my branding experience, I didn't pack my cowboy boots, so I went to my go-to boots, the Jags. The distressed brown and deep teal pair nicely with my jeans. The Jags come with 2 pair of laces because laces are like guns or purses, you can never have too many. I have a little attitude and I like it to reflect in my attire, so before heading out to the OK Corral, I removed the traditional laces and laced the boots with the checkered laces. I felt ready to take on this new experience in comfort and style, as well as attitude of course.
OK. OK. Back to the cattle …
I'm up, a little nervous I will admit. Cattle have a high pain tolerance, but I don't want to make a mistake and cause more pain than necessary. Five seconds, that's how long the cowboy said to hold the branding iron on. That 5 seconds felt like an eternity as the scent of burning hair and skin rushed up my nose. That is a horrible scent that you not only smell, but also taste, and it sticks around for a while. I worked with the cowboys for a little while, branding around 10 calves. For them, this was just another day in the life of being a cowboy, but for me it was an amazing experience that I won't soon forget.
With the heart of a young tomboy, ankles that have aged more than the rest of me (thanks to sports and injuries) and a flare of passion for girly things, the right boots aren't always easy to find. Having said that, I love when I can find a pair of boots that allow me to be a tomboy with a girlie flare and provide the support and cushion my ankles need, so thank you, Danner! All thumbs up for the Danner women's Jag boot. The Jags are a steal for $170.
Find out more about the Danner Jag Boot here.
About The WON

The Women's Outdoor News, aka The WON, features news, reviews and stories about women who are shooting, hunting, fishing and actively engaging in outdoor adventure. This publication is for women, by women. View all posts by The WON →