Avoiding Chaos: Preparing Kids for Travel
Moms face a difficult task when it comes to organizing the family for travel. We have to get everything squared away and packed, but also teach kids to be responsible for themselves. When you finally get everything into the car, it can seem like anything that didn't make it wasn't important.
Not a Soccer Mom is sponsored by Jagemann Sporting Group
My family's experiences have shaped our outlook on travel. With 370,000 and 198,000 miles behind our two Honda vans, we have insights to share. The most important thing I want to share with you is that travel life—in its perfect, Hallmark-card-Instagram-photo form—is absolutely, utterly fictional. Traveling with your family is never easy, and it's often frustrating. But your kids will learn real life lessons about being prepared and responsible for themselves. A few key things can help you understand when your "learning" from travel is about to turn into a deleted scene from National Lampoon's Vacation.
Preparation is key
When we travel, we expect our kids to help us prepare to leave. The importance of this is often lost on kids. Establish clear requirements for preparation: laundry done 3 days out, clothes packed 2 days out, everything that needs to leave is staged in one area, etc. When we travel with firearms, it's more involved: We square away our gun, backup gun, mags, ammo, cleaning gear, spare parts, and anything else we need. Staging areas and a countdown will help you. If your family knows what you expect from them in terms of preparation, and there is a timeline, they can't be surprised when you tell them you're leaving in 2 hours.
Don't overpack. If you fly, go light. If you drive, you can pack more, but consider stops, and pack for an easy unload. For us, that means guns go on top, so we can grab them and walk into a hotel room and go to bed.
Interpersonal relationships
When you get in a car with people for hours, you learn a lot about them, especially concerning hygiene. Be kind to your fellow passengers: Take a shower, put on clean socks, pack extra deodorant!
I'm pretty sure therapists recommend self-care to their own families. It means checking in with the people around you. Let them know that statements like, "I'm hungry" and "I need a bathroom" are needs that must be met on a timeline. Rating the urgency of those needs will help everybody have clear expectations.
Sleep when you can. Long rides and hectic schedules mean that you'll need to close your eyes and rest on the road. Sometimes that means earplugs. Often, I am typing while someone else drives and I ask for quiet. Other days, I know the driver needs the music because they've been awake 18 hours. Do what you can to take care of you, but still consider others. If you're watching a movie or listening to music, using earphones can free up the auditory space for the rest of the passengers. It's OK to disengage from the conversation or activity in the car. Just be ready to re-engage if you see a driver looking tired or you're coming up on a big city or a tricky part of the trip that will require real-time navigation.
While we're talking navigation, always look at a map before you leave. A lack of cell-phone service could leave you lost, which is not family fun time! For international travel or events with tight timelines, I map out our route from the hotel to the range and e-mail it to everyone; I also save it on my phone so we can just click the link and go.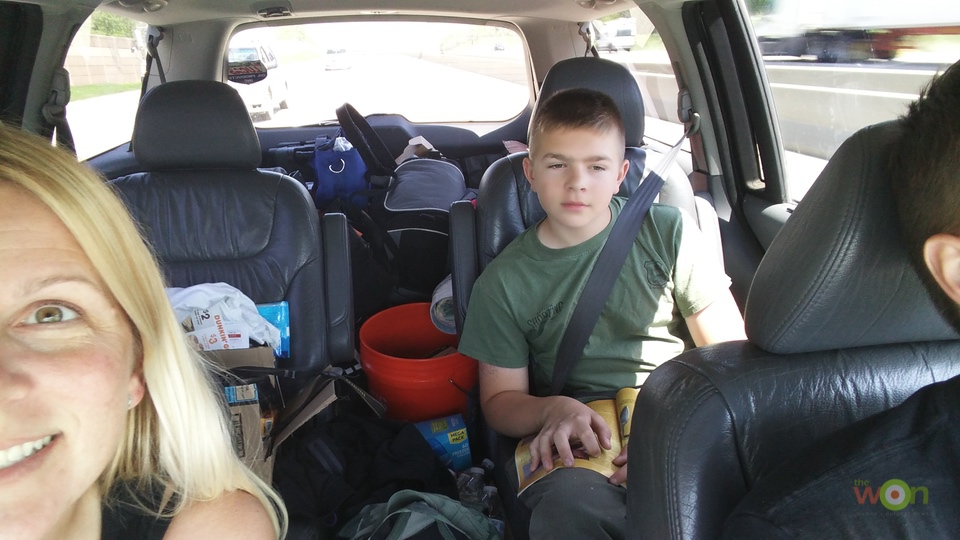 Keep your eyes on the road
Looking ahead is part of planning, whether it's down the road or around the car, to see not just what you need, but what the people around you need. It's part of being in a family. When you have to log travel miles, looking ahead to care for yourself and those around you makes you an asset. It makes you the type of person people want to share adventures with.
Preparing kids for travel is a lot like prepping them to compete in a shooting match—you need to walk a stage and gather a plan, because our performance depends on our preparation. So get ready for travel by planning, looking ahead and considering others. You can reap the rewards of that effort by enjoying a great trip.
If you travel for shooting competitions check out Becky's video here.
About Becky Yackley

Becky Yackley primarily competes in 3 Gun, USPSA, Bianchi pistol, but has competed in shooting since 1989 in disciplines from service-rifle, to NCAA Air Rifle and Smallbore, air pistol and a little bit of long range rifle. She shoots guns and cameras at competitions around the country, and writes in her fictional spare time. Her writing can be found here The WON in her column titled "Not a Soccer Mom" and sponsored by Jagemann Sporting Group, as well as Guns America and Gun World. View all posts by Becky Yackley →