SENTRY Products Group: Keeping the Elements off 3-Gun Gear
If you've ever shot a 3-gun match there's a good chance that during some point of the competition you experienced blazing sun, a torrential downpour and/or gusting winds. Some may say, "What's the big deal? Tuff it out!" Well, here's the problem, when we walk up to the stage we set out our long guns on tables and holster our pistols. Yep, hot, wet and dust caked firearms aren't the easiest to use. Thankfully, SENTRY Products Group has gear to make 3-gun life easier.
Sponsored by SENTRY Products Group
Go Sleeve
The Go Sleeve is a perfect way to protect my pistol from inclement weather or getting beat up in my range bag. Constructed of 3mm high quality neoprene and available in 3 sizes the dual compartment sleeve fits a firearm and magazines. Rather than lugging my entire range bag out when it's raining, I can put my pistol in the Go Sleeve and keep it dry on the staging table.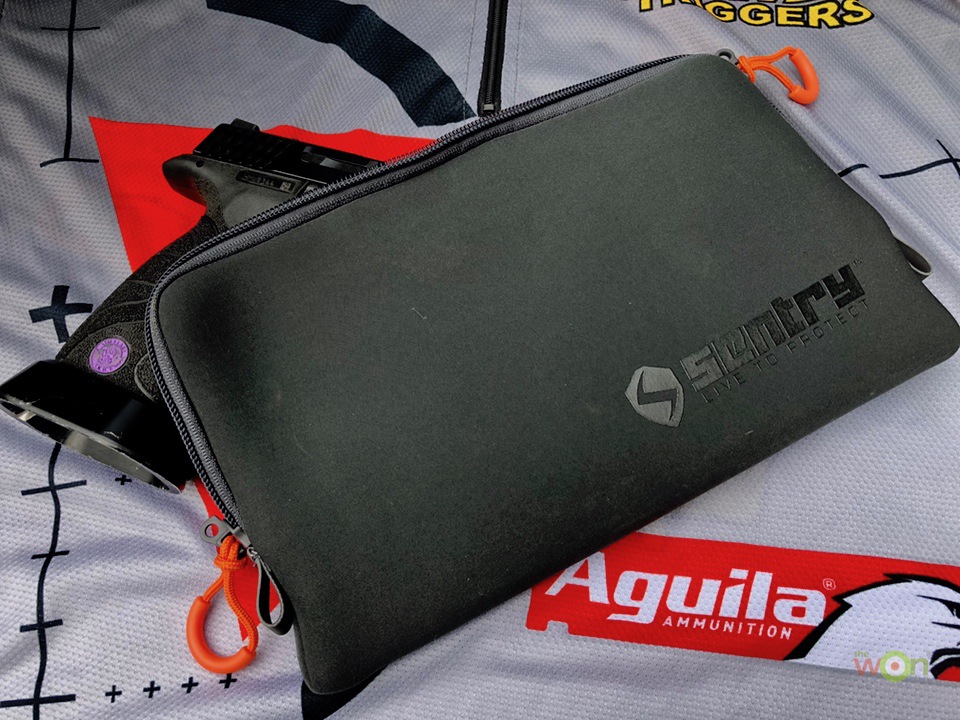 Available in Wolf Gray and Black, in sizes small, medium and large.
MSRP: $19.99 to $24.99.
Scopecoat
The perfect way to protect my scope from dust, dirt, moisture and dings is with a Scopecoat. Dirty scope lenses make it awfully difficult to hit a target since you can't shoot what you can't see. Made of high quality neoprene/nylon laminate, the slim fit cover fits scopes with standard or low turrets.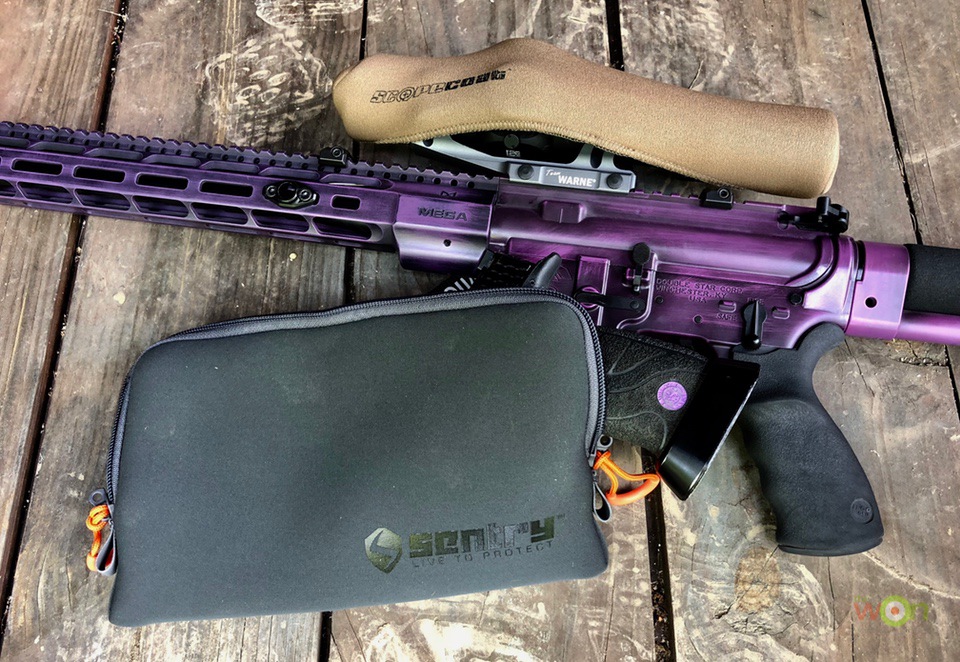 Available in various sizes from 5.75 inches in length and objective sizes from 20 to 60 millimeters the standard Scopecoat 3mm fits a variety of scopes. The color choices are black, coyote brown, dark earth and natural gear camo.
MSRP: $21.99 to $27.99.
For other scope cover needs, SENTRY Products Group offers Scopecoats in 3 other models: Standard 3mm with Retainer Loop, XP-6 Flak Jacket and Holographic and Electronic.
Armadillo
Constructed of lightweight, water resistant material, the Armadillo is my favorite piece of gear from SENTRY Products Group. My friend, Rebecca King, a sponsored 3-Gunner for SENTRY, played a role in the design. She saw a need, mentioned it to SENTRY and worked with them perfecting it. Besides rain and dust, it also protects my AR15 from the sun. Nothing like picking up a rifle that sat in the beating sun for 30 minutes … ouch! Sure, a towel covering my long guns works, but it usually ends up blowing off. The Armadillo easily protects my entire rifle from the stock to muzzle with its stretch fabric and drawstring to cinch it down. If needed, I can add a strap to it for carrying and still keep my rifle protected. When not in use, this packable cover compresses to the size of a deck of playing for easy storage.
Available in coyote brown and moss green in sizes 36 inches by 7.5 inches for an AR15, 50 inches by 7 inches for a shotgun and 48 inches by 7 inches for a rifle. MSRP: $49.99.
SENTRY Products Group
Regardless of the weather, SENTRY Products Group has gear to make your life in the shooting sports a little easier. No more concerns about dirt and grime on scope lenses, wet pistols, or hot, dirty rifles. You only have to deal with malfunctions, ammo problems and of course, the dreaded operator error.
About Michelle Cerino

Michelle Cerino, aka Princess Gunslinger, entered the firearms industry in 2011 when Cerino Training Group was established. She immediately began competing in both 3-Gun and NRA Action Pistol, becoming a sponsored shooter. Michelle is currently a columnist and Managing Editor of Women's Outdoor News, as well as Event-Staff for CZ-USA Field Sports. She also manages social media for Vera Koo and GTM Original. Michelle encourages others to step out of the comforts of home and explore. View all posts by Michelle Cerino →