Traveling with Pets Made Easy with the Kurgo Pet Ramp
Whenever we're planning our adventures, we do our best to make sure our dogs can go with us. There are times when they can't go, but we really try to make an effort because they're our family and they want to explore this big, amazing world as much as we do.
Rogue Preparedness is sponsored by Extreme Terrain.
Let me introduce our dogs …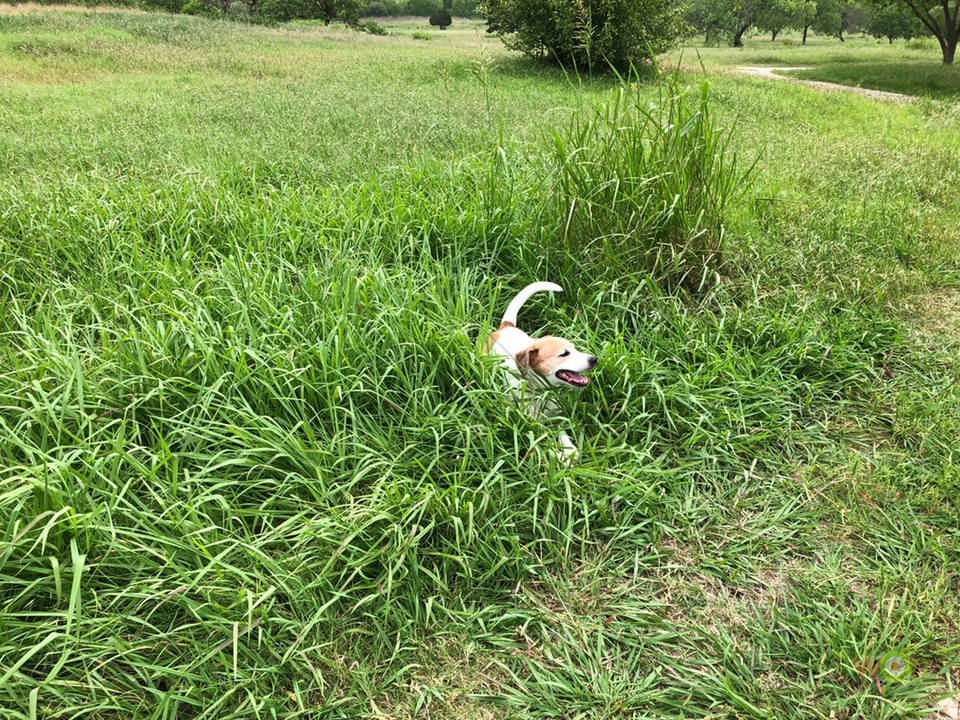 This is Isaiah. We adopted him in 2011 when he was 1-1/2 years old. He had hip surgery and everyone who came to see him at the shelter would see the sutures in his hip and go, "Aww, look … he's got a bum leg. Well, let's keep looking." I don't know why, but that made me so angry. Like were these people looking for a perfect dog? I wasn't. I was looking for a companion, someone who was flawed, just like me. Yes, I already wanted him from seeing a picture online, but after seeing him for real and hearing some awful comments about him, I knew I had to have him. He is the most loving dog you'll ever meet. All he ever wants are pets and love, and that's exactly what we supply him with.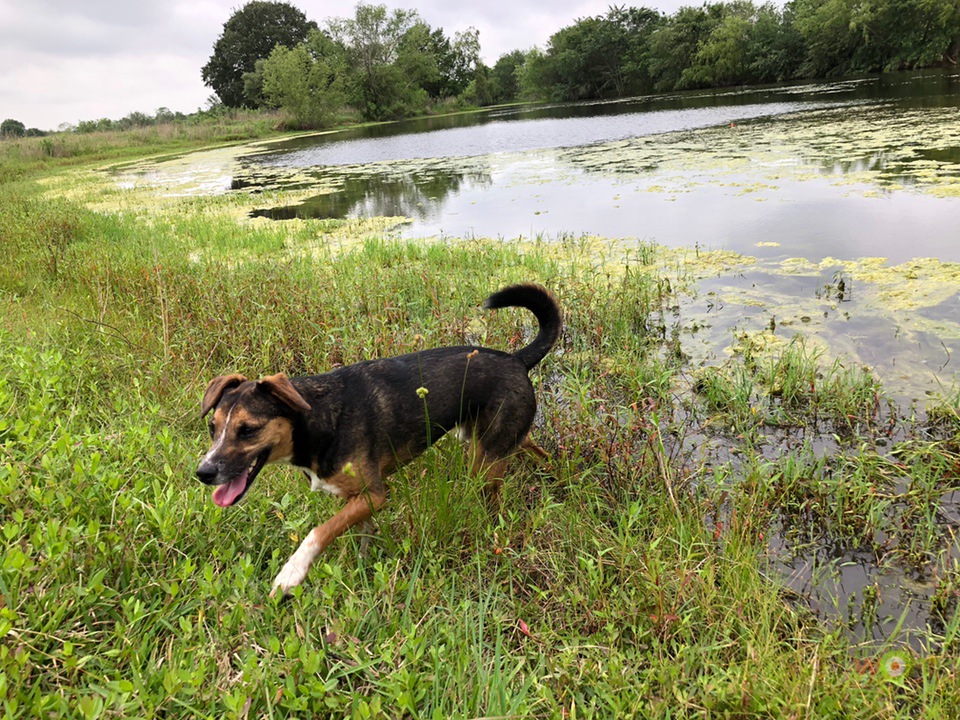 This is Miles. We adopted him in 2013 as a 2-month-old puppy. He was skin and bones, covered in ticks and fleas and extremely scared of everything and everyone. Husband didn't want to adopt him; he was scared that Miles wouldn't get over such skittish behavior. But I had faith in him and quite honestly, there was no way I was leaving there without him; he needed us. It did take a while for him to warm up to us, but once we made it abundantly clear that he was in a safe, loving home, he has been an incredibly loving dog. He's still very afraid of most everything, but that's OK. He loves us and we love him and that's all that matters. He needed a loving home, and that's exactly what we gave him.
Our dogs sit in the backseat, mainly because the back of the Jeep has too much stuff in it to ever put them back there.
Miles jumps into the backseat – no problem. Isaiah, on the other hand, always has had trouble with jumping those sorts of heights because of his leg; he has extreme arthritis because of the surgery. He puts his front paws up and we lift him up the rest of the way.
Since Isaiah has a difficult time getting in and out of the Jeep, it's definitely a good time to help make his life easier, as well as ours, for all future adventures. The Kurgo Pet Ramp is an excellent addition to helping our dogs with their needs on and off road.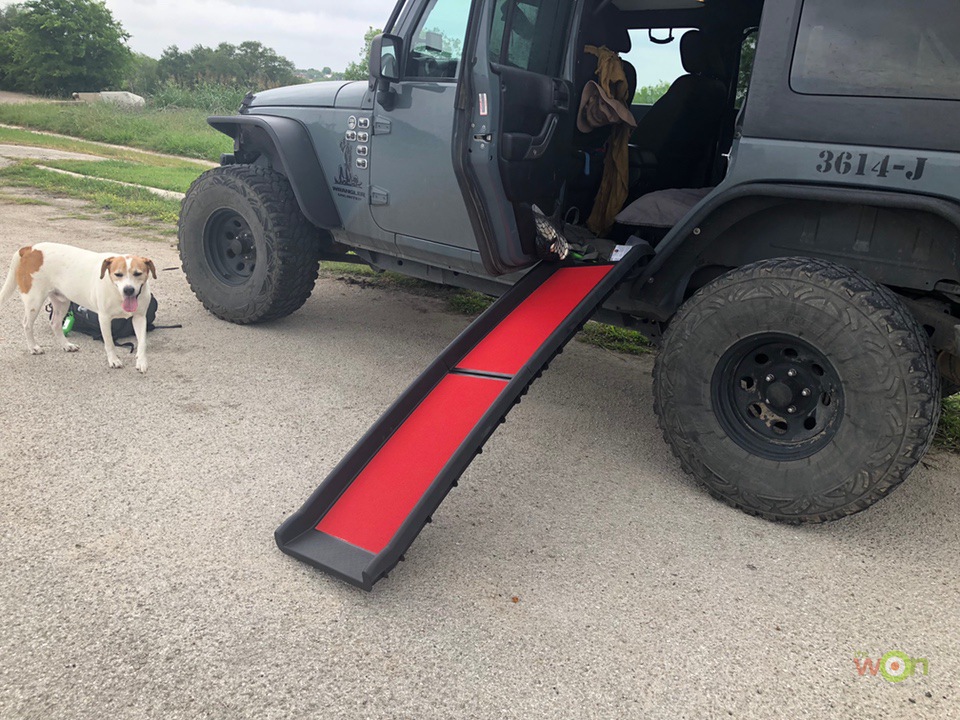 The Kurgo Pet Ramp is not designed to be used for the backseats, it's meant to be used for the back of the Jeep. I did finagle it to work for the backseat, though it's a bit wonky just because it simply doesn't fit in quite right with the backdoor. I did get it to work, though.
The biggest challenge: trying to get the dogs to use it.
Here's the short of it: Kind of a nightmare! Hah!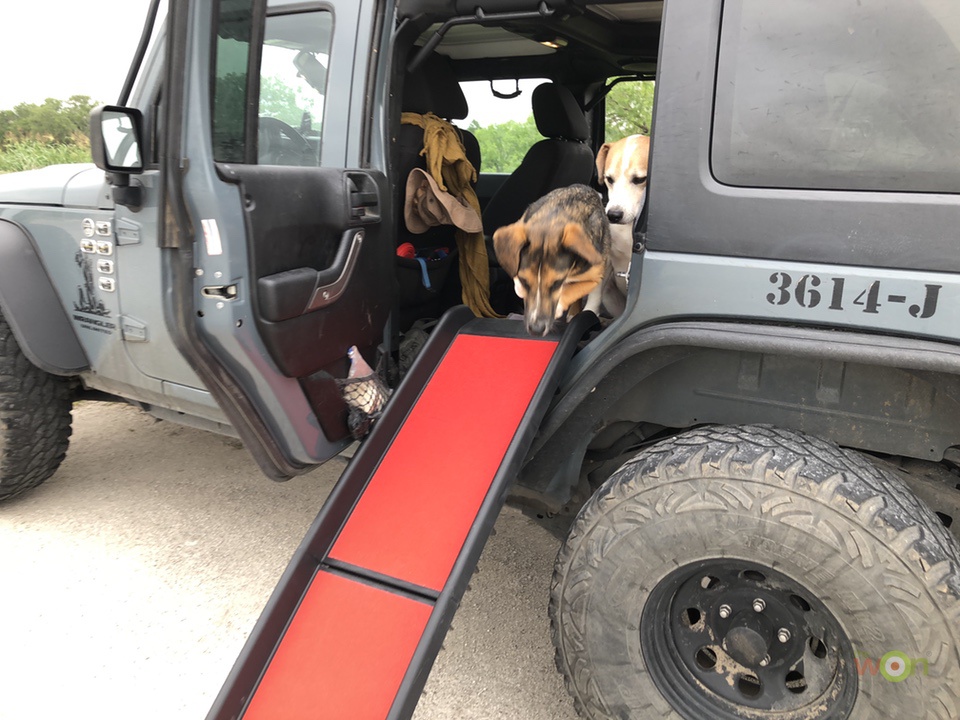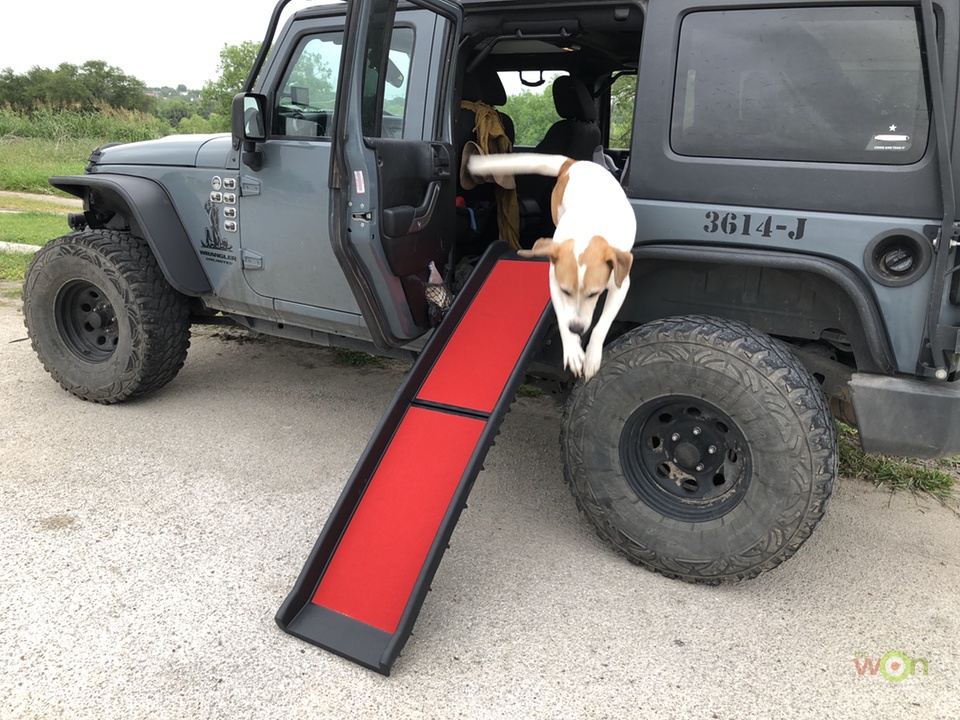 I placed the ramp into position and both Miles and Isaiah immediately just jumped off to the side, totally avoiding it! I laughed and told myself that we'd try to at least get them to climb up when we returned from our walk.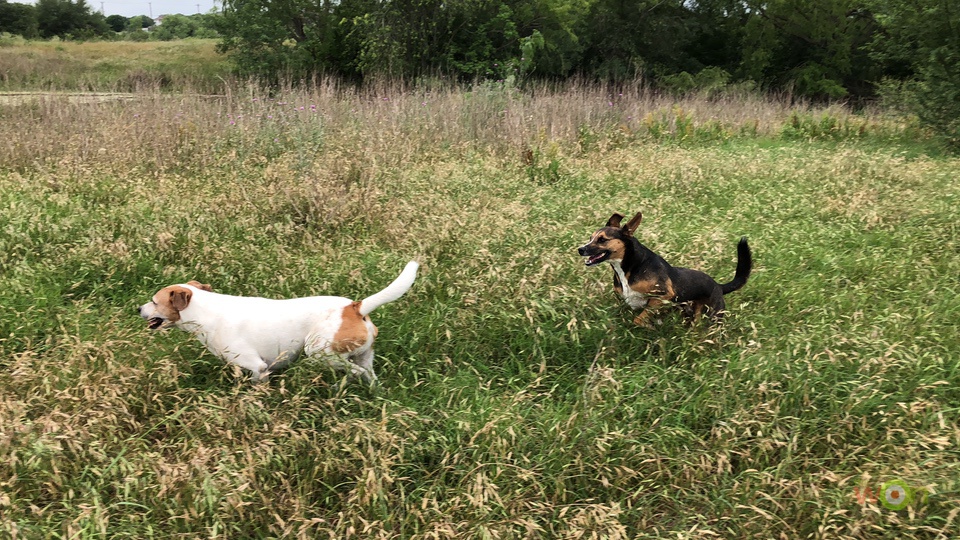 When we returned, I tried to coax them up the ramp. Miles had no part in it and just jumped in from the side.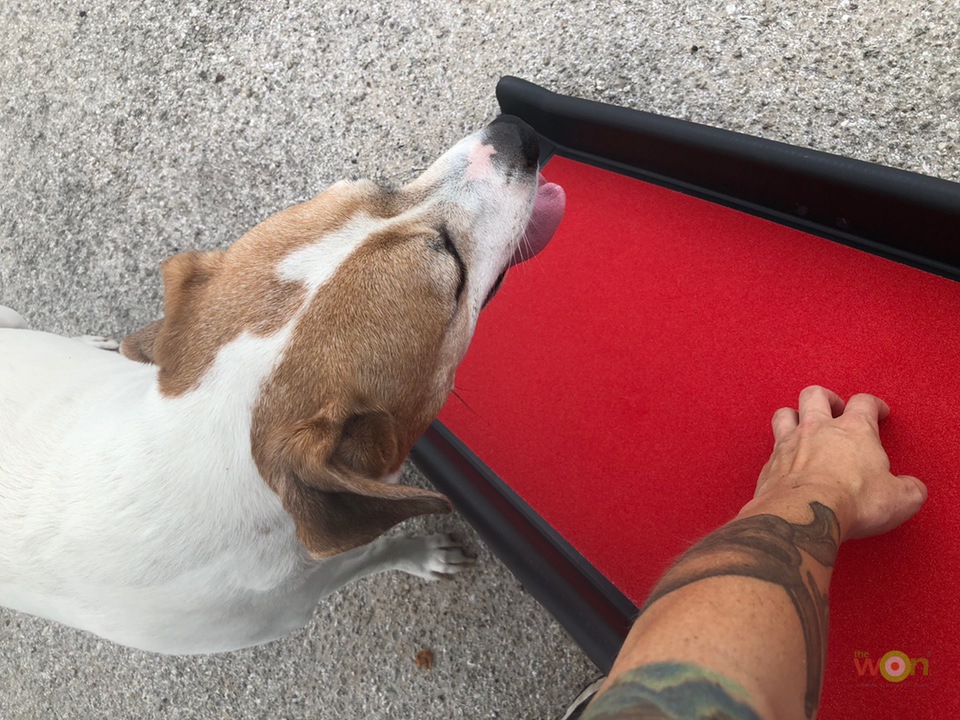 Isaiah tried to put his paws up on the side of the ramp to get me to lift him in, but I was determined to get at least one dog to use the ramp!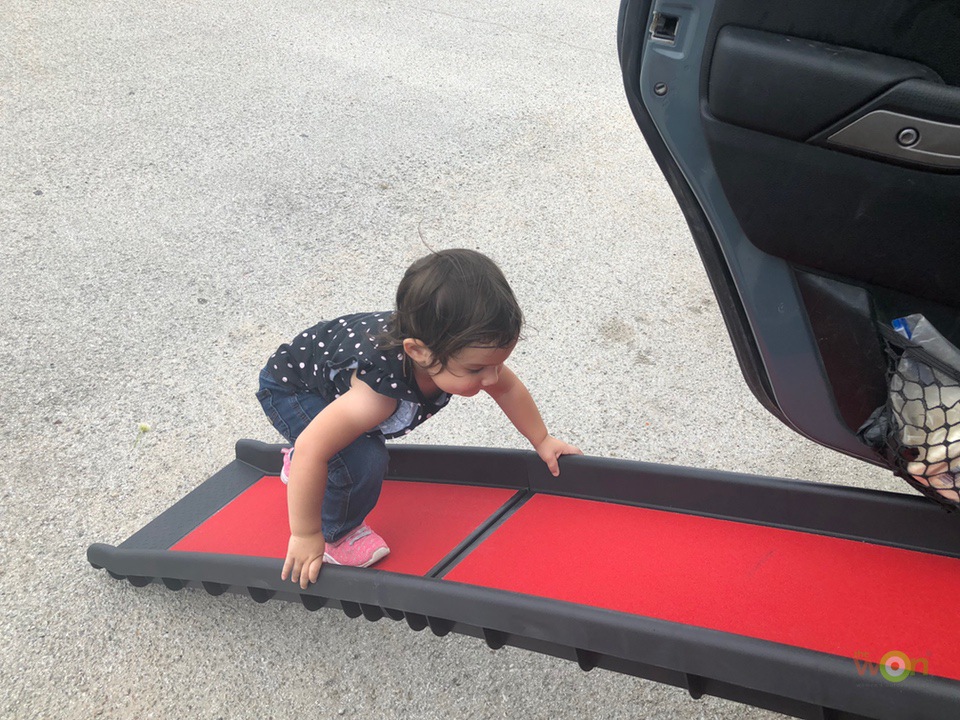 I did learn something, though, it makes for a great toddler ramp! Ember was happy to climb up! That's my girl.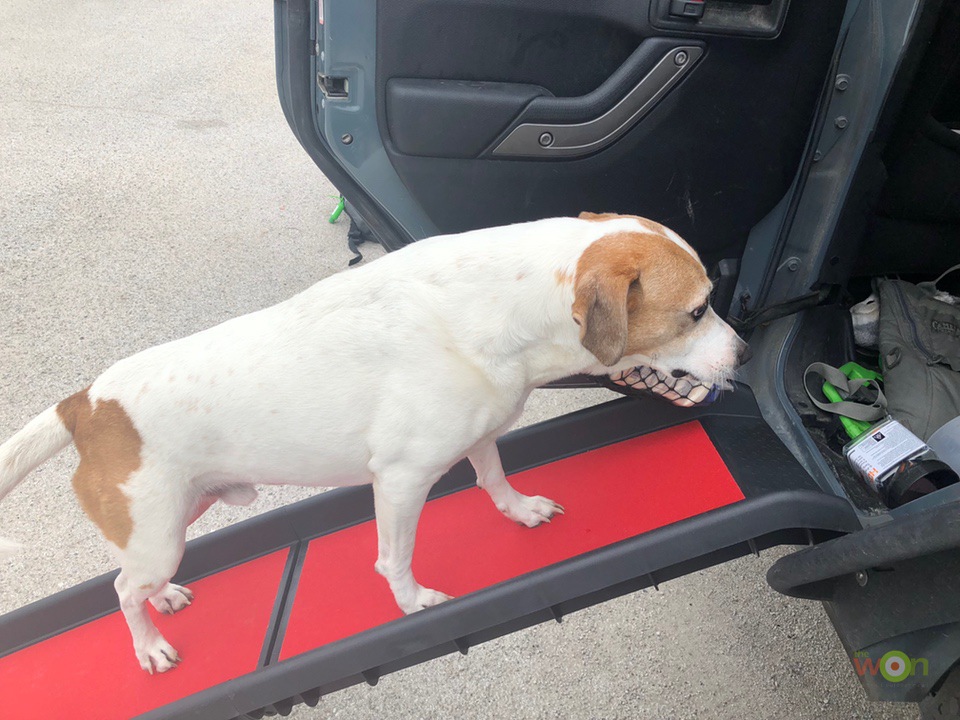 Finally, after a lot of coaxing, Isaiah begrudgingly used it. Though his face says otherwise, I think he liked it.
With more use, Isaiah will definitely appreciate the Kurgo Pet Ramp; I know I already do. It folds up to save space. The picture above shows some perspective on how big it is once folded and stored. It's really not so bad, it's fairly lightweight and very easy to just unhook the "lock," fold out and position into place.
It also has some really nice non-slip material on it.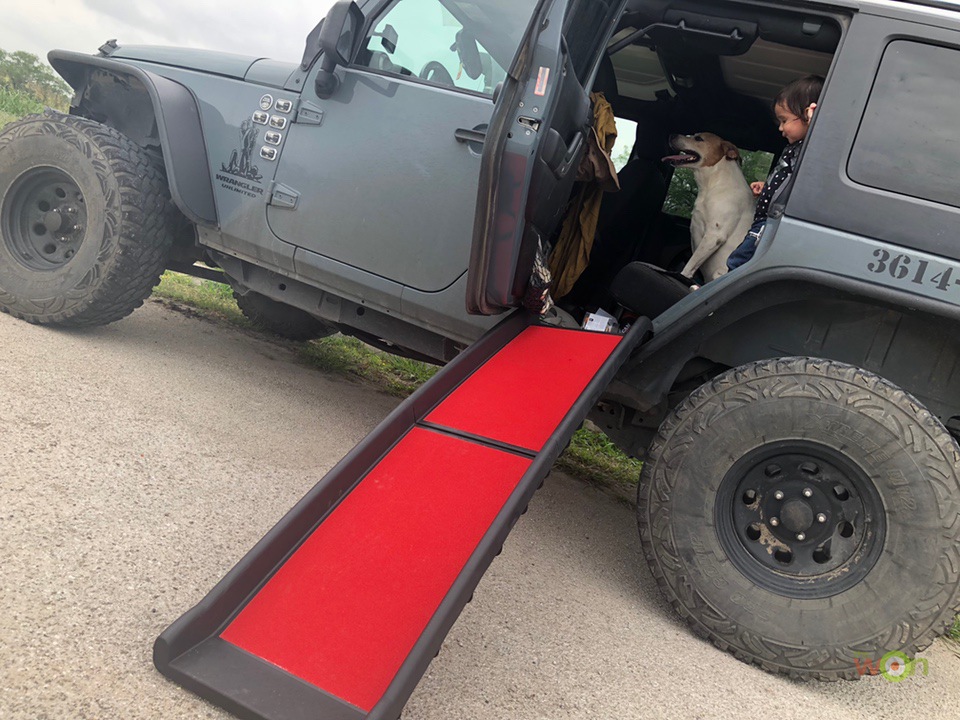 While I don't think that Miles will be needing this any time soon, I know that this will be a great help for Isaiah (and for our backs!) as he is an older dog with a hip injury. This type of ramp is really good for older dogs or any pet that has a hard time getting in and out of your vehicle for whatever reason. The max weight capacity is 200 pounds.
If you have an older pet that is not too old to be left out of your adventures, this Kurgo Pet Ramp is definitely a great option. It's easier for your pet, as well as for you.
Keep enjoying those adventures with the whole family for as long as possible.
Make it easier with the Kurgo Pet Ramp.
About Morgan Rogue

Morgan lives in Texas with her husband, daughters and 2 dogs. She spends most of her time getting outdoors with her daughters, prepping for emergencies and disasters and teaching others how to be prepared. She also enjoys archery, hunting, fishing, firearms, hiking, camping, HAM, Jeeps and generally getting out and exploring life through epic adventures! View all posts by Morgan Rogue →