FIX.com: Year-Round Bicycle Maintenance
Cycling is no longer a fair-weather activity. More of us are using our bicycles for recreation and transportation all year, making it important to remember proper maintenance to ensure your ride is a smooth one regardless of the season. While bicycle maintenance isn't as complex as maintaining your car, there are things you need to do to ensure your bike remains in tip-top shape the entire year and gear to consider using to ensure you are comfortable on your bike in all types of weather.

While some ride all year, it's not uncommon for many cyclists to store their bikes for winter and roll them out in spring. If you fall in that category, you'll want to follow these steps before hopping back on the bike trail or road each spring.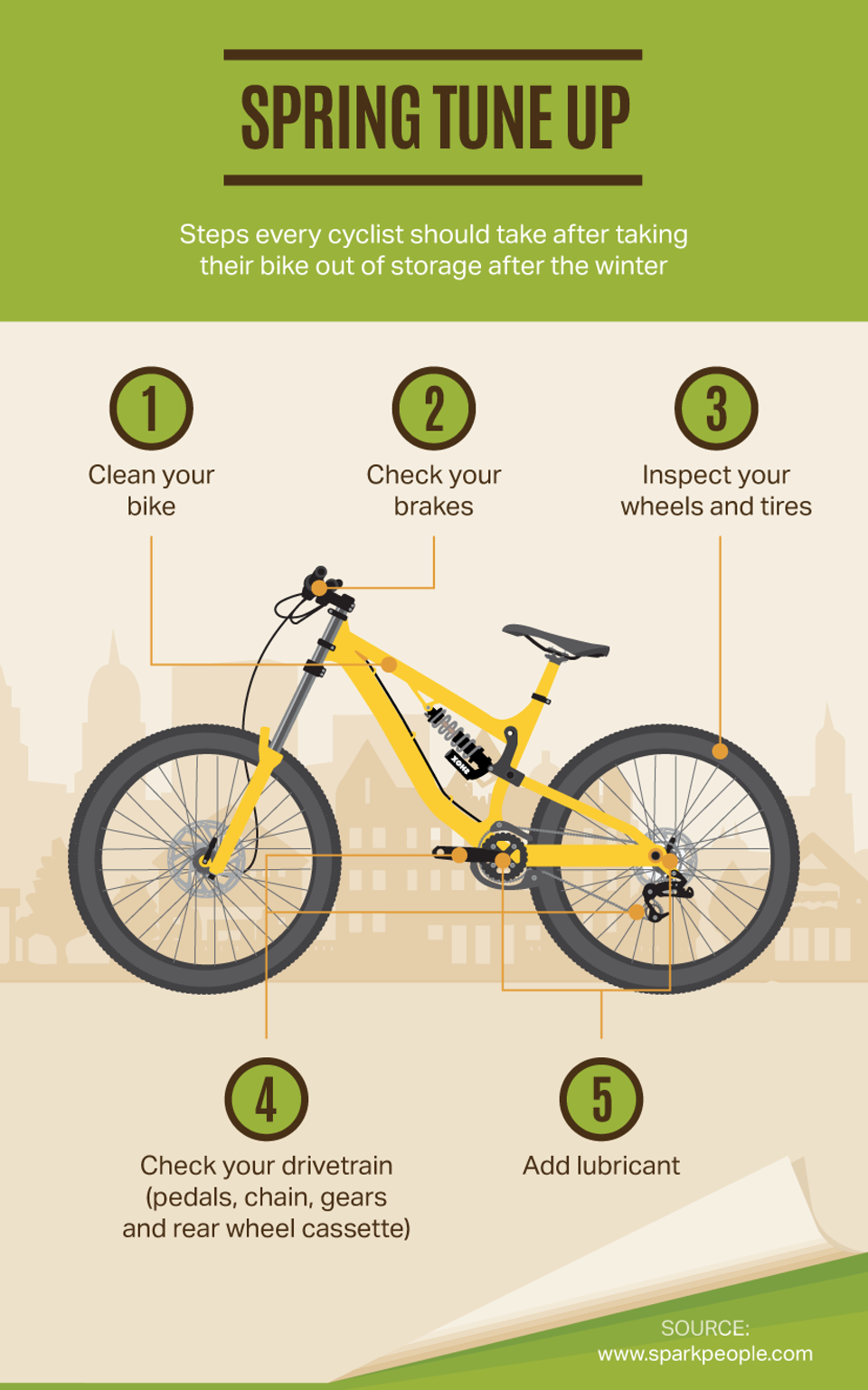 First, you'll want to clean your bike thoroughly with a simple cleaning agent such as Simple Green or Mrs. Meyers. Why? Getting that dust, mud, and grime off your bike allows you to inspect it thoroughly, and a clean bike will run better, just as a clean car does.
Next, check the brake pads, which are the rectangular rubberized components that rub against the metal tire rim. Using a flashlight or your cellphone light, check the pads for any uneven wear. You'll need to replace the pads if they show excessive wear. Check your wheels for any wear and tear, and spin your rims, watching for any damage, wobbles, or spoke issues. Then inspect your tires for any tears, smooth patches of wear, or burrs stuck inside.
The drivetrain and cables are next. These are usually the most intimidating part of the bike for new cyclists. The drivetrain includes the bike pedals, chain, derailleur (which moves the chain to make riding easier or harder), and rear wheel cassette (the little teeth in the center of the rear wheel). Start by spinning the rear wheel like you did when checking the wheels and tires, shifting through the gears as you do so. Watch the chain, derailleur, and cassette for any issues such as missing teeth or scraping motions. If you notice any problems, you'll want to take your bike to a repair shop for adjustments.
Finally, apply oil lubricant, coating the chain and other components of the drivetrain. Lube helps them last longer and work more smoothly and keeps dirt from accumulating.
Continue reading about "Year-Round Bicycle Maintenance" from our friends at FIX.com here.
About The WON

The Women's Outdoor News, aka The WON, features news, reviews and stories about women who are shooting, hunting, fishing and actively engaging in outdoor adventure. This publication is for women, by women. View all posts by The WON →