Nevada Foodies: Grilled Venison Tacos
Check out this delicious sounding recipe for grilled venison tacos from our featured blogger, Nevada Foodies. We cannot wait to try it! ~MC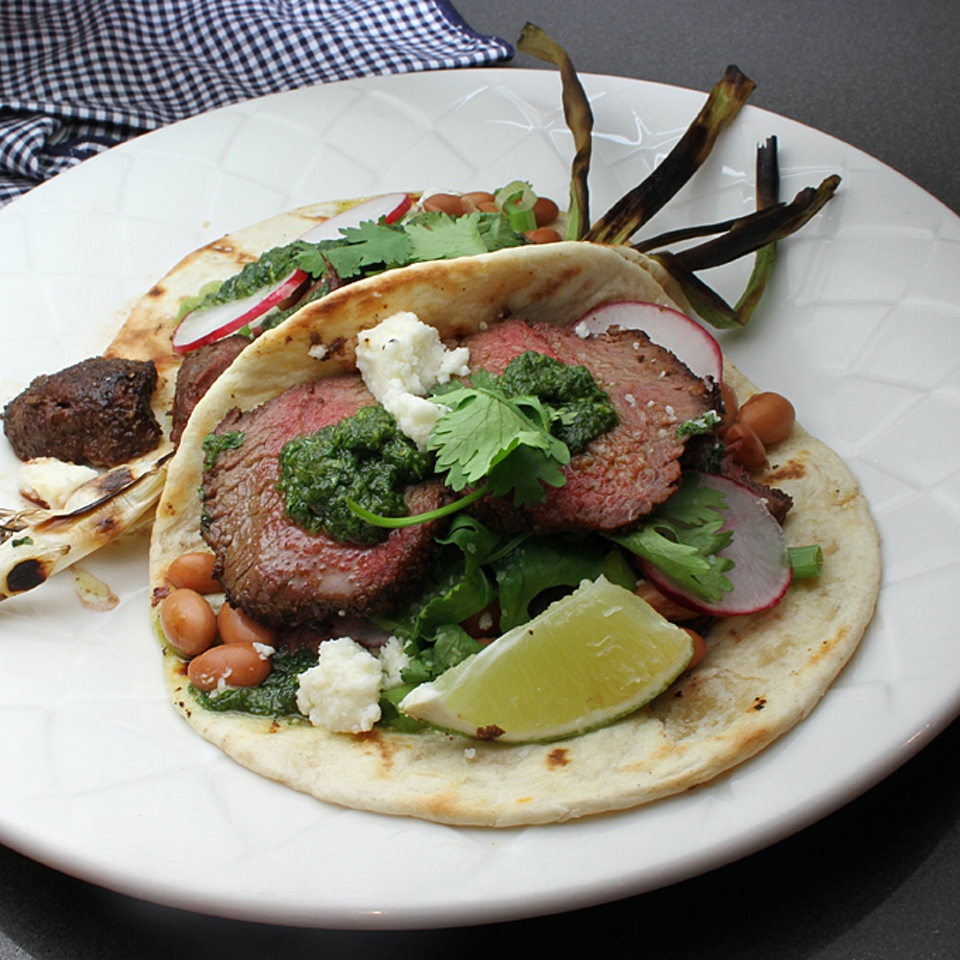 The fusion of the grilled venison meat seasoned with a blend of aromatic spices, combined with colorful raw garnishments and topped with a slightly earthy but floral twang from the cilantro chimichurri delivers a mouthwatering flavor combination any carnivore would devour.
Serves 2-4
Ingredients for Grilled Venison Tacos
1 – 1 ½ pounds venison backstrap, cut into 3 inch pieces
1 teaspoon cumin
1 teaspoon coriander
1 teaspoon garlic powder
1 teaspoon oregano
½ teaspoon chili powder
½ teaspoon kosher salt
2 tablespoons olive oil
8 flour or corn tortillas
Garnishes
15 ounce can pinto beans, drained
4 radishes, sliced
4 green scallions, chopped
1 avocado, sliced
½ cup Queso Fresco cheese
Lime wedges
Cilantro Chimichurri Sauce
1 cup cilantro, chopped
2 cloves garlic, minced
½ cup olive oil
½ teaspoon cumin
½ teaspoon coriander
½ teaspoon kosher salt
1 teaspoon lime juice
Steps for Grilled Venison Tacos
Using a sharp knife, remove any silver skin on the backstrap and cut into 3-inch thick pieces. In a bowl combine the cumin, coriander, garlic powder, oregano, chili powder and kosher salt. Coat each piece of meat lightly with olive oil and then rub on the blend of spices.
In a food processor or blender, add cilantro, garlic, cumin, coriander, salt and lime juice. Slowly pour in the olive oil and pulse to blend until smooth. Adjust with additional salt if needed.
Heat an outdoor grill on high heat. Place the seasoned venison steaks on the grill for 3 to 4 minutes. Rotate and grill for another 3 to 4 minutes. Flip the steaks and cook until the internal temperature is about 120 degrees (medium-rare) or to your desired doneness. Remove from heat, loosely cover with foil and set aside to rest for 10 minutes.
Thinly slice each steak on the bias or angle and serve on warmed tortillas with garnishes and a spoonful of the cilantro chimichurri sauce. – Enjoy!
Find more recipes from Nevada Foodies here.
About The WON

The Women's Outdoor News, aka The WON, features news, reviews and stories about women who are shooting, hunting, fishing and actively engaging in outdoor adventure. This publication is for women, by women. View all posts by The WON →