RetroWON: Ashlee Lundvall Enjoys the Dance of Fly-Fishing
My husband, Russ, and I were married in 2006. One of the things that drew us together was our shared love of the outdoors. Russ grew up in fly-fishing in Wyoming and I was raised outside of Indianapolis, so when it came time to decide where we would make our home, the corn fields of Indiana lost out quickly to the towering mountains of the West.
Russ' paternal grandfather, Wayne Lundvall, was a major influence on my husband's life. A small man in stature, Gramps was a kind, sweet soul who found great joy in his family, his community and his God. He was a master fly-fisherman, and he enjoyed making fly poles for his grandsons, and hand-tying flies every year for Christmas stockings. Russ started to learn the art of casting from Gramps when he was 13, and they spent summers wading the waters of northwestern Wyoming—the Shoshone River, Clark's Fork River, Sunlight Creek. I remember the first time I watched them fish together. I was transfixed by the rhythm and swish of the line as it danced just above the crest of the water. With a seemingly miniscule movement of the wrist, I observed how, they could send a fly an unfathomable distance across the river.
Gramps passed away in 2014, and with his death, Russ lost his hero and fly-fishing mentor. Although I knew I could never fill Gramps' waders, I asked Russ to teach me how to fly-fish. He surprised me for my birthday that fall with my very own fly rod that he had made by hand, and I waited with anticipation for the following spring, when hunting season would pause as the ice and snow melted, and we would trek out to the river.
Our first outing together was a disaster. Casting was now second nature to Russ, and he had difficulty explaining what his limbs were doing from memory. Being the perfectionist that I am, I expected to go out and cast like a pro on my first attempt. I spent most of the day untangling line, digging flies out of my sweatshirt, and breaking plastic indicators on the river rock behind me. I decided to stop and just watch Russ, hoping that I could find some secret movement that would assist me in my failed efforts.
I quickly discovered that fly-fishing looked effortless because it did, in fact, require little work from me. I had to stop trying so hard and allow the limber rod to do the work. As I closed my eyes and focused on the feel of the pole and the sound of the line swishing around me, I started to understand that this dance was a true partnership, and that only through working with my rod would I become successful.
I didn't catch any fish that day, and I headed home more frustrated than elated. But instead of making me want to give up, my poor results goaded me into wanting to continue fly-fishing until I found my own, personal rhythm. We continued these fishing trips, and Russ allowed me to find my own way and style, even if it wasn't the exact form that he had learned. It will be years before I am the natural caster that he has become, but he often reminds me that it didn't happen overnight for him either. I've also gone fly-fishing with other friends, and I pick up new tips and tricks on every outing.
I am beginning to see more women fly-fishing. I think it can be an intimidating sport to try, so it makes me happy when I see ladies swelling the ranks of fly girls. That first attempt is important, because it can make or break the experience, and greatly affect the continuation of the efforts. A patient teacher is vital—one who can adjust technique to each individual and explain with words and actions at the same time.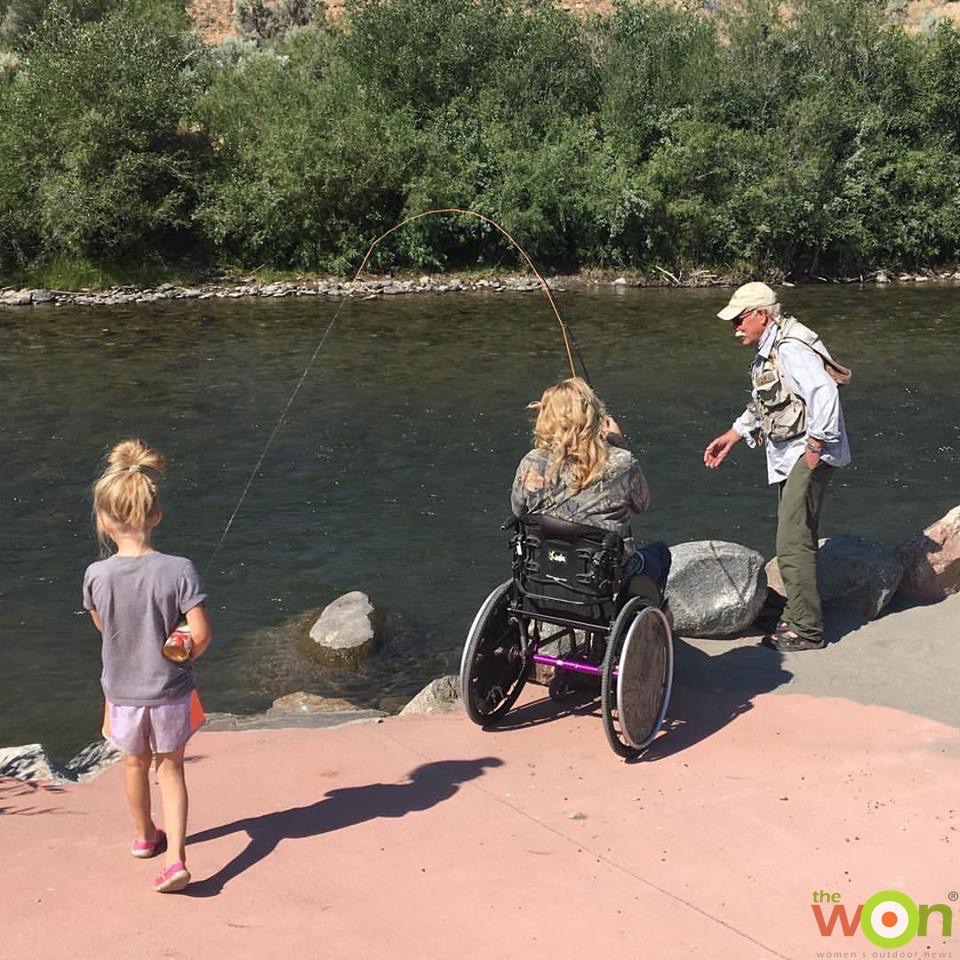 I started fly-fishing sitting in my manual wheelchair, and, in certain terrain, that works fine. If I am level with the river and not fishing from a raised bank, standing upright works best. Thankfully, my Action Track Chair allows me to maneuver across river rock and stand in several inches of river current in order to have the height I need to perform a smooth cast. Being able to adapt to my environment and utilize the proper equipment makes for a much more enjoyable adventure.
Get Started Fly-Fishing
If you are interested in fly fishing, there are numerous options for learning. Local fly shops are a great place to gain information about opportunities in your area for instruction, fly-tying classes, gear and more. If you are interested in a women's fly-fishing groups, check out the following organizations:
This Retro WON first appeared June 30, 2017.
About Ashlee Lundvall

Ashlee Lundvall writes a blog titled "Redefining Life,"  that follows her rise from a debilitating injury as a teenager to Ms. Wheelchair USA in 2013. Her first book, "A Redefined Life," was published in February of 2016, and she is on National Pro Staff for Mossy Oak and the NRA's Disabled Shooting Sports committee. Ashlee is also the recipient of the 2017 SCI Foundation Pathfinder Award. Ashlee truly shines as a keynote speaker at outdoor industry and disability related events and conferences. She is passionate about mentoring newly injured patients, and loves to pass on her love for adapted outdoor recreation! View all posts by Ashlee Lundvall →