#FridayFIX: Camping With Your Dog
Most dogs love camping! Bringing your dog on your next camping trip can be fun for everyone, provided you've thought through a few of the hurdles.

Preparing to Bring your Dog Camping
Time to get your dog used to tents, car rides, other animals and pets, and noises. Before any camping trip, set up your tent in the backyard and practice sleeping in it with your dog (or make the kids do this – they'll enjoy it more). If your dog has a hard time tolerating car rides, ask your vet if any medications are appropriate, and plan to make frequent stops. Be sure your dog is social: arrange for some doggy play dates before you camp, since it's likely your dog will encounter other dogs at the campground.
Be sure your dog is up-to-date on vaccinations and properly licensed. Check and then double-check the pet policy at the campground or camping resort, first making sure your dog will be allowed. Some campgrounds have a different policy for large dogs versus small dogs, and practically all campgrounds have leash requirements and noise regulations.
Pack for your dog: make sure you bring the essentials, just as you do for yourself. Your dog will need water and food bowls, fresh water to drink, and her usual dog food. In addition, pack the usual dog bed or crate used at home. It can help to also include a comfort item, such as a favorite toy or blanket.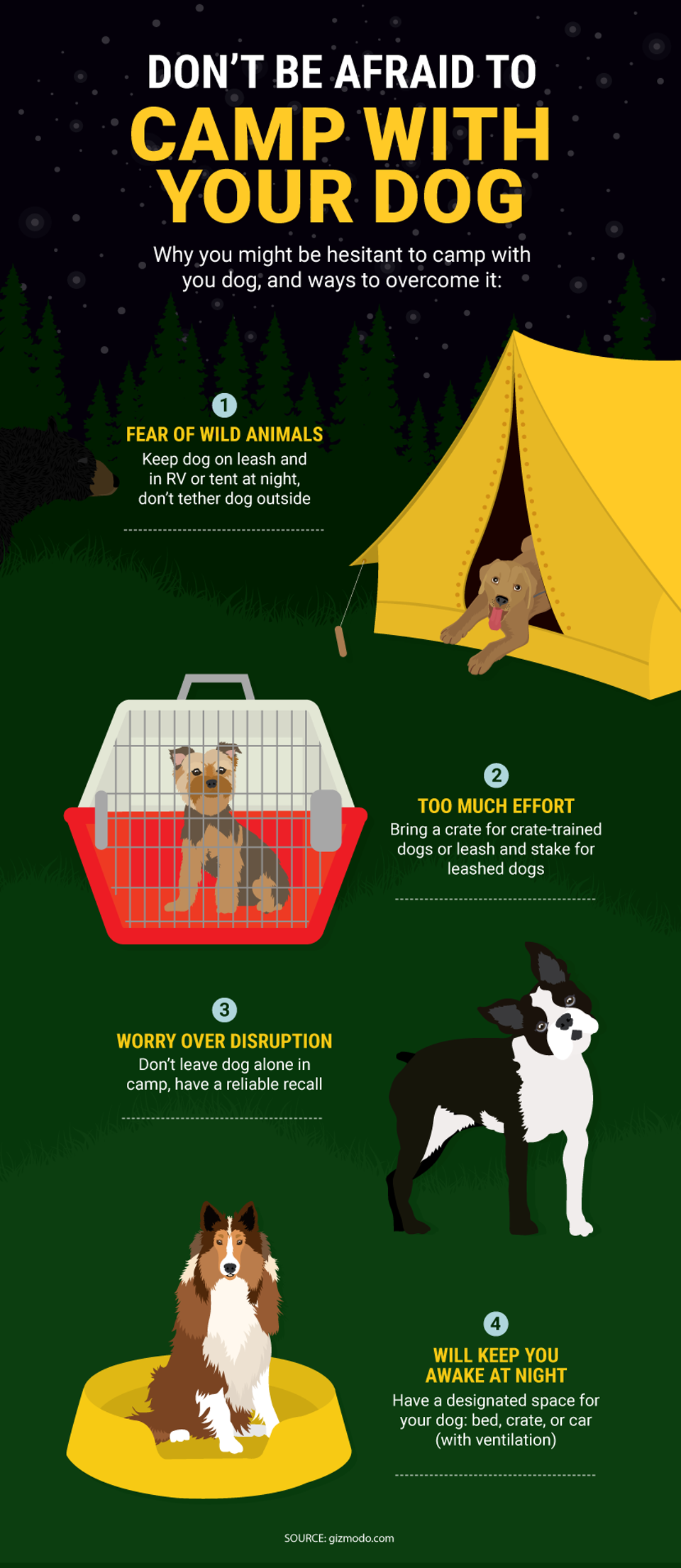 Troubleshooting Common Issues with Dogs at Campgrounds
Most dogs are beloved at campgrounds, but there's always one causing a problem, right? To make sure it's not your dog, follow these easy fixes.
Here's what to do if:
Your dog barks at anyone and everyone: First of all, if your dog does this at home (sometimes more prevalent with smaller breeds), you shouldn't bring her camping. If she is simply overexcited by the other humans and dogs in the campground, consider taking her on a leashed walk at least twice a day to "meet" the neighbors. Never leave a barking dog alone, day or night; your new camping friends will not appreciate it.
Continue reading, "Camping with Your Dog" here from our friends at Partselect.com.
About The WON

The Women's Outdoor News, aka The WON, features news, reviews and stories about women who are shooting, hunting, fishing and actively engaging in outdoor adventure. This publication is for women, by women. View all posts by The WON →