Gun Review: Volquartsen's Scorpion FTV
As many of you already know, I am part of the Volquartsen Factory Team. That being said, I get to shoot the latest and greatest offerings from Volquartsen. Volquartsen's motto is "Build it better," and everything that leaves their shop is absolutely top notch! Based in Carroll, Iowa, the Volquartsen family has made it their mission to build firearms to the highest standard possible using only the best materials, technologies, and talent.
Sponsored by Volquartsen Firearms
Scott Volquartsen recently sent me a new pistol. The model is the FTV Scorpion. The entire Scorpion line contains the finest .22 rimfire pistols made. What sets this pistol apart from the other Scorpions, though, is that the top of the 6-inch barrel is smooth – except, for a cut to accept a Vortex Venom 3 MOA red dot. I also have a close relationship with Vortex, so it makes me happy to see the Venom included with this pistol.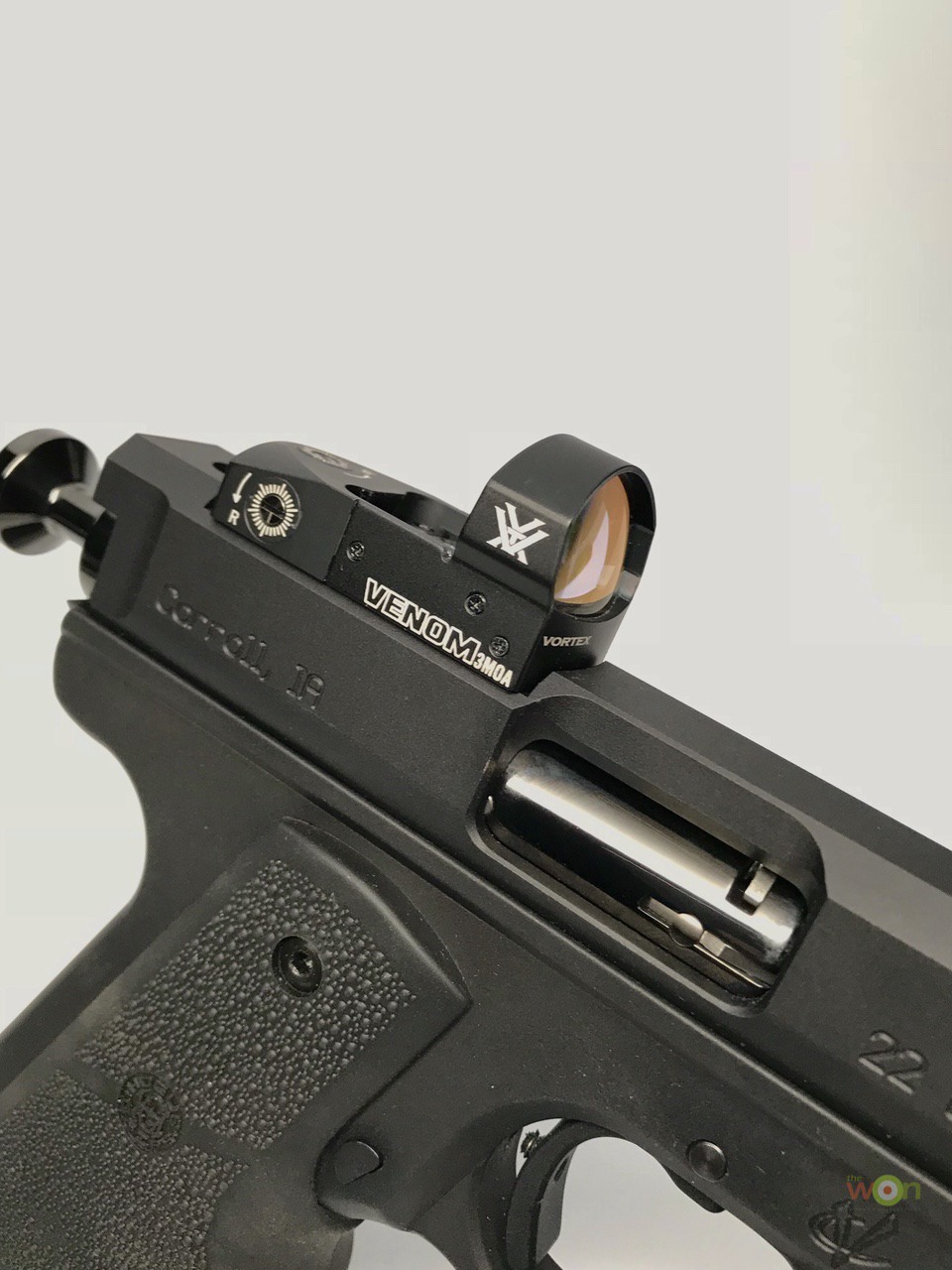 The flat-top barrel is quite pleasing to the eye and gives the pistol a long and sleek look. Like most Volquartsen pistols, the FTV comes with a compensator that fits perfectly to the barrel. Some people ask why you would need a compensator for a .22, but I can tell the difference. Our publisher, Barbara Baird, described it this way in her review of an earlier model of the Scorpion:
"The compensator reduces recoil and allows you to get back on target faster, and reduces the jump of a lightweight gun. It also adds weight at the gun's muzzle to offset the weight at the action end of this beauty."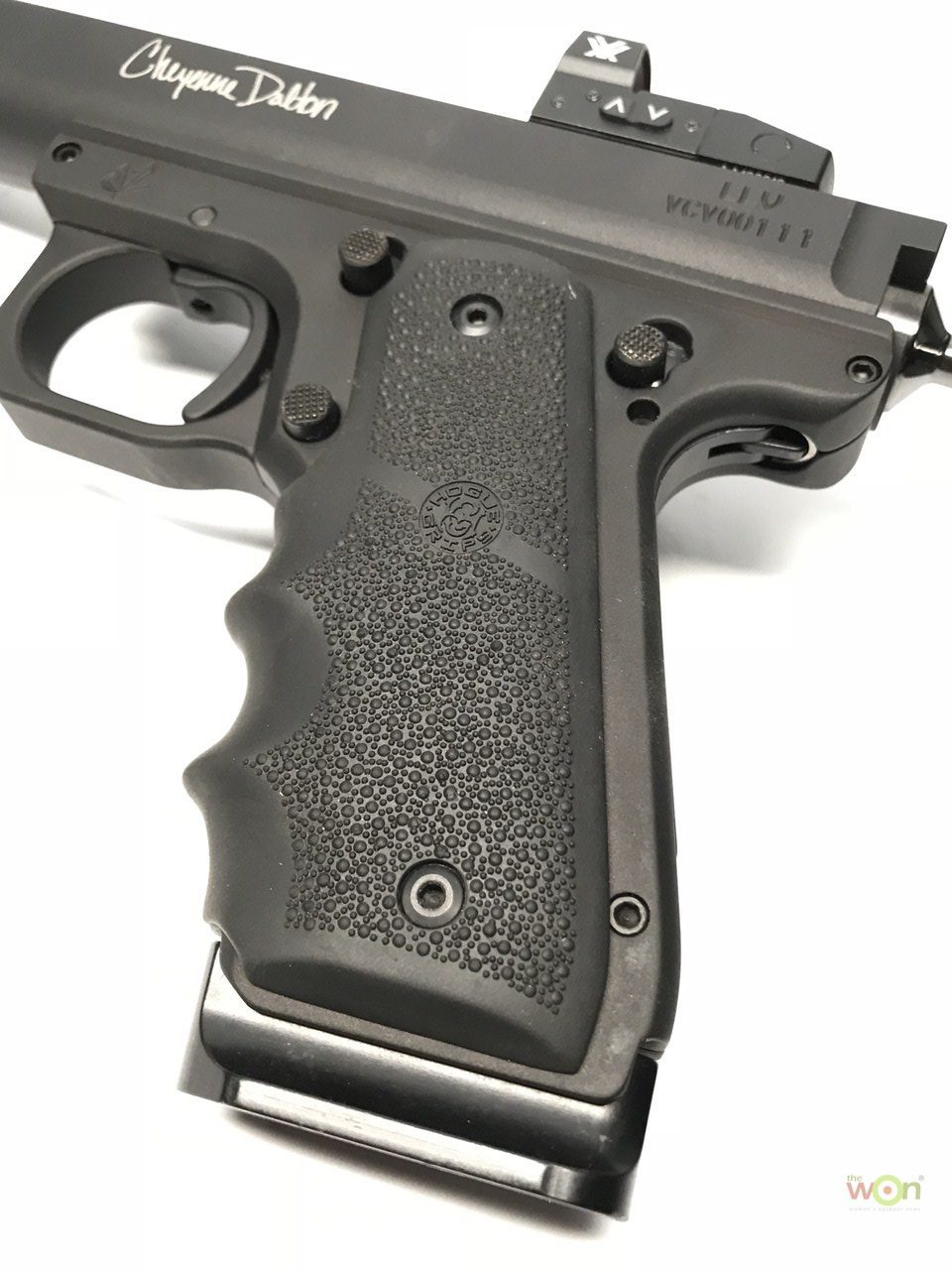 The frame of the pistol is the VC Target Frame. It's a black anodized aluminum build, along with a 1911-style grip angle. Hogue grips are standard on the Scorpions. The bolt in this pistol is beautiful, too, because it features a DLC finish that's mirror smooth. They call it the competitor bolt and it truly lives up to that name. I've run tens of thousands of rounds through my Scorpions and they've all performed flawlessly.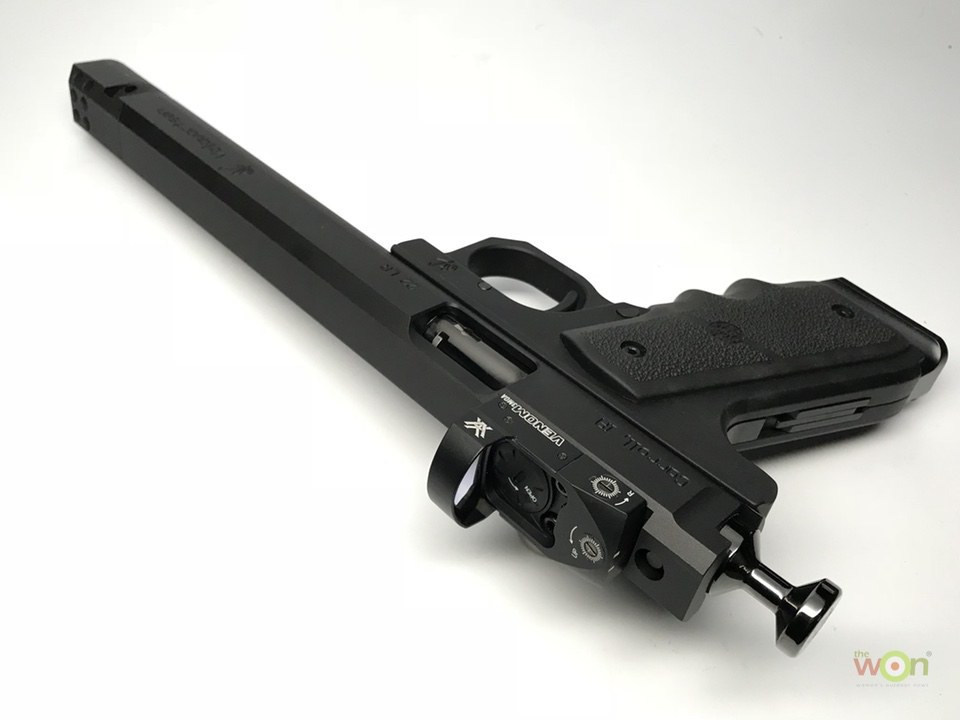 The pistol weighs a little over 2 pounds, unloaded. The triggers on a Volquartsen are hard to beat, as well, and the fit and finish is unmatched. Most other rimfire pistols are mass-produced and you can tell the quality control is lacking, at times. Volquartsens are built by folks that care about quality, not quantity.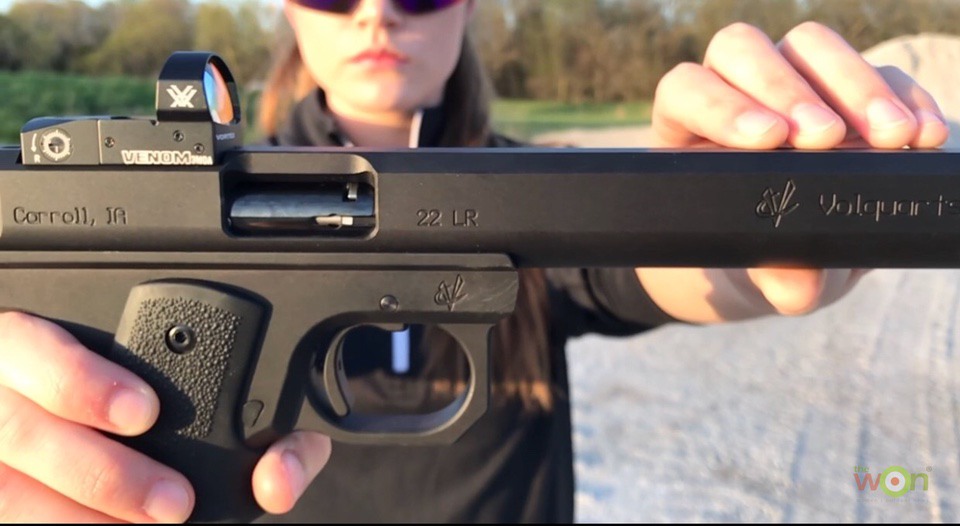 Now for the fun part. High quality stuff isn't cheap and the Scorpion is the Ferrari of rimfire pistols. The retail on the FTV is about $1450, but I've always been a buy-once, cry-once kind of person. I actually bought the first Scorpion I had, long before I was part of the team. If you can try a Volquartsen, I'd suggest you do. You'll see and feel the difference. I promise!
Learn more about the Volquartsen Scorpion FTV here.
About Cheyenne Dalton

Cheyenne Dalton is an up-and-coming junior competition in 3-gun, USPSA, and Rimfire challenge. She writes a column about her shooting experiences, sponsored by Voquartsen Firearms. She's been competing for 4 years and has won state titles, along with the Limited Ladies Rimfire World championship 2 times (2014 & 2016). When she's not at the range, she is traveling with her Bluegrass band, "That Dalton Gang," where she plays mandolin and violin, along with singing lead vocals. Her future plans include lots of shooting and continuing her education with a focus on being a pharmacist. She lives on a family farm in Missouri. View all posts by Cheyenne Dalton →