Gun Tote'n Mama's Leather Chic Diaper Bag
There have been a lot of firsts in the last year of my life. I have become a first-time homeowner, a first-time gun owner and most importantly, I have become a first-time mommy. I am willing to do anything and everything possible to keep my little boy safe and that is why I have been gearing up to take a CCW class. Luckily, I was given the opportunity to try out the new GTM 107/TN, or oversized travel tote, or for those of us with babies – the diaper bag – from Gun Tote'n Mamas. Since I don't have my CCW license yet, I've been practicing drawing my unloaded Smith & Wesson M&P 380 Shield EZ at home from it. I now feel ready to take the class and begin being able to protect my family.

Sponsored by Gun Tote'n Mama
Other than my newfound confidence, I have loved carrying around this bag for so many reasons. It is uber chic with its beautiful caramel-colored leather, which has become even softer and developed those fantastic creases that only a well-loved bag gets. We (the bag, baby and I) have been caught in rain a few times running from the car to the grocery and I must say, the bag is the only one to come out of it unscathed. It has been tossed all over the car, under the stroller, spent some time at the park and may have even been spit up on once or twice. Still, it is in perfect condition. This durable bag cannot only withstand the mommy life, it thrives in it.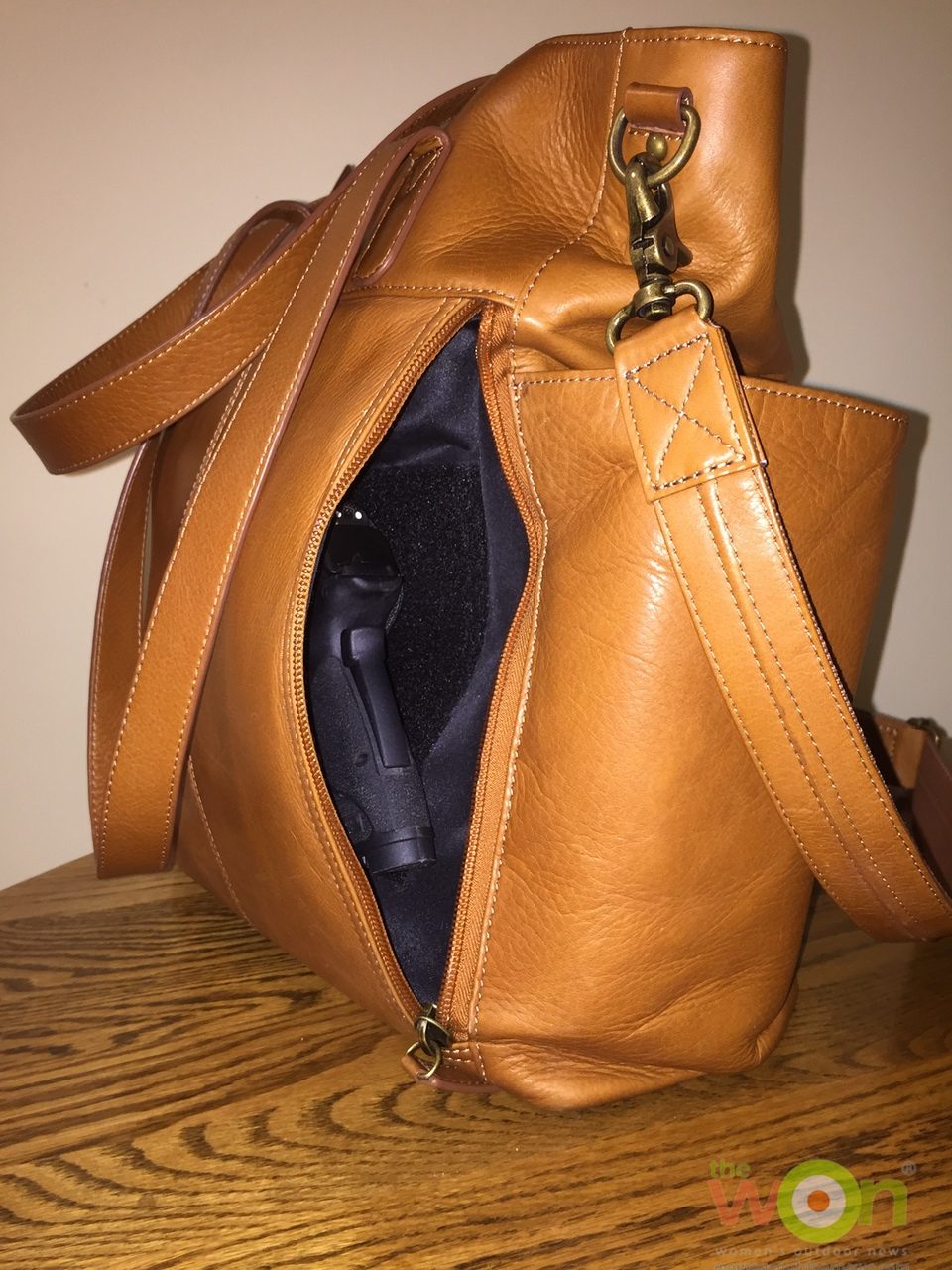 This bag can be worn as a shoulder bag from the 2 shorter straps or as a cross body by the longer leather strap provided. I have decided it is much easier to draw from at the shoulder level if you have your hands free. When I'm out and about I am typically holding my son so I choose to wear it as a cross body or his busy little hands find their way into the many pockets the bag possesses. There are 4 deep pockets on the exterior of the bag, which I have found to be perfect for the items I use the most, but also are not necessary to protect, e.g., wipes, diapers, a canister of puffs, or the ever-needed bag of cheerios. Inside the bag there are 5 open pockets for easily accessing snack pouches, extra onesies, bottles, diaper cream/sunscreen, burp clothes, and that favorite monkey rattle. There are also 2 zippered pockets on the interior that I use to safely stash my mommy goods. I'm sure you're thinking, "Wow! That bag holds a mess of stuff." Yes, yes it does. However, there is still the Mary Poppins-esque main compartment where all the large items are kept. Dimensionally speaking, here are the bag's specs:
15-inches tall x 14-inches wide, (not including side pockets) x 4.5-inches deep
10.5-inch drop-length shoulder straps
Includes removable/ adjustable GTM X-body strap with 11-ply cable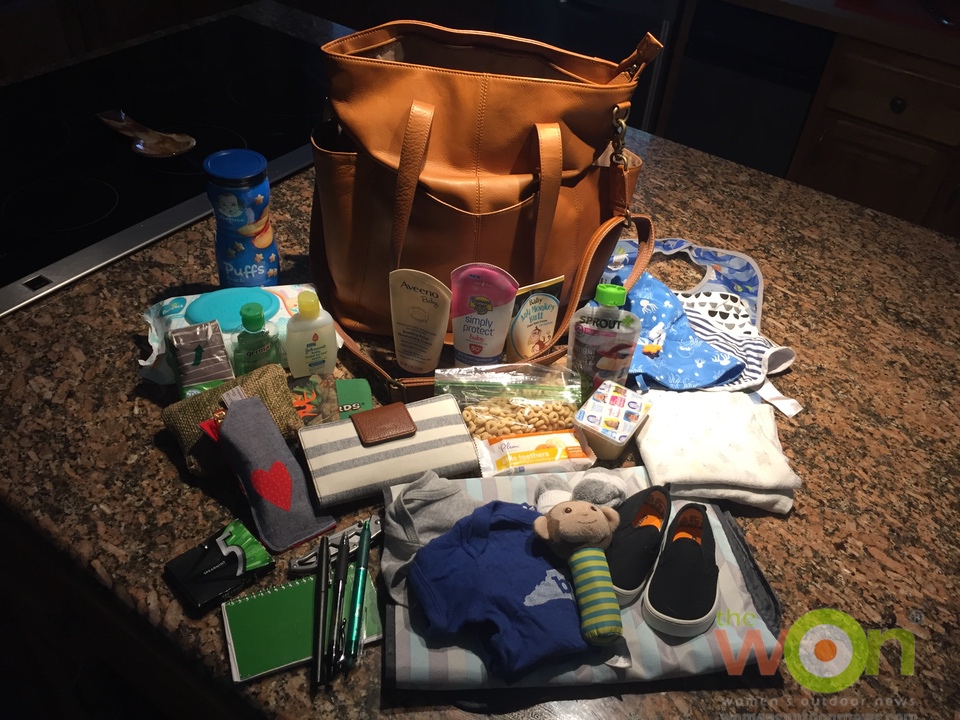 There's really no need to carry a separate purse and a bulky, unattractive diaper bag. Everything I need for an afternoon out with my bubba can be kept in one gorgeous bag that even my non-mama friends are envious of. In fact, here's a photo of a diaper bag dump, minus a few diapers and a sippy cup. Yes, it all fits in there.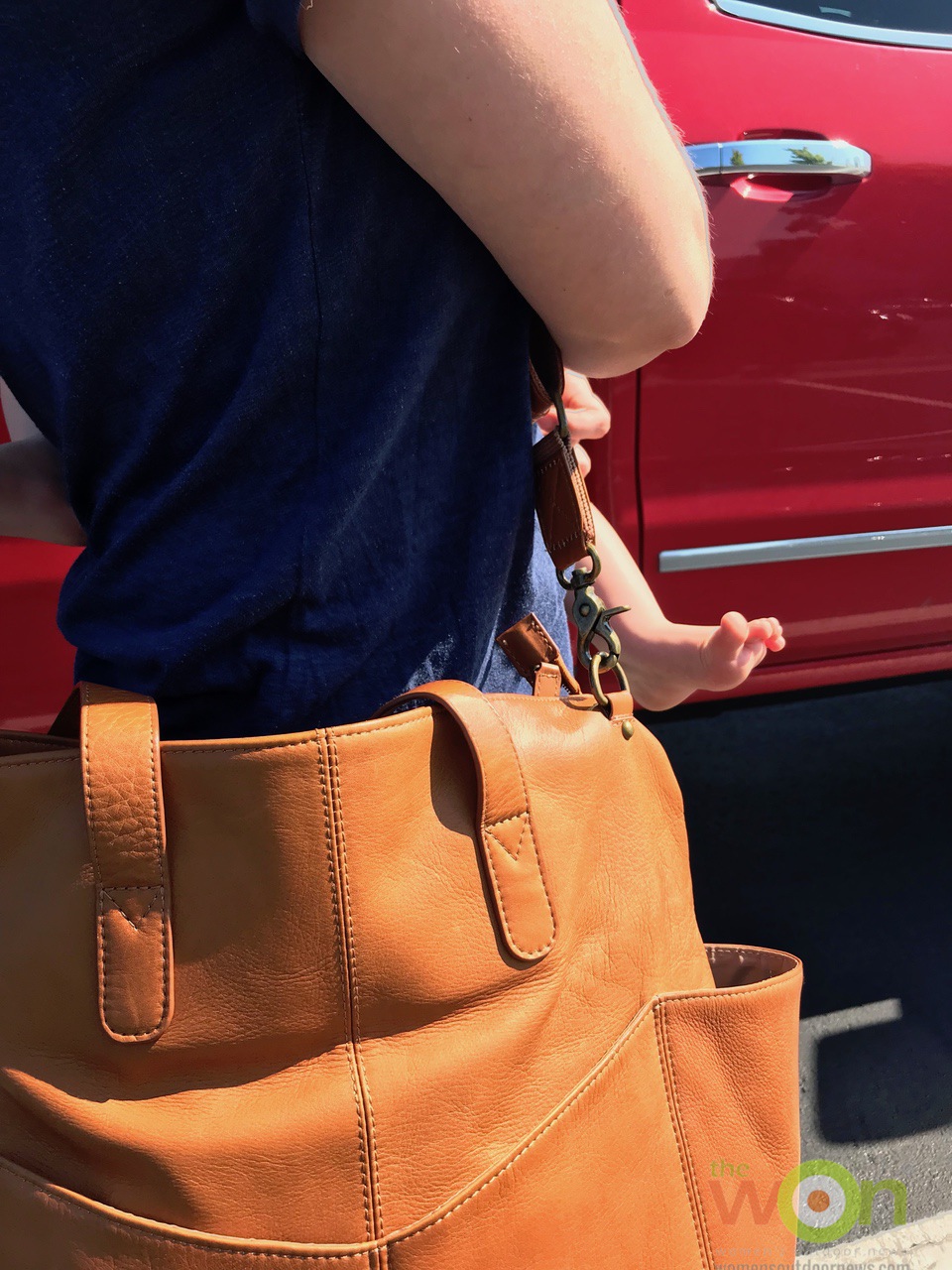 Although the tote is not yet available at the Gun Tote'n Mamas website, I'm sure it will be a huge hit. Even my non-mommy friends have been eyeing this bag, and I see years of value ahead.
MSRP: $199.95
Thanks to Paige Pierson for this guest review.
Read other Gun Tote'n Mamas purse reviews here.
Find the GTM Oversized Leather RFID Travel Tote here.
About The WON

The Women's Outdoor News, aka The WON, features news, reviews and stories about women who are shooting, hunting, fishing and actively engaging in outdoor adventure. This publication is for women, by women. View all posts by The WON →